I've been playing around with this recipe for an Egg Roll Stir Fry for a while now. I finally got it where I wanted it so I am sharing it with you today.
Y'all — I have to tell you how much I am in love with this delicious recipe I recently perfected for our home take-out nights. I have never been a fan of egg rolls because there is SO MUCH cabbage in them that you cannot taste anything else but cabbage.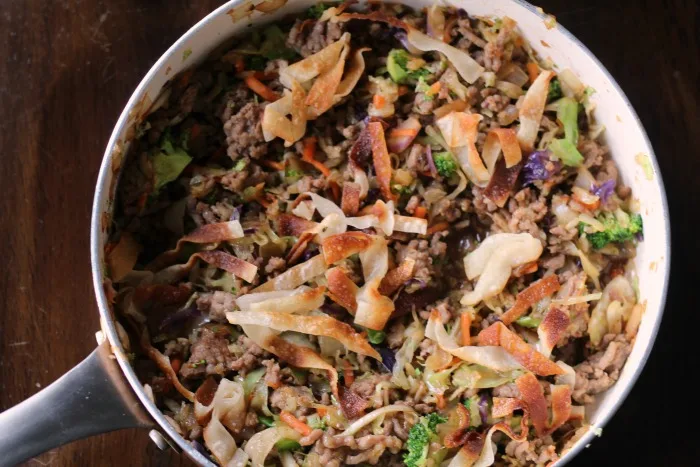 Oh — but no worries! If you have not been a fan of egg rolls before, you will definitely be a fan of this egg roll stir fry.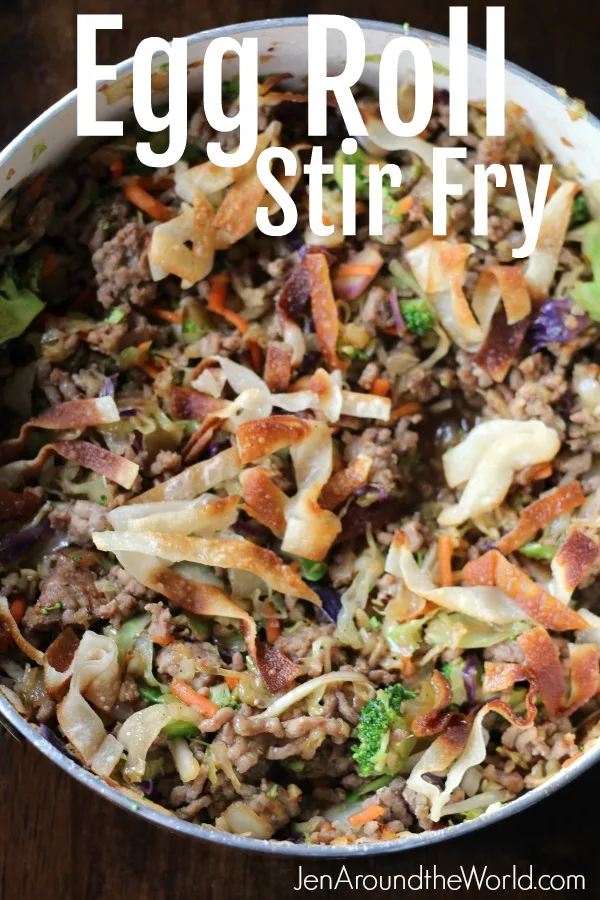 It has basically all the same components of an egg roll — cabbage, carrots, ground pork, won ton strips fried, and I added a bit of broccoli.
I used a lot less cabbage and I cannot tell you how fantastic this dish turned out. You don't even need to wait for Chinese Take Out Night at home. You can make this for a low-carb dish, low-calorie dish for dinner one night.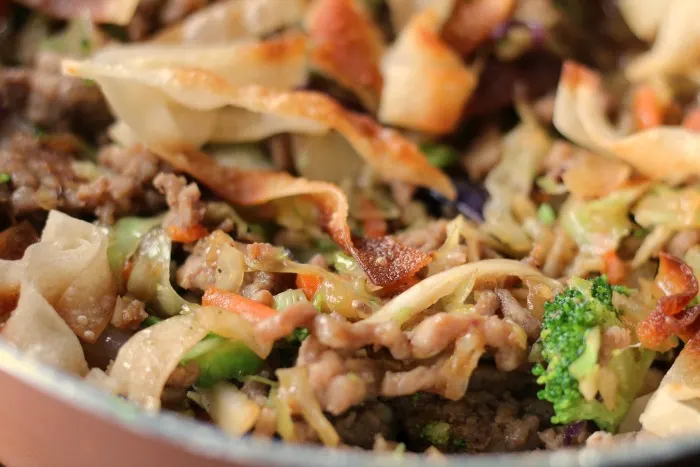 It comes together in less than 15 minutes.
Each bite tastes just like eating an egg roll. The crunchy wonton strips add that bite of crunch that you need.
Here's the recipe 🙂
How to Make This Stir Fry
This recipe is so versatile that you can basically add any meat you want and turn it into just a basic stir fry. I can see making this with steak, chicken, ground beef, — even turning it into a breakfast by adding a fried egg on top. The possibilities are endless here.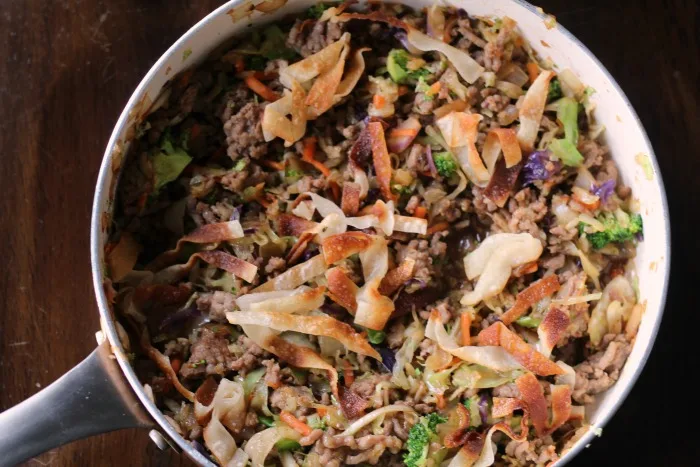 Now that you have my all-time favorite way to eat an egg roll — tell me — what is your favorite egg roll recipe? How do you like to enjoy your Chinese takeout?
Check out these other Chinese Inspired Dishes
Yield: 6 servings
Egg Roll Stir Fry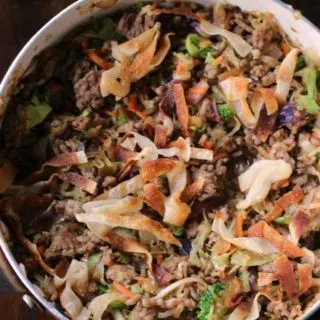 Delicious egg roll mixture without the roll. Make this dish in 20 minutes!
Ingredients
1 pound of ground pork
1/2 onion diced
1 bag of tri-colored slaw
1 head of broccoli, chopped
2 cloves of garlic, minced
1 tablespoon of fresh ginger grated
1/2 teaspoon of black pepper
1 tablespoon of toasted sesame oil
1 tablespoon of vegetable oil
1/4 cup of low sodium soy sauce
1 pkg crispy wonton strips (found in the aisle where croutons are found)
Instructions
In a very large skillet (10" or 12") brown ground pork with diced onion until meat is cooked through. Do not drain.
While ground pork is cooking away, combine garlic, ginger, pepper, sesame oil, vegetable oil, and soy sauce in a small bowl and stir to combine; set aside.
Add 1/2 of the bag of slaw mix and all of the chopped broccoli to ground pork once it has finished cooking, then cook and stir over medium-high heat for 3-4 minutes. Add soy sauce mixture then stir well.
Reduce heat to medium and continue cooking for 5 minutes or until cabbage is tender.
Remove from the heat and top with crispy wonton strips on top for an added extra crunch.
Nutrition Information:
Yield:
8
Serving Size:
1
Amount Per Serving:
Calories:

254
Total Fat:

18g
Saturated Fat:

5g
Trans Fat:

0g
Unsaturated Fat:

11g
Cholesterol:

54mg
Sodium:

385mg
Carbohydrates:

7g
Fiber:

2g
Sugar:

2g
Protein:

17g