This recipe for Mongolian Ground Beef Noodles came about as an effort to clean out the pantry after the holidays. Little did I know it would quickly become a family favorite!
Every January, I refuse to go to the grocery store until my fridge and pantry are depleted to the point I can no longer put together a meal.
In fact, I have not been to the grocery store but once since December 15th.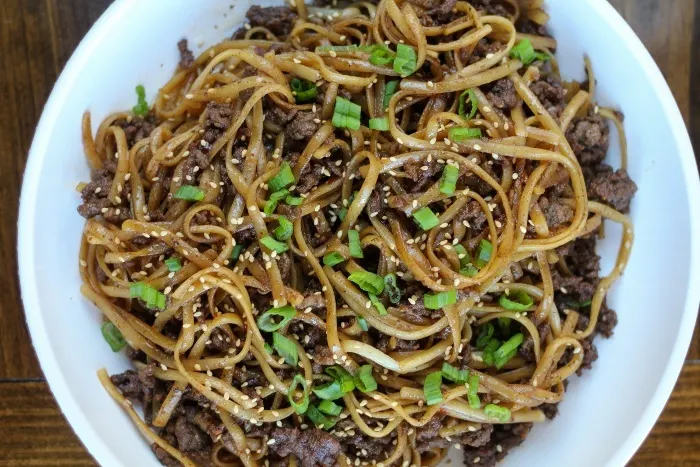 We have been eating on everything we have — and because of that, I was able to create this delicious new dish for my family.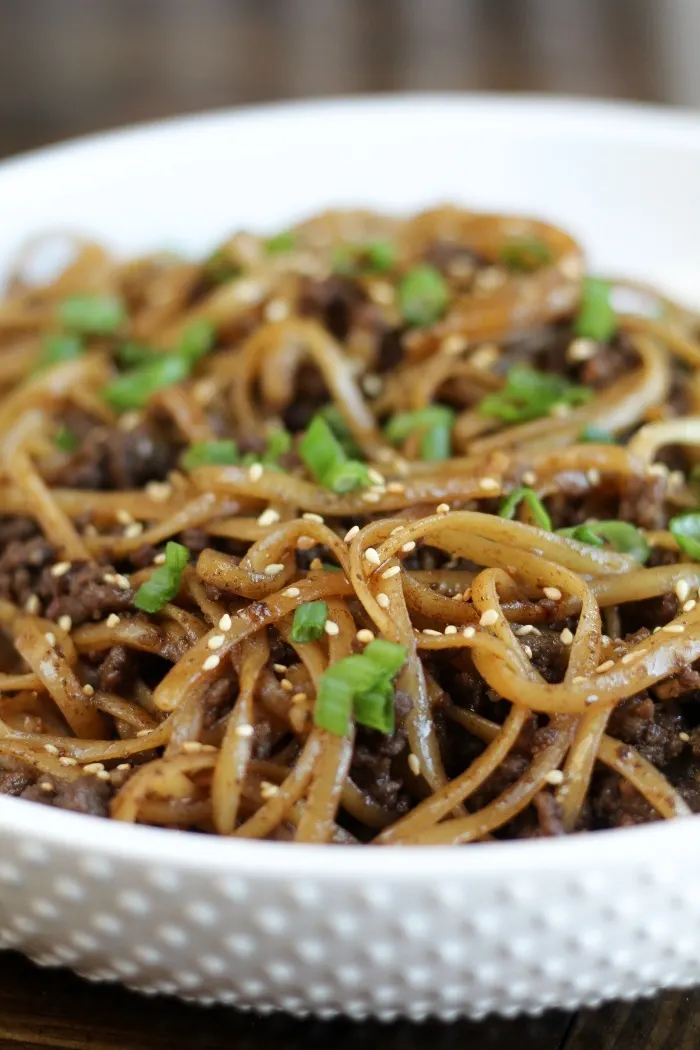 I did adapt the Mongolian Ground Beef part from I Wash You Dry. I took her recipe and tweaked it a bit for my family's preference and made it my own.
This meal reminds me of a lot of my One Pan Cheeseburger Pasta meal that takes about 20 minutes to make. It also has the flavor of my homemade Eel Sauce — which I think comes from the Hoisin flavor.
So — because of how easy this is to make, let me walk you through this!
How to Make Mongolian Ground Beef Noodles
To make this, you really only need a few simple ingredients — and if you are like me and keep a stocked and organized pantry, you can totally make this on the fly at your house too!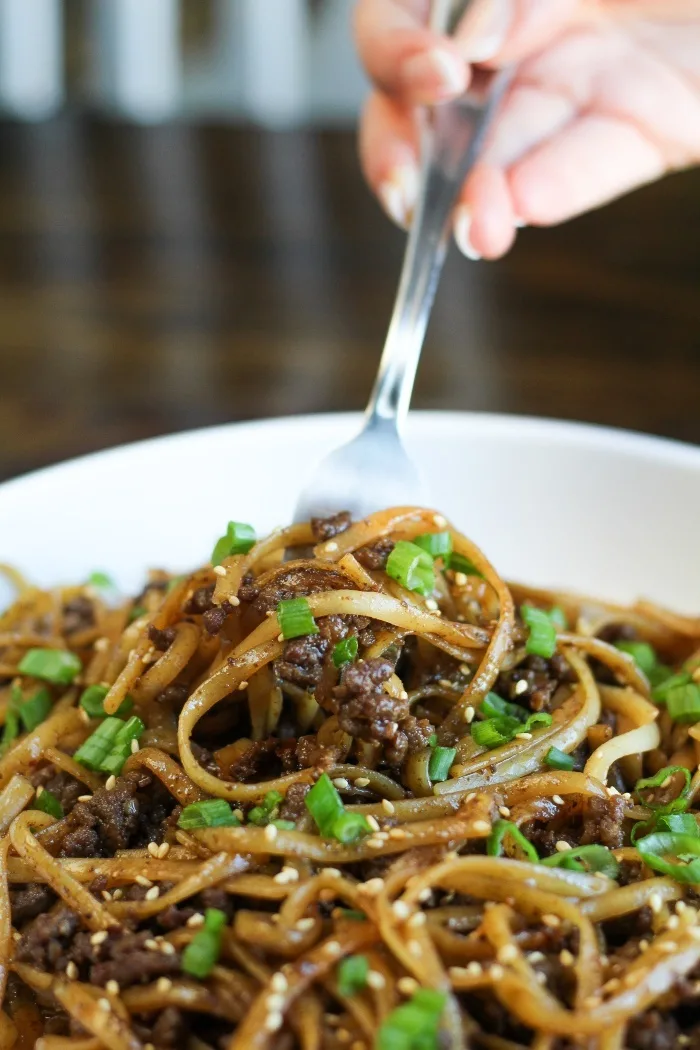 Of course, if you like having your ground beef delivered to your home, the ground beef from Farm Foods is amazing, and it gets delivered straight to your home.
While you are cooking your ground beef, you can let your noodles cook as well in a pasta pot making this a quick 15-minute dinner recipe.
For the ingredients list you need for doubling the sauce–
The original recipe calls for cornstarch and water and smaller amounts in the ingredients, but because I am serving this with pasta — I did not need the cornstarch.
The reason for this is that the pasta itself is starch and will provide everything we need to thicken the sauce.
I doubled the sauce as well because I knew the noodles would soak it up and wanted to make sure there was plenty.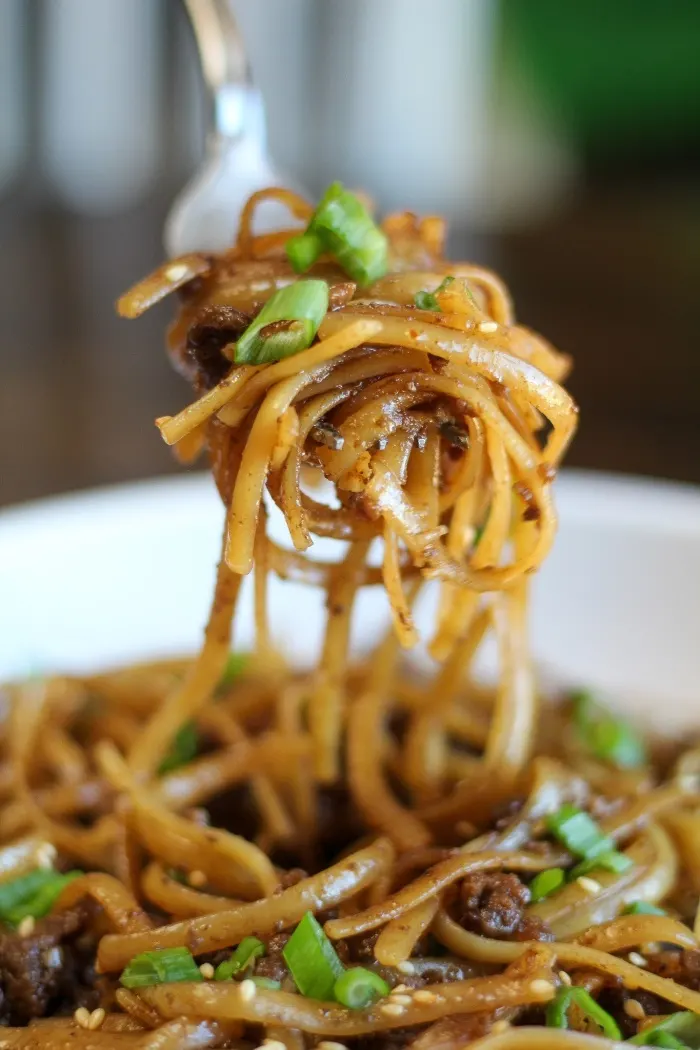 Cook the ground beef in the skillet with ginger and garlic. Drain off the fat.
Add in the other ingredients (minus the green onions and toasted sesame seeds).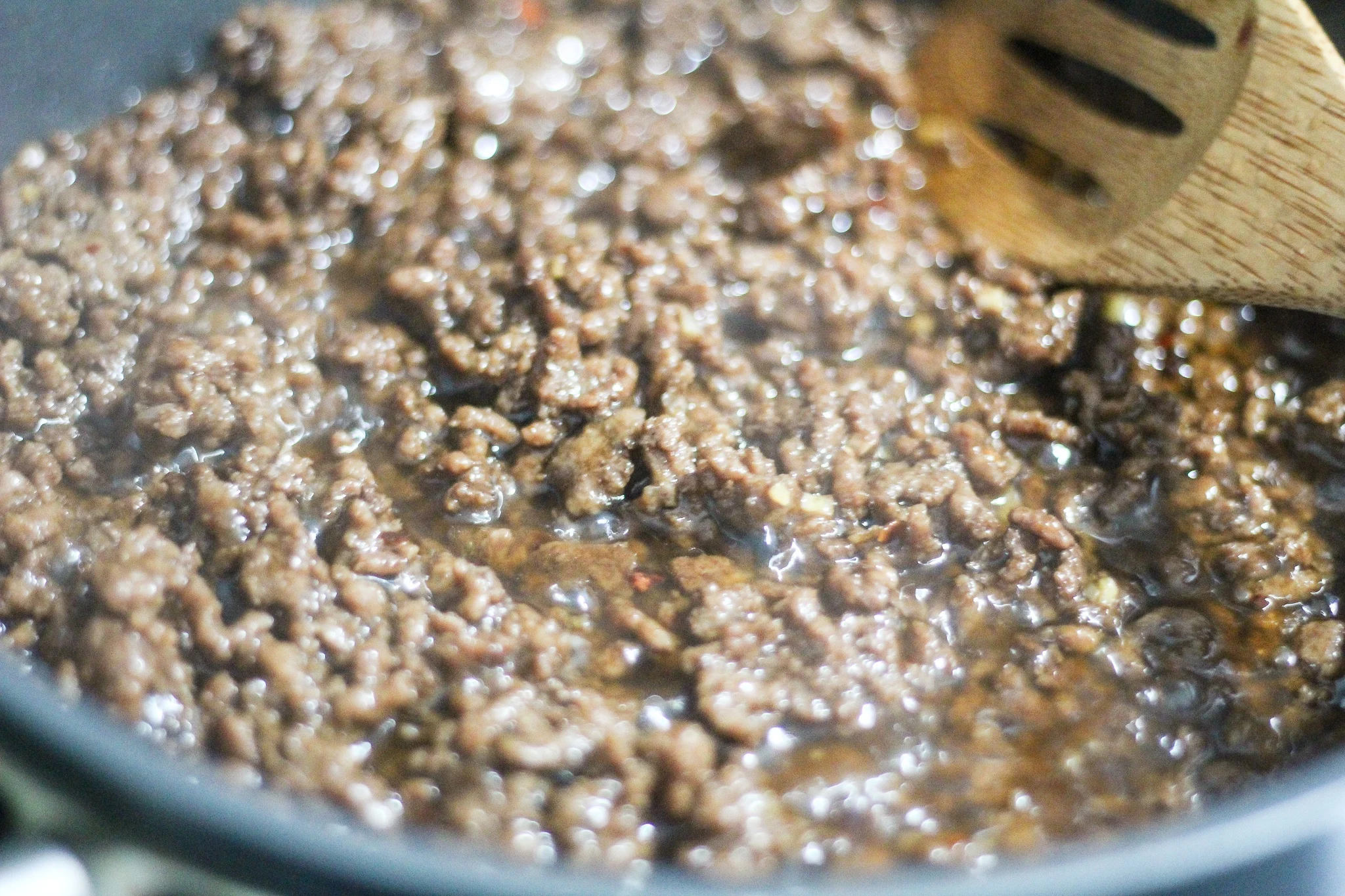 Remove the noodles from the pasta pot and add into the skillet with the ground beef.
Now, let it keep cooking for a bit until the sauce is thick and coats all the noodles and the meat.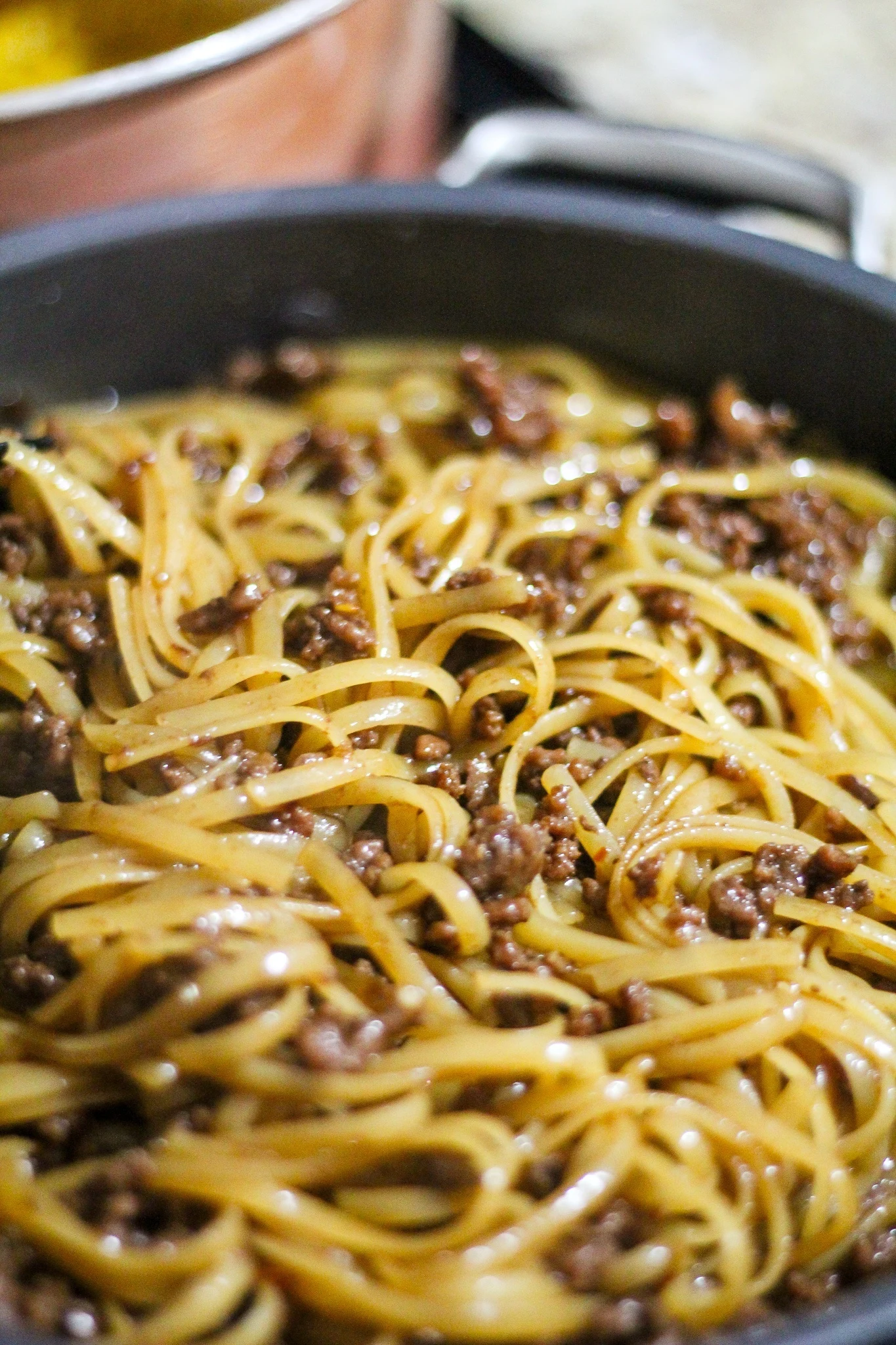 Serve alongside a delicious salad and a loaf of my Copycat Cheesecake Factory Honey Wheat Bread.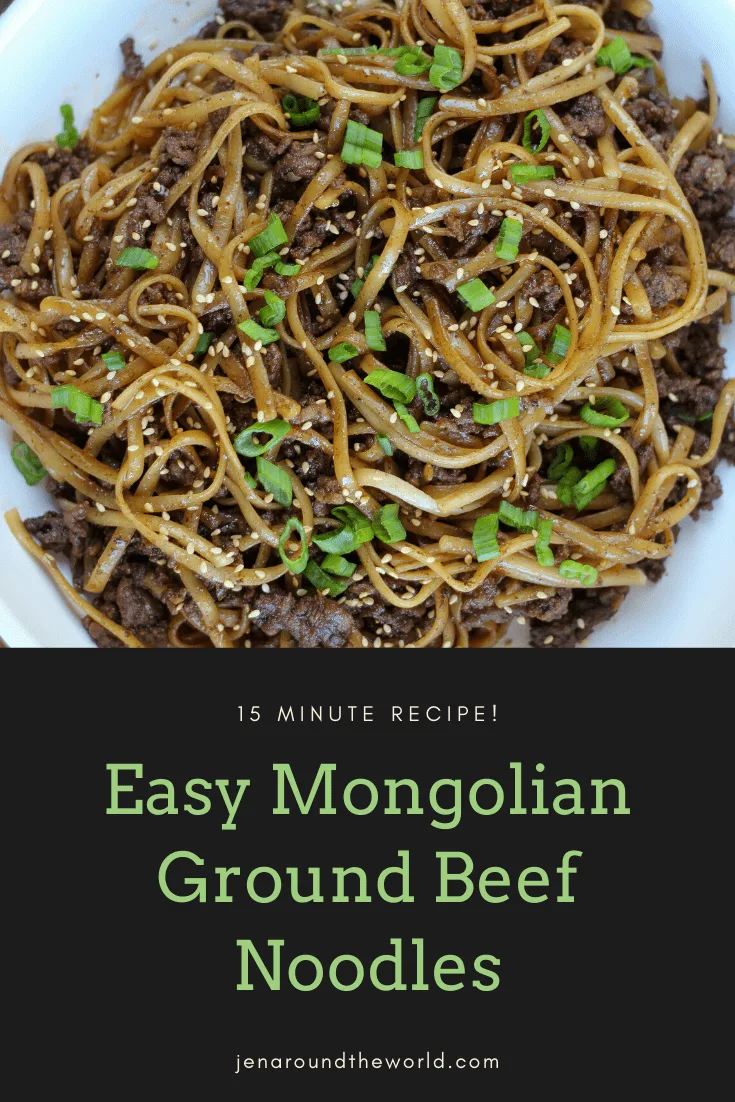 For more pasta recipes, check these out
Yield: 8 servings
Easy Mongolian Ground Beef Noodles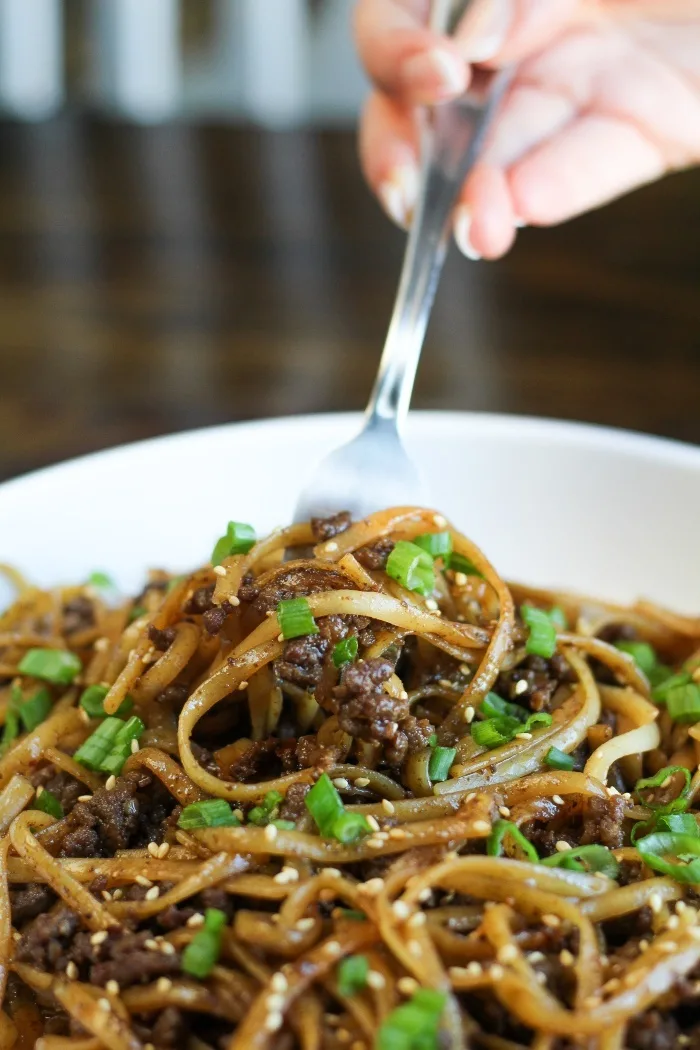 This Easy Mongolian Ground Beef Noodles recipe comes together in 15 minutes and is one of the most delicious meals you will make this year.
Ingredients
1 lb. lean ground beef
4 tsp minced ginger
6 cloves garlic, minced
1/2 cup low sodium soy sauce
1/2 cup of beef broth
1/4 cup brown sugar
6 tbsp hoisin sauce
1/2 tsp red pepper flakes
1/2 tsp black pepper
1 12 ounce box of Linguine Noodles
4 green onions, diced for garnish
Toasted Sesame Seeds for garnish
Instructions
In a medium skillet with high sides on the stovetop, brown the ground beef along with the ginger and garlic until beef is cooked through. Use the back of a wooden spoon to make sure meat is broken up well. Drain any fat and return the pan to the stovetop.
While the ground beef is cooking, get a pot of water started for your pasta noodles. Be sure to salt the water well so that your noodles soak up that flavor.
Combine the remaining ingredients -- the soy sauce, beef broth brown sugar, red pepper flakes, pepper, and hoisin sauce in a small dish and pour into ground beef mixture.
Let them saute in the pan for about 3 minutes to allow the ground beef to absorb the flavors.
Once your pasta is done cooking, transfer the noodles to the ground beef mixture. Mix thoroughly and allow to cook for a couple of more minutes to allow the sauce to thicken.
Top with green onions and toasted sesame seeds for the perfect noodle dish!
Recommended Products
As an Amazon Associate and member of other affiliate programs, I earn from qualifying purchases.
Nutrition Information:
Yield:
8
Serving Size:
1
Amount Per Serving:
Calories:

297
Total Fat:

9g
Saturated Fat:

3g
Trans Fat:

0g
Unsaturated Fat:

5g
Cholesterol:

51mg
Sodium:

1396mg
Carbohydrates:

31g
Fiber:

2g
Sugar:

15g
Protein:

22g