Last month, my best friend, my daughter, and I all headed out on a wonderful week-long adventure to visit Magnolia Market and The Mercantile. It had been a long-time dream of ours that we were finally getting to do. We had the best time!
One of our favorite parts was getting to stay in gorgeous historic hotels. In downtown Pawhuska, situated right across the street from The Mercantile is the Frontier Hotel.
Pawhuska is about 2 hours away from Oklahoma City. If staying in a small town is not your thing, then use the search engine to check out Oklahoma city Airbnbs with cozycozy.com.
The Frontier Hotel is a unique and beautiful five-story triangular building resembling the famous Flatiron Building located in Herald Square in New York City.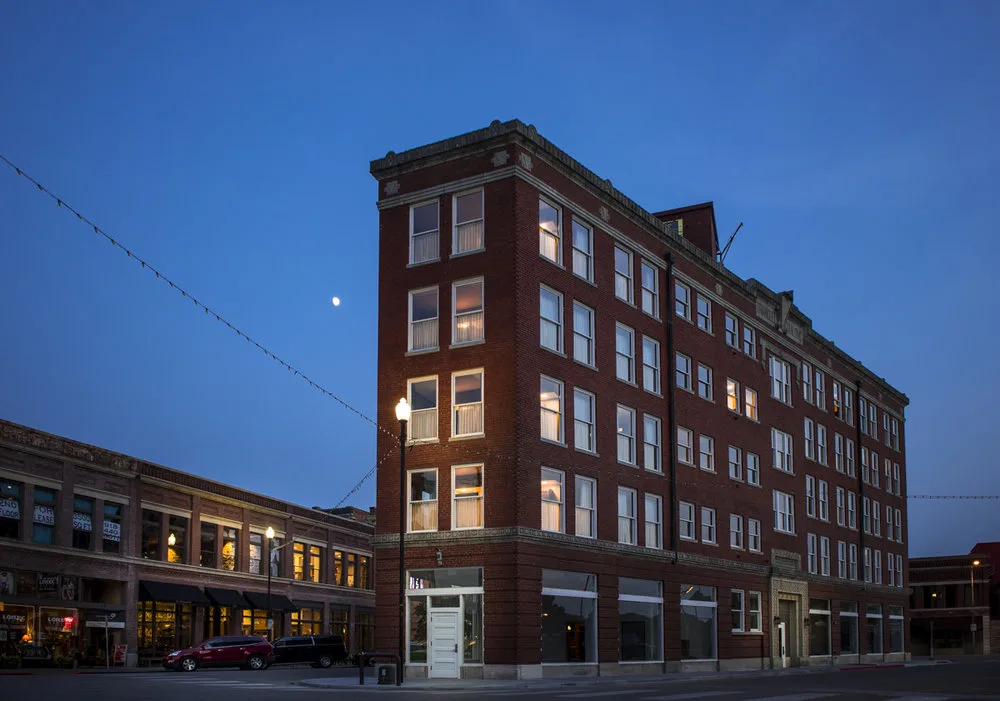 This building was built in 1912 and was office space for agencies, attorneys, and more. Even now, being a hotel, some of the rustic charms from 1912 can still be seen inside.
Inside the Frontier Hotel
There are only 20 rooms inside the Frontier Hotel. This is one of the things I love about boutique hotels — they are smaller in size, but pack a sizeable punch when it comes to service and amenities.
When we visited, there were still some renovations going on downstairs. I was told that a shop and coffee bar would soon take shape! That made me excited because my two favorite things are shopping and coffee!
When you walk into the lobby, you will immediately start to notice the western decor. Oklahoma is known for Indians, Outlaws, and oil — and it shows in everything there.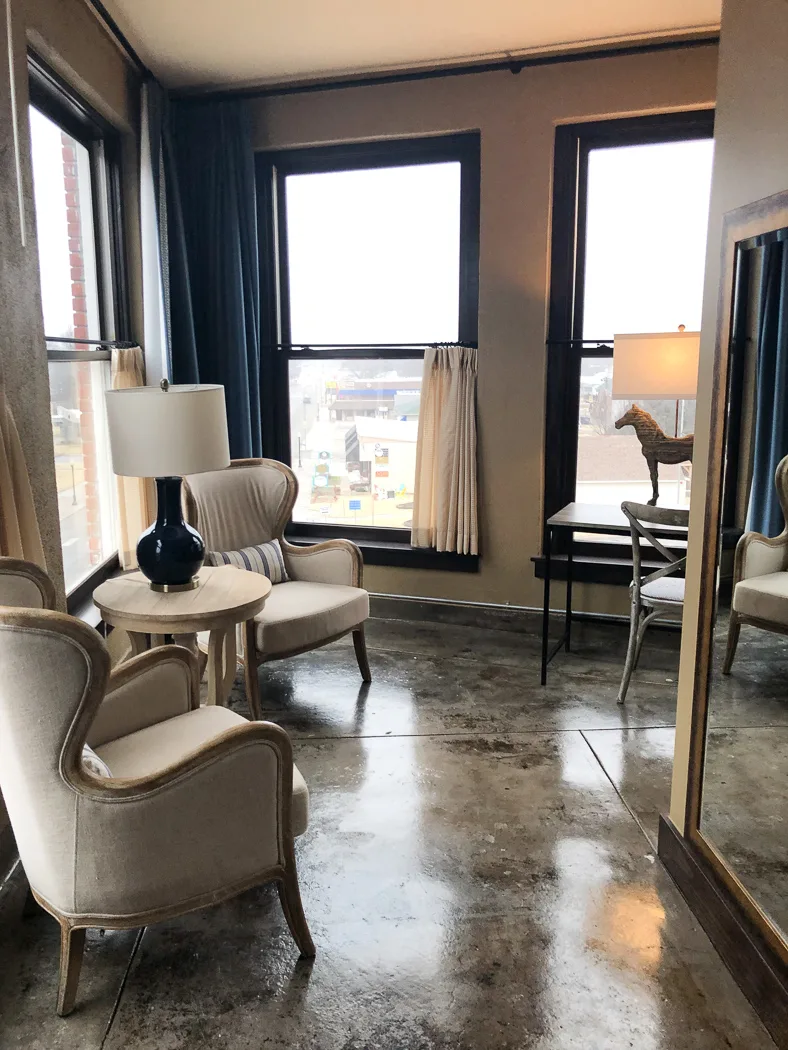 Inside the lobby, the original marble staircase still stands and is the perfect place to get a group picture. Sadly, we did not get one! We had plans to, but a freak ice storm came through on the day we were planning on leaving and our attention had to be turned to getting the 1/2″ ice off of my car.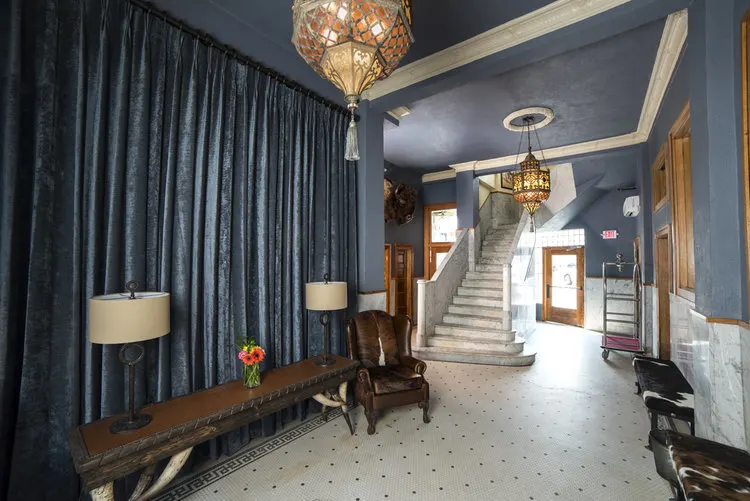 Photo credit: Frontier Hotel
The rooms are all decorated so beautifully!
There are three rooms that are considered suites. We had the privilege of staying in the Osage Double Queen Room. I loved this room because it is situated in the corner of the building with 10 huge windows!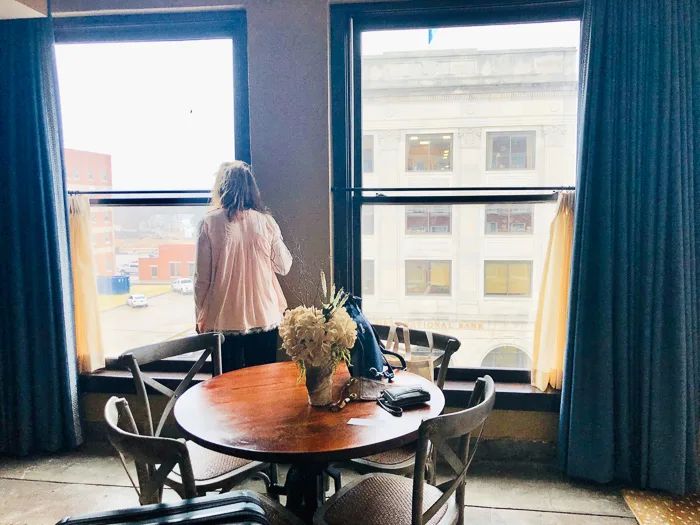 It has over 800 square feet in this room and from this vantage point, you have the perfect view of downtown Pawhuska.
One of my favorite things about these rooms is that the doors leading into each suite are the original office doors. Everything about them still works and they really make the room feel nostalgic.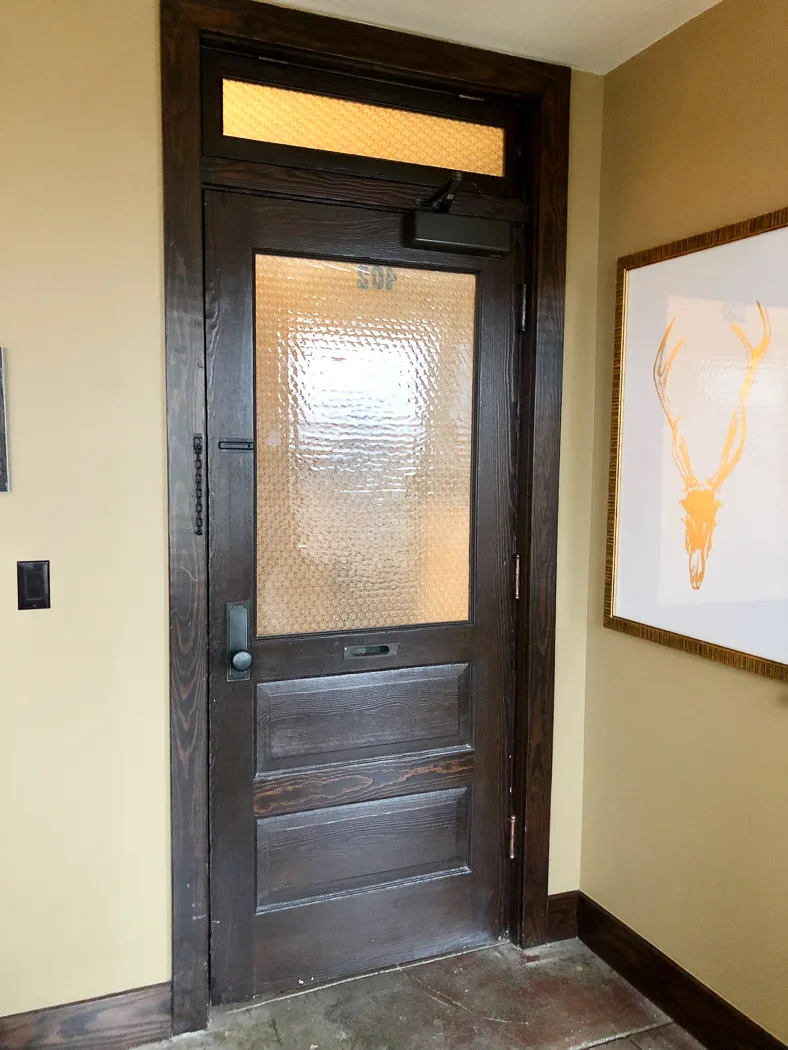 Each of the suite rooms comes with amenities like a Keurig coffeemaker, a butler kitchenette, a mini-refrigerator, a microwave, a steamer, a hairdryer, and robes. You will also find a 55″ Smart TV and complimentary Wi-fi in each room. If you need to keep your valuables somewhere, there is also a safe in each room.
Pricing
Staying at the hotel ranges in price from $150-$300 a night depending on when and what room you choose to stay in.
Surrounding Businesses
The cool thing about staying here is that you really do not need to drive anywhere unless you go to visit the Bison Range. Everything else is within walking distance.
We walked across the street to shop and eat at The Mercantile. On the opposite street right across from the Frontier Hotel is P-Town Pizza and all the fun boutique shops you can think to shop in.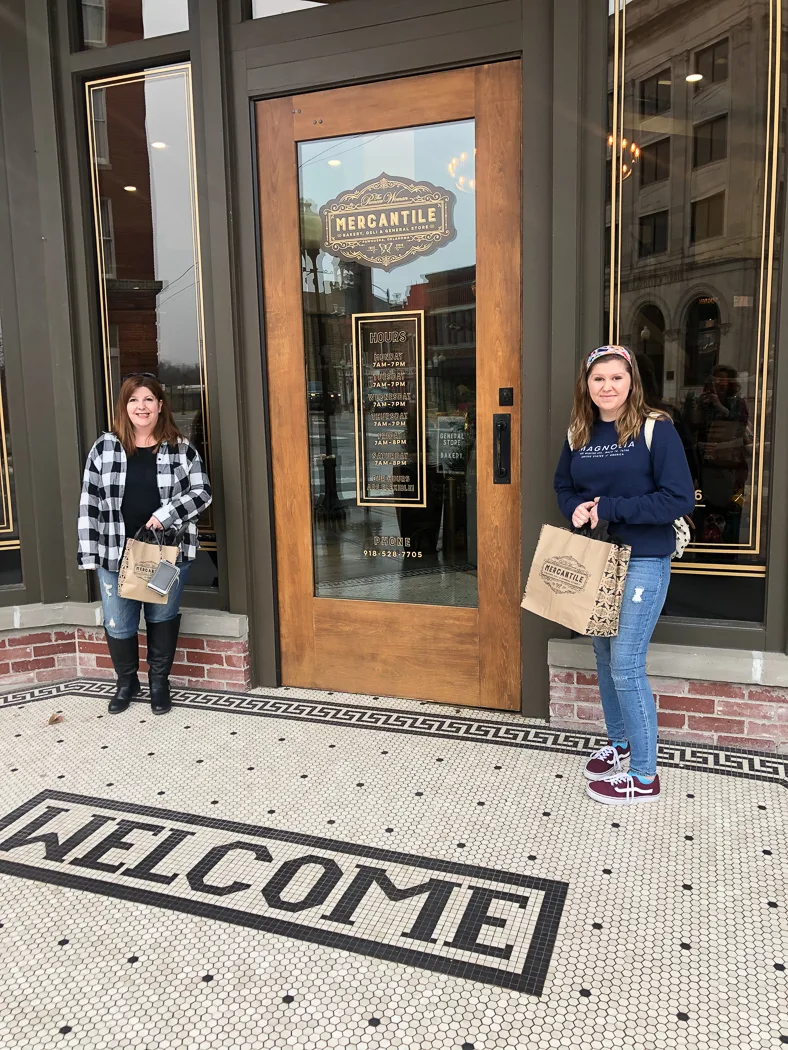 This hotel has seriously become one of my favorites and when I take my husband back to visit The Mercantile (because you can bet I will be back again), we will definitely be staying in the Frontier Hotel once again.
To book your stay, visit the hotel website at frontierhotel.com. Follow along on Facebook to find out all about the Frontier Hotel and make your plans to stay here soon!