These are the best homemade meatballs that you will ever put in your mouth!
A few years ago, anytime I need meatballs for a meal, I would head to the freezer section at the grocery store and buy a huge bag.
They were great — at least I thought they were.
But then, Kayla and I decided to try our hand once at making them homemade. Ever since then, no other meatball on the planet compares to these meatballs. These are seriously the best meatballs you will ever pop in your mouth.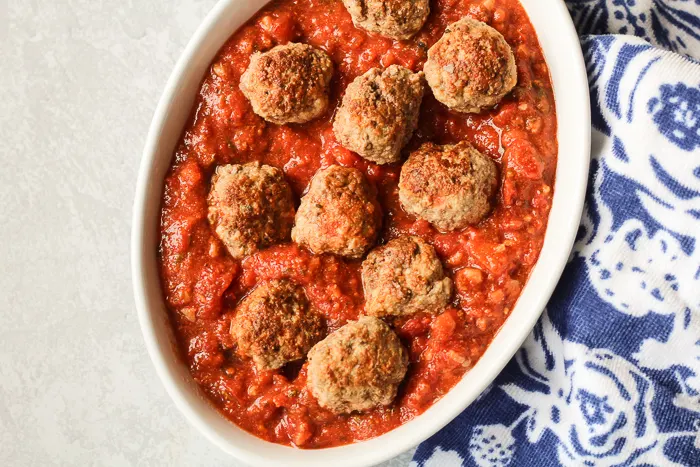 I serve these meatballs most time when I am making homemade pasta and spaghetti sauce. Yes — we make pasta night one of epic proportions around here. This recipe is adapted from The Pioneer Woman. I use hers as a starter but we changed a few things up to suit our own tastes.
How to Make the Best Homemade Meatballs Ever
For us, pasta night is an experience. Yes — it takes me a couple of hours to make this dinner, but it is one of my favorite nights for several reasons.
For starters, Kayla and I always have the best conversations as we stretch long strands of fresh pasta through my Kitchenaid mixer. As we create the freshest of noodles, she talks to me about the things she has been pondering, all the talks with God she has had and her hopes and dreams. I love that.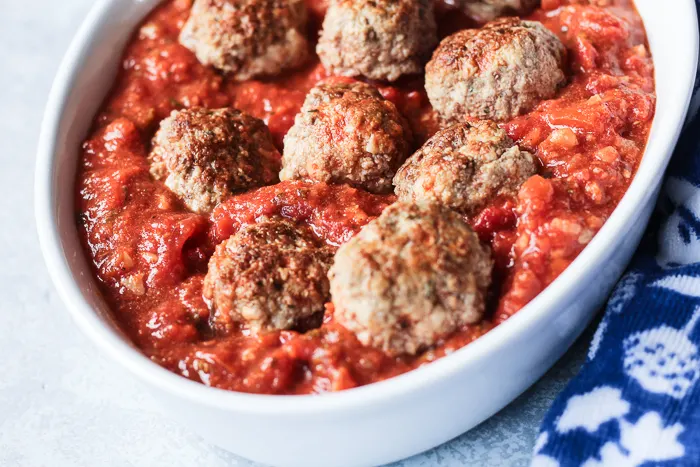 For me, cooking is a love language for my family. The way I say I love you and appreciate all you do for us is by creating mouthwatering meals — like this one for the best meatballs — and the pasta sauce cannot be beat either!
These meatballs can be flash frozen for later use or turned into amazing meatballs subs the next day.
One of the things that make these meatballs so tender and juicy are the two kinds of meat. I use fresh ground pork and fresh ground beef. Sometimes when I am making them, I look for pork chops or a sirloin steak on sale. Then, I grind them myself using my Kitchenaid meat grinder attachment.
Then, instead of stale breadcrumbs, I use fresh bread crumbs that I grind up in my Ninja Mixer. Those bread crumbs keep these meatballs so tender and flavorful.
It's also in the way that they are cooked. Instead of baking them in the oven as most do, I saute them on the stove. This gives them a sear on all sides and then I throw them into the pasta sauce to finish cooking.
Be sure to check out these other meatball recipes
The Perfect Meatball Sandwich
Yield: 30 meatballs
The Best Homemade Meatballs
These are the best meatballs you will ever put in your mouth
Additional Time
25 minutes
Ingredients
3/4 pounds Ground Beef
3/4 pounds Ground Pork
3 cloves Garlic, Minced
3/4 cups fresh Bread Crumbs
2 whole Eggs
3/4 cups Freshly Grated Parmesan
1/4 cup Flat-leaf Parsley, Minced
1/4 teaspoon Salt
Freshly Ground Black Pepper
3 tablespoons of milk (more or less depending on your meat mixture)
1/2 cup Olive Oil
For the Sauce:
1 whole Yellow Onion, Diced
3 cloves Garlic, Minced
1 whole (28-ounce) Can Whole Tomatoes
1 whole (28 Oz. Size) Crushed Tomatoes
1/4 teaspoon Salt
1 teaspoon Sugar
Freshly Ground Black Pepper
1/4 cup Flat-leaf Parsley, Minced
8 whole Fresh Basil Leaves, Chiffonade (optional)
Instructions
To make the meatballs, combine both of your meats, minced garlic, fresh bread crumbs, Parmesan, eggs, salt, pepper, parsley, and the milk in a medium sized bowl. Mix together well with hands. Using a cookie scoop, roll into 25-30 meatballs and place on a cookie sheet. Place cookie sheet into the freezer for 15 minutes to firm up.

To brown the meatballs, heat olive oil in a heavy dutch oven or large skillet over medium-high heat. Add meatballs 10 at a time, turning to brown. Remove and drain on a paper towel after each batch. Set meatballs aside.

In the same pot, add the onions and garlic and cook for a few minutes, or until you can see through them. Pour in whole tomatoes and crushed tomatoes. Then use your hands or a wooden spoon to crush the whole tomatoes. Now, add salt, pepper, sugar, and parsley. Stir to combine and cook over medium heat for 20 minutes.

Add the meatballs to the pot and stir in gently. Reduce heat to a simmer and cook for 25 minutes, stirring very gently a couple of times during the simmer.

Just before serving, stir in basil and then serve over fresh cooked pasta for an experience you won't ever forget!
Recommended Products
As an Amazon Associate and member of other affiliate programs, I earn from qualifying purchases.
Nutrition Information:
Yield:
30
Serving Size:
1
Amount Per Serving:
Calories:

128
Total Fat:

9g
Saturated Fat:

3g
Trans Fat:

0g
Unsaturated Fat:

6g
Cholesterol:

35mg
Sodium:

126mg
Carbohydrates:

4g
Fiber:

0g
Sugar:

1g
Protein:

8g