This recipe for Hawaiin Pork Kabobs has been sponsored by the Ohio Pork Council. All opinions listed are 100% my own.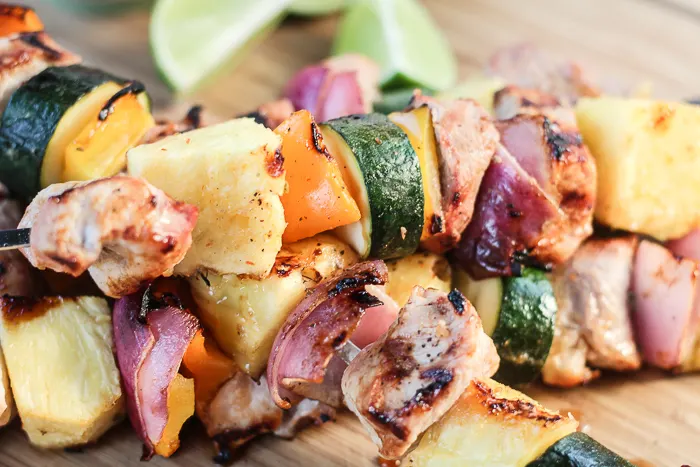 When the weather starts warming up, all I can think of is getting outside and grilling. One of my favorite cuts of meat for grilling is pork. It is so versatile and can be made in so many ways, like my delicious Hawaiian Pork Kabobs.
Hawaiian Pork Kabobs are made using a variety of veggies — the more color the better! I like adding fresh cut pineapple because I can make the chunks as big as I want. Then I add in some red onion, orange, and yellow peppers and zucchini.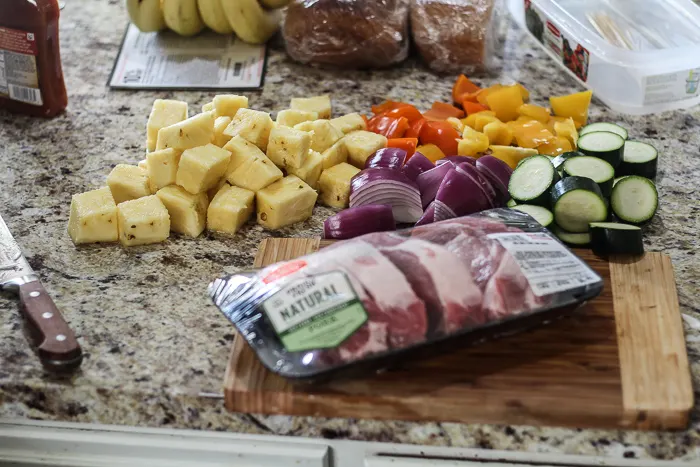 While the veggies are colorful, the star of the dish is fresh pork. My favorite is the pork loin. It is super tender and juicy and can be cut to whatever size you want.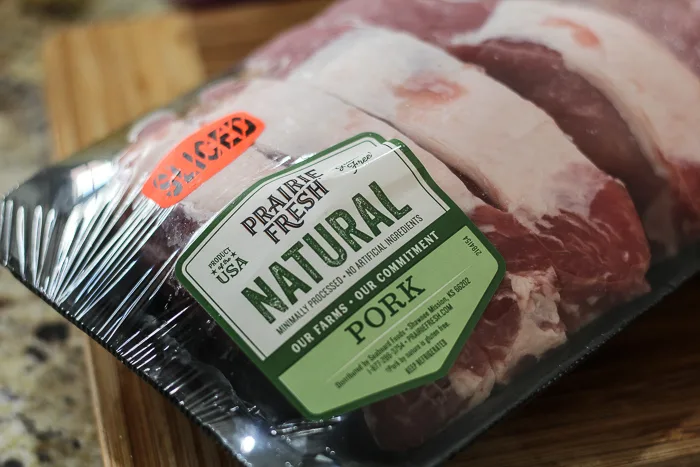 I found this cut at the grocery on their manager's special so it was very affordable — which is another reason I love using pork so much.
I trim the fat off the edges and then slice it into 2″ chunks, making sure each piece is big enough to get a good grill but also will not dry out when being grilled.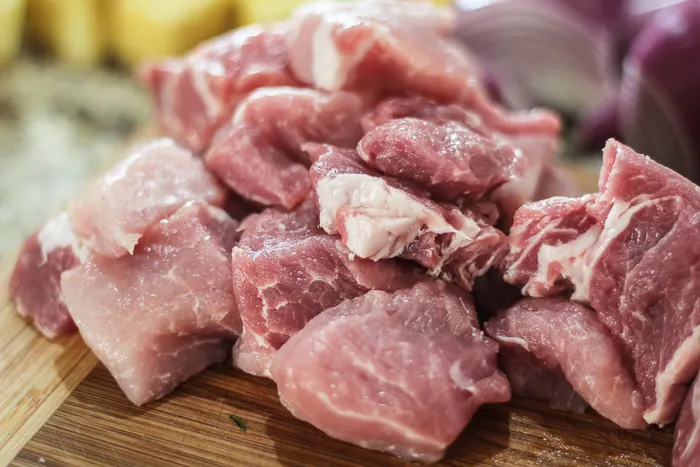 Let's Talk About Skewers
There are several types of skewers on the market when you think about making kabobs. The most cost-effective are wood. However, if you are going to use wood skewers then you need to know how to prepare them for grilling.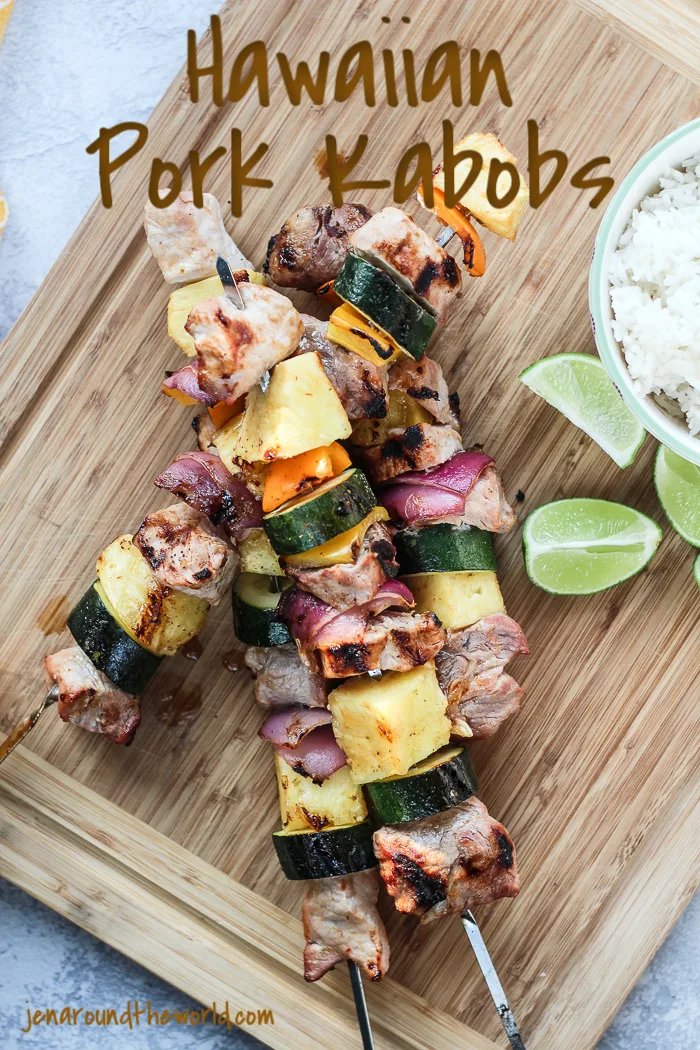 And yes — there is a method 🙂
Simply take out the number of skewer sticks you are going to use and then soak them in water for at least 30 minutes.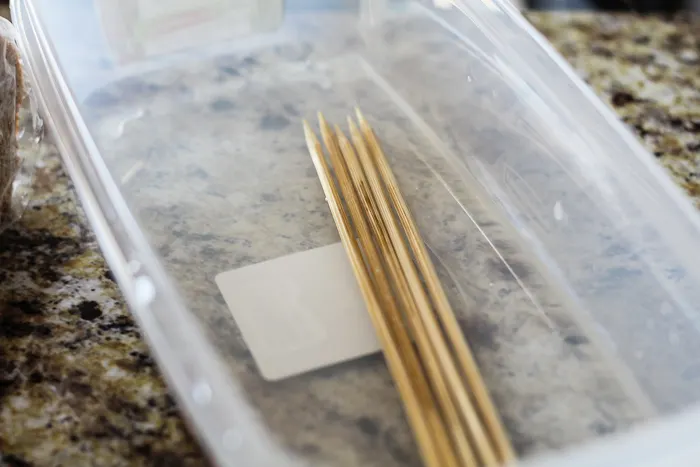 Once the skewers soak then you are ready to assemble them for the grill.
Simply alternate between your ingredients — pork, pineapple, onion, pork, zucchini, pepper, pork, pineapple, onion, pork. The idea is to end up with about 3-4 pieces of pork on each skewer between your veggies.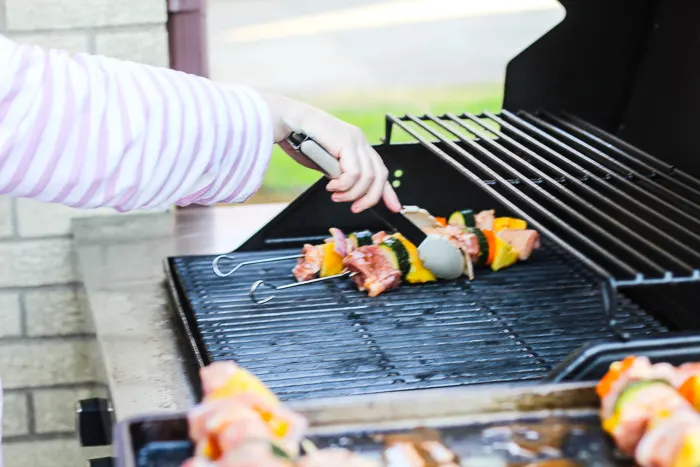 Now, once your grill is hot, place them on the grill and grill for about 10-15 minutes at around 400-450 degrees. You can also use metal skewers, so beware if you reach for them because those ends are scalding hot!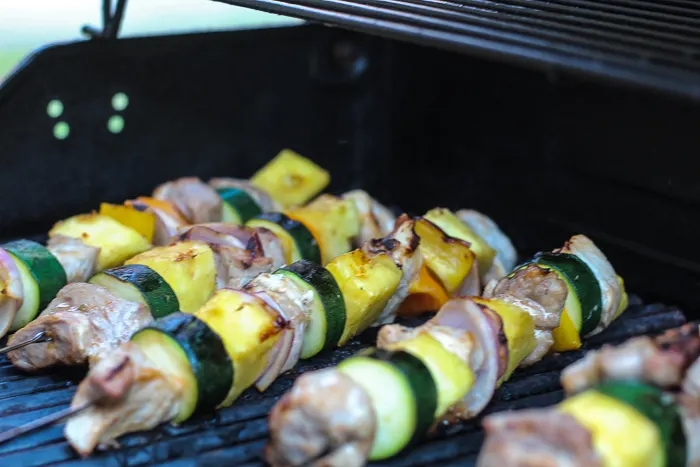 I brush on a Hawaiian Marinade that you can find at the store in the bbq sauce aisle. It's from a very popular brand which you won't be able to miss. It really takes these Hawaiian Pork Kabobs over the top.
Once the kabobs are done, remove them from the heat and let them rest while you make your side dish. I made coconut rice and it paired SO WELL with this dish.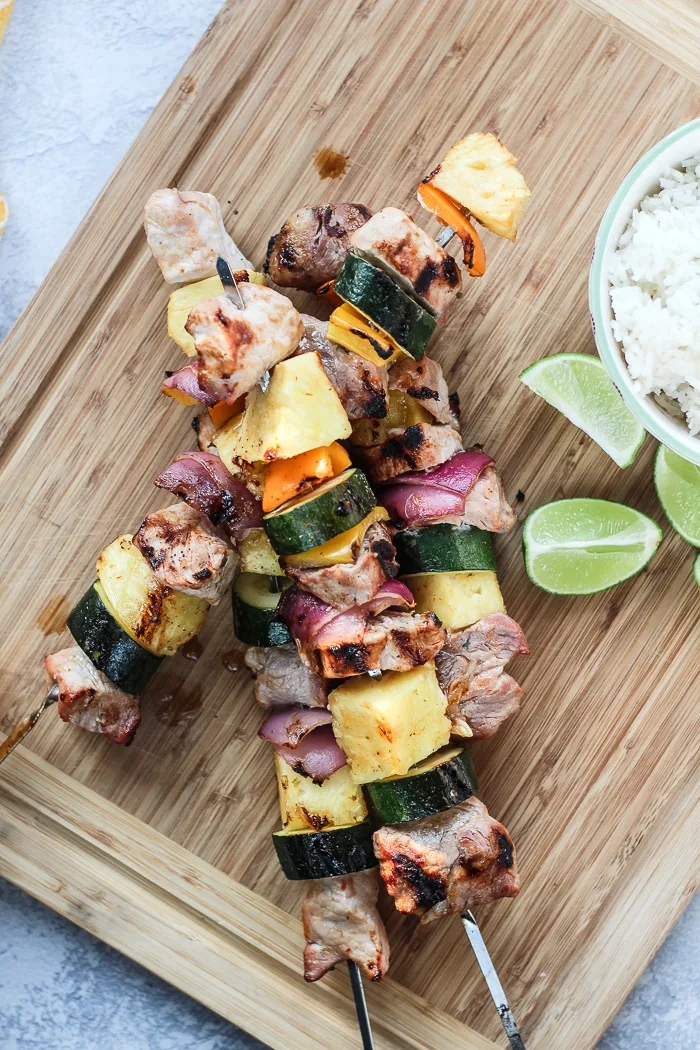 I will be sharing the recipe for the coconut rice on Monday, but for now, all you need is this recipe for Hawaiian Pork Kabobs. Another great dish that would go perfect with the coconut rice are these Hawaiian Pineapple BBQ Meatballs.
Yield: 8 kabobs
Hawaiian Pork Kabobs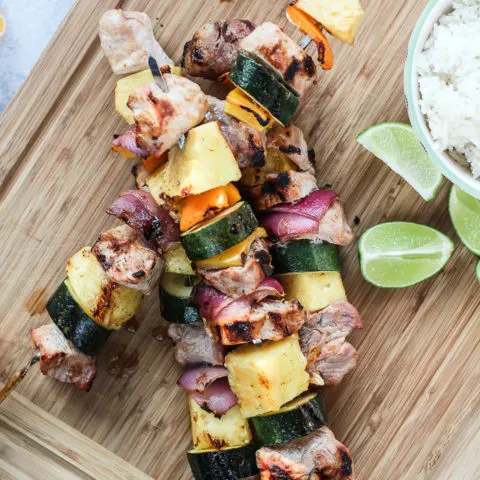 These Hawaiian pork kabobs will be your absolute favorite thing you grill this season. Simple and easy and full of tropical flavor.
Additional Time
15 minutes
Ingredients
1 3-4 pound pork loin, cut into 2" chunks
1 fresh pineapple, sliced and chunked
1 red bell pepper, seeded and chopped into chunks
1 orange bell pepper, seeded and chopped into chunks
1 yellow bell pepper, seeded and chopped into chunks
1 red onion, quartered
2 zucchini sliced into 2" rounds
1 bottle of Hawaiian Meat marinade
Bamboo or metal skewers
Salt and pepper to taste
Instructions
Assemble your kabobs by alternating between meat and veggies. You should end up with about 3-4 pieces of meat in between your veggies.
Place skewers on a cookie sheet and then brush them generously with Hawaiian Marinade.
Heat grill to a temp of 400-450 degrees and grill until the meat is no longer pink and veggies have a char on them, about 15-20 minutes.
Remove from heat and let rest for about 15 minutes.
Serve alongside coconut rice or your favorite tropical side dish.
Recommended Products
As an Amazon Associate and member of other affiliate programs, I earn from qualifying purchases.
Nutrition Information:
Yield:
8
Serving Size:
1 skewer
Amount Per Serving:
Calories:

575
Total Fat:

28g
Saturated Fat:

8g
Trans Fat:

0g
Unsaturated Fat:

16g
Cholesterol:

194mg
Sodium:

776mg
Carbohydrates:

12g
Fiber:

2g
Sugar:

7g
Protein:

66g
Why I Love the Ohio Park Board
The Ohio Pork Council and the Ohio Hog Farmers are doing their best to educate readers on the beauty that is pork. Believe me when I say that if pork is cooked right, you will fall in love with the taste.
And I love that the Ohio hog farmers really take care of their pigs. They are treated humanely and do not give their animals added hormones. To learn more about the cuts of pork available and what each label means, you can visit here.
What is your favorite pork recipe? I would love to know!