This recipe for Lemon Buttercream Cake with Lemon Curd Filling is perfect when you want a cake full of flavor and a bite of creamy lemon curd.
One of my favorite spring flavors is Lemon. I love making delicious lemon recipes like my Pioneer Woman Lemon Bars or this recipe for THE BEST Lemon Bars ever.

Of course, when Spring Sweets Week came around, I knew I wanted to make another lemon dessert –using my awesome homemade lemon curd. That is how this delicious Lemon Buttercream Cake with Lemon Curd Filling came about.
Lemon Buttercream Cake with Lemon Curd Filling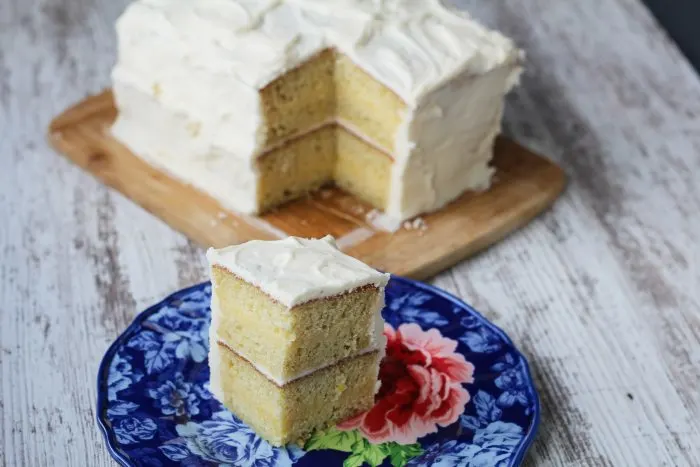 My son's favorite type of cake is Lemon and since he has been asking for one, I made it happen and this cake is AMAZING and so full of flavor. I used Adam's Extract flavoring in both lemon and vanilla to really punch up the flavors in this cake.
Now, if you have never seen a square cake like this before, let me show you how I made it using these amazing baking pans from Anolon. The 9×13 pan is perfect for making a two-tier square cake — perfect for slicing in half and filling with lemon curd.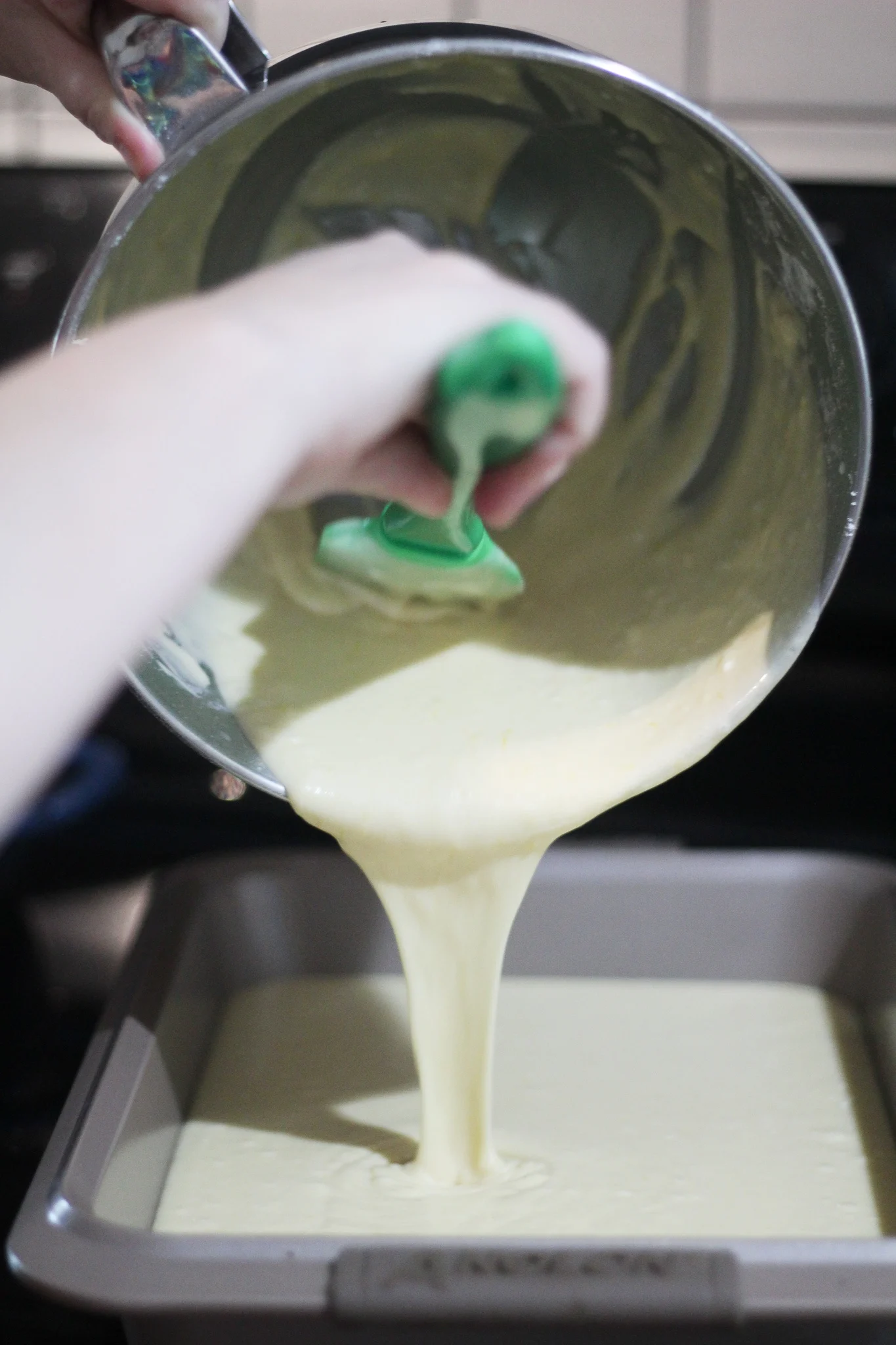 What I love most about these pans is that you don't need to flour or coat or spray or add parchment paper to these non-stick pans. They are truly non- stick and your cakes will come out so beautiful when you flip it over!
Once the cake comes out of the pan and cools, cut the cake in half, and then cut each half in half. When you are finished you should have 4 layers.
Now the fun begins!
Layering Your Cake
One of the best parts about this cake is the fresh lemon flavor you get from the lemon zest that runs all throughout the cake, the curd, and the buttercream icing. I used this Deiss Lemon Zester which has super sharp teeth — and my favorite kitchen gadget by far.
So — now that you have all your layers ready, let's assemble.
Start by laying one layer of your cake down and adding 1/4 cup of lemon curd. Spread it out evenly to get it all the way to the edge.
Next, add another layer of cake. On top of that layer, you are going to add your buttercream. You can do this layer as thick or as thin as you want. I prefer thinner because I add a lot of icing on the final layer.
Now, add another layer of cake. On top of this layer, you are going to add another 1/4 cup of lemon curd. Top with the final layer of cake.
At this point, if you have edges that are not even, you can take your knife and go around the cake and shave off the uneven parts so your cake looks like a uniform square.
Now, just cover all of your cake with the remaining buttercream for a delicious and flavorful lemon buttercream cake.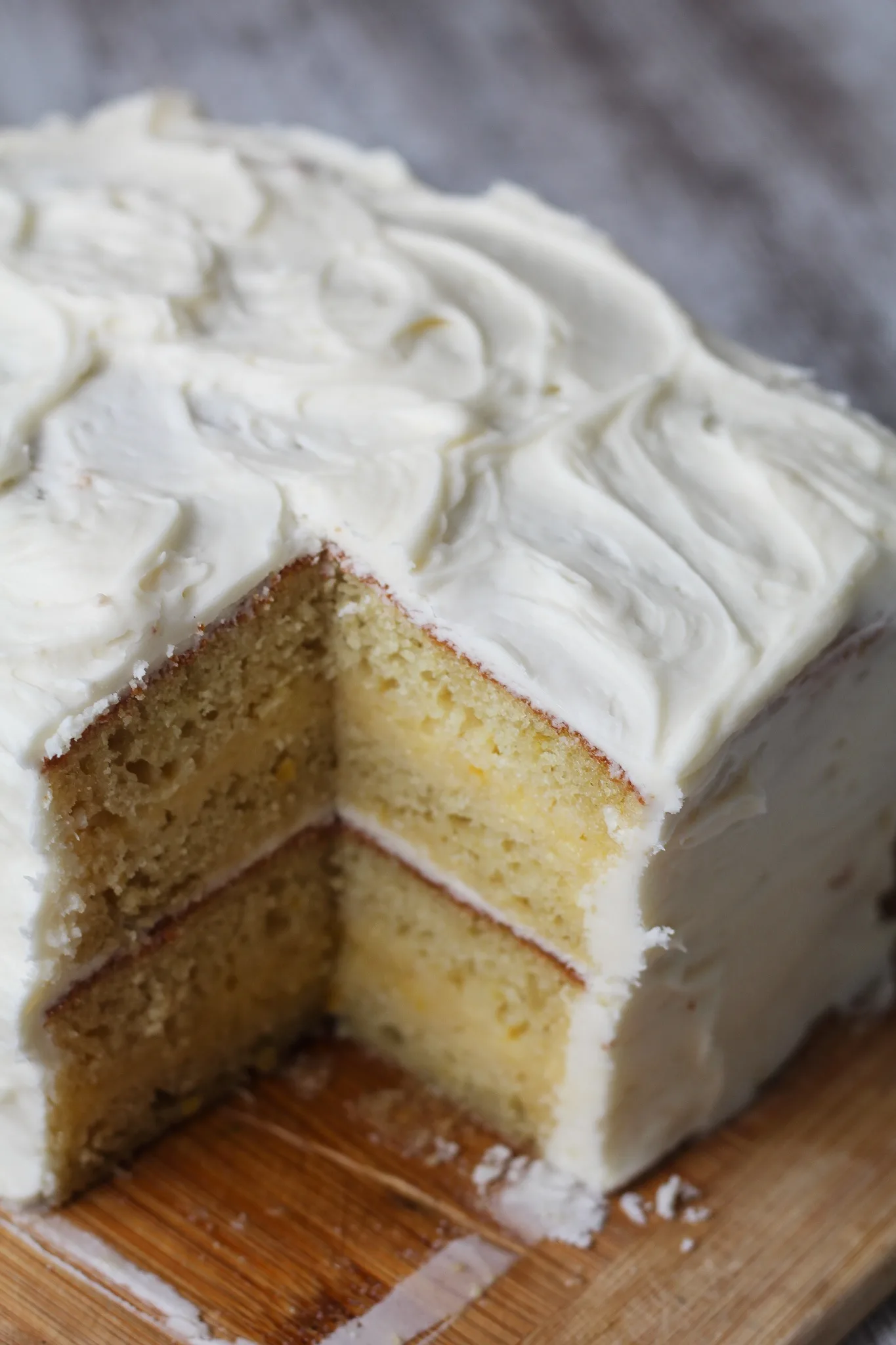 Yield: 20 slices
Lemon Buttercream Cake with Lemon Curd Filling
This lemon buttercream cake is so full of creamy lemon flavor. Looks like it takes forever to make but it is really simple.
Ingredients
For the cake
1 1/2 cups all purpose flour
1/2 tsp baking soda
1/2 tsp baking powder
1/2 tsp salt
3 eggs
1 cup sugar
2 tbsp softened butter
1 tsp vanilla extract
1 lemon zested
1/3 cup lemon juice
1/2 cup canola oil
My recipe for Lemon Curd
For the Buttercream Icing
8 ounces butter softened
3 cups powdered sugar
2 tbsp lemon juice
1 tsp lemon zest
1 tsp vanilla extract
Instructions
Preheat the oven to 350 degrees F. Take your 9x13 Anolon pan and set aside. No greasing or prep needed!
In a stand mixer mixing bowl, whisk together the flour, baking soda, baking powder, and salt.
In another mixing bowl with a hand mixer, beat together your eggs and sugar until fluffy.
Add the butter, vanilla, lemon zest, lemon extract, and canola oil.
Blend together for about 2 minutes.
Now, start to add the dry ingredients on low speed making sure to scrape down the sides of the bowl at times.
Pour the batter into the pan and bake in the oven for about 30 minutes or until the top springs back when lightly pressed.
Let the cake cool and flip out onto a cutting board. Cut the cake in half making two halves and then cut those halves into halves. This will make 4 halves.
Make the buttercream by beating the butter, powdered sugar, lemon juice and vanilla in a mixer until light and fluffy.
Start on low speed and then increase to high until everything comes together.
Set aside and let's assemble the cake.
Take one layer and place it on your cake platter. Take 1/4 cup of lemon curd and slather on this layer and go all the way to the edge.
Place 2nd layer of cake on top and then add buttercream, making sure to go all the way to the edge.
Now, add the 3rd layer of cake. On top of this layer, you are going to add another 1/4 cup of buttercream.
Top with the final layer of cake.
Using your buttercream icing, go around the whole cake covering it all.
Refrigerate for about 30 minutes to an hour and then serve to your guests.
Nutrition Information:
Yield:
20
Serving Size:
1
Amount Per Serving:
Calories:

328
Total Fat:

18g
Saturated Fat:

8g
Trans Fat:

1g
Unsaturated Fat:

9g
Cholesterol:

72mg
Sodium:

219mg
Carbohydrates:

39g
Fiber:

0g
Sugar:

31g
Protein:

2g