This recipe for Lemon Buttercream Cake with Lemon Curd Filling is sponsored in conjunction with #SpringSweetsWeek. I received product samples from sponsor companies to help in the creation of the #SpringSweetsWeek recipes. All opinions are mine alone.
Welcome to #SpringSweetsWeek 2020 hosted by Heather from Hezzi-D's Books and Cooks and Christie from A Kitchen Hoor's Adventures! What better way to celebrate the warmer weather and flowers blooming than with food and a fun giveaway?
27 bloggers from around the country have come together to share over 100 sweet recipes perfect for spring! So stop thinking about cold and snow and get ready to enjoy the best spring sweets like cupcakes, cookies, brownies, pies, and even beverages!
Our #SpringSweetsWeek sponsors are helping us give away some great prizes. Thank you so much to Dixie Crystals, Millican Pecan, Door County Coffee, Anolon, Deiss Kitchenware, Adams Extract, and Fresh April Sprinkles for your generosity. We have an incredible giveaway below and would love if you would take a moment to read about it and the prizes you can win!
Lemon Buttercream Cake with Lemon Curd Filling
One of my favorite spring flavors is Lemon. I love making delicious lemon recipes like my Pioneer Woman Lemon Bars or this recipe for THE BEST Lemon Bars ever.
Of course, when Spring Sweets Week came around, I knew I wanted to make another lemon dessert –using my awesome homemade lemon curd. That is how this delicious Lemon Buttercream Cake with Lemon Curd Filling came about.
My son's favorite type of cake is Lemon and since he has been asking for one, I made it happen and this cake is AMAZING and so full of flavor. I used Adam's Extract flavoring in both lemon and vanilla to really punch up the flavors in this cake.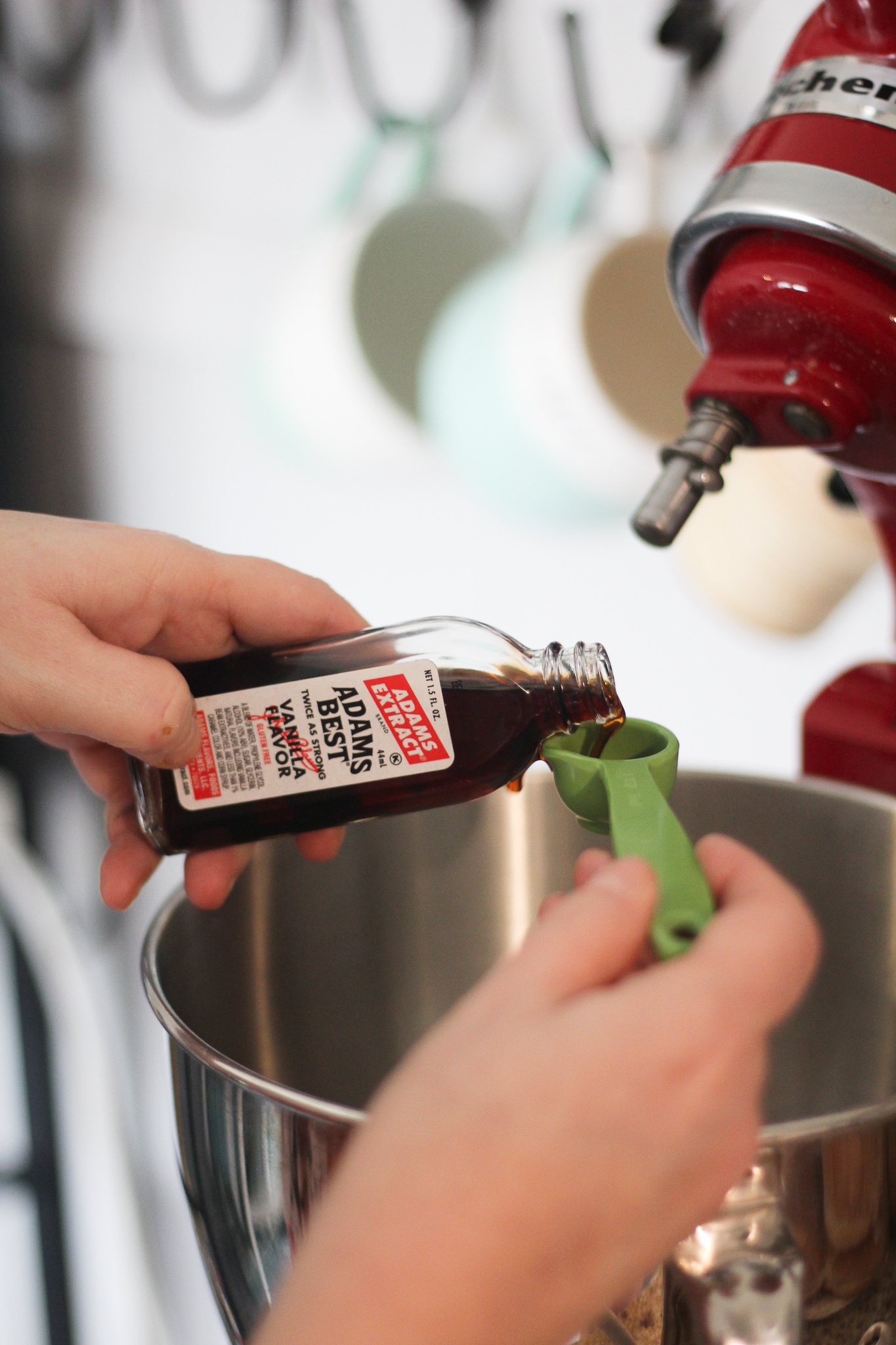 Now, if you have never seen a square cake like this before, let me show you how I made it using these amazing baking pans from Anolon. The 9×13 pan is perfect for making a two-tier square cake — perfect for slicing in half and filling with lemon curd.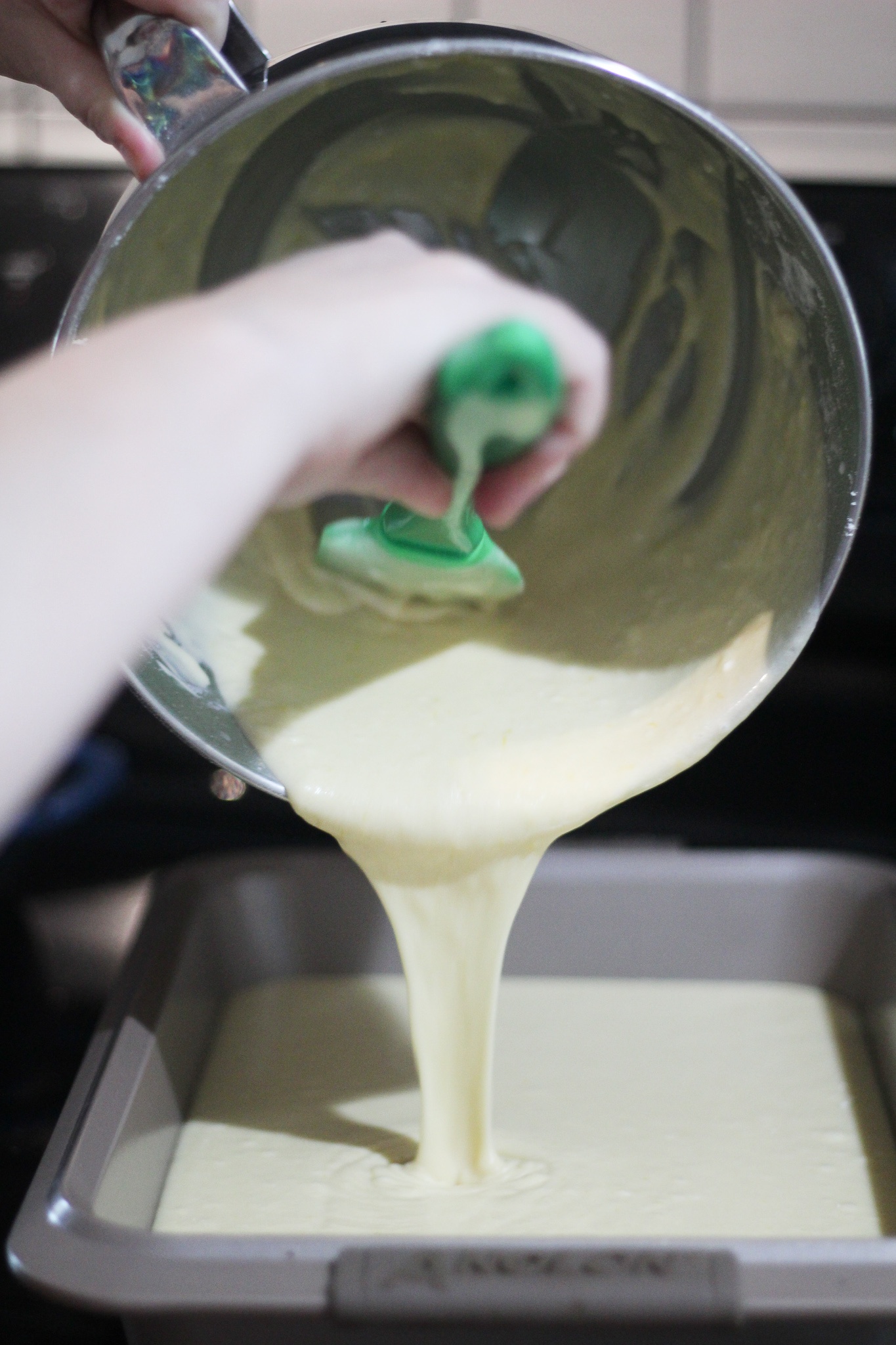 What I love most about these pans is that you don't need to flour or coat or spray or add parchment paper to these non-stick pans. They are truly non- stick and your cakes will come out so beautiful when you flip it over!
Once the cake comes out of the pan and cools, cut the cake in half, and then cut each half in half. When you are finished you should have 4 layers.
Now the fun begins!
Layering Your Cake
One of the best parts about this cake is the fresh lemon flavor you get from the lemon zest that runs all throughout the cake, the curd, and the buttercream icing. I used this Deiss Lemon Zester which has super sharp teeth — and my favorite kitchen gadget by far.
So — now that you have all your layers ready, let's assemble.
Start by laying one layer of your cake down and adding 1/4 cup of lemon curd. Spread it out evenly to get it all the way to the edge.
Next, add another layer of cake. On top of that layer, you are going to add your buttercream. You can do this layer as thick or as thin as you want. I prefer thinner because I add a lot of icing on the final layer.
Now, add another layer of cake. On top of this layer, you are going to add another 1/4 cup of lemon curd. Top with the final layer of cake.
At this point, if you have edges that are not even, you can take your knife and go around the cake and shave off the uneven parts so your cake looks like a uniform square.
Now, just cover all of your cake with the remaining buttercream for a delicious and flavorful lemon buttercream cake.
Check out the amazing prizes you can win in our #SpringSweetsWeek Giveaway!
Prize #1: Tower of Treats from Millican Pecan
Millican Pecan is giving one winner a Tower of Treats! The Tower of Treats is a beautiful and unique gift for that special friend, family member, client or associate.
The tower includes 3 decorative gift tins stacked on top of each other. The bottom tin includes our 2 lb. Chocolate Pecan Sampler, the middle tin is our Flavored Pecan Sampler and the top tin is a 8 oz. tin of Milk Chocolate Caramillicans (similar to Turtles).
Millican Pecan began when E.E. Risien, founded the West Texas Pecan Nursery in the late 1800s at the junction of the San Saba and Colorado Rivers. He received much recognition for his experiments that altered the course of the pecan industry and helped to establish San Saba as the "Pecan Capital of the World."
From this location, they developed many great pecan varieties, as well as a prosperous orchard that serves our customers well, even to this day. Today Millican Pecan is being run by the 5th generation, the one that launched the Millican Pecan website in 2002.
Visit https://millicanpecan.com/ to learn more about pecans, find delicious recipes, and buy their amazing pecans and pecan products.
Prize #2: 20 Pots of Coffee from Door County Coffee
Door County Coffee is giving one winner 20 full-pots of coffee and a Door County Coffee mug. Full pots will consist of seasonal flavors, flavored coffee, and non-flavored coffee.
Door County Coffee & Tea Co. was founded in 1993 in Door County, Wisconsin. It is a small, family-owned business, roasting coffee the old-fashioned way – in small batches to exacting specifications.
The mission has always been to produce some of the best-tasting and highest quality coffee. They have over 100 types of coffee, all of which are roasted right on site. Visit https://www.doorcountycoffee.com/ to see their selection of coffees and teas as well as to find some fabulous recipes.
Prize #3: Nordic Ware Bundt Set from Dixie Crystals
Dixie Crystals is giving one winner a set of Nordic Ware Bundt Pans. This set contains one Chiffon Bundt Pan and one Vaulted Cathedral Bundt Pan perfect for decorative baking. Since 1917, Dixie Crystals® has been the South's choice for high-quality sugar and sweeteners.
Our pure cane sugar products are all-natural, non-GMO and provide consistently delicious results. Visit www.dixiecrystals.com for hundreds of recipes, holiday ideas, great ways to get kids baking in the kitchen, and plenty of baking videos.
Prize #4: 5 Piece Bakeware Set from Anolon
Anolon is giving one winner an Anolon Advanced 5 piece Bakeware set. This nonstick bakeware set includes two 8 inch round cake pans, one 8 inch square cake pan, a 10 x 15 cookie pan, and a 9.25 x 14 cooling rack!
It's the perfect set for any baker. Established in the 1950's, Meyer Manufacturing started by making and selling flashlights.
In 1971 they started their journey into selling cookware and by 1986 they released the world's first hard-anodized nonstick cookware that would revolutionize the world of home cooking because the nonstick surface didn't flake or scratch easily.
Today they sell bakeware with nonstick interior and exterior that is made with a special blend of sapphire-reinforced nonstick that is triple coated. Visit https://anolon.com to see their selection of cookware, bakeware, tools, and to get amazing recipes.
Prize #5: 3 Bags of Sprinkles from Fresh April Sprinkles
Fresh April Sprinkles is giving one winner their choice of three 4 ounce bags of sprinkles!
The winner can choose from favorites like the Birthday Party Blend, Cotton Candy Blend, Pink Lemonade Blend, and so many others!
Fresh April Sprinkles was founded in the summer of 2019 by Lynn April who runs the food blog Fresh April Flours.
They produce small-batch, hand-blended sprinkles in a suburb outside of Philadelphia.
Their sprinkle blends are carefully crafted with beautiful desserts in mind and can be a company based out of a suburb of Philadelphia.
Our sprinkle blends are carefully crafted with beautiful desserts in mind and can be custom blended just for you!
Visit https://freshaprilsprinkles.com to see the collection of sprinkles available or to find recipes from Lynn!
Prize #6: Baking Pack from Adam's Extract
Adams Extract is giving one winner an Adams baking pack with 4-6 items including their amazing 4oz Adams Best® Vanilla Flavor.
This prize package is great for anyone who loves to bake!
John A. Adams began making and selling his Green Plant Sarsaparilla extract in 1888 in Battle Creek, Michigan. In 1905, he moved his family to Beeville, Texas.
Working with just $6.71 worth of materials on top of an old icebox, John A. Adams created a new formula for vanilla. His wife tested it by whipping up a cake and announced, "John, this is the BEST flavoring I have ever used."
"Well, that's old man Adams BEST," he responded. The name stuck, and Adams Best was born!
Today, Adams manufactures and markets under several Adams Brand banners, including Adams Best®, Adams Extract®, Adams® Seasoning & Spice, and many more.
To learn more about Adams Extract, to shop their products, or to find delicious recipes visit https://www.adamsextract.com.
Prize #7: Utensil Prize Pack from Deiss Kitchenware
Deiss Kitchenware is giving one winner a kitchen utensil prize package! The winner will receive a digital thermometer, a grater, an apple slicer, and a corer set, and a 5 piece utensil set!
Deiss Kitchenware is a small, family-driven company that believes it's easy to cook with pleasure when you have the right tools.
This company will bend over backward to make you happy and the president of the company will even answer your letters!
They create easy to use, innovative, and reliable products for use in your kitchen. To learn more about the company and the products they sell visit https://deisskitchenware.de/.
Thank You, Sponsors!
Thank you #SpringSweetsWeek Sponsors: Dixie Crystals, Millican Pecan, Door County Coffee & Tea Co., Anolon, Fresh April Sprinkles, Deiss Kitchenware, and Adams Extracts for providing the prizes free of charge.
These companies also provided the bloggers with samples and products to use for #SpringSweetsWeek recipes.
All opinions are my own. The #SpringSweetsWeek giveaway is open to residents of the United States who are 18 years of age or older. All entries for the winner will be checked and verified. By entering you give the right to use your name and likeness.
The number of entries received determines the odds of winning. Seven (7) winners will be selected. The prize packages will be sent directly from the giveaway sponsors. The #SpringSweetsWeek Bloggers are not responsible for the fulfillment or delivery of the prize packages. Bloggers hosting this giveaway and their immediate family members in their household cannot enter or win the giveaway. No purchase necessary. Void where prohibited by law. This promotion is in no way sponsored, endorsed or administered by, or associated with Facebook, Instagram, Pinterest, Twitter or any other social channel mentioned in the #SpringSweetsWeek posts or entry.
Monday #SpringSweetsWeek Recipes
Check out these other bloggers who also participated in recipes for Spring Sweets Week!
Yield: 20 slices
Lemon Buttercream Cake with Lemon Curd Filling
This lemon buttercream cake is so full of creamy lemon flavor. Looks like it takes forever to make but it is really simple.
Ingredients
For the cake
1 1/2 cups all purpose flour
1/2 tsp baking soda
1/2 tsp baking powder
1/2 tsp salt
3 eggs
1 cup sugar
2 tbsp softened butter
1 tsp vanilla extract
1 lemon zested
1/3 cup lemon juice
1/2 cup canola oil
My recipe for Lemon Curd
For the Buttercream Icing
8 ounces butter softened
3 cups powdered sugar
2 tbsp lemon juice
1 tsp lemon zest
1 tsp vanilla extract
Instructions
Preheat the oven to 350 degrees F. Take your 9x13 Anolon pan and set aside. No greasing or prep needed!
In a stand mixer mixing bowl, whisk together the flour, baking soda, baking powder, and salt.
In another mixing bowl with a hand mixer, beat together your eggs and sugar until fluffy.
Add the butter, vanilla, lemon zest, lemon extract, and canola oil.
Blend together for about 2 minutes.
Now, start to add the dry ingredients on low speed making sure to scrape down the sides of the bowl at times.
Pour the batter into the pan and bake in the oven for about 30 minutes or until the top springs back when lightly pressed.
Let the cake cool and flip out onto a cutting board. Cut the cake in half making two halves and then cut those halves into halves. This will make 4 halves.
Make the buttercream by beating the butter, powdered sugar, lemon juice and vanilla in a mixer until light and fluffy.
Start on low speed and then increase to high until everything comes together.
Set aside and let's assemble the cake.
Take one layer and place it on your cake platter. Take 1/4 cup of lemon curd and slather on this layer and go all the way to the edge.
Place 2nd layer of cake on top and then add buttercream, making sure to go all the way to the edge.
Now, add the 3rd layer of cake. On top of this layer, you are going to add another 1/4 cup of buttercream.
Top with the final layer of cake.
Using your buttercream icing, go around the whole cake covering it all.
Refrigerate for about 30 minutes to an hour and then serve to your guests.
Nutrition Information:
Yield:
20
Serving Size:
1
Amount Per Serving:
Calories:

328
Total Fat:

18g
Saturated Fat:

8g
Trans Fat:

1g
Unsaturated Fat:

9g
Cholesterol:

72mg
Sodium:

219mg
Carbohydrates:

39g
Fiber:

0g
Sugar:

31g
Protein:

2g