This recipe for Blueberry Flavored No-Churn Coffee Ice Cream is the perfect blend of coffee flavor and delicious sweet blueberries. It may sound weird, but trust me — it is delicious!
I love finding new and exciting recipes to share with y'all!
I created this recipe for Blueberry Flavored No-Churn Coffee Ice Cream while I was recipe testing a couple of weeks ago.
Now I know if you are like me, you think blueberries and coffee? That doesn't even sound like it goes that great together.

How to Make Blueberry Flavored No-Churn Ice Cream
Well — normally you would be right. However, when you use Door County Coffee that is Blueberry Cobbler, everything about this recipe turns outright.
I was sent a huge box of different flavored coffees, and because this is Spring, I wanted to create a recipe that said spring. Nothing screams Spring to me like fresh berries. When my eyes landed on the Blueberry Cobbler coffee, I knew right then and there that it was the one I was going to use for this delicious recipe.
How to Make this recipe no-churn
Now — what makes this recipe no churn is the fact that you mix everything together and place it in a dish and let it freeze. I have made a lot of other delicious ice cream recipes such as my Strawberry Ice Cream, my vanilla milkshakes without ice cream, easy no-churn cotton candy ice cream, and now I can add this delicious coffee ice cream to the mix too!
A lot of people make a pot of coffee and use the liquid in their ice cream, but I like the addition of the ground coffee granules in my coffee.
So I start by grinding the coffee finer than what it is. I want it to be more like an espresso grind, so I use my coffee grinder and get it to a fine grind. This is the best automatic espresso machine.
Then, to my KitchenAid Mixer, I add in 2 cups of heavy whipping cream. I beat it until it makes whipped cream and the peaks are stiff.
Then I add in, the sweetened condensed milk and the coffee granules. And fold it all in together to create this delicious blueberry flavored no-churn coffee.
Once it gets all the way incorporated, find a rectangle or square freezer dish with a lid (I get these on Amazon), or you could use these freezer-safe ice cream containers.
Pour it in and smooth it out. Then, allow it to freeze for at least 4 hours or overnight.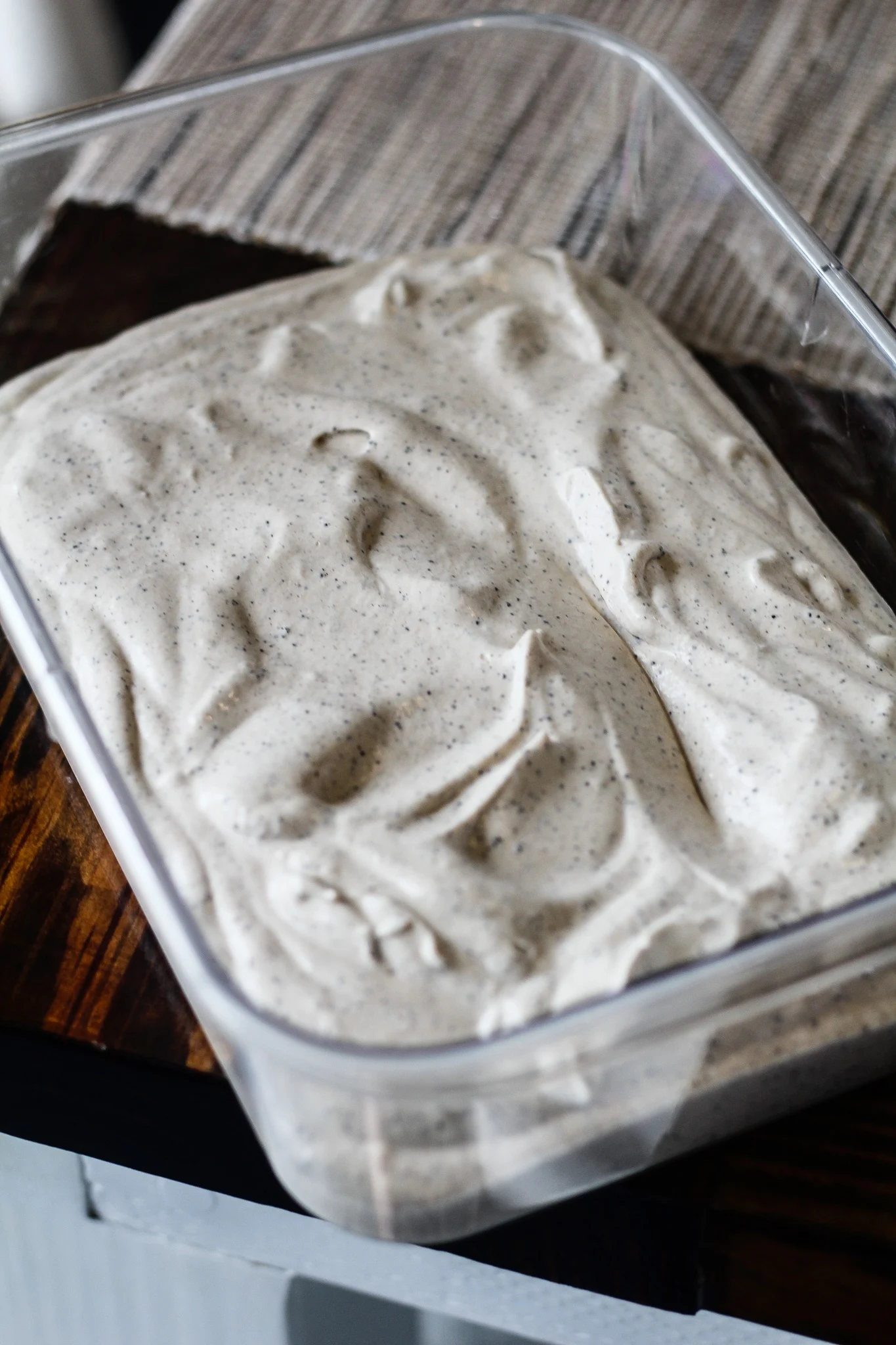 As it sits in the freezer, the flavor intensifies and it is so delicious! I was not expecting to love this ice cream as much as I do, but the blueberry flavor pairs so well with the coffee.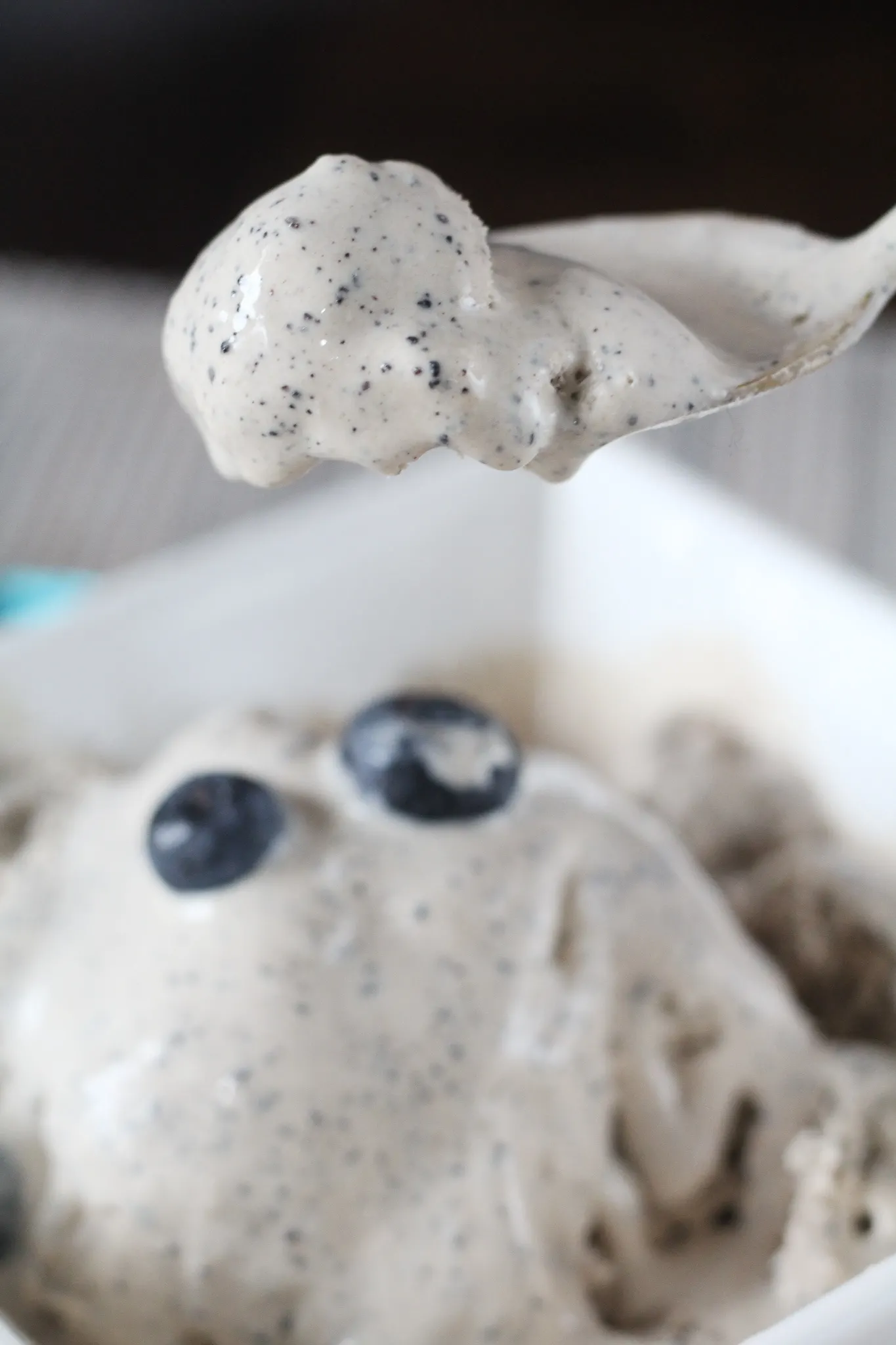 Those beautiful specks of coffee really make this ice cream shine front and center! You are definitely going to want to make this recipe for sure!
Looking for More Coffee Inspiration? Check out these recipes
Also, be sure to visit the Best Coffee Recipes page on my blog for more inspiration. I even have a list of some of my favorite coffee accessories.
Yield: 2 cups
Blueberry Flavored No-Churn Coffee Ice Cream
This blueberry infused coffee ice cream will blow you away with the delicious flavor. Since it is a no-churn version, it is easy to make!
Cook Time
1 day
4 seconds
Total Time
1 day
5 minutes
4 seconds
Ingredients
3 Tablespoons blueberry Cobbler coffee from Door County
2 cups heavy cream
1 can of sweetened condensed milk
1 teaspoon vanilla extract
Instructions
In a coffee grinder, grind the coffee down to a fine ground, which is an espresso grind.
In a large bowl using a hand mixer or the bowl of a stand mixer fitted with the whisk attachment, beat the heavy cream until stiff peaks form.
Now, fold in the sweetened condensed milk, vanilla extract, and coffee granules until mixed together.
Spoon the ice cream into a freezer-safe container or bowl.
Cover tightly and freeze overnight, or at least 4 hours.
Homemade Ice cream like this can be stored in the freezer for up to 2 weeks.
Nutrition Information:
Yield:
8
Serving Size:
1
Amount Per Serving:
Calories:

231
Total Fat:

22g
Saturated Fat:

14g
Trans Fat:

1g
Unsaturated Fat:

7g
Cholesterol:

70mg
Sodium:

33mg
Carbohydrates:

6g
Fiber:

0g
Sugar:

6g
Protein:

2g