These Mini Strawberry Rhubarb Pies are the perfect small dessert for any Spring get-together.
I love the taste of sweet strawberries mixed with tart rhubarb.
One of my favorite fruits to cook with is strawberries.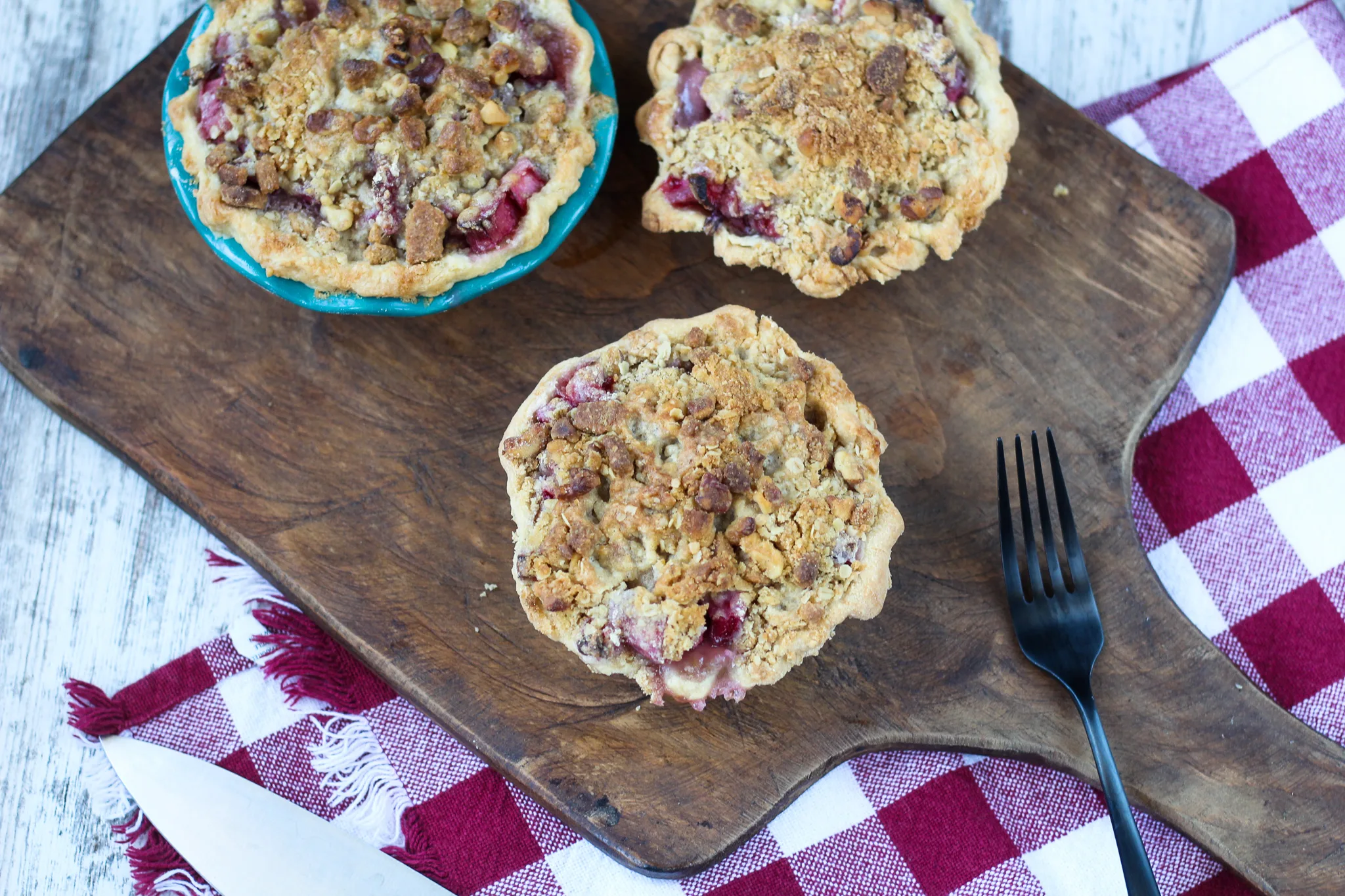 They are just so versatile and can be used in sweet and savory dishes.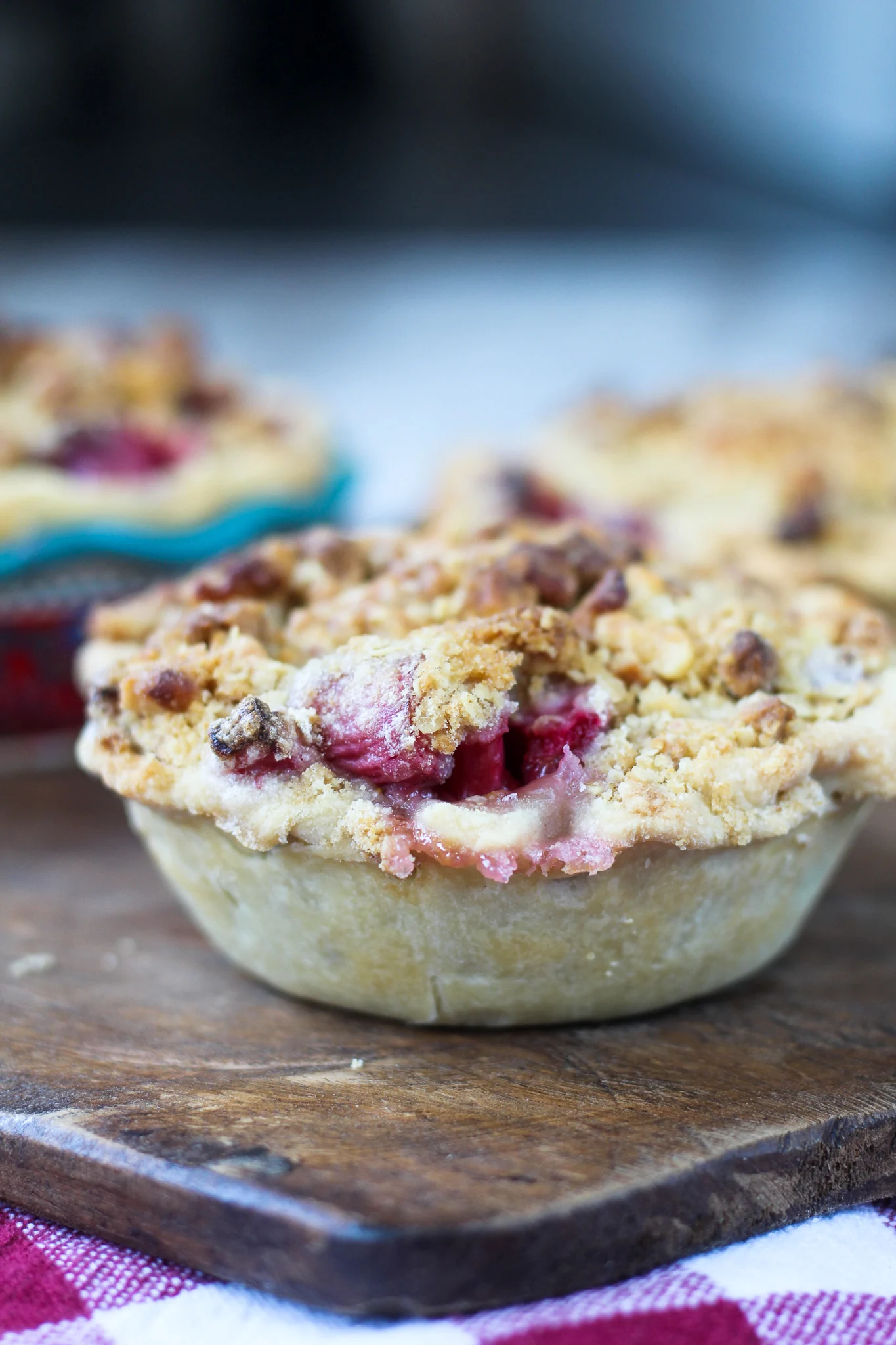 During Spring Sweets Week, I was introduced to rhubarb. I have never tasted it before or cooked with it, so I was excited to experiment and come up with a really fun recipe for you guys.
Now, normally people will make a full size Strawberry Rhubarb Pie, but I had some neat mini pie tins that I wanted to try out and use and everything turned out perfect.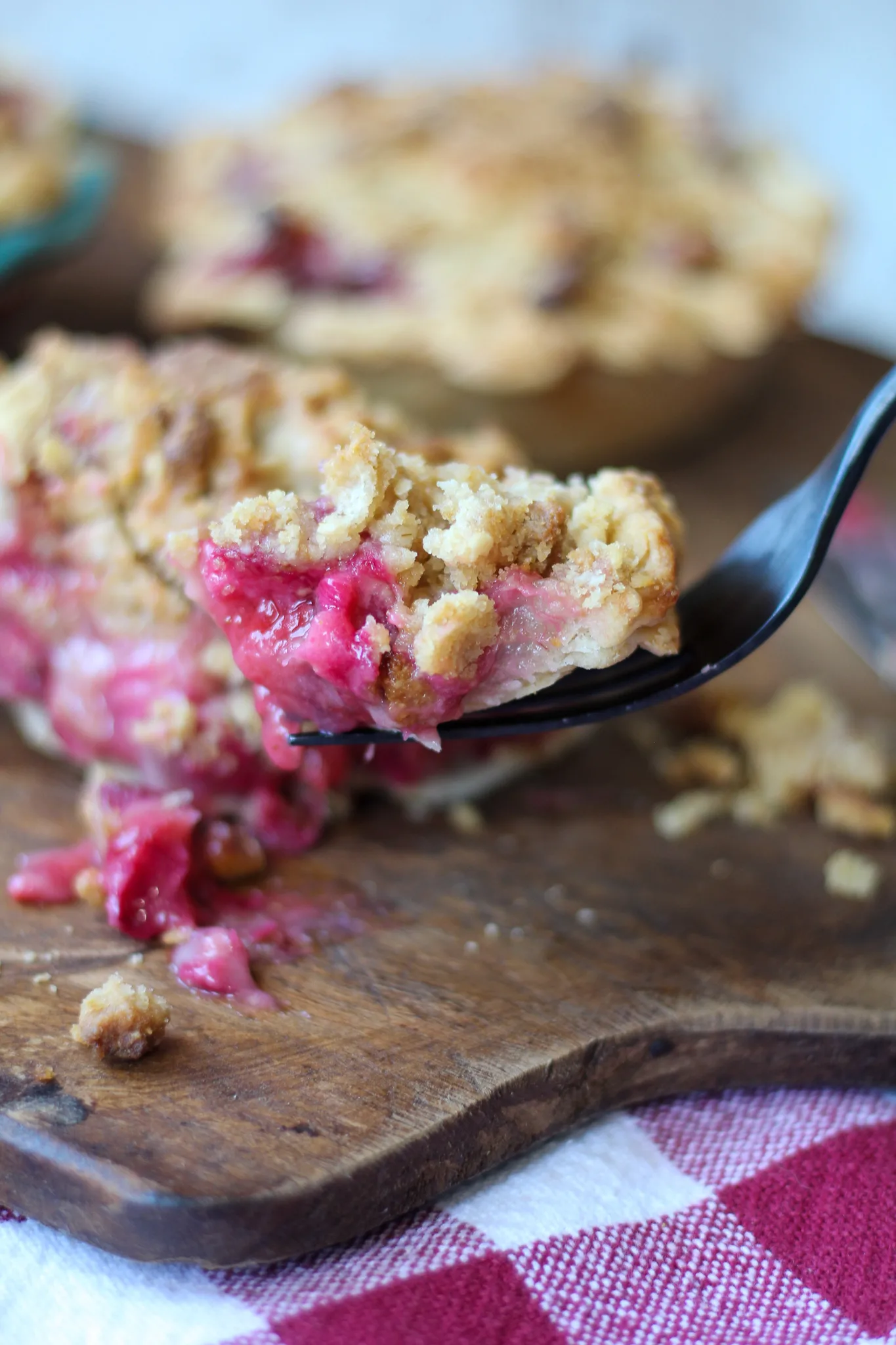 I also chose to do a crumb topping instead of a lattice crust. The crumb topping is light, tender, and crispy yet substantial enough to create a nice coating over the pie.
How to Make Mini Strawberry Rhubarb Pie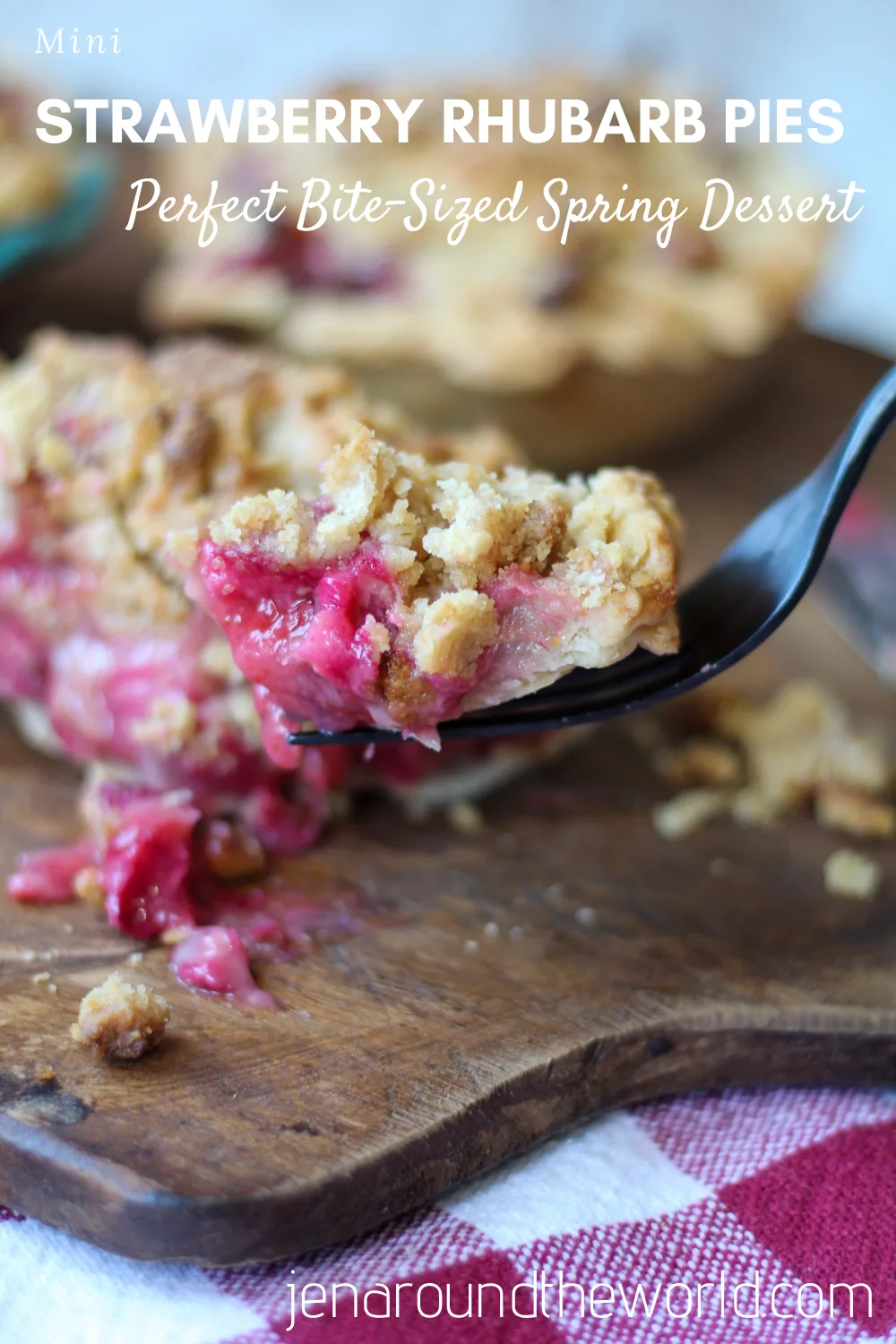 To start, you need to get the pie crust ready first. You can grab one at the store, or use my easy Double-Crust Pie Pastry, which takes just a few minutes to put together. I also use this pie crust for slab pies, pot pies, and my Easy Fried Apple pies.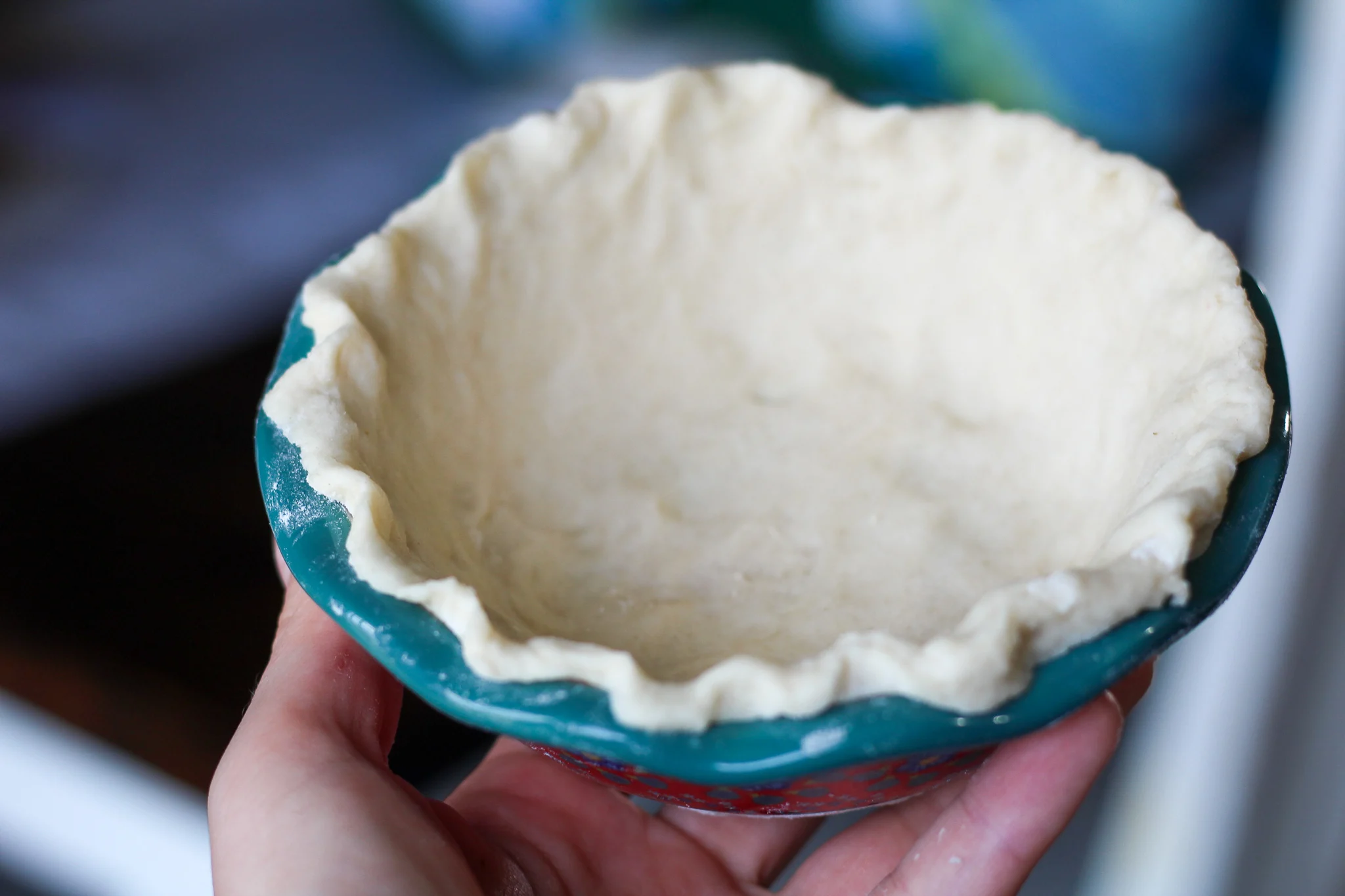 Next, you will want to prepare the fruit. It also needs a thickener to make sure that the pie does not fall apart. You want the inside to be gel like.
The fruit ratio is up to you. You can do half strawberry and half rhubarb, or two cups strawberry and four cups rhubarb, or the other way around. If you use more rhubarb, the pie will have a more tart flavor. I like to use even ratios.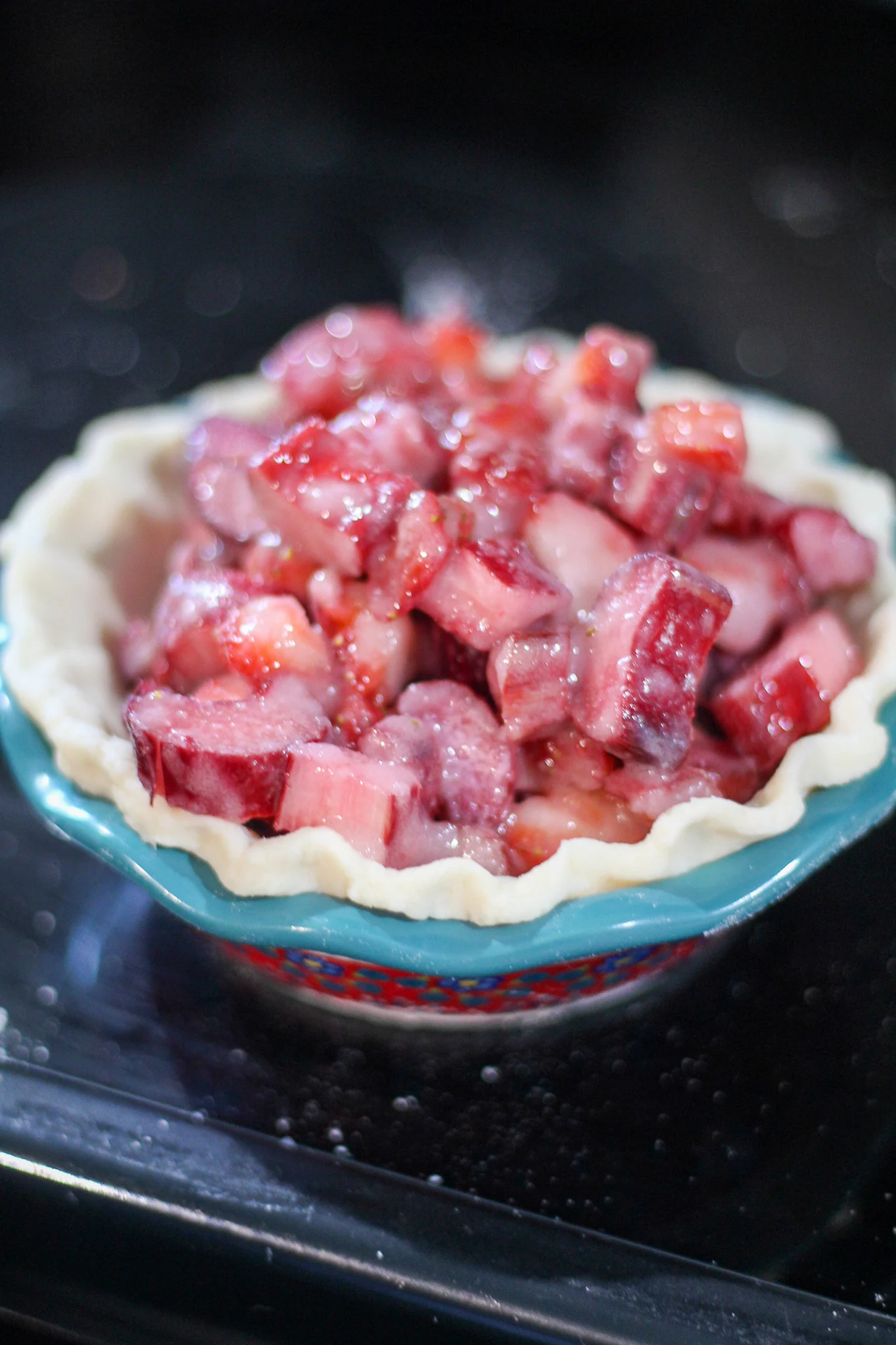 Just be sure to taste the filling in the event you need to add a tiny bit more sugar. Sometimes the rhubarb can be very tart.
The crumb topping is my favorite part! This is an all-purpose streusel topping that I use for pies, muffins, quick bread, and more. This topping also freezes well, so if you have some left over, simply freeze it to use over the next few months on other dessert recipes you make.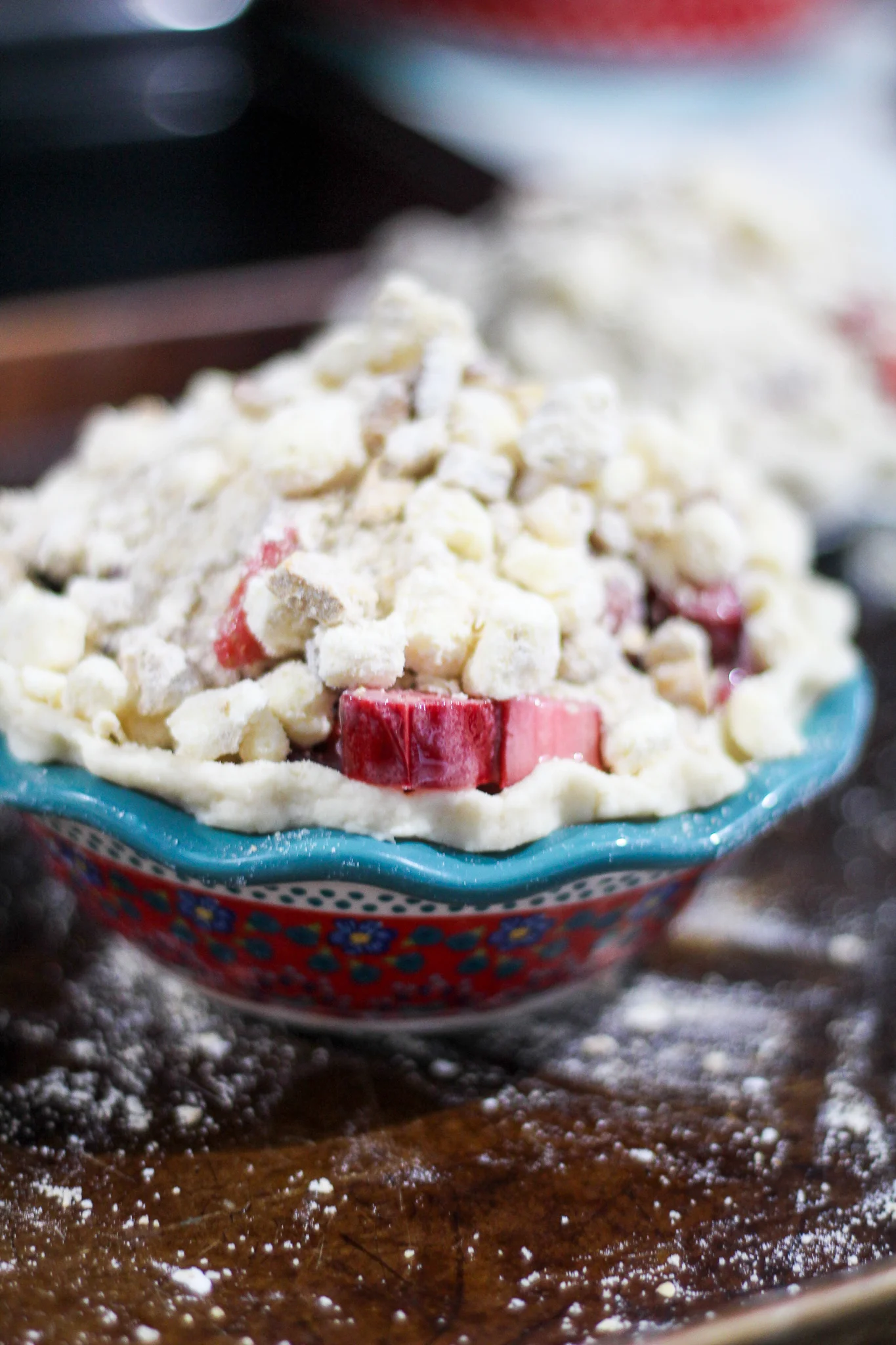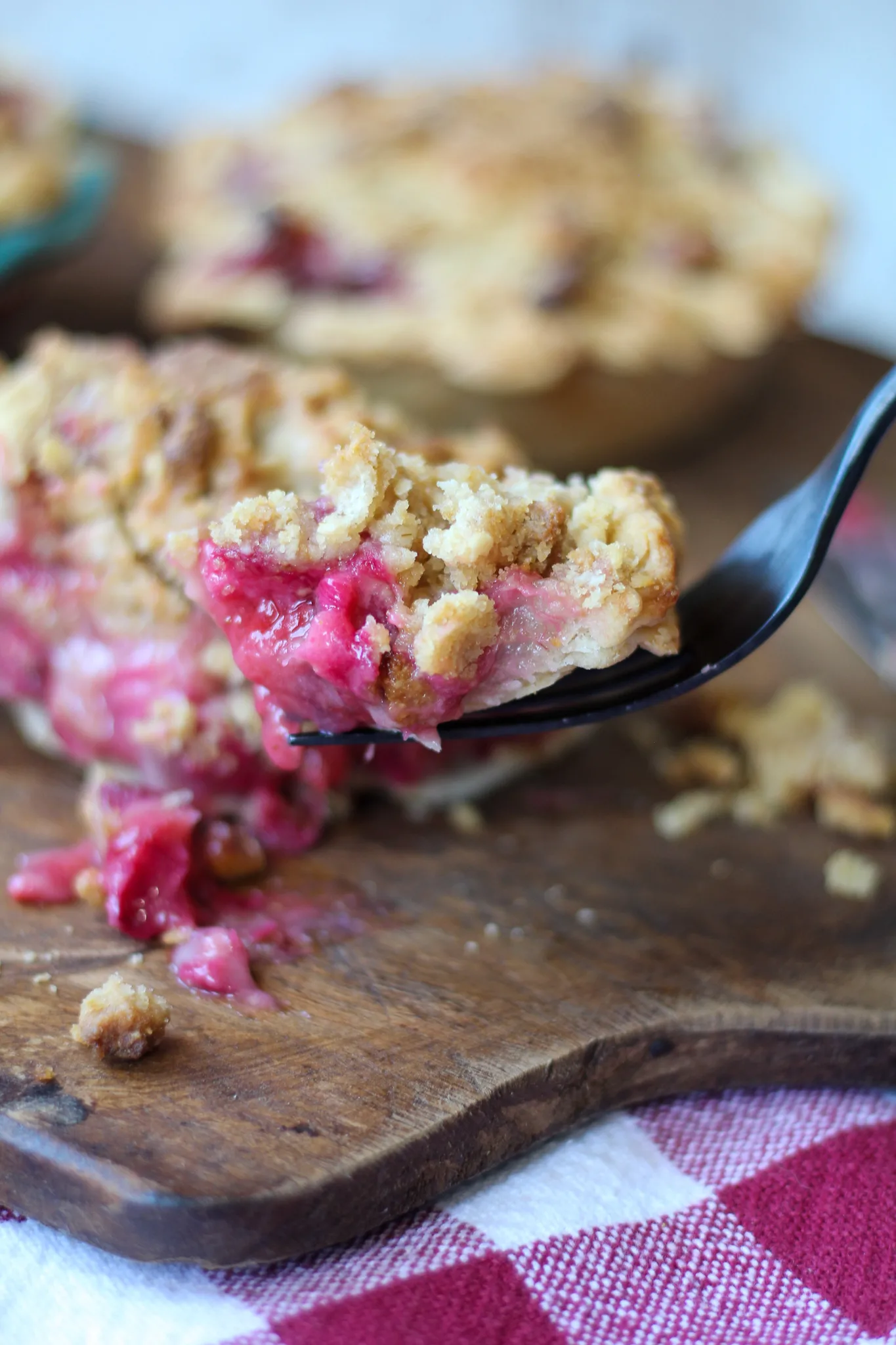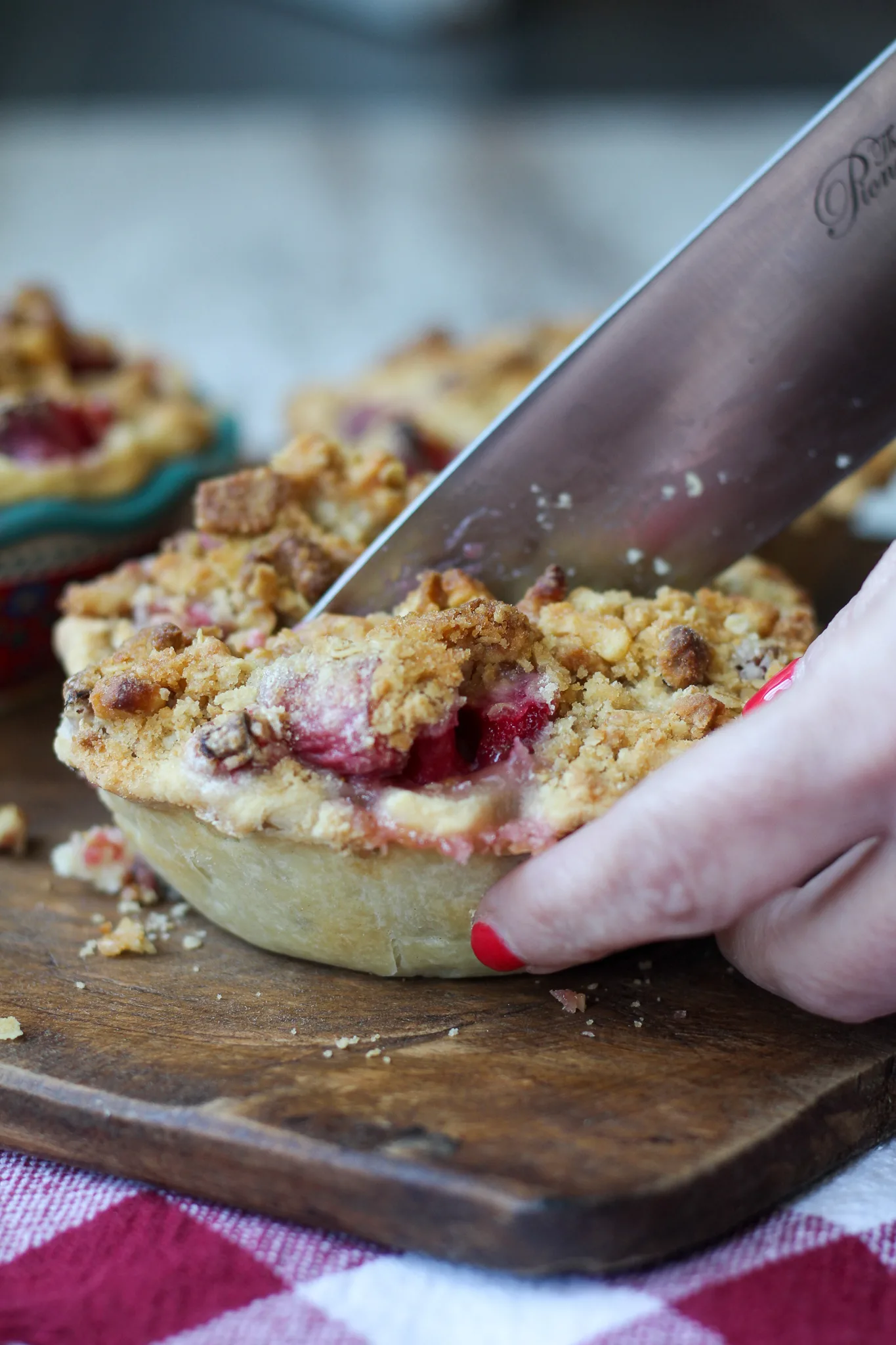 Yield: 3 mini pies
Mini Strawberry Rhubard Pies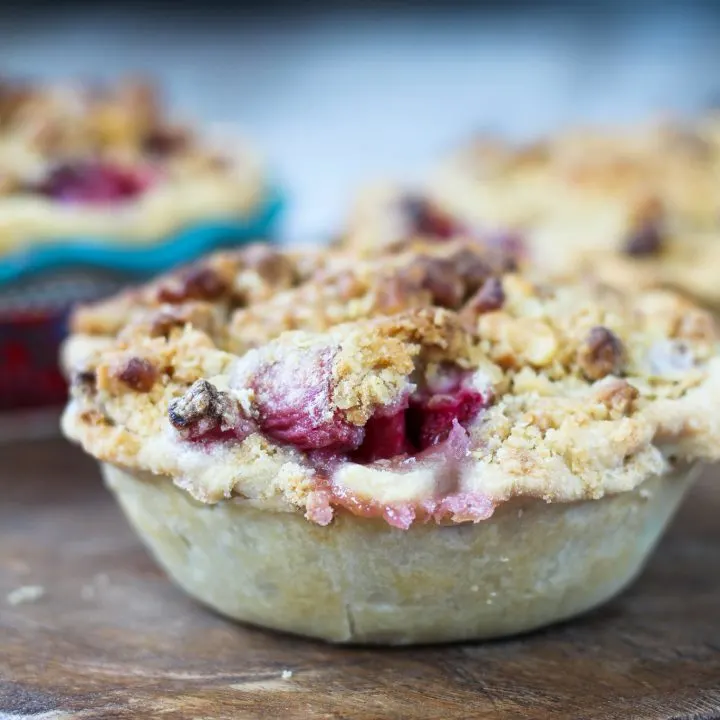 These adorable mini pies are the perfect bite of Spring.
Ingredients
For the Crust
1 1/4 cups flour
1/2 tsp salt
1 tsp sugar
1/2 cup cold unsalted butter, cubed
2 to 4 Tbsp ice water
For the Crumble Topping
3/4 cup rolled oats
1/3 cup flour
1/2 cup light brown sugar
1/4 cup of chopped walnuts
1 pack of Nairn's original Oat Graham biscuits crushed (optional)
1/4 tsp cinnamon
1/4 tsp salt
6 Tbsp cold unsalted butter, cubed
For the Filling
1 1/2 cups sugar
4 1/2 Tbsp cornstarch
1/8 tsp salt
5 1/2 cups fresh strawberries, hulled and sliced
1 1/2 cups sliced rhubarb
1 tsp lemon zest
1 tsp lemon juice
Instructions
For the crust, combine flour, salt, and sugar in a food processor. Add cubed butter and process for 10 seconds, just until the mixture resembles a coarse meal.
With the food processor running, add 2 tablespoons of ice water in a steady stream.
If needed, add additional ice water 1 tablespoon at a time, and process just until dough holds together in large clumps (no more than 30 seconds).
Wrap dough in plastic and flatten slightly to form a disc. Chill in the refrigerator for at least 1 hour.
For the crumble topping --Combine oats, flour, brown sugar, walnuts, oat graham biscuits, cinnamon, and salt in a medium bowl. Cut in butter with a pastry blender until large crumbs form.
Chill until ready to use.
Place pastry dough on a floured board and dust dough with flour.
Roll out dough until dough is a 12 to 13-inch circle. If the dough starts to stick, use a bench scraper to lift the dough from the board.
Cut out 3 small circles to fit in your pie pans. Make sure they overlap the sides so that you can form it to the pan. You may need to re-roll the dough to get enough for 3 pans.
Transfer the dough to pans; trim overhang to one inch and crimp edges.
Chill in the freezer for 20 minutes. Place a rimmed baking sheet lined with foil in the oven and preheat to 350°F.
Prepare to fill: Whisk together sugar, corn starch, and salt in a large bowl.
Add sliced strawberries, rhubarb, lemon zest, and lemon juice to sugar mixture and toss together just until combined.
Immediately spoon filling into the chilled crusts and sprinkle with crumble topping. Make sure to pile the pie filling on full because it will bake down in the oven.
Place pie on the preheated baking sheet and bake for 40-50 minutes, or until golden and the filling is bubbling.
Cool pie on a wire rack for at least an hour before serving (filling thickens as it cools).
Nutrition Information:
Yield:
9
Serving Size:
1
Amount Per Serving:
Calories:

557
Total Fat:

23g
Saturated Fat:

12g
Trans Fat:

0g
Unsaturated Fat:

9g
Cholesterol:

48mg
Sodium:

281mg
Carbohydrates:

86g
Fiber:

5g
Sugar:

50g
Protein:

6g