This no-churn cotton candy ice cream will become a staple for you and your family this summer.
One of my all-time favorite ice creams is cotton candy-flavored ice cream. Since this is Summer Dessert Week, I thought I would share with you my new favorite way to make this ice cream — and the best part? It's a no-churn version making it even easier to make.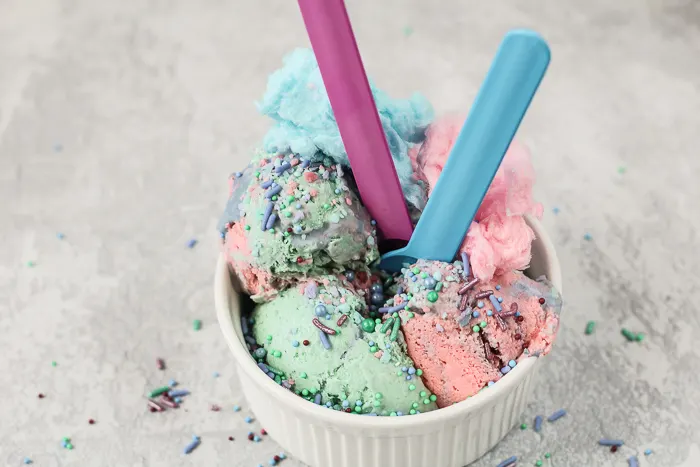 This easy no-churn cotton candy ice cream will be your new favorite dessert this summer, and the kids will love you forever! I even have a couple of fun hacks that the kiddos will love to help you with as well.
How to Make No-Churn Cotton Candy Ice Cream
To start this recipe, you are going to need a vanilla pudding mix. Yes — you read that right — vanilla pudding mix.
In a bowl, mix the vanilla pudding mix with 2 cups of milk.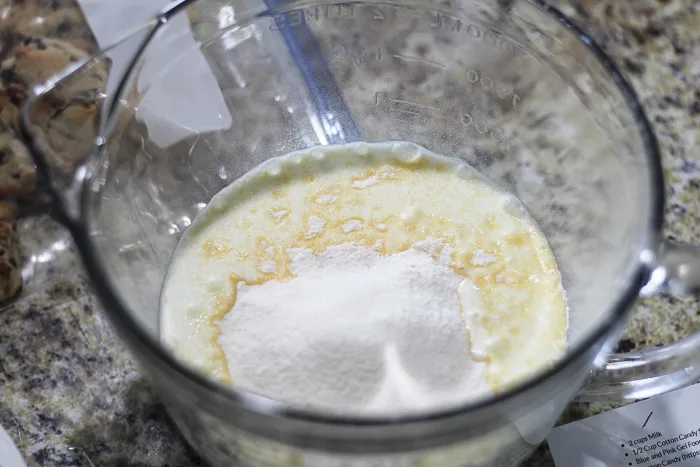 Once you get the pudding mix made, you are going to add in some Cotton Candy sugar crunch. I got these from Sweets N Treats.
They are the perfect addition to your cotton candy ice cream.
Mix them all in together. Now, place in the refrigerator for about 5 minutes so that it can harden up a bit.
Remove from the fridge and add in the tub of cool whipped topping.
Now, separate the pudding into two bowls. Using your food gel coloring (hot pink and turquoise blue) add a couple of drops and mix together until you get the desired color you want.
Set the pudding aside and let's make our cotton candy syrup!
How to Make Your Own Cotton Candy Syrup
We bought cotton candy from the store for $1 per tub. My local stores were completely sold out of cotton candy snow cone syrup. However, my daughter was SO smart and figured out that we could melt cotton candy down and make our own syrup that way.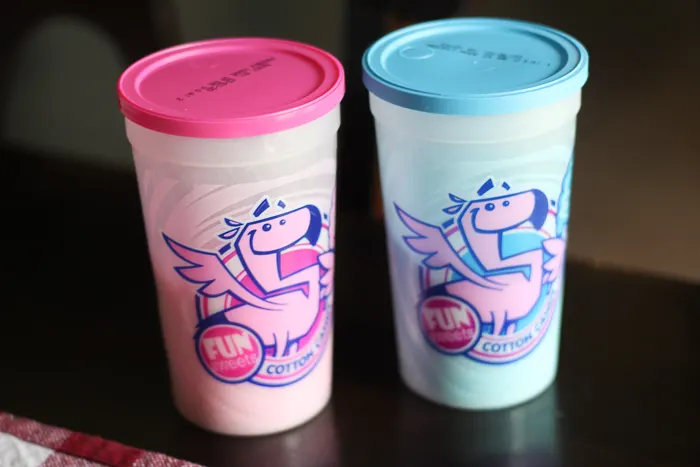 Take each tub and place the cotton candy in a saucepan. Add 1/4 cup of water and watch the magic happen! It will melt right before your eyes and make your own cotton candy syrup. You can use this on snow cones or like we did, you can use it in your ice cream.
Once you get your syrup made, you are going to add 1/4 cup of syrup to each colored pudding mix. Taste to see if it has the correct flavor consistency. If it needs more flavor, just add more syrup.
Now, place the ice cream mix into a rectangle or round bowl and swirl all the colors together.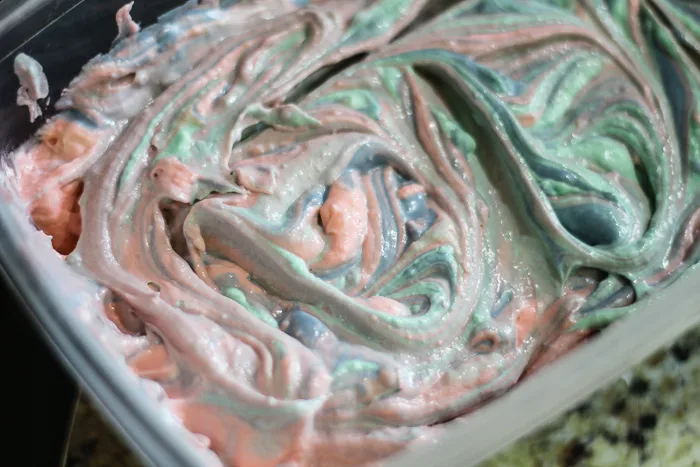 How to Make Cotton Candy Fudge Tracks
My daughter came up with a fun idea for our ice cream as well. Do you know how your favorite vanilla ice cream has a fudged track down the center? We thought it would be fun to create a cotton candy-like fudge track in our ice cream as well.
We used Wilton White Candy melts and melted them in the microwave. Then we mixed both the blue and the pink leftover syrup together and mixed with the white melts to create a purple like fudge.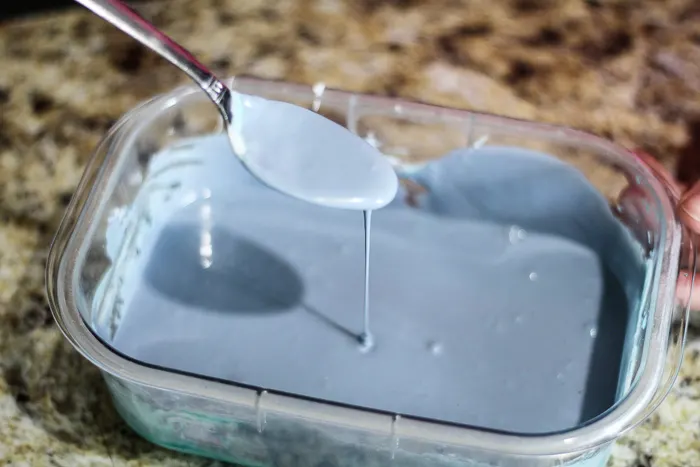 You can totally leave this step out — but it was a fun addition to the ice cream.
Once you get it all made up, create a tunnel in your ice cream and fill it with the melted fudge.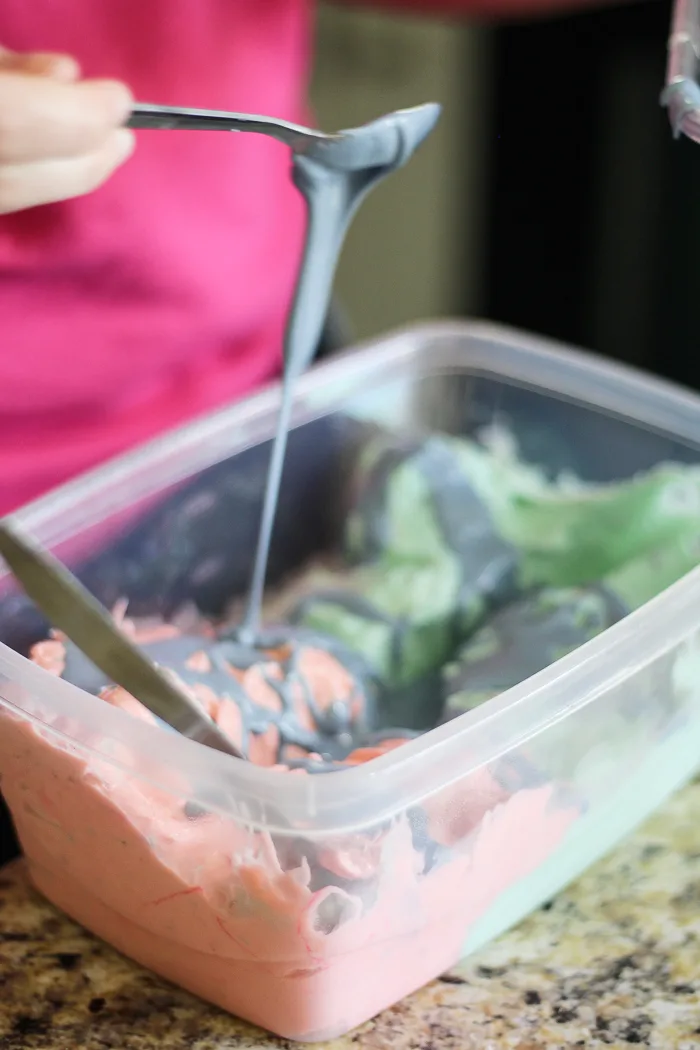 Gently swirl around until everything is combined. Your swirls should look something like this —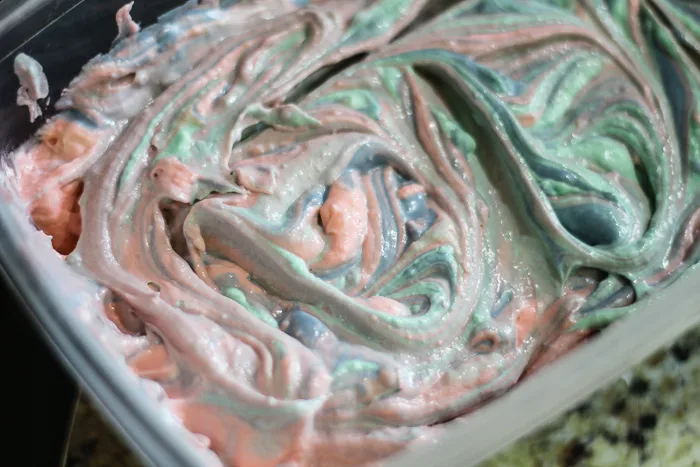 Now cover with a lid and place in the freezer for about 8 hours until it has firmed up.
Once it does, you can scoop it out and serve it to your guests.
We topped ours with sprinkles from Wilton and tufts of blue and pink cotton candy. Then we served them with colorful spoons we picked up from Sweets & Treats.
This really is a very fun recipe to make and you can play around with it however you like!
Looking for more ice cream recipes? Check these out!
Dark Chocolate Cherry Ice Cream Cookie Sandwiches
3 ingredient coffee ice cream
Yield: 10 servings
No Churn Cotton Candy Ice Cream
This easy no churn ice cream will become your new favorite way to make ice cream this season.
Total Time
8 hours
15 minutes
Ingredients
For the Ice Cream
2 - 3.4-ounce​ boxes of Instant vanilla pudding mix
2 small tubs of cotton candy (blue and pink)
1- 8-ounce​ tub of whipped topping
2 cups of milk
blue and pink gel food coloring
Cotton Candy Sugar Crunch from Sweet & Treats
Wilton Sprinkles​ (for garnish -- optional)
For the Cotton Candy Fudge Center
The remainder​ of the cotton candy syrup
White Wilton Candy Melts
Instructions
To make the ice cream -- In a large mixing bowl, beat together the pudding mix and the milk. Add in the cotton candy sugar crunch from Sweet & Treats. Place in the fridge until firm -- about 5 minutes.
Remove from the fridge and add in your whipped topping.
Make your own cotton candy syrup by adding 1/4 cup of water to 1 tub of cotton candy mix. Mix together until melted. You should have both blue and pink. Set aside.
Divide your pudding mixtures evenly between two bowls. Add 1/4 cup of cotton candy syrup to each bowl -- 1 blue and 1 pink. Mix together.
Now, place both colors into a container and set aside.
To make your fudge track, melt 1/2 cup of Wilton White melting chips. Take 2 teaspoons of each color and mix together to create a lilac color.
Mix with the white melting chips. Create a well in the middle of your ice cream and pour all the melted fudge center into the well.
Using a knife or a fork, swirl until all is combined. Cover and place in the freezer for 8 hours or until firm.
To serve, scoop out and then top with extra cotton candy and fun sprinkles.
Recommended Products
As an Amazon Associate and member of other affiliate programs, I earn from qualifying purchases.
Nutrition Information:
Yield:
12
Serving Size:
1
Amount Per Serving:
Calories:

228
Total Fat:

7g
Saturated Fat:

6g
Trans Fat:

0g
Unsaturated Fat:

1g
Cholesterol:

4mg
Sodium:

314mg
Carbohydrates:

41g
Fiber:

0g
Sugar:

36g
Protein:

2g