Summer is here and that means it is time for ice cream! I absolutely love making my own ice cream and this one for Blackberry Chocolate Chip Ice Cream is it.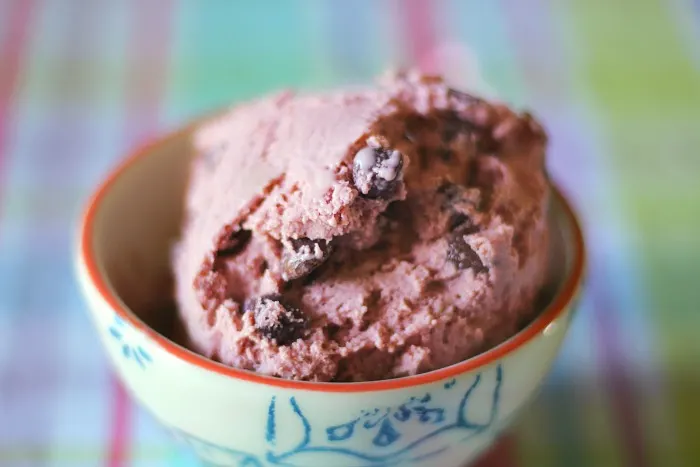 Blackberry is one of my all-time favorite fruits. I have made blackberry cobblers, blackberry pies, blackberry lemonade, blackberry smoothies, and I am experimenting now with Blackberry BBQ sauce.
This fruit is a staple in our house, like ketchup, so we usually never run out. During the peak season, I buy them fresh, but during the offseason, I buy frozen because they are just as good.
How to Make Blackberry Chocolate Chip Ice Cream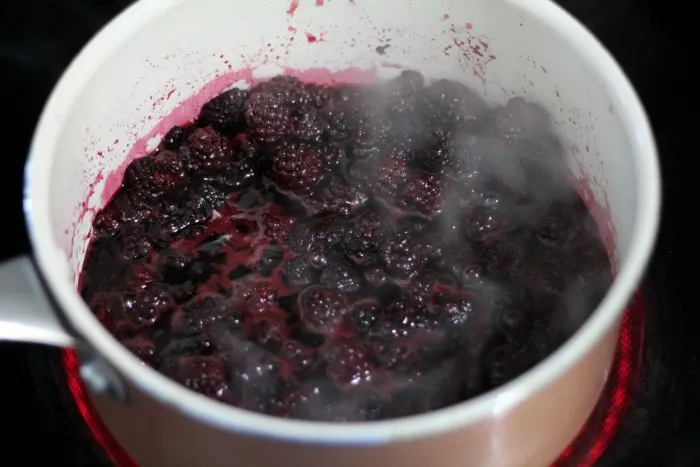 To make this Blackberry Chocolate Chip Ice Cream, you start by boiling your berries down to make a delicious blackberry syrup.
Using a strainer, you will strain the pulp off so all you are left with is this beautiful purple liquid.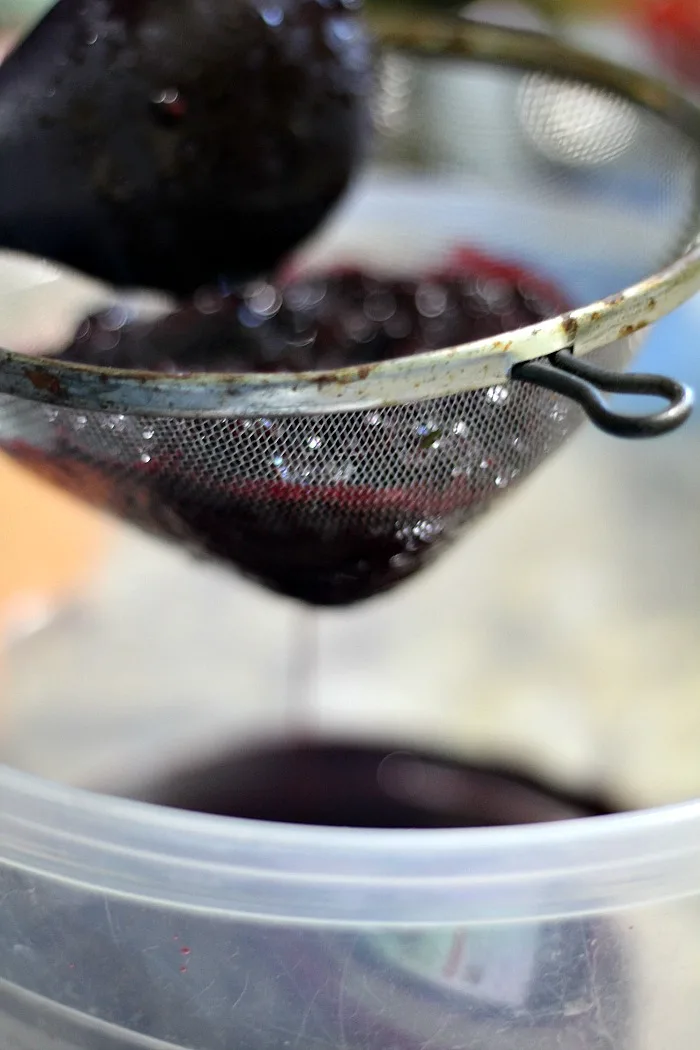 Once you get your blackberries drained, you have to make your egg custard. Now, what you need to understand is that this step cannot and should not be rushed.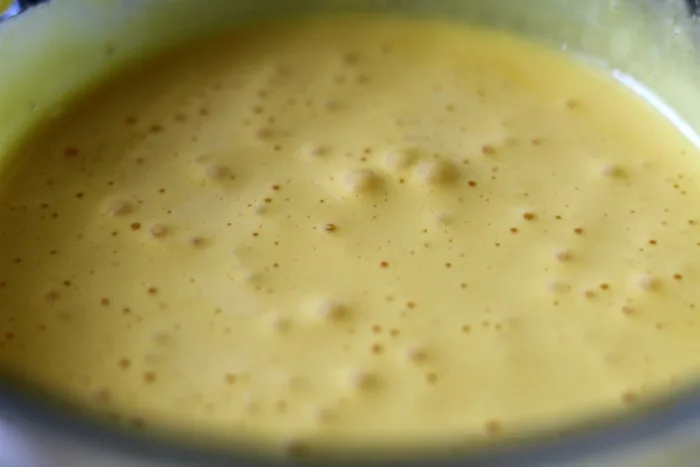 When you first start, it is all very liquidy. You are going to keep cooking it until it gets super duper thick. It should be thick enough that when you run your finger down the back of the spoon, you are able to make a trail.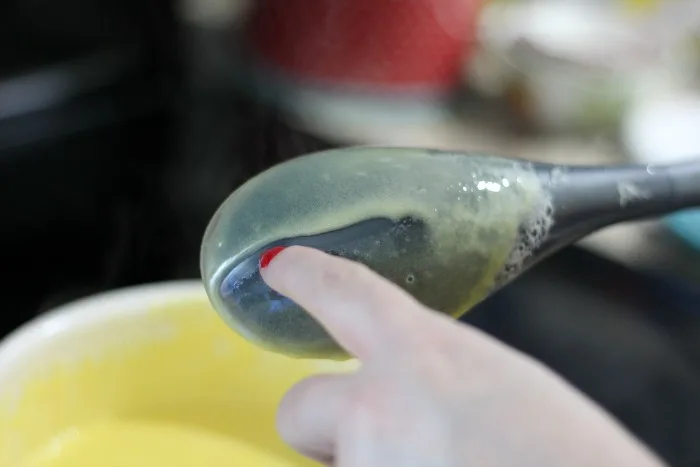 Once both mixtures cool, pour the blackberry sauce into the egg custard mixture and place it in the refrigerator so that it can chill about 3 hours.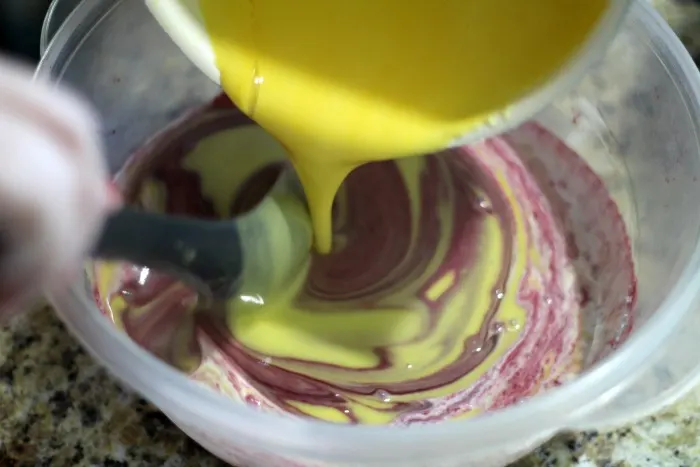 Once the mixture is chilled, pour it into your ice cream machine. You will want to let the machine run for about 35 minutes.
Find a level surface and place your old fashioned ice cream maker. I picked up this one on Amazon for less than $40. Using rock salt and ice mixture let your ice cream machine run for 30-40 minutes.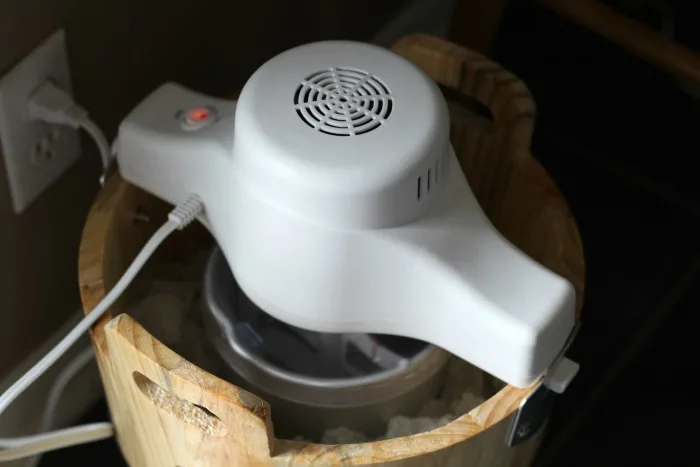 Once the ice cream has been going for about 30 minutes, add in your chocolate chips and turn it back on for another 10 minutes or until it is so thick the machine turns off.
Now you can enjoy the beauty of fresh Blackberry Chocolate Chip Ice Cream all year round –even in the wintertime!
Looking for more ice cream recipes? Check these out!
Dark Chocolate Cherry Ice Cream Cookie Sandwiches
3 ingredient coffee ice cream
Yield: 3 cups
Blackberry Chocolate Chip Ice Cream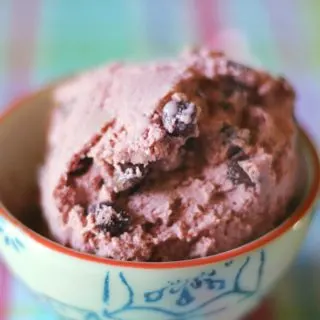 This blackberry chocolate chip ice cream is the perfect bite of cool for the summertime.
Total Time
2 hours
30 minutes
Ingredients
2 pints fresh blackberries
1 1/4 cups sugar
Juice of 1/2 lemon
1 1/2 cups half-and-half
5 egg yolks
1 1/2 cups heavy cream
4 ounces semisweet chocolate
Instructions
Combine the blackberries, 1/4 cup of the sugar and the lemon juice in a saucepan. Cook over low heat until the blackberries are broken down and syrupy, about 20 minutes.
Pour the mixture into a bowl through a fine mesh strainer. Using a spoon, force out as much of the deep purple liquid as you can, and then set it aside to cool. Discard the blackberry pulp and seeds.
Heat the half-and-half and remaining 1 cup sugar in a saucepan over medium heat.
Using a whisk, beat the egg yolks until pale and thick. Temper the eggs by splashing a small amount of the warm cream into the yolks, whisking constantly. Pour the tempered yolks into the saucepan, stirring gently. Cook over medium-low heat until thick, stirring constantly, about 5 minutes.
Pour the heavy cream into the bowl with the berries, and then pour in the custard and stir to combine. Refrigerate this mixture until cool.
Take your old fashioned ice cream machine and using the rock salt and ice mixture get everything layered.
Pour your ice cream into the machine and let it run for about 30-40 minutes.
When it is frozen, chop the chocolate into chunks and stir into the ice cream.
Serve immediately or put in the freezer to further harden.
Nutrition Information:
Yield:
12
Serving Size:
1
Amount Per Serving:
Calories:

319
Total Fat:

19g
Saturated Fat:

11g
Trans Fat:

1g
Unsaturated Fat:

7g
Cholesterol:

121mg
Sodium:

44mg
Carbohydrates:

37g
Fiber:

3g
Sugar:

33g
Protein:

4g
What is your favorite ice cream?