When my husband and I went to Pigeon Forge in June, one of the very first restaurants we chose to eat at when we arrived was Paula Deen's Family Kitchen.
I have been a long-time fan of Paula and have followed her along her journey for many years.
To be able to visit her restaurant that is located on The Island in Pigeon Forge was something I got to cross off my bucket list!
Upon arriving, you are met with that family photo on the side of the building that we have all come to know and love. Those Deen brothers are something special, am I right??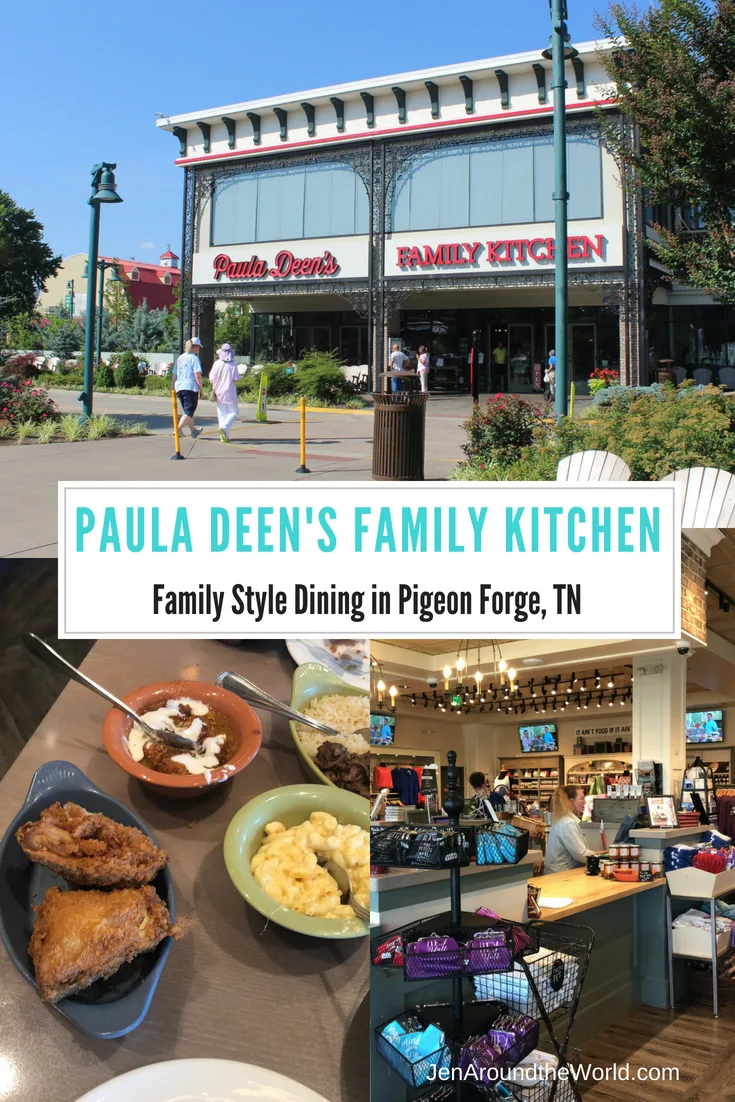 When you go inside, you will find that the restaurant is two tiers — with the bottom tier being the store, and the restaurant is up the stairs. You simply put your name in at the hostess booth and when it's your time, you will ride the escalator (or take the elevator) up to one of the most amazing smelling restaurants you have ever been at.
The Store
While we waited for our table to be ready, Stephen and I shopped in the store. I bought a new coffee mug, some of her Sweet Potato Butter (which I am going to work hard on replicating on my new site TwoSouthernFoodies.com) and of course, kitchen hand towels.
In the store you will find all kinds of her products — some you have ever seen on her show (which can now be found on the ROKU tv). All of her cookbooks are there too and if you play your cards right, they will have a sale going on that will make you want to buy all the things.
They also have an area set up that looks a lot like her kitchen on the show. They offer samples of her jarred jams and jellies and her sauces. I am still kicking myself for not getting that bourbon sauce I tasted.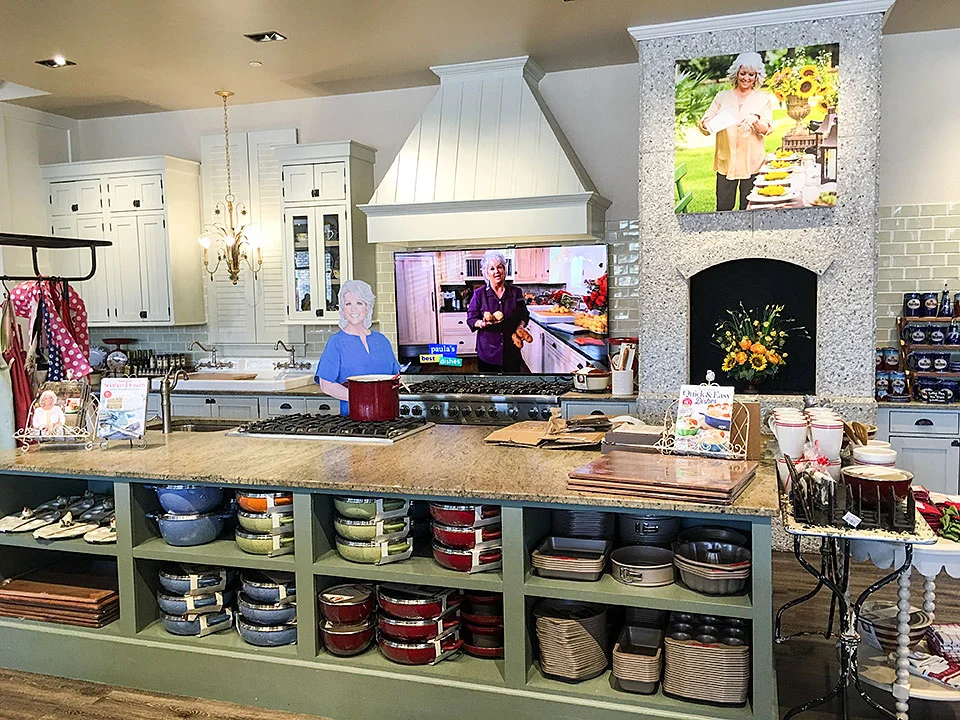 The Restaurant
Once our name was called, Stephen and I stepped on the escalator and headed upstairs. I will not lie. If you have never been to this restaurant, and you are like me and LOVE Paula Deen, that escalator ride will have your excitement and adrenaline running on high.
I seriously could not wait to get up there.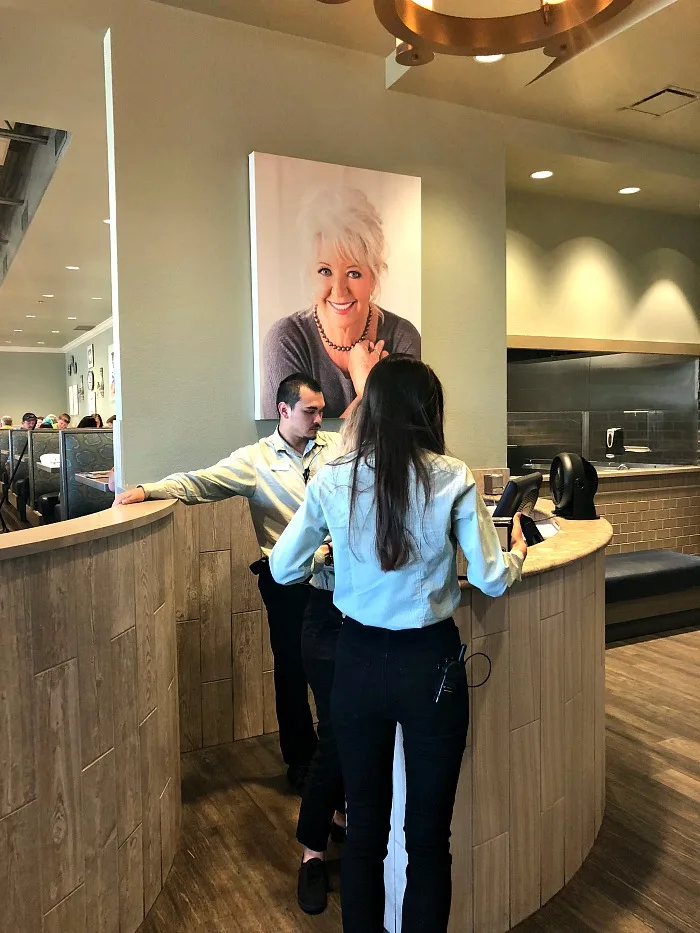 As you are riding the escalator up, you will begin to start smelling all the food — and in true Southern style fashion, the first smell that will hit your nose is the fried chicken.
They offer complimentary bread brought to the table — and it will melt in your mouth. The prices are little pricier than what you might be used to, but here's the thing —
It's an all you can eat menu.
We went for dinner so Stephen and I had to pay $21.99 each. This price includes your drink as well as your meal. Your meal consists of –
~3 Types of meat
~4 Vegetables
~Your Choice of Dessert
And once you choose those, it is seriously all you can eat — until you are completely full. So yeah– for us, that $22 price tag was well worth it.
Our meal arrived and every bite I took was my favorite. That fried chicken y'all was REAL fried chicken. The mashed potatoes were the creamiest I had ever put in my mouth, and those sweet potatoes had me singing the praises of my girl Paula Deen.
And that Ooey Gooey Butter Cake??? It was totally worth every single bite my husband and I took. And the banana pudding is a must as well.
Once the Meal is Done
Once the meal is done, here is what I suggest you do. Order dessert and coffee — and sit there and enjoy the company of the people you came with. Put the phones down and have a family-style dinner again, and then afterward, walk around the property and let your food digest.
There is something about setting down for a family-style dinner that will make you want to reconnect with your family. At least, that's what I felt like with my husband when we visited. I didn't even want to look at my phone. I wanted to laugh and have fun and enjoy food like it's meant to be enjoyed.
If you are heading to the Pigeon Forge, TN area anytime soon, make plans to eat here. You will not be disappointed at all!