These Soft Baked Pretzel Twists are served with a helping of beer cheese. Salty, soft, and oh-so delicious!
I am a lover of all things bread. I am not kidding you.
If you search my site, you will see all kinds of bread recipes. This one that my daughter made — these soft-baked pretzel twists with beer cheese — is my favorite bread recipe by far!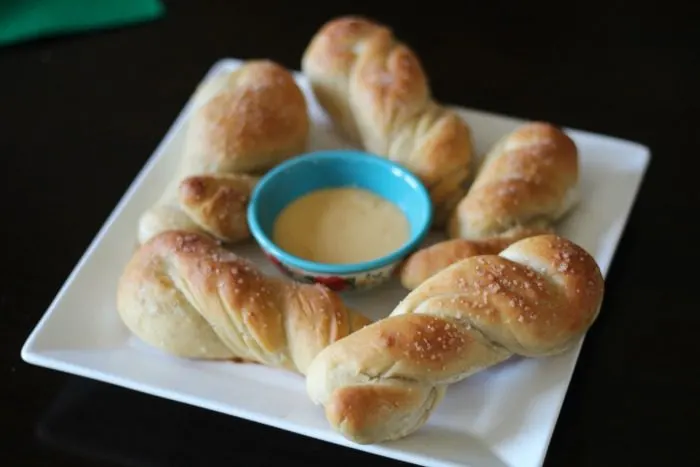 She made these one day while I was gone to Bible study at a friend's house. When I came home, the house smelled like bread heaven and sitting on the counter was this plate of deliciousness!
In our house pretzels have their own food group. We have also used pretzels in desserts like my chocolate-covered pretzel rods or my Strawberry Pretzel Salad.
Now, normally when you make pretzels you have to do the whole boil them in water and then bake them thing, but for this recipe, she didn't do that at all. She simply skipped that step of boiling them and they still turned out great.
How to Make Easy Baked Pretzel Twists
Start by preheating the oven to 425 degrees. Most pretzels are made in the criss cross method, but Kayla couldn't remember how we tied them last time we made them so she rolled the dough out in long ropes and then folded them and twisted them.
She brushed them with an egg wash before baking them and then sprinkled on some kosher salt for the perfect texture and taste for a pretzel.
I seriously could not believe that these had not been boiled.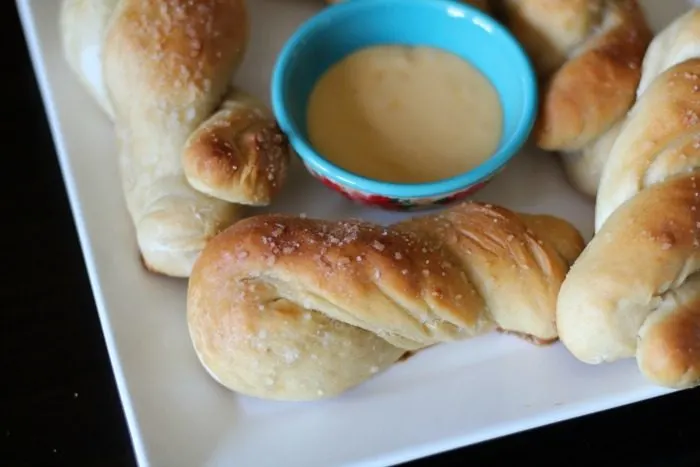 We served these alongside a delicious cheese sauce for pretzels that is made with sharp cheddar and beer that makes every pretzel taste like the best pretzel out there. Nothing beats a good pretzel with cheese!
There is just something about that beer cheese y'all — and I am not even a drinker!
To make the beer cheese dip recipe
To make this beer cheese dip recipe you need —
16oz of sharp cheddar cheese, cut into bite-size cubes
4 oz cream cheese, room temp & cubed
1.5 Tablespoons Worcestershire sauce
2 teaspoons Dijon mustard
2 cloves garlic, minced
1 teaspoon paprika
1/2 – 2/3 cups of beer
Notice that this dip does not use any flour. I am not a big fan of cheese sauces or dips made with flour. I am all about just the cheese.
Mix everything together in a food processor except for the beer. Once it is all crumbled together, start adding in the beer until you get it to the right consistency.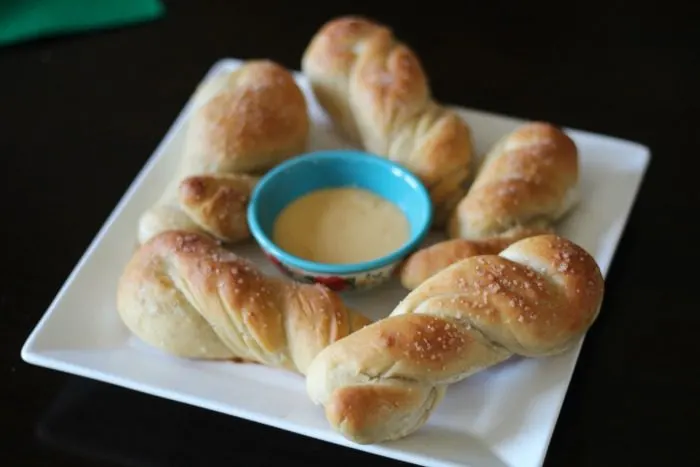 That's it! Now you can go and enjoy those delicious pretzels. Try to make a batch at home and let me know what you think!
Yield: 12 twists
Soft Baked Pretzel Twists with Beer Cheese
These soft-baked pretzels are amazing and don't even require you to soak them first.
Ingredients
For the pretzel
1 1 ⁄3 cups warm water
2 teaspoons instant yeast
2 3 ⁄4-3 1⁄4 cups all purpose flour
1 tablespoon sugar
1 teaspoon salt
For the Egg Wash
1 egg
1 tablespoon water
coarse salt
For the Beer Cheese
16 oz of sharp cheddar cheese, cut into bite-size cubes
4 oz cream cheese, room temp & cubed
1.5 Tablespoon Worcestershire sauce
2 teaspoons Dijon mustard
2 cloves garlic, minced
1 teaspoon paprika
½ - ⅔ cups of beer
Instructions
For the pretzel dough
Preheat the oven to 425 degrees.
Whisk 2 3/4 c flour, yeast, sugar & salt together.
Add 1 1/3 c warm water and then stir together.
Add 1/4 - 1/2 c more flour while kneading, to make a soft dough. It will still be slightly tacky.
Divide dough into 14 equal portions (about 2 oz each).
Roll each out into rope about 20" long, fold over and then twist together like a rope.
Place on parchment lined cookie sheet.
For the egg wash
Beat egg & 1 T water together, brush pretzels with egg wash, sprinkle with coarse or Kosher salt.
Bake 15 - 20 minutes till golden brown.
Cool slightly on wire rack.
For the beer cheese dip
Place all ingredients, except for the beer in a food processor. Blend until finely chopped.
Slowly pour in beer a little at a time until desired texture is achieved. I like mine not as thick as some so I add more beer than other people. The consistency is up to you.
Served with pretzels, crackers or some veggies!
Nutrition Information:
Yield:
12
Serving Size:
1
Amount Per Serving:
Calories:

576
Total Fat:

18g
Saturated Fat:

10g
Trans Fat:

0g
Unsaturated Fat:

6g
Cholesterol:

62mg
Sodium:

552mg
Carbohydrates:

81g
Fiber:

3g
Sugar:

2g
Protein:

21g
What is your favorite dipping sauce for pretzels?