These easy homemade pretzel buns are the perfect sandwich to make to celebrate National Pretzel Day. Check out how easy these are to make and other recipes you can make as well.
Around here, we LOVE pretzels. When the Auntie Anne's truck rolls around with those delicious little pretzel bites with cheese sauce, we buy bucket loads.
But now, we know how to make them ourselves so need to run down the truck. Since I make those, I decided to branch out and learn how to make some other pretzel recipes, like this one for easy homemade pretzel buns.
The hardest part about this recipe is waiting for the dough to rise — which takes a couple of hours. Once that first initial rise is done, the rest is easy peasy.
You can make up an entire batch of these and use them for recipes like my Fried Chicken Sliders, or a Blackstone Smashburger on a pretzel bun.
These buns are chewy and salty on the outside and soft on the inside. They can be enjoyed on their own or used as a bun for sandwiches or hamburgers.
How to Make Homemade Pretzel Buns
Start with your dough. Knead it once mixed together until you have a soft mound of dough. Place in a greased bowl and cover with a damp hot towel. Let it rise until it is doubled in size.
Now, punch down the dough and divide it into 8 equal portions. Shape each portion into a ball. Do this by pulling at the sides and tucking the access dough underneath.
Once the ball is formed place it on the counter with the tucked side down. Cup the dough with both hands and turn the ball in one direction. This will help tighten the shape. Keep doing this for about a minute or until you feel some tension in the dough.
Place formed buns on a parchment paper-lined baking sheet, cover, and let rise for 20 minutes or so while you get the oven preheated and water boiling.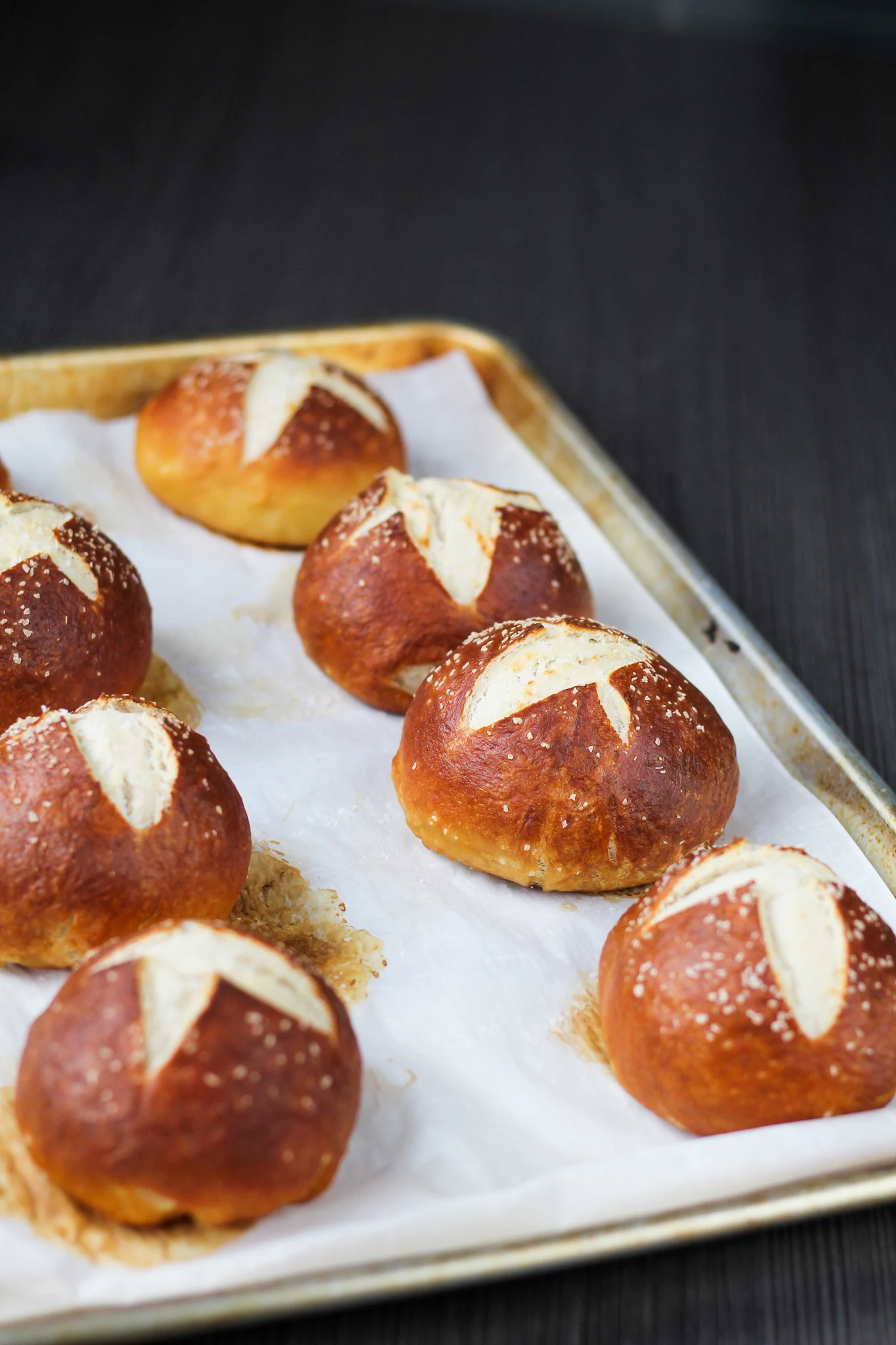 Once the baking soda water is boiling, place two buns in the water and cook for 30 seconds on each side. Remove from the water and place back on the parchment paper.
Slice an X on the top of each bun as they finish cooking. Sprinkle each bun with kosher salt.
Bake them in the preheated oven for about 21 minutes or until golden brown.
Use for sandwiches for lunch or dinner. Freeze for later use.
Check out these other amazing recipes for National Pretzel Day
Here are some other delicious bread recipes you might enjoy
Yield: 8 buns
Easy Homemade Pretzel Buns
Salty and coarse on the outside and soft and chewy on the inside. The perfect bun for sandwiches
Total Time
2 hours
35 minutes
Ingredients
For the buns
1 & 1/4 cups of warm water
2 & 1/4 tsp active dry yeast
1 tsp white sugar
1/4 cup butter melted
3 & 1/2 cups of all purpose flour
2 tsp salt
1/2 tbsp olive oil for greasing the bowl
Water for cooking pretzels
1/2 cup of baking Soda
6 cups of water boiled
coarse sea salt for sprinkling
Instructions
Making the Pretzel Dough
In a measuring cup add warm water, yeast, and sugar. Gently stir and set aside for 10 minutes.
In the bowl of your stand mixer, add the flour and the salt, and mix together. Now, add the yeast mixture to the flour and the melted butter.
Using the dough hook mix on a low speed until dough is formed, and continue kneading it for 5 more minutes.
Remove the dough from the bowl and add about 1/2 tbsp of oil to grease the bowl. Once greased add the dough back into the bowl. Flip the dough over a few times to grease it.
Cover with a kitchen towel and place on the counter to rise for an hour or two or until doubled in size.
Shaping the Pretzel Buns
Punch the dough down and remove it from the bowl to a floured work surface.
Knead the dough by hand for about a minute. Then divide dough into 8 equal sized portions.
Shape each portion into a ball. Once the ball is formed place it on the counter with the tucked side down. Cup the dough with both hands and turn the ball in one direction.
Place formed dough balls on a baking sheet with parchment paper.
Let the dough rise while the oven preheats to 425 degrees.
In a large pot bring water and baking soda to a boil.
Once the water is boiling, add the pretzel buns in two at a time. Boil for 30 seconds then flip the buns and boil the other side for 30 seconds.
Using a slotted spoon remove the buns and place them on the parchment paper. Do this with all the buns.
Using a sharp knife score an X pattern on the top of each bun and generously sprinkle with coarse sea salt.
Bake for 20 minutes or until bread is a deep brown color.
Transfer to a wire rack to cool.
Nutrition Information:
Yield:
8
Serving Size:
1
Amount Per Serving:
Calories:

146
Total Fat:

7g
Saturated Fat:

4g
Trans Fat:

0g
Unsaturated Fat:

3g
Cholesterol:

15mg
Sodium:

4483mg
Carbohydrates:

19g
Fiber:

1g
Sugar:

1g
Protein:

3g