Y'all I love cake. I am not kidding. Whenever I am asked what I would like for dessert, my answer is always cake — and if you make it a strawberry buttercream cake — I will come running with a fork in hand!
This past week I have been in a loving baking mood and when I get like that, my family gets cake!
Normally we try not to have a lot of desserts lying around.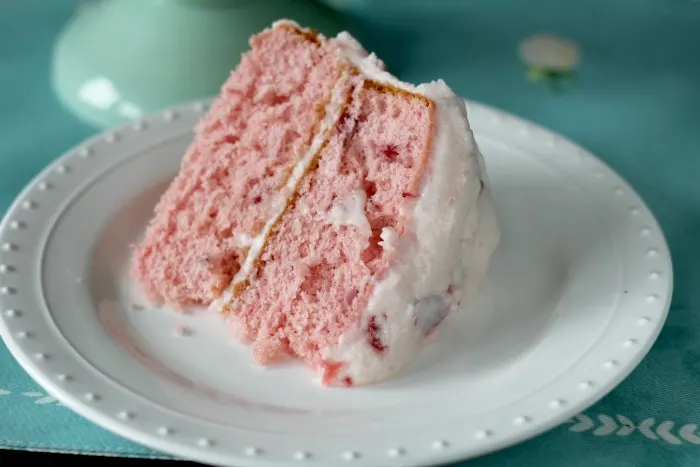 This week I needed comfort and for me, that is this easy-to-make strawberry buttercream cake.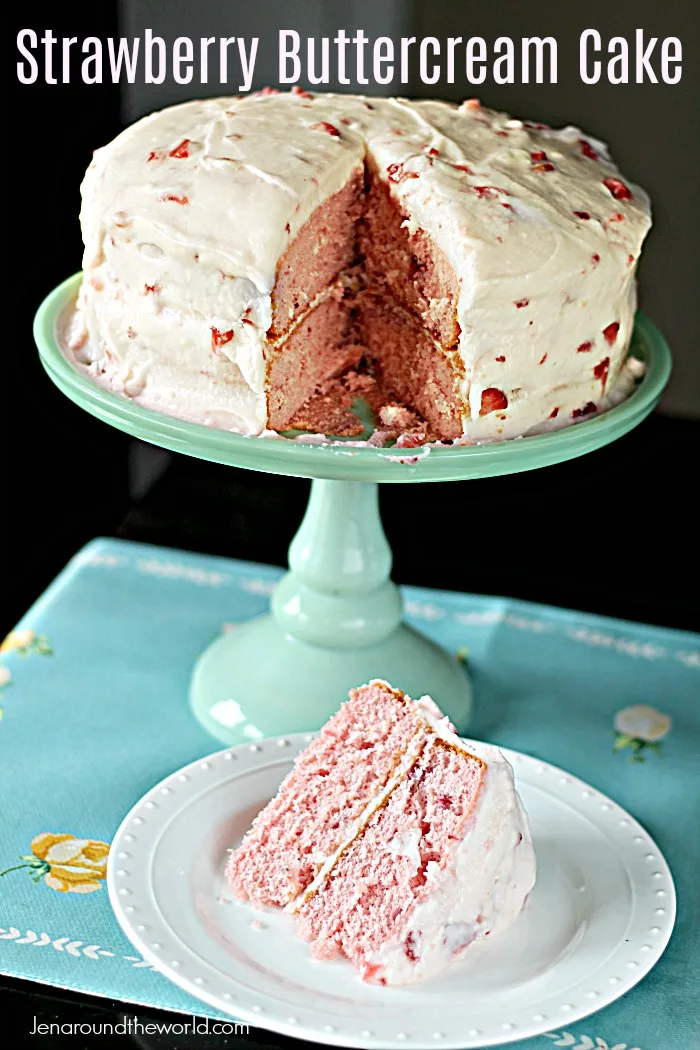 How to Make Strawberry Buttercream Cake
This is not a made from scratch cake. It has just been enhanced a little with a few ingredients — but the icing? Now that is straight made from scratch and oh so delicious! This recipe calls for an 8" loose bottom round cake tin.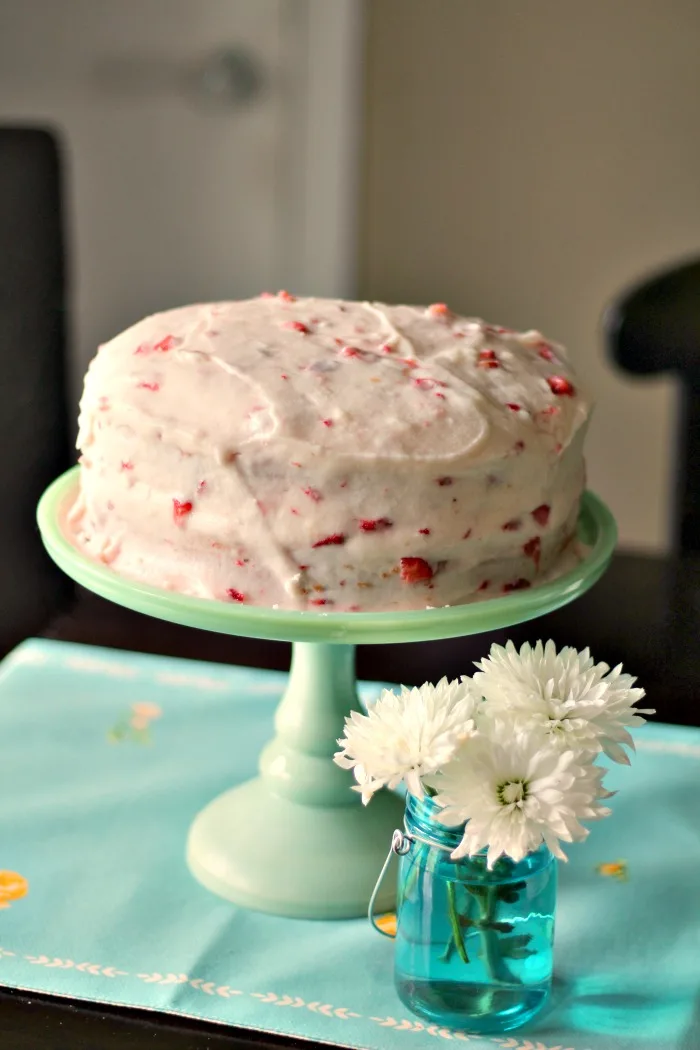 This cake is super moist and so so good. The fresh strawberries really add such a great flavor.
Speaking of strawberries, April and May are the perfect months to pick in season Strawberries. We usually buy a ton of them and make strawberry Freezer Jam, strawberry salsa or these mini strawberry scones.
The second you have a taste of this strawberry cake with strawberry buttercream, you'll wonder where this cake has been all of your entire life.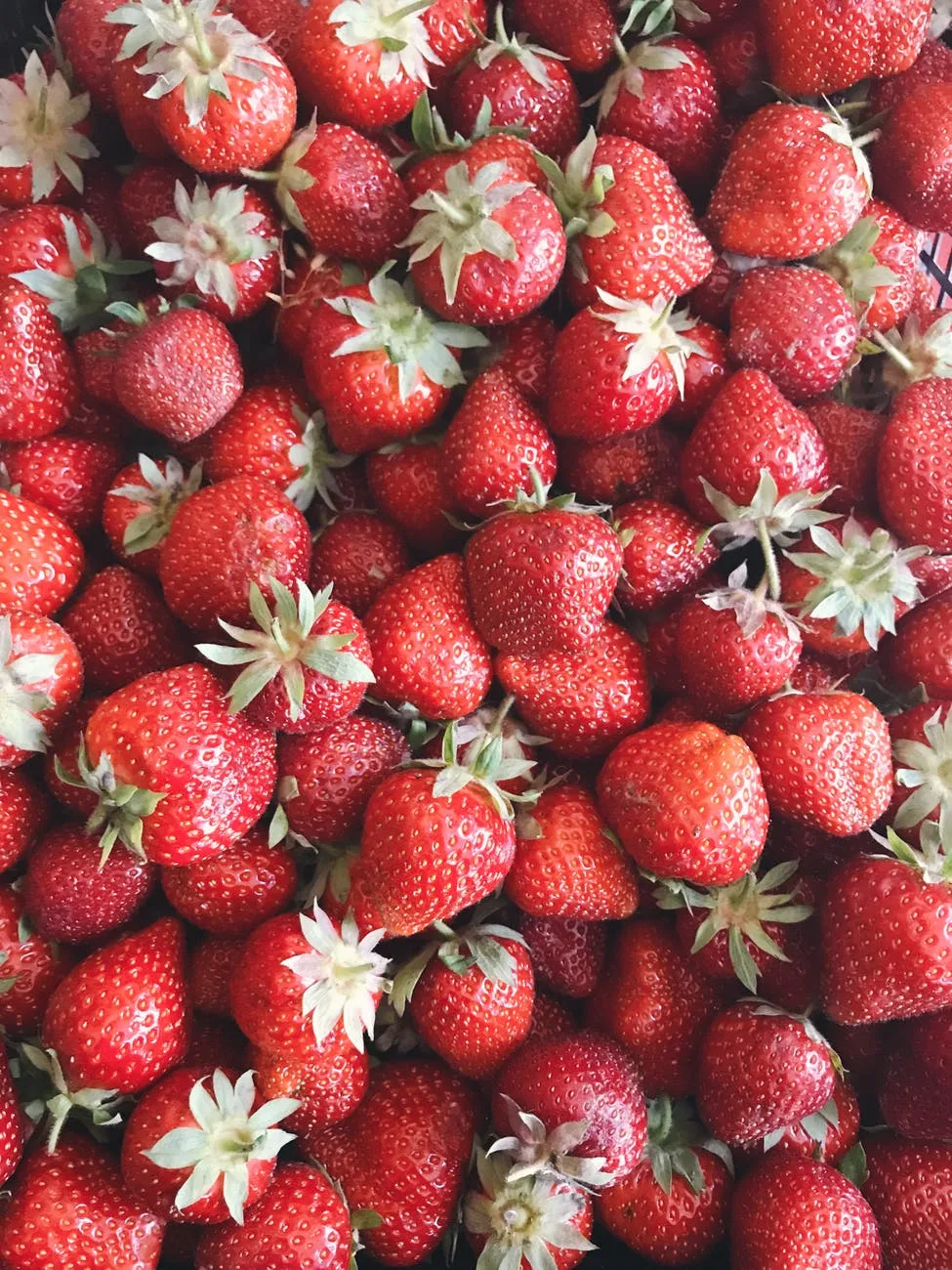 It is the perfect way to use up that beautiful produce that is just calling your name every time you're in the grocery store, and you won't regret the time it takes to hull and chop all those strawberries. Totally worth the work.
In fact, even if you are a newbie baker, you can TOTALLY do this!! It's not hard at all. And my motto is — if you fail, try try again. How do you think I got to the point where I could make a delicious meal? I kept practicing until I got it right.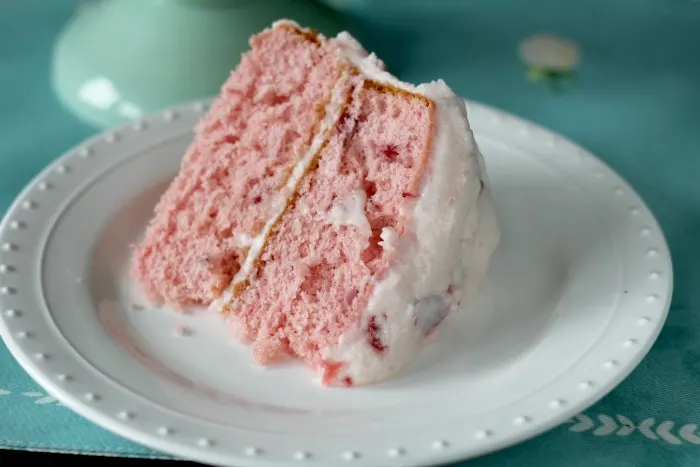 Looking for more strawberry recipes? Check these out!
Best Summer Potluck Recipes
Yield: 1 cake
Easy Strawberry Butter Cream Cake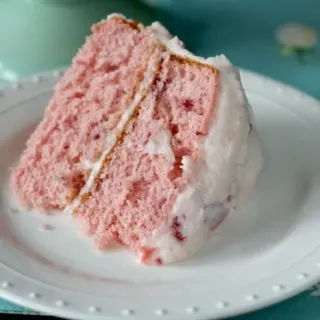 This Easy Strawberry Buttercream Cake will become your favorite Spring dessert.
Ingredients
1 white box cake
1 3-ounce pack of strawberry jello
4 large eggs
1/2 cup of sugar
1/2 cup of finely chopped strawberries
1 cup of milk
1/3 cup of all-purpose flour
For the Strawberry Butter Cream Icing
2 sticks of butter, softened
1 lb box of powdered sugar
1 cup of finely chopped strawberries
Instructions
Preheat oven to 350 degrees. Beat together the cake mix, jello, eggs, sugar, chopped fresh strawberries, milk, and all purpose flour.
Beat for 2 minutes on medium speed. Scrape down the sides of the bowl as needed.
Pour batter into 2 greased and floured 9 inch cake pans.
Bake at 350 degrees for 20-25 minutes or until a toothpick inserted in the center comes out clean.
Let cakes cool in pan on a wire rack until cooled completely.
For the frosting
Beat butter at medium speed until fluffy.
Add in powdered sugar a little at a time giving time for it to get incorporated into the butter.
Lastly, add in your strawberries and cream together well. You may need to scrape down the sides of the bowl to mix all together.
If the frosting is too thin, add in more sugar, if it's too thick, add more strawberries.
Spread the buttercream frosting between the layers of the cake and on top and sides. You can garnish with fresh cut strawberries.
Serve immediately or chill for about 30 minutes until the frosting is set well.
Nutrition Information:
Yield:
15
Serving Size:
1
Amount Per Serving:
Calories:

318
Total Fat:

15g
Saturated Fat:

8g
Trans Fat:

1g
Unsaturated Fat:

5g
Cholesterol:

87mg
Sodium:

142mg
Carbohydrates:

45g
Fiber:

1g
Sugar:

40g
Protein:

3g