This recipe for Spring Toffee Crack is sponsored in conjunction with #SpringSweetsWeek. I received product samples from sponsor companies to help in the creation of the #SpringSweetsWeek recipes. All opinions are mine alone.
I first learned how to make toffee candy when I created this recipe for Christmas Crack a couple of years ago. I loved the flavor of it — and because the recipe is so versatile, you can pretty much dress it up however you want.
That is how I came to this recipe for Spring Toffee Crack. I was sent these amazing non-stick pans by Anolon. Whenever something says "non-stick" I really like to put it to the test to see just how non-stick it really is.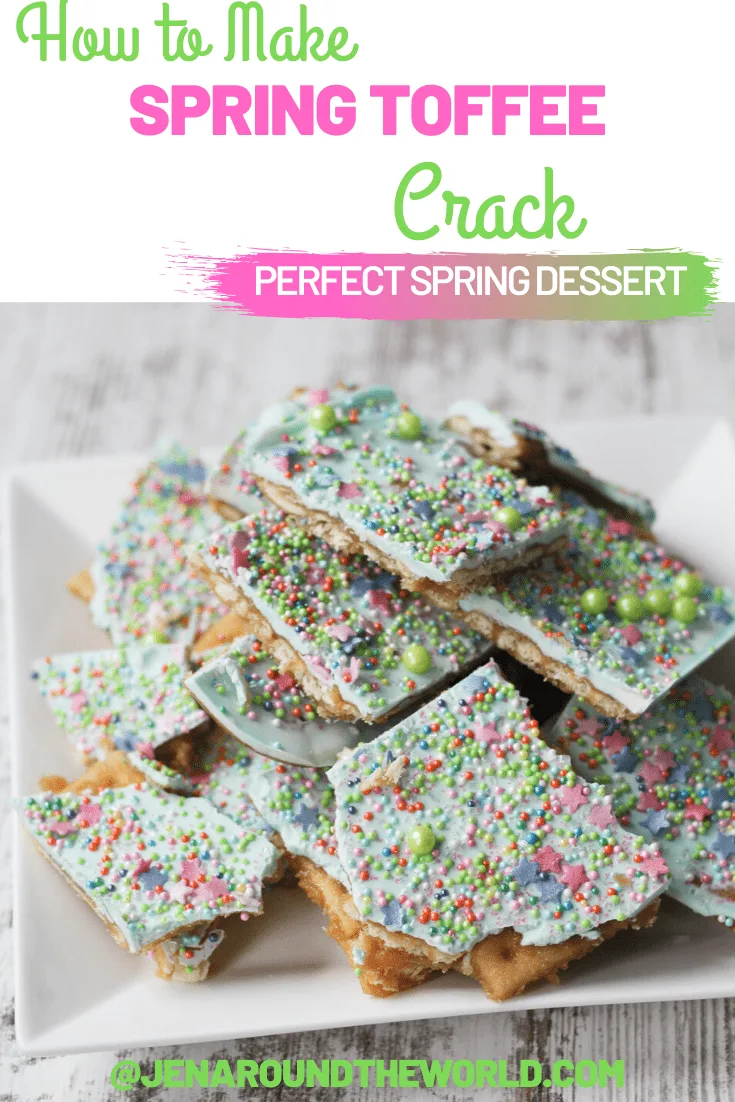 How to Make Spring Toffee Crack
So, start by putting your saltine crackers on the cookie sheet. Preheat the oven to 400 degrees.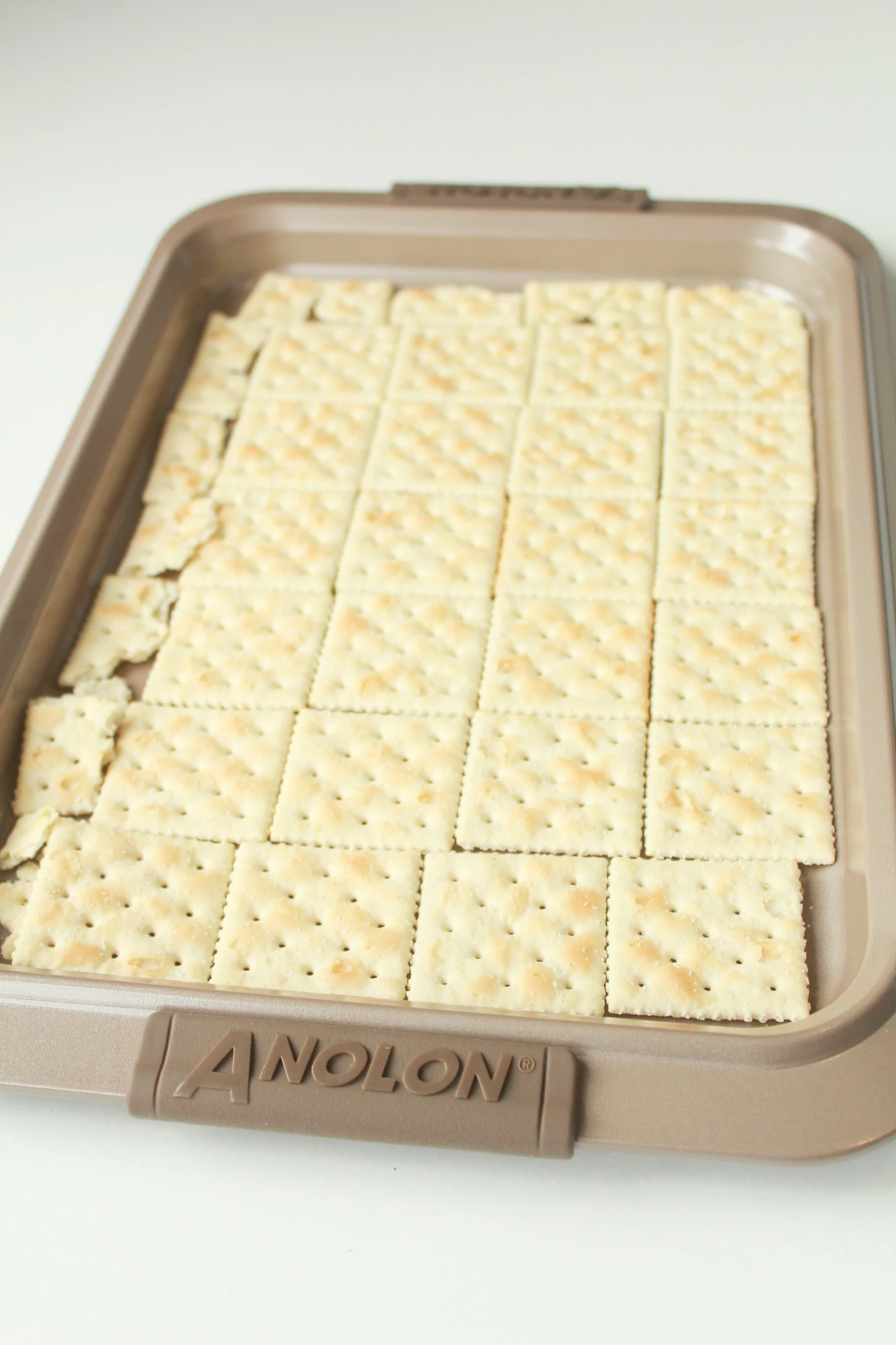 I love that this pan as the perfect tall lip on the side and rubberized handles for gripping better. The best part is that every recipe I have seen with toffee like this requires you to line the pan with aluminum foil. I did not.
Set this aside and make your toffee. It is super easy and only requires brown sugar, butter, salt, and vanilla.
In a saucepan, combine the butter and brown sugar until everything is melted together.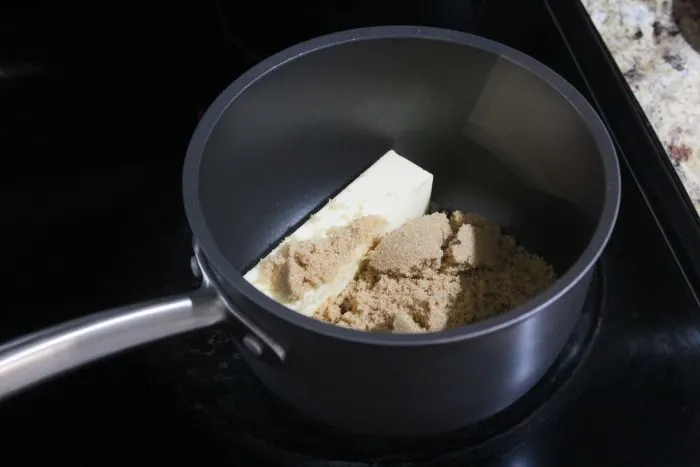 You don't have to boil it or anything. Just let it all get melted together. Let it cook for about 3-5 minutes. Then add in the vanilla and salt.
Pour the mixture over your crackers and spread all the way to the edge.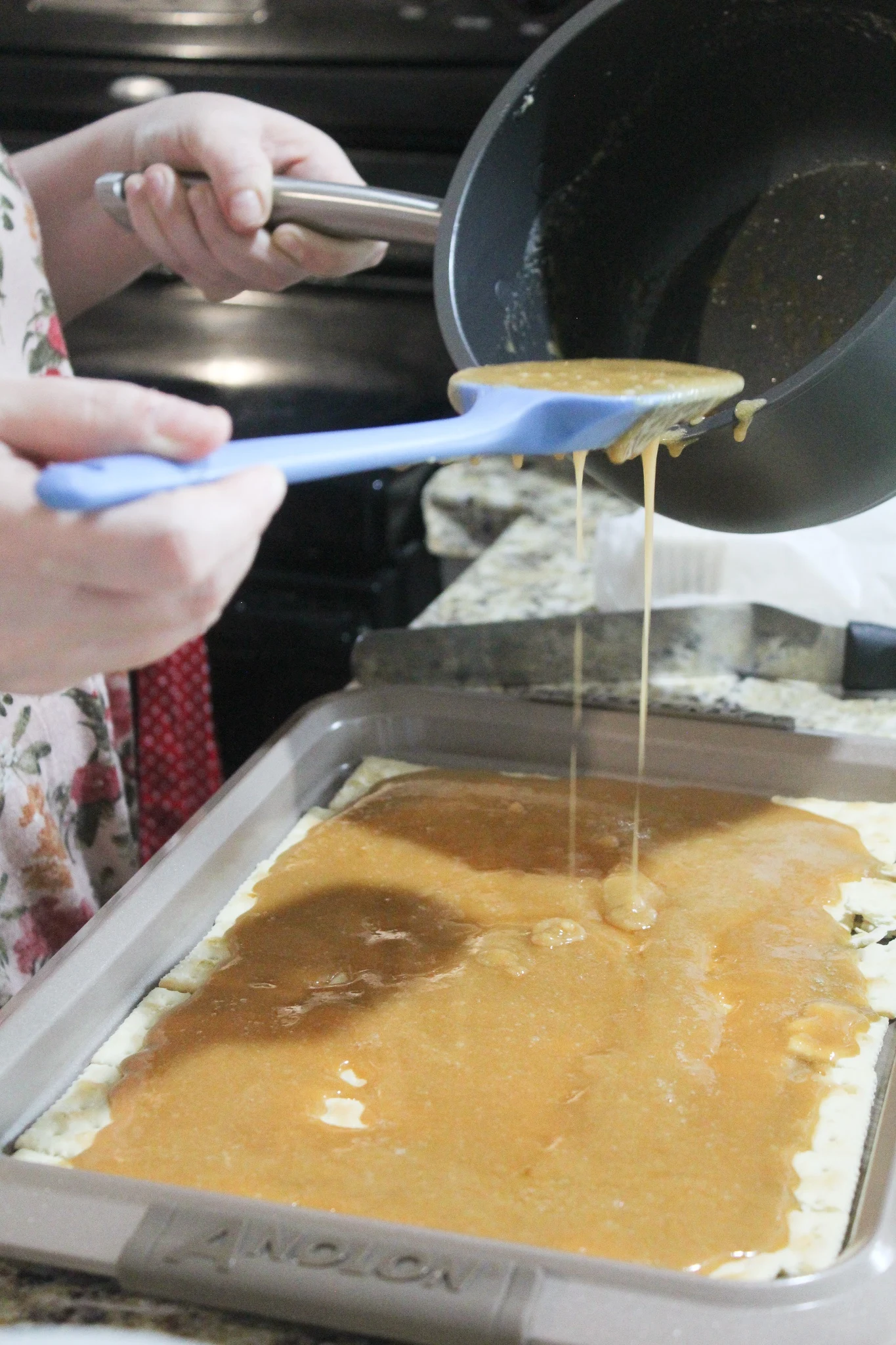 Place your pan in the oven and bake for 5 minutes. This allows the mixture to caramelize and get all bubbly.
Remove from the oven and decorate to your liking!
Decorating the Spring Toffee Crack
Now normally, I would use chocolate chips, but since this is the Spring addition, I decided on white chocolate chips and spring colored sprinkles to give it that pretty glow.
We added just a hint of blue food coloring to our white chocolate to give it that robin's egg blue color.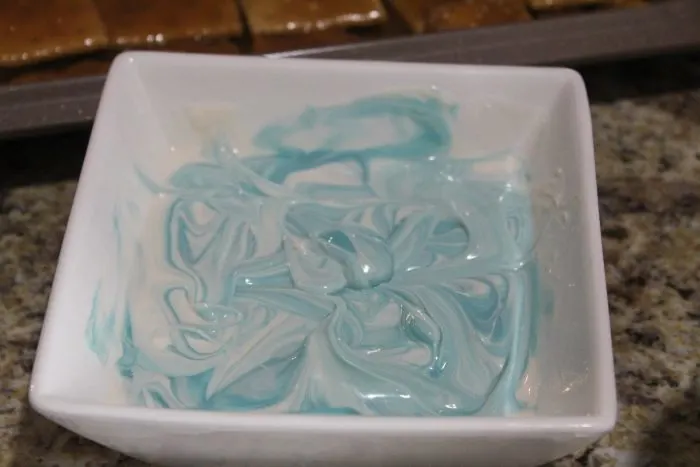 You can either melt your chips ahead of time to add the food coloring or if you want yours just white, you can sprinkle the chips right on top of the hot toffee.
Then, just sprinkle on your favorite spring colored sprinkles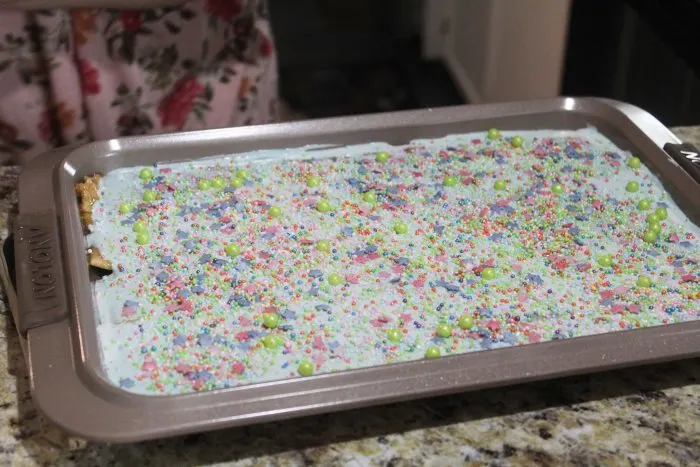 Once you get it all decorated, place it in the refrigerator to set. This usually takes just a few minutes to do. Sometimes I leave mine for a good hour to know it has really set, but you don't have to.
Then take it out, score it with a knife and break it into smaller pieces, giving it that "cracked" look.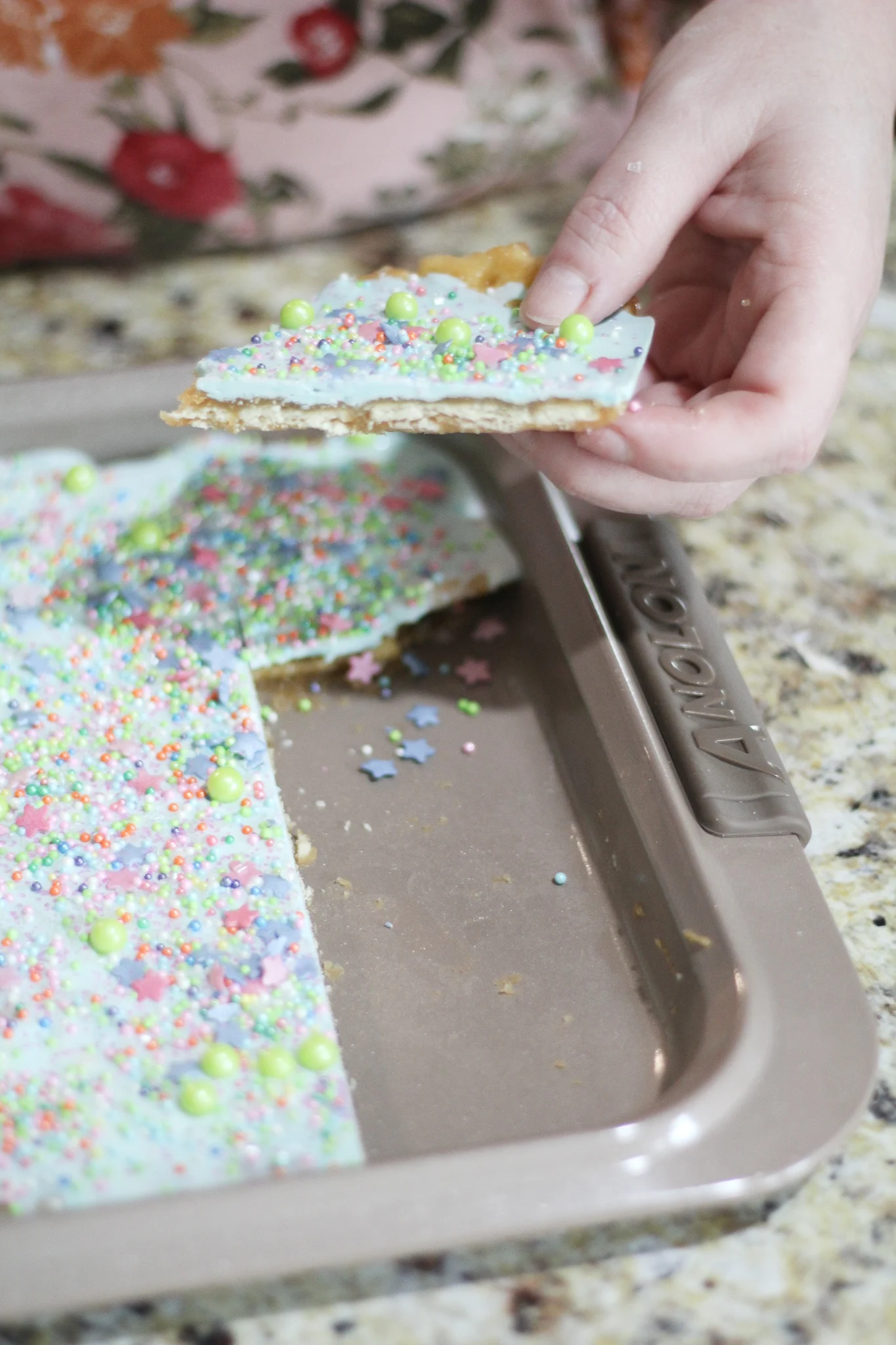 And, as you can see, this pan is truly non-stick. Nothing, not even this super sticky toffee stuck to this Anolon Bakeware. I am 100% sold and switching all my bakeware out to Anolon — even my cookware too!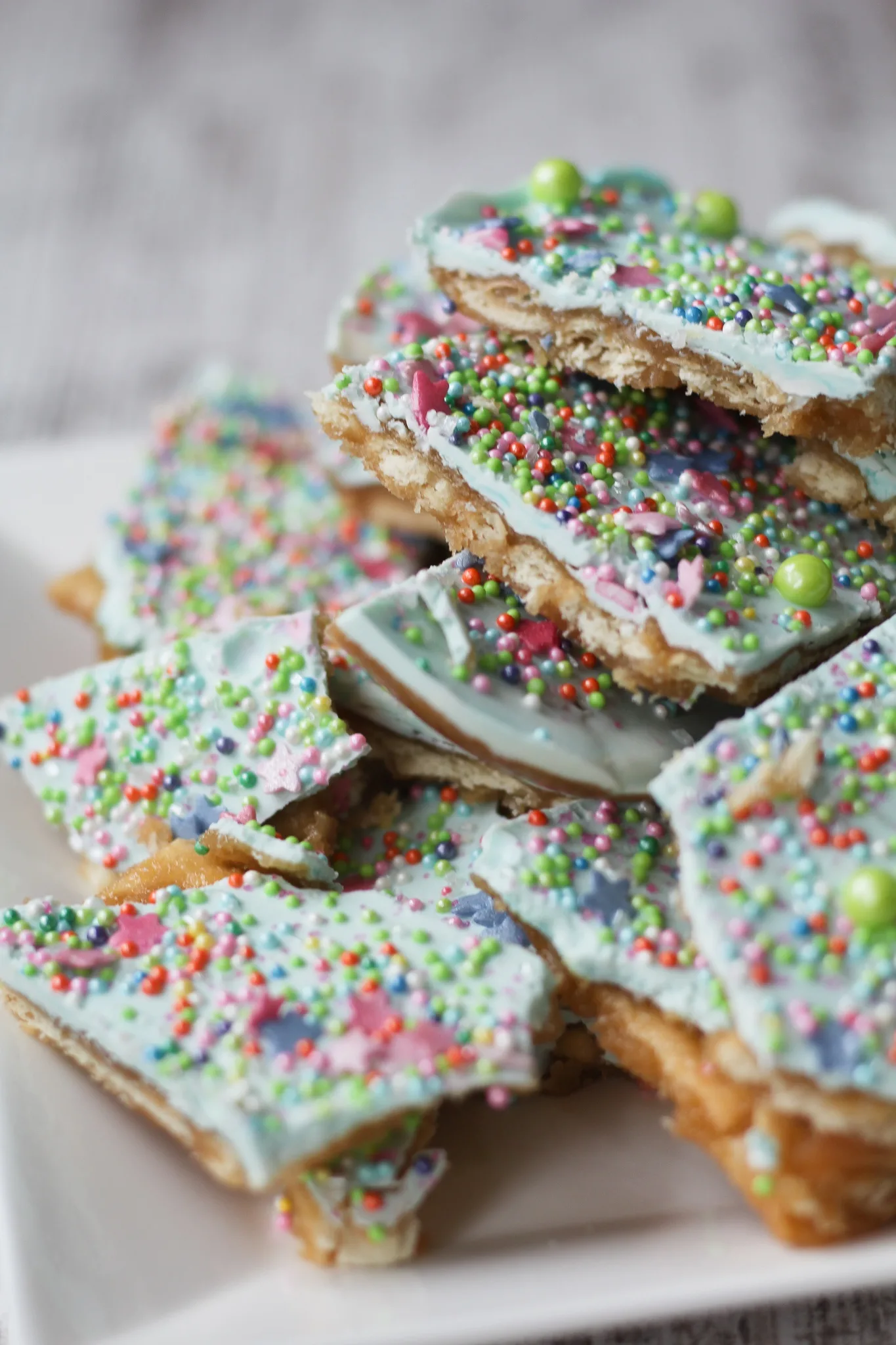 Yield: 24 pieces
Spring Toffee Crack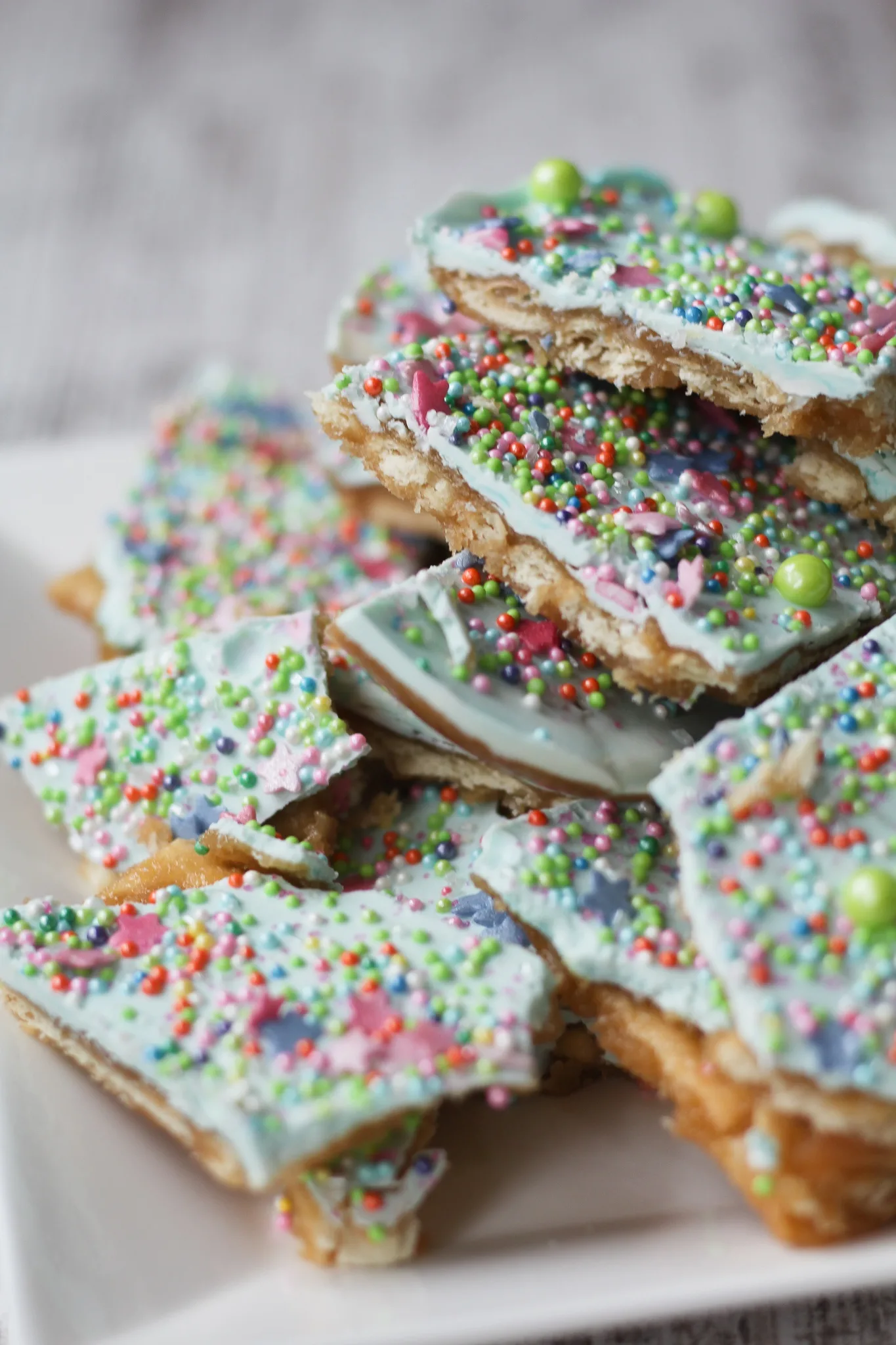 This easy and fun dessert will have you ushering in Spring like a boss!
Additional Time
30 minutes
Ingredients
35 saltine crackers (about one sleeve, enough to line your tray)
1 cup light brown sugar
2 sticks butter
1/4 teaspoon kosher salt
1 teaspoon vanilla
2 cups white chocolate chips
blue food coloring (optional)
spring colored sprinkles for garnish
Instructions
Preheat the oven to 400F. Line a 10x15-inch sheet pan with nonstick aluminum foil, making sure that the foil completely covers the bottom and sides of the pan. If using regular foil, spray lightly with baking spray. Line the saltine crackers in a single layer on the bottom. (If you are using the new Anolon Advanced bakeware, you do not need to line with aluminum foil)
Place the brown sugar, butter, and salt in a medium-sized saucepan. Cook on medium heat, stirring frequently, until the butter melts. Continue to cook, stirring occasionally, for another 3 to 5 minutes, just until the mixture comes to a boil and starts to darken.
Remove from heat and stir in the vanilla extract.
Pour the hot brown sugar mixture over the saltine crackers. Spread to evenly coat the crackers.
Move the pan to the oven and bake for 5 minutes. The caramel will be hot and bubbly.
Remove from the oven and top with white chocolate chips. if you are adding food coloring to your chips, you will need to place them in the microwave to melt. Do so in 15-second increments until starting to melt. Do not overheat or they will burn. Once melted, add in a few drops of blue food coloring.
If not using the food coloring, you will need to place back in the oven for a minute or two to soften the white chips.
Remove from the oven and use a knife to spread the chips out.
Top with spring colored sprinkles and then place in the refrigerator to set.
Once set, break apart into pieces and enjoy! Try not to eat it all in one sitting.
Nutrition Information:
Yield:
24
Serving Size:
1
Amount Per Serving:
Calories:

192
Total Fat:

13g
Saturated Fat:

8g
Trans Fat:

0g
Unsaturated Fat:

4g
Cholesterol:

23mg
Sodium:

139mg
Carbohydrates:

19g
Fiber:

0g
Sugar:

16g
Protein:

1g