This Christmas Crack recipe has been around for many years! You may know it as Saltine Cracker toffee but around here, we call it Christmas Crack! This is the best Christmas candy you will make all year.
Around here, the holidays mean lots and lots of baking. Yesterday, Kayla and I did something we have been wanting to do for a long time.
We made some delicious holiday treats (like my amazing Peanut Butter Buckeyes and my Praline Pecans) as well as some new to us recipes and delivered goodie boxes to friends and family.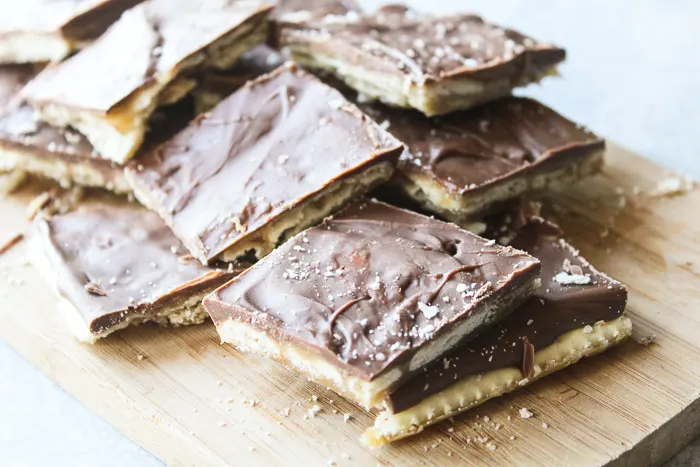 She and I have been wanting to do this forever. We had some extra time yesterday so we set out to make goodie boxes filled to the brim with some of our holiday favorites — like this Christmas Crack. This was our first time doing this and it was so easy to do.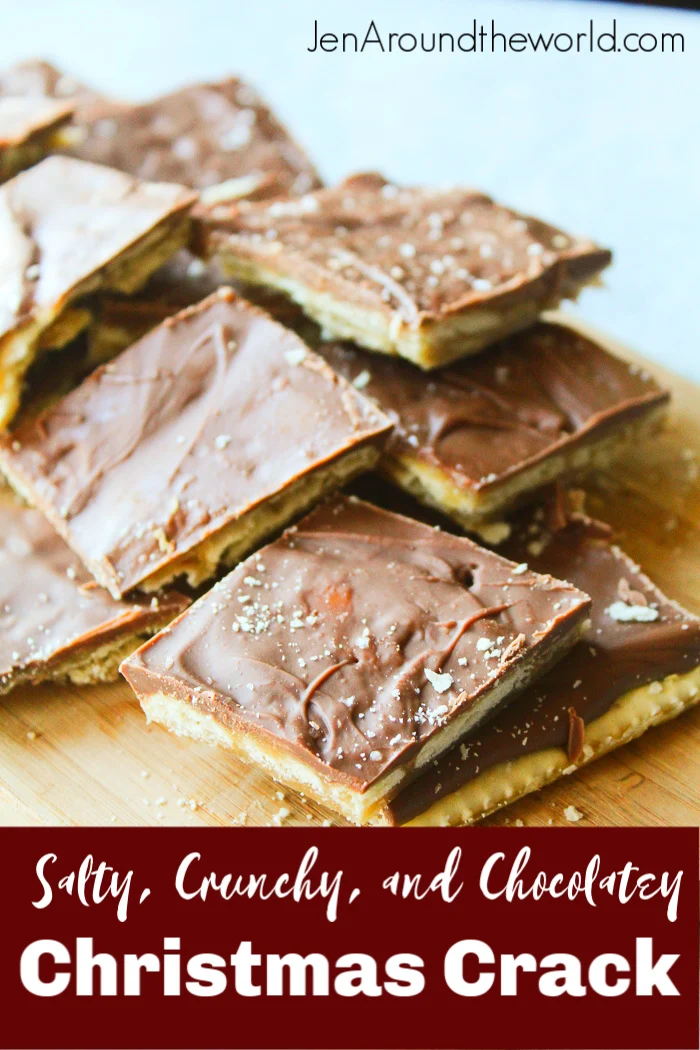 This recipe takes about 20 minutes to prepare (and about an hour to chill) and uses only 4 simple ingredients (5 if you count the flaky sea salt my daughter put on top). Once you let it come to room temperature, it is the best-tasting Christmas dessert ever.
How to Make This Christmas Crack Recipe
All you need to do is line a baking sheet pan with aluminum foil or parchment paper and place your saltine crackers down in rows. You don't even need a candy thermometer for this recipe.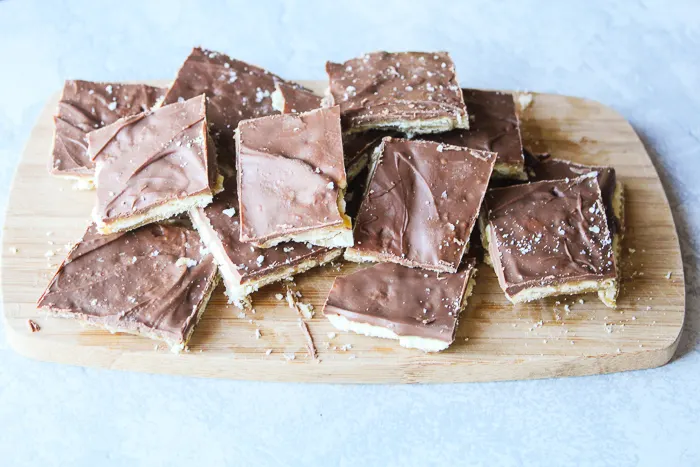 In a medium saucepan, combine your butter and brown sugar over medium heat. Once the brown sugar mixture has melted together and gets a bit thick, pour the toffee mixture over the crackers. I like to use salted butter, but you can use unsalted butter if you like. No need to bring it to a rolling boil. Just watch the buttery toffee mixture and wait for it to thicken.
Now, pop in the oven for about 5-7 minutes. The toffee layer will cook and then harden. When it comes out, sprinkle the semi-sweet chocolate chips on top and let it sit for a few minutes. For a different take on this, sprinkle on some white chocolate chips.
The heat from the crackers is enough to melt the chocolate. Now, using a knife or an offset spatula, spread the chips around in an even layer on top of the crackers. This will create the perfect chocolate layer.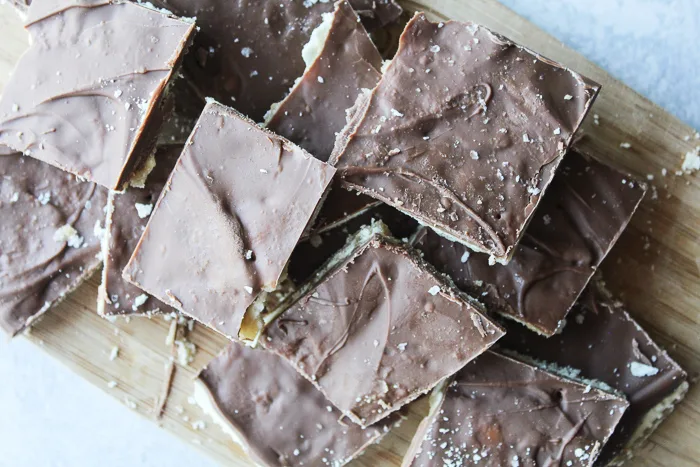 Top The Cracker Candy Recipe
Sprinkle flaked salt on top and place in the refrigerator until the chocolate sets up and the toffee sauce has hardened. You could even add some crushed candy canes, holiday sprinkles, or toffee bits to the top. Any type of candy can be used to put on the top of this recipe. You could even add some mini marshmallows and crushed graham crackers.
This blogger even gave this traditional Saltine Cracker Candy a spin by adding pecans to the top and using Ritz crackers instead of saltines.
The funny thing is — we call this Christmas Cracker candy because once you try one piece, you will be addicted and won't be able to stop eating it. The sweet toffee and salt always make for a great treat for the holiday season. This is the best way to enjoy the holidays — with all your favorite goodies.
Store this Christmas treat in an airtight container and enjoy it for several days. Make a double batch and give this as gifts for Christmas.
Looking for Other Christmas Cookie Goodies? Check These Out
What is your favorite holiday recipe?
Yield: 20 servings
Christmas Crack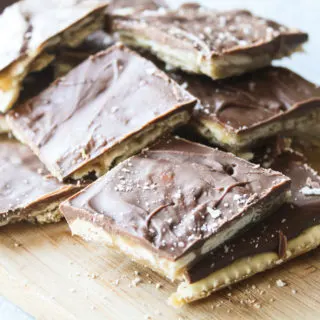 This recipe will literally have you going back for seconds, thirds, fourths, and more!
Ingredients
35 saltine crackers (about one sleeve, enough to line your tray)
1 cup light brown sugar
2 sticks butter
1/4 teaspoon kosher salt
1 teaspoon vanilla
2 cups semi-sweet chocolate chips
Flake sea salt for garnish
Instructions
Preheat the oven to 400F. Line a 10x15-inch sheet pan with nonstick aluminum foil, making sure that the foil completely covers the bottom and sides of the pan. If using regular foil, spray lightly with baking spray. Line the saltine crackers in a single layer on the bottom.
Place the brown sugar, butter, and salt in a medium-sized saucepan. Cook on medium heat, stirring frequently, until the butter melts. Continue to cook, stirring occasionally, for another 3 to 5 minutes, just until the mixture comes to a boil and starts to darken. Remove from heat and stir in the vanilla extract.
Pour the hot brown sugar mixture over the saltine crackers. Spread to evenly coat the crackers.
Move the pan to the oven and bake for 5 minutes. The caramel will be hot and bubbly.
Remove from the oven and top with chocolate chips. Place back in the oven for a minute or two to soften the chocolate chips. Remove from the oven and use a knife to spread the chips out.
Top with flaked sea salt and now place in the refrigerator to set.
Once set, break apart into pieces and enjoy! Try not to eat it all in one sitting.
Nutrition Information:
Yield:
20
Serving Size:
1
Amount Per Serving:
Calories:

222
Total Fat:

15g
Saturated Fat:

9g
Trans Fat:

0g
Unsaturated Fat:

5g
Cholesterol:

24mg
Sodium:

182mg
Carbohydrates:

24g
Fiber:

1g
Sugar:

18g
Protein:

1g