In the gardening world, we try to use every bit of the fruits and vegetables we can. For this recipe, I am going to show you how to make strawberry syrup using the tops! Most of the time people throw them right into the trash. However, there is so much goodness in those strawberry tops.
Here's how I make this amazing syrup!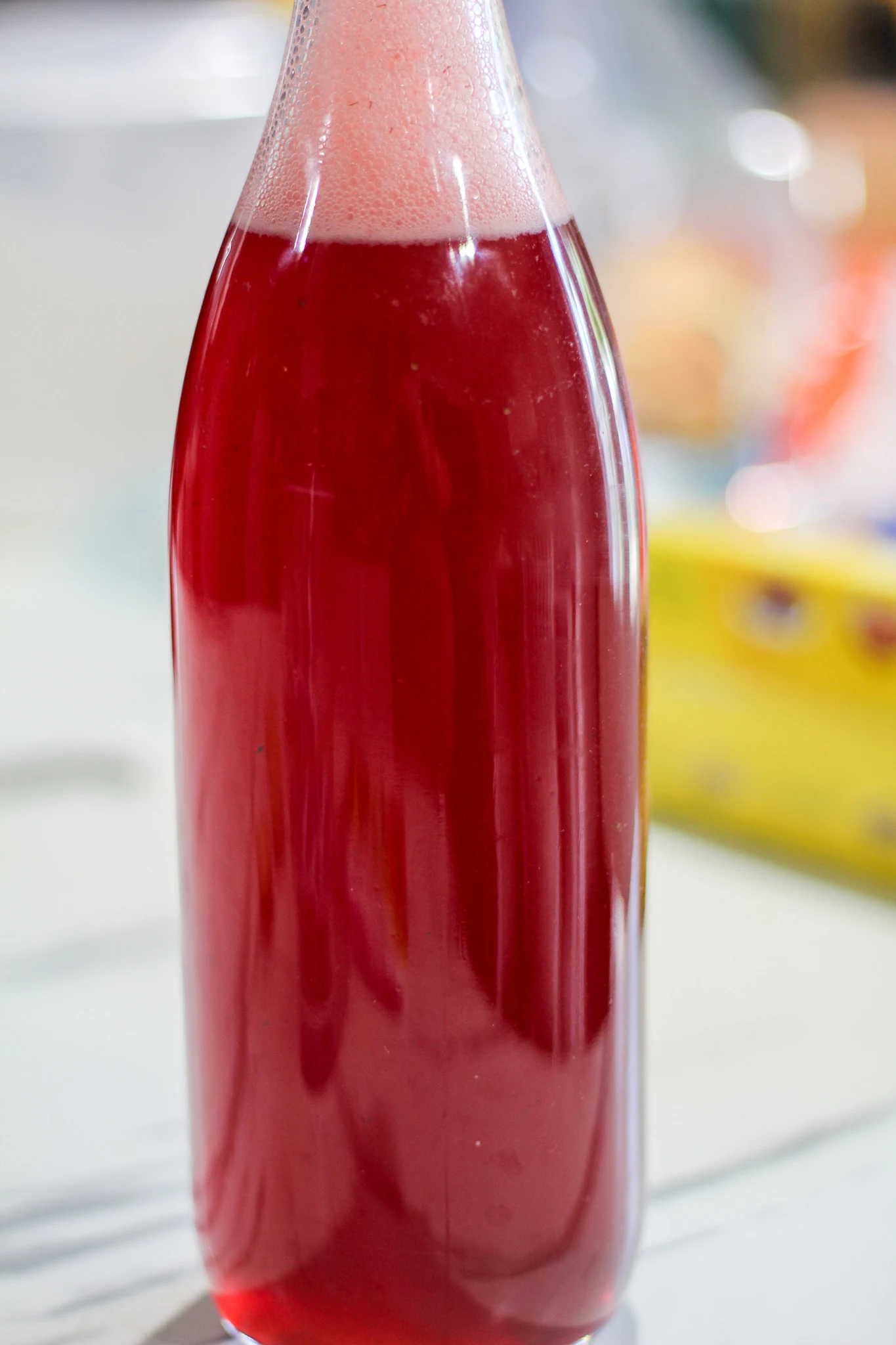 This recipe makes a huge bottle full. I like to use this syrup on my homemade waffles and my Dutch Baby Pancakes.
I also make a lot of Non-alcoholic drinks during this summer and this strawberry syrup will definitely come in handy!
HOW TO MAKE STRAWBERRY SYRUP
Begin by taking the tops and placing them in a stockpot. Pour enough water to cover and turn the heat up until it reaches a boil.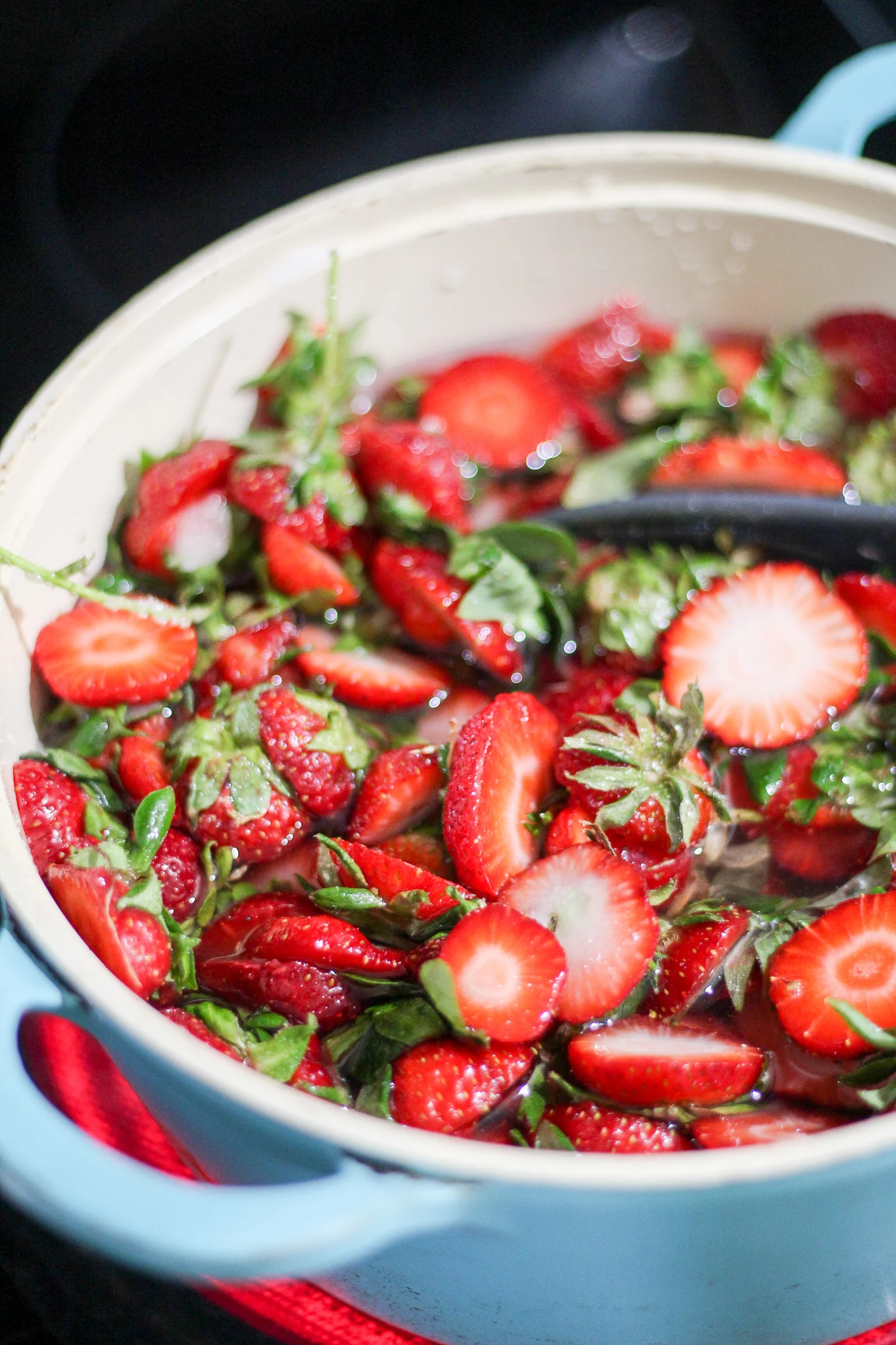 I added 4 cups of strawberry tops, 3 cups of sugar, and 3 cups of water. Let it come to a boil and boil for about 10-12 minutes. Then, turn the heat down to low and let it simmer for about 20 minutes.
When it has finished simmering, strain the strawberry tops from the juice.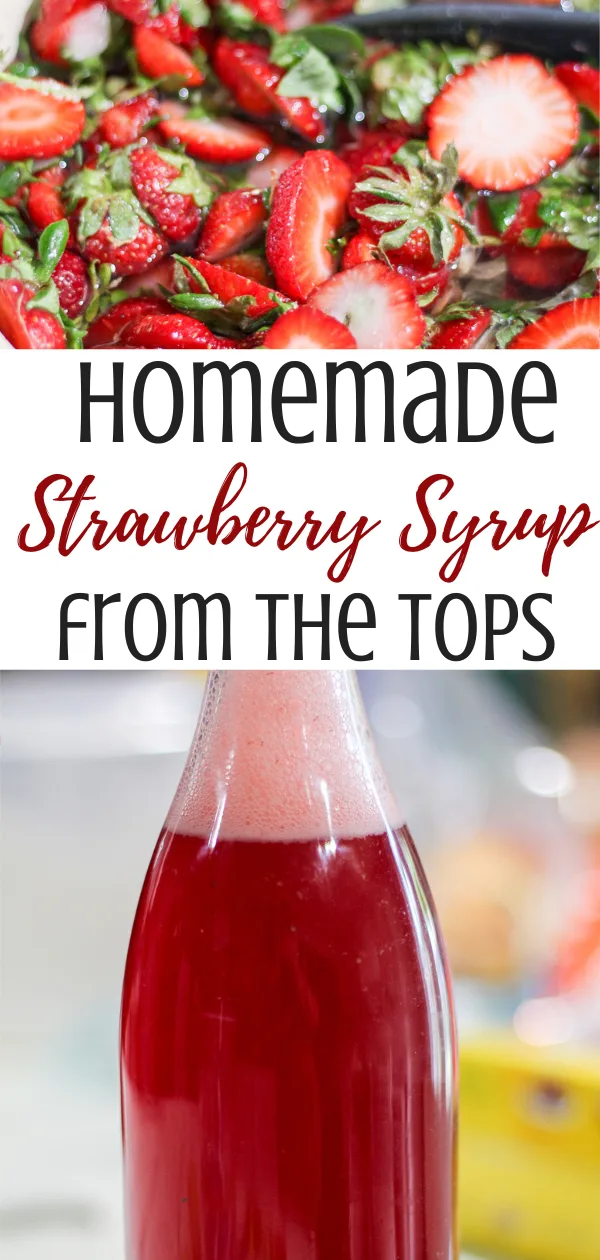 CANNING STRAWBERRY SYRUP
This can be canned like strawberry jam. Grab clean canning jars and lids and place them in a hot water bath until they are fully heated. Once hot, take the jars out carefully and begin spooning the hot syrup into the hot jars. Leave 1/2″ headspace for Weck jars and 1/4″ headspace for Ball jars.
Next, wipe the lids and rims of the jars clean of water. Now, lay the lids on the jar and screw on the band.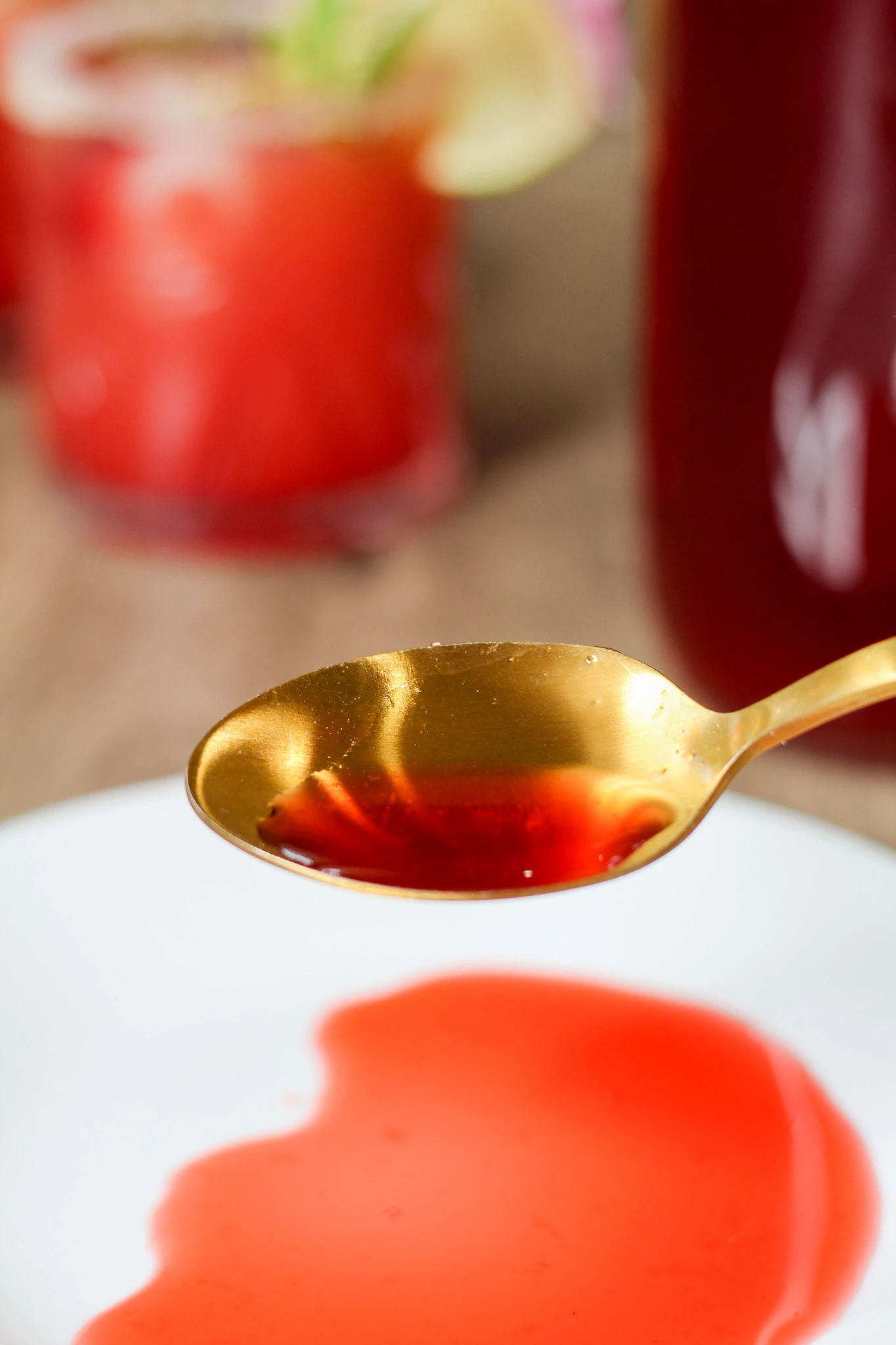 Once the lids are on and the hot water bath is ready, gently place the jars in the pot. Make sure that the jars are covered with water. When the hot water bath has reached a boil, process jars for 10 minutes.
Lift the jars out of the canning bath after about 10 minutes and let them rest on the counter. If using the standard canning lids there will be a popping sound. That sound lets you know it is sealed.
But, if you are like me, you can skip this step if you don't want to can it. Just simply put it into an airtight jar and place it in the refrigerator. It will last about 3 weeks in the fridge.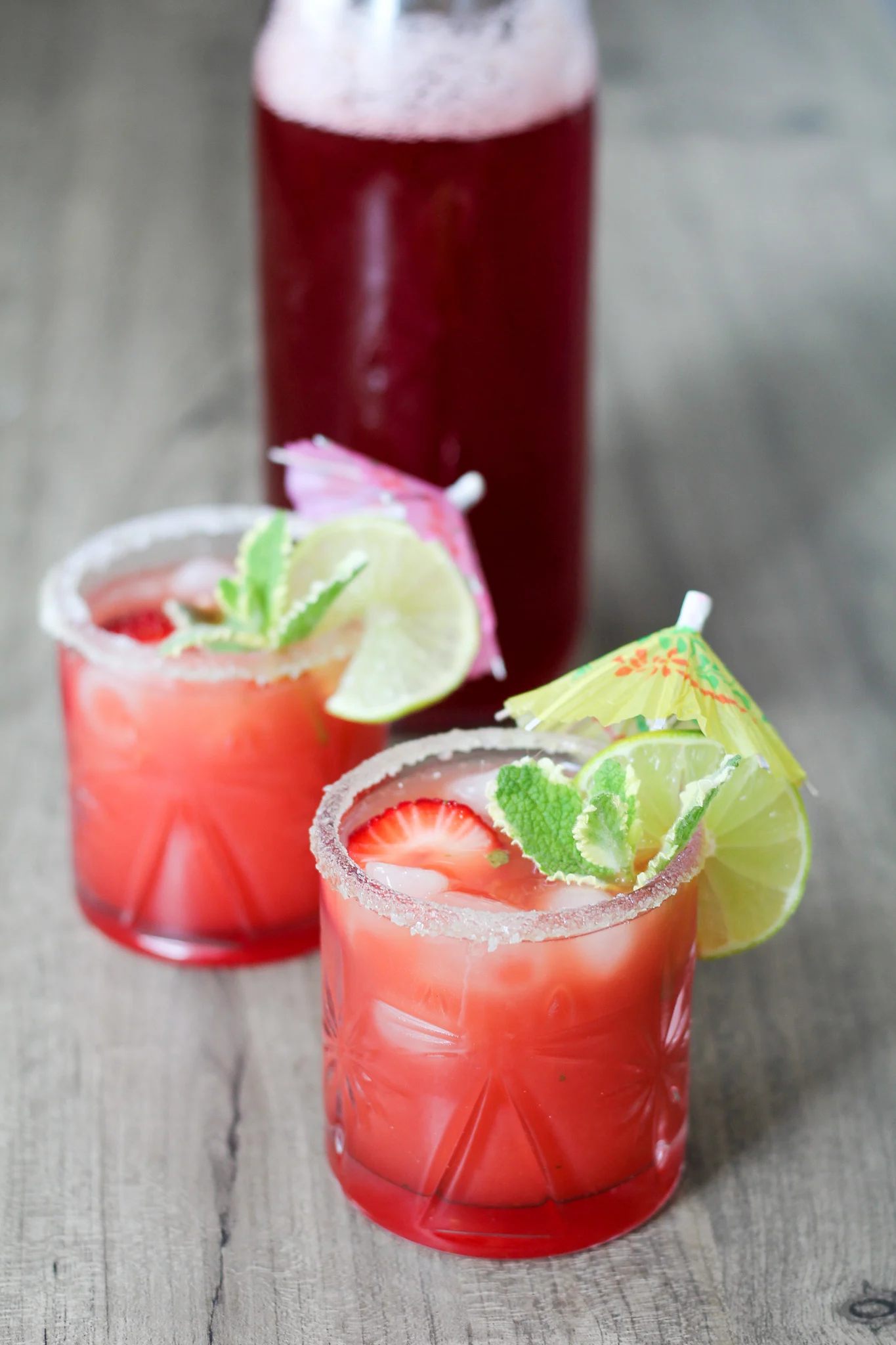 As I said before, it makes the perfect simple syrup to make delicious drinks with!
Check out these strawberry drinks you can use this syrup in
Yield: 4 cups
How to Make Strawberry Syrup with the Tops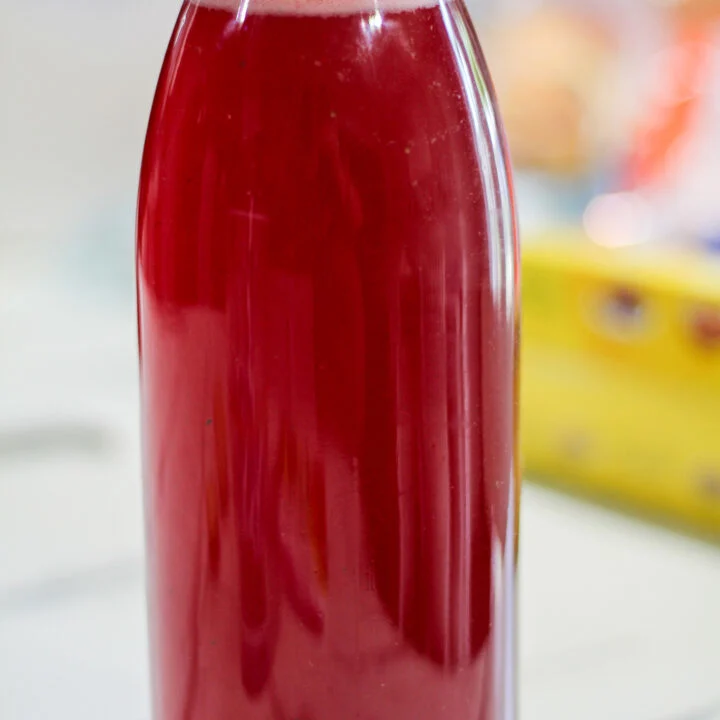 Ever wonder what to do with all those strawberry tops? This recipe shows you how to take those strawberry tops and turn them into strawberry
syrup.
Ingredients
4 cups of strawberry tops
3 cups of sugar
3 cups of water
Instructions
Pour strawberry tops and sugar into a stockpot and cover with the water.
Bring to a boil and simmer for 10-15 minutes.
Take the pot off the burner and carefully strain out the tops.
Pour juice back into the pot.
Bring juice back to a boil and then simmer until it reduces about 20 minutes or so.

Turn off the burner, pour the syrup into a jar or bottle, and store it in the fridge.

Nutrition Information:
Yield:
20
Serving Size:
1
Amount Per Serving:
Calories:

127
Total Fat:

0g
Saturated Fat:

0g
Trans Fat:

0g
Unsaturated Fat:

0g
Cholesterol:

0mg
Sodium:

2mg
Carbohydrates:

33g
Fiber:

1g
Sugar:

32g
Protein:

0g