This Copycat Sonic Strawberry Limeade will be the perfect drink to finish out your summer!
The Sonic Strawberry Limeade is such a delicious copycat version of the real thing. The best part is you can enjoy it all year round.
Honestly, the hardest part of making this yummy lime and strawberry drink is the strawberry syrup, but no worries!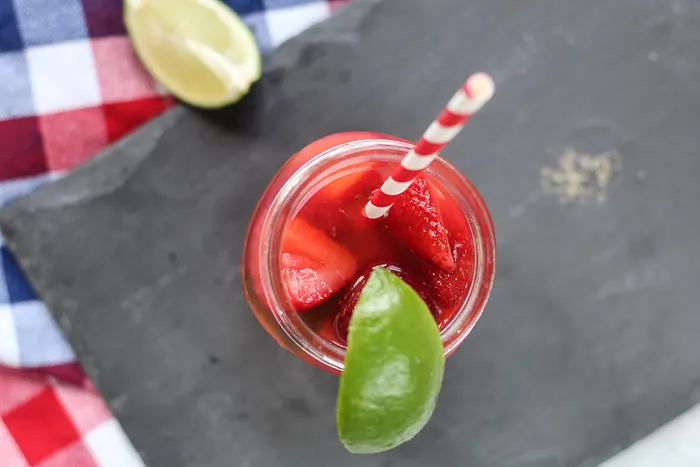 I am going to show you how to make it so you can make a batch of this for your family members. I promise they will love it!
Did you know that Sonic, they have over 100,000 drink combinations? WOW! That is a lot. Of course, the strawberry limeade is one of their top sellers. My daughter discovered it this past summer and since it was a favorite of hers, we decided to make our own at home.
This strawberry syrup is perfect for so many drink recipes and will keep in the fridge for about a month.
One of my favorite things about recreating recipes at home is that you don't have to worry about preservatives and dyes. Homemade Strawberry syrup has a beautiful red color, and there is no dye in this recipe!
In this recipe, you will find ingredients like sugar, water, and fresh strawberries. Of course, if you want to try making your version with a sugar-free substitute, you can do that as well.
How to Make a Copycat Strawberry Limeade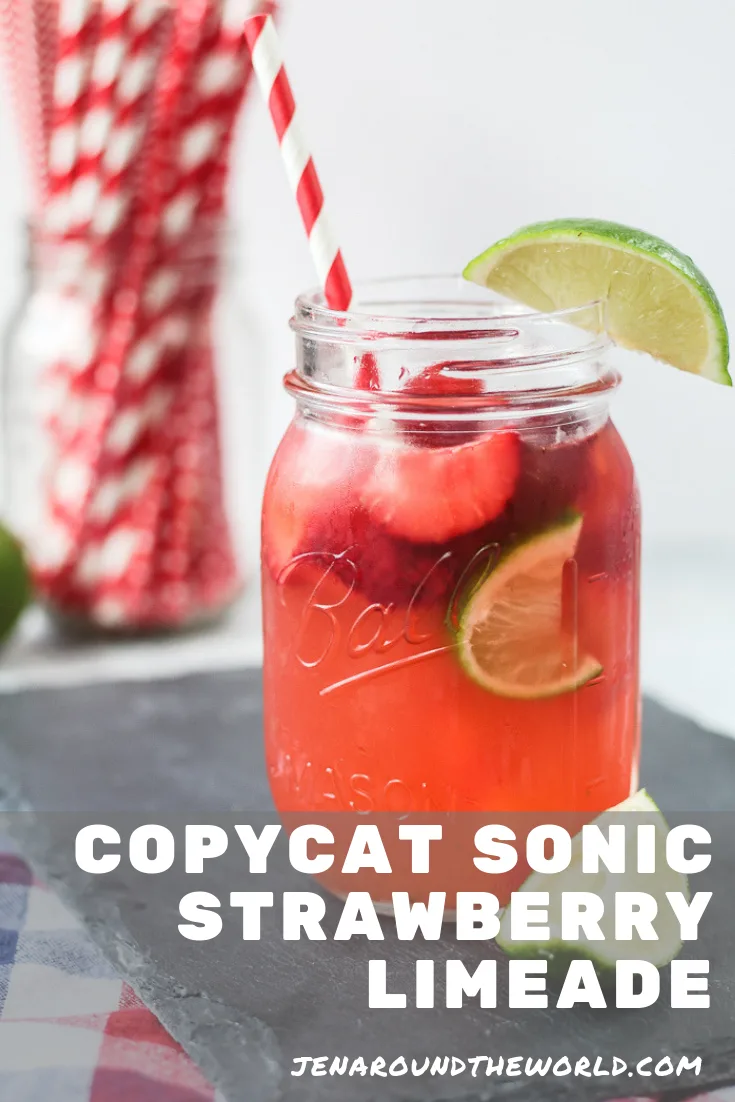 To start with, you are going to take 1 1-pound container of fresh strawberries and wash them off. Then, hull them (cut the green part off the strawberry, and then dice those strawberries up. Save a few big strawberries cut in half and place in the freezer. You can use those as ice cubes.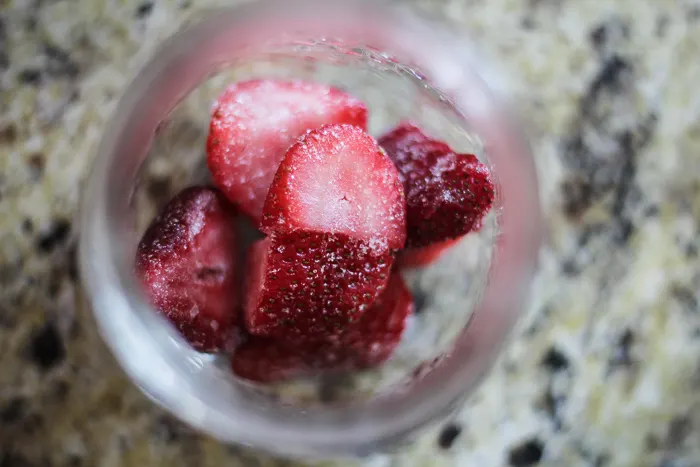 You will then cook the remaining strawberries with 4 cups of water for about 20 minutes, which results is a beautiful colored juice, but it isn't sweet yet.
Now, strain the strawberry pulp from the juice. I usually save these and use them for muffins or yogurt. Next, add in the sugar and heat on the stove on medium until the sugar has dissolved.
Remove from the heat and let the syrup cool.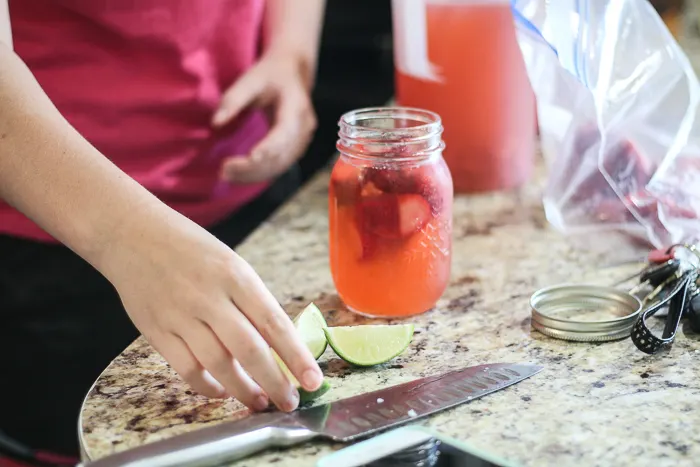 To make the drink, add 1 cup of Sprite to a mason jar. Add 1/4 cup of the strawberry syrup and some of your frozen strawberries. Squeeze in 4 slices of lime and mix together and now you can enjoy your own Strawberry Limeade before the summer comes to an end!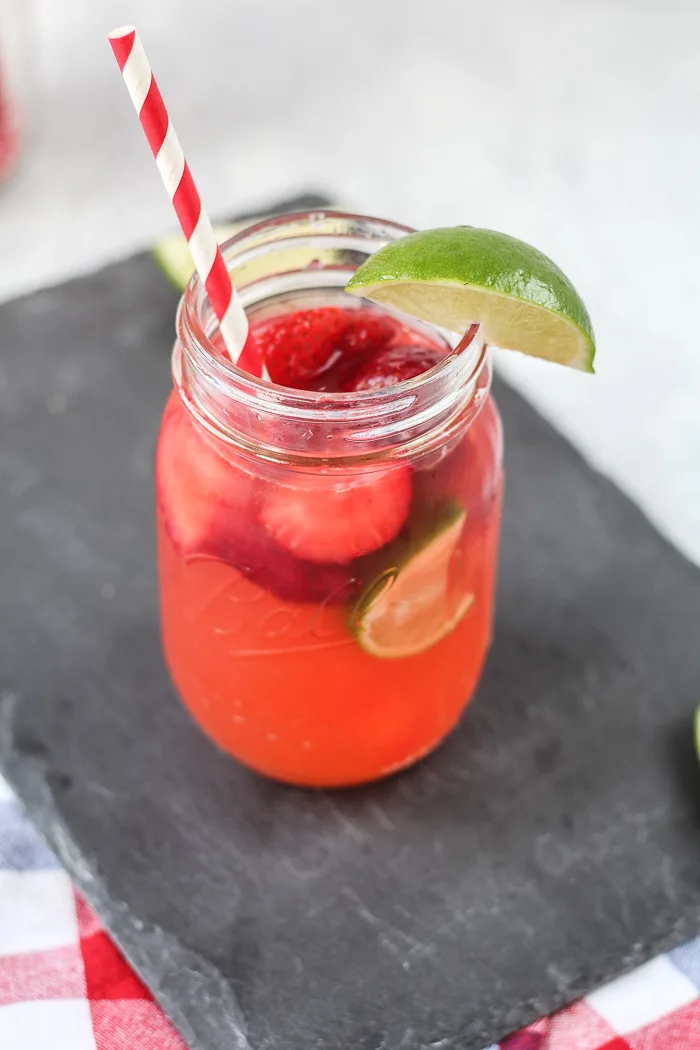 Looking for More Fun Drink Options? Check out these posts!
What is your favorite way to make copycat recipes?
Yield: 4 glasses
Copycat Sonic Strawberry Limeade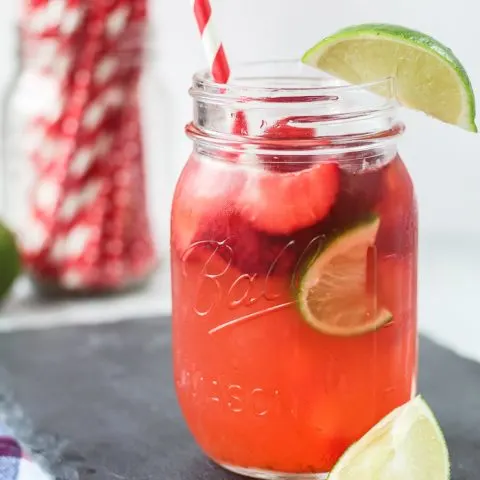 This delicious copy cat drink will have you enjoying the rest of your summer all year long!
Ingredients
Strawberry Syrup
1 pound strawberries
4 cups of water
1 1/2 cups sugar
Other Ingredients
1/4 cup Strawberry syrup
1 cup Sprite
4 slices lime
Frozen Strawberries as ice cubes
Instructions
To Make the Strawberry Syrup
Wash and hull your strawberries.
Cut strawberries into quarters.
Place strawberries into a pot and add 4 cups of water.
Bring to a boil, then simmer for 20 minutes.
Strain liquid, discard the strawberries. Add sugar, and simmer until sugar is dissolved.
Let cool and then pour into a mason jar. Store the syrup in the refrigerator for up to one month.
To make the Strawberry Limeade
Fill a glass with frozen strawberries.
Add 1/4 cup strawberry syrup, 1 cup of Sprite, and stir well.
Squeeze in lime wedges, and garnish with a lime if desired.
Nutrition Information:
Yield:
20
Serving Size:
1
Amount Per Serving:
Calories:

89
Total Fat:

0g
Saturated Fat:

0g
Trans Fat:

0g
Unsaturated Fat:

0g
Cholesterol:

0mg
Sodium:

4mg
Carbohydrates:

23g
Fiber:

1g
Sugar:

21g
Protein:

0g