The Yard Milkshake Bar (as seen on Shark Tank) has been serving up some amazing milkshakes and we have the low down for you about this iconic restaurant!
During our recent beach trip to Dauphin Island, Alabama, we took one whole day and decided to do some sightseeing and shopping in Gulf Shores, Alabama.
If you have been around here any length of time, you know my love of Gulf Shores and the beach. I could move there and seriously become a beach bum (even my boy Tucker loves the beach as much as I do!)
On our day out, of course, we decided to check out OWA (which is one of the most amazing shopping centers with places to eat like Paula Deen's Family Kitchen, Whalburgers, and more.
They have a theme park with rides, and fun local shops like the Fairhope Soap Company that has the most delicious scents when it comes to body scrubs, soaps and more.
After shopping and eating, we were all craving a little dessert so my husband suggested we hit up The Yard Milkshake Bar in Gulf Shores. I had never heard of it, but my dessert king found it when searching for restaurants, so I was all in for a delicious shake!
A Little About The Yard Milkshake Bar
The Yard Milkshake Bar was created by husband-and-wife team Logan and Chelsea Green. After years of working with ice cream and desserts, they decided to open a second ice cream shop, The Yard Milkshake Bar, in 2017.
Chelsea knew she wanted it to be like no other dessert place she had ever been to and decided that crazy specialty milkshakes are just what they were looking for!
They opened in May of 2017 and were blown away with the positive reaction of the community and tourists alike in their home town of Gulf Shores, AL.
They have now expanded to Panama City Beach, Fla., Fairhope, Ala., and Austin, Texas.
What to Expect at The Yard Milkshake Bar
The Yard Milkshake Bar has several locations around the Gulf Shores and surrounding areas. When you go in, it looks like any normal dessert shop. However, when you see the menu, your whole world of knowing milkshakes as you know it will be completely changed.
We watched for several minutes as milkshake after milkshake was ordered.
If you are new to ordering here, there are 3 different types of menus to order from —
Specialty Milkshakes Menu– This menu has two sides, the build your own and specialty.
Everything Else Menu– This menu includes regular milkshakes, bowls, cones, floats, sundaes and more.
Shake Boss Menu- This menu is for the half-gallon Shake Boss Shake!
I was mesmerized at the shapes and sizes. When I spied the Unicorn milkshake, I knew right then and there — this was the milkshake for me.
Which Milkshake Would You Get?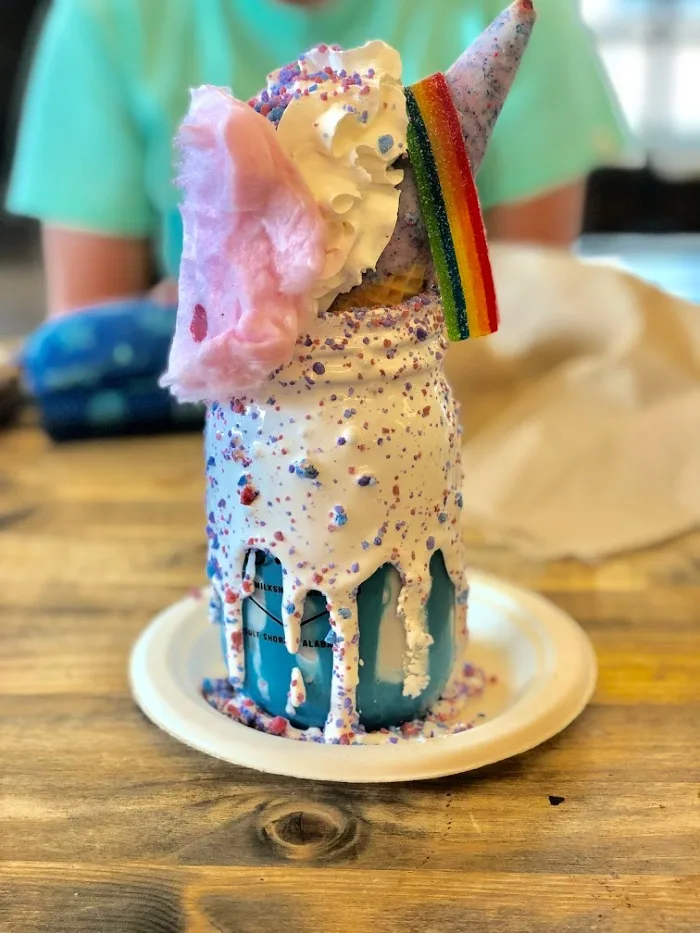 This milkshake is a cotton candy milkshake. It has melted marshmallow cream on the outside with cotton candy sprinkles and an ice cream cone on top.
Yes – it looks like a heart attack in a jar! But, let me tell you — it is the most amazing milkshake I have ever had in my entire life!
I am not ashamed to say I ate the whole thing.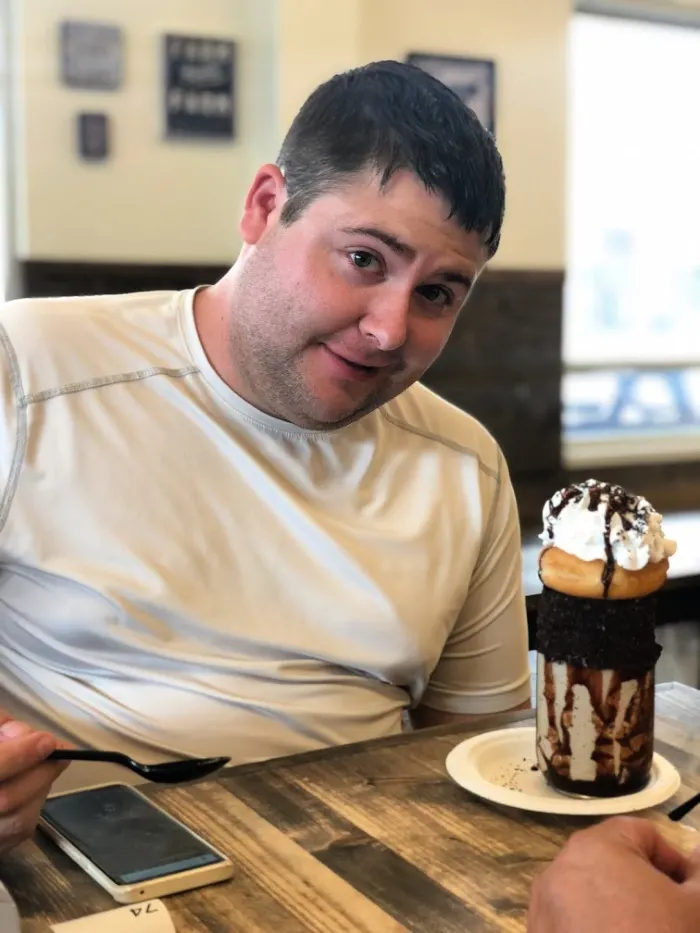 Robert's milkshake had a donut on top and loads of coffee and chocolate in his. We could not believe how decadent these shakes were.
The cool thing about all the shakes and desserts they offer is that you can customize your shake. They have some premade versions available but if you want something different, they can meet whatever needs you have.
The menu has gluten-free options as well as no-sugar-added ice creams. There are also dairy-free items, which include a fruit punch specialty shake– raspberry sorbet, lemonade, mango, and watermelon ice.
After eating your shake, you take your empty jar over to the washing station and give it a good clean. The reason for that is because the jar is yours to keep and the shakes come in either pint or quart sizes — or if you are up for it — the half-gallon size!
Shakes run anywhere from $6 to $15 depending on what you choose. The half-gallon shake is a bit more expensive, but when you see it — you will understand why! It's massive.
The Yard, 3800 Gulf Shores Pkwy, #330, Gulf Shores, AL 36542
For more about Gulf Shores visit my travel guide here.
The Yard in Gulf Shores, Alabama, creates milkshakes that are one of a kind creations and you will not want to miss this amazing dessert shop.
Have you ever had a milkshake from The Yard?