This Vegan Dairy-Free Neapolitan Cake was a request from one of my customers for my Redhead Bakery. It was so simple to make that I decided to share the recipe with you as well!
This cake has the most delicious vegan buttercream icing. Inside are layers of chocolate cake, vanilla, and strawberry cake. That is what gives this cake the perfect Neapolitan look!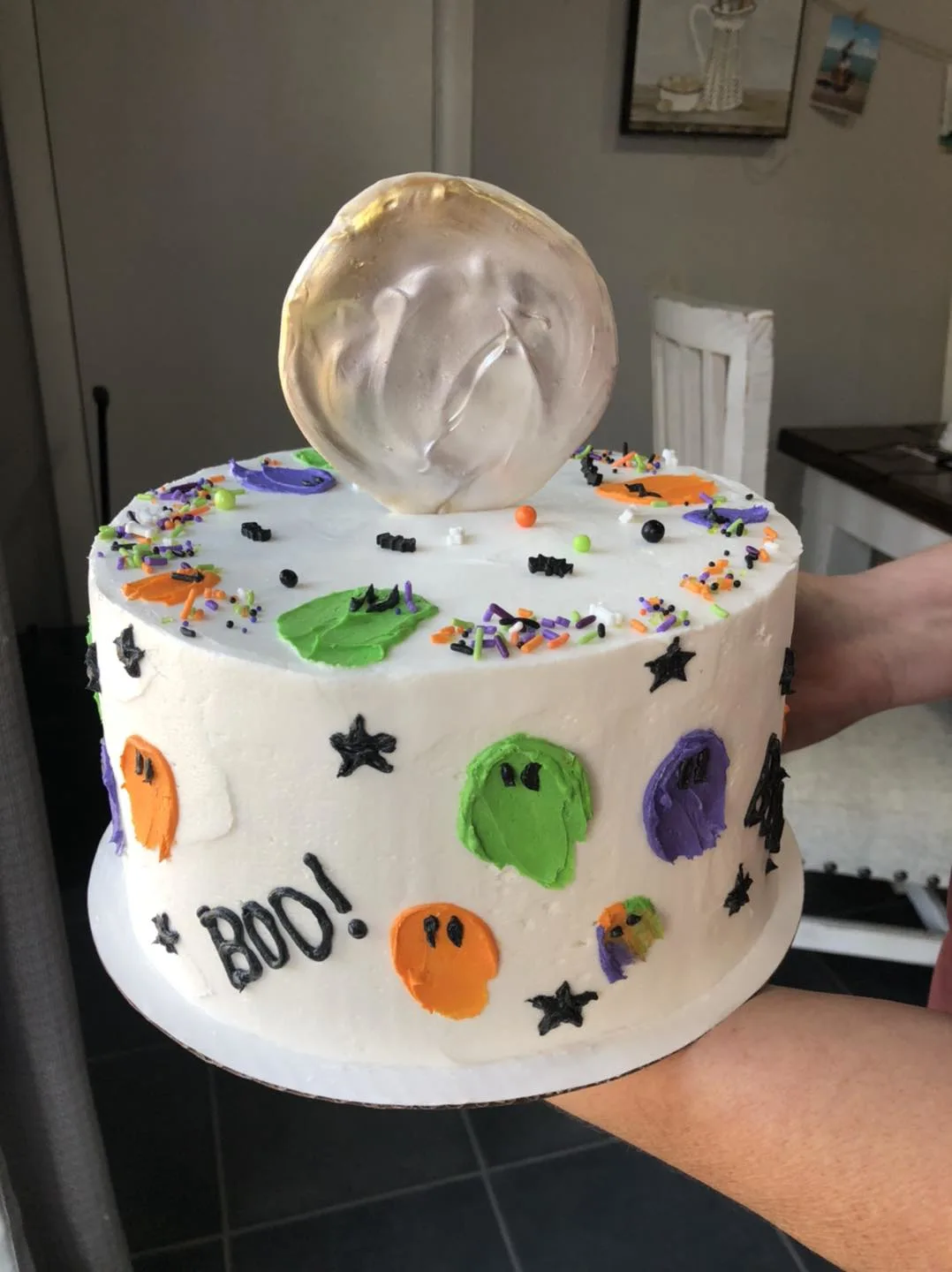 The customer requested that this cake be decorated like Halloween since her son's birthday was on this special spooky holiday!
We gave it a simple ghost decor using fun food coloring colors and smeared ghosts. You can decorate your cake on the outside any way you want!
The Trick to Perfect Icing
I finally discovered that the trick to making the perfect icing — meaning it is perfectly smooth is one simple trick. All you need to do is freeze your cakes at every chance you get.
Before freezing the cakes though, make sure to slice off the rounded portion of your cakes. This will ensure you get flat cakes and not domed cakes when baking.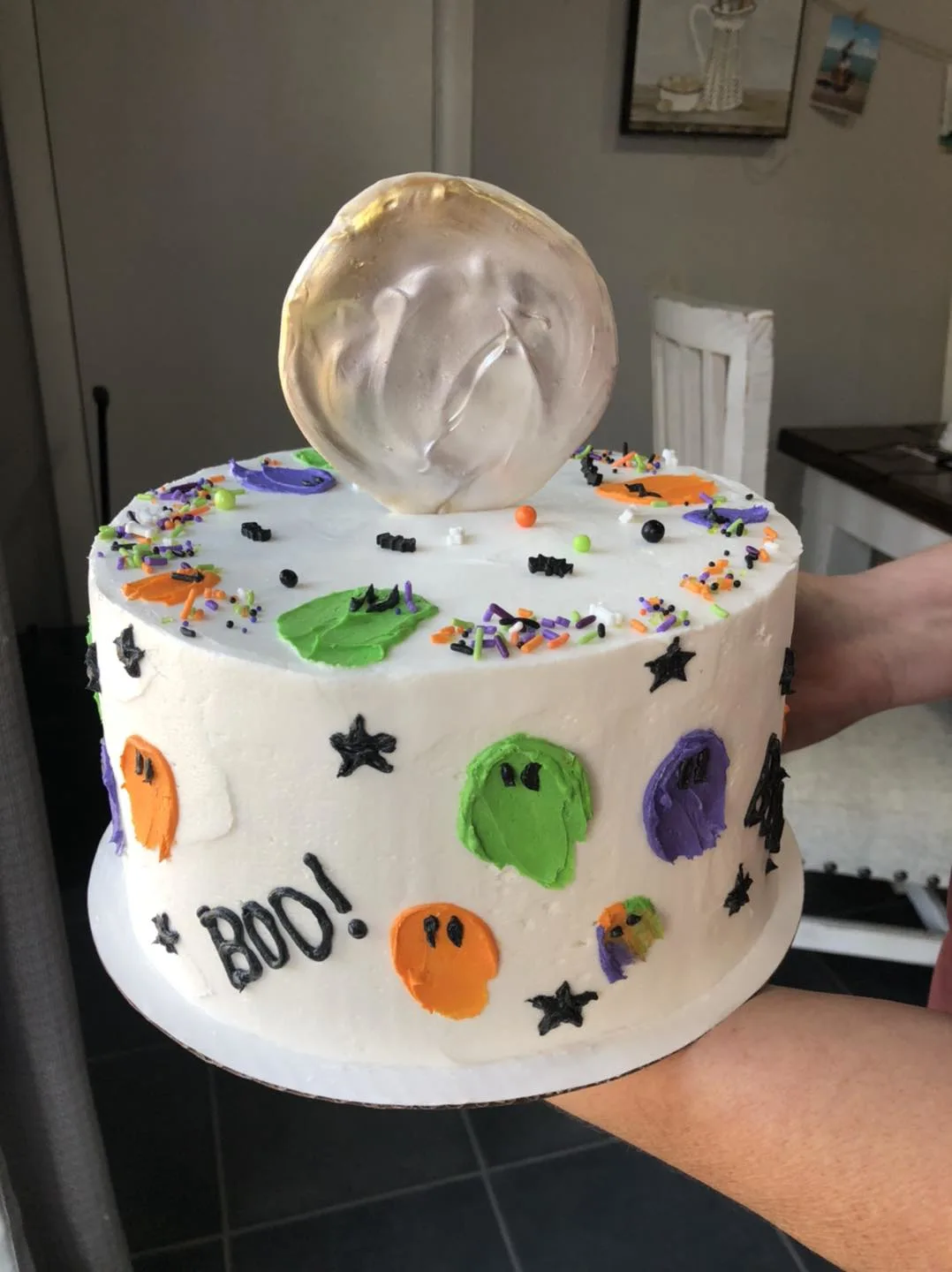 For example, once the cakes are done baking and cooled, wrap them in plastic. Stack them and store them in the freezer for a couple of hours.
Now, remove the cakes from the freezer and do the first layer of icing — the crumb coating. Stack the chocolate cake on the cake board. I always place a small smear of icing on the cake board. It helps hold the cake in place. Spread the first layer with icing just on the top. Smooth it out as best as you can.
Now, place the vanilla layer on and repeat the process. Finish with the strawberry layer.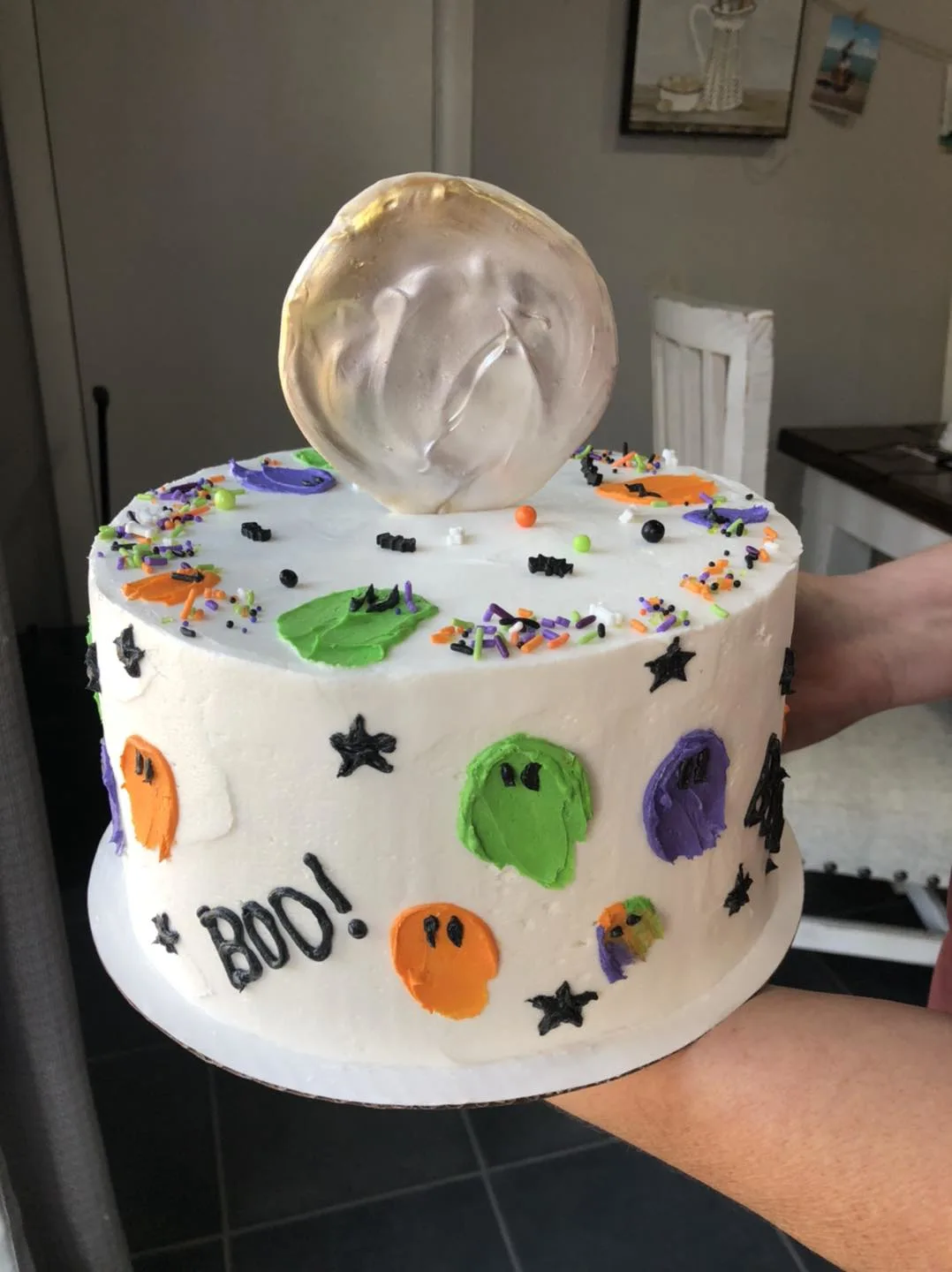 Decorate Your Cake
Place a lot of icing on the top of the cake and begin to smooth it out all the way to the edge. It does not have to be perfect at the moment. You are just making sure to cover all the cake.
Now do the sides the same way.
Grab a tall cup of hot water and place your cake spatula in the water to heat it. Remove from the water and wipe off with a paper towel. Now, go around the sides of the cake and the top and remove any excess frosting. It should lay smooth and spread out pretty easily.
Once you get this done, place the cake back in the freezer. Allow the crumb coat to freeze on the cake for about 20 minutes.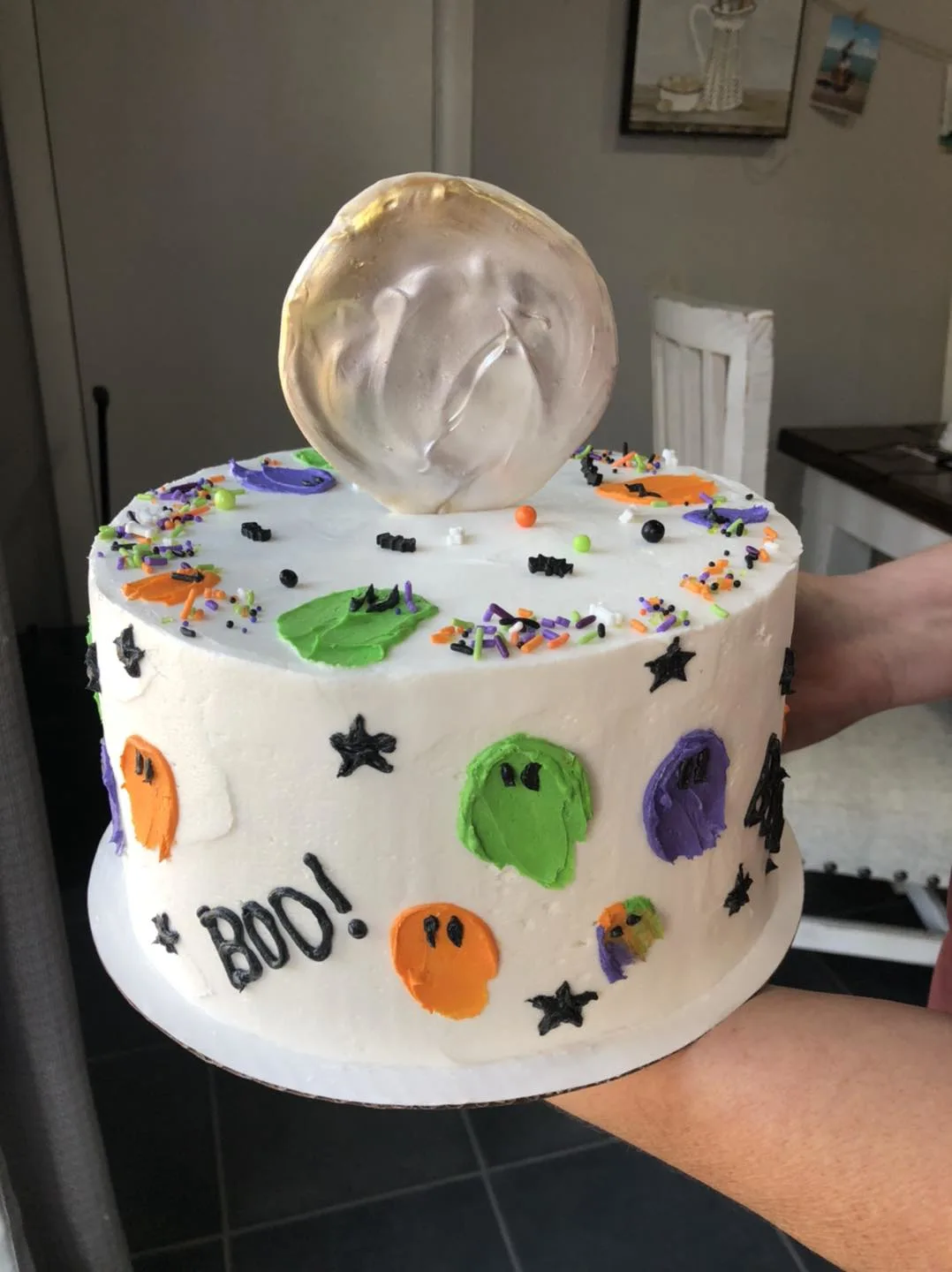 Remove from the freezer and use the remaining frosting to add the final layer. Repeat the process of heating the spatula and going back around the cake to smooth it out. The only difference this time is that you will not be removing hardly any icing at all. The goal here is to just smooth it out as best as possible.
Now you can enjoy your delicious Vegan Dairy-Free Neapolitan Cake!
Check out these other delicious cake recipes
Yield: 8 servings
Vegan Dairy-Free Neapolitan Cake
This Neapolitan cake is the perfect blend of chocolate, vanilla, and strawberry! The best part? It is vegan and dairy-free!
Ingredients
For the vanilla Cake
1 cup of oat milk
1 1/2 teaspoons of vanilla extract
1/3 cup of vegetable oil
1 1/2 cups of all purpose flour
3/4 cup of sugar
1 1/2 teaspoons of baking powder
1/4 teaspoon of salt
For the chocolate cake
1 cup of all purpose flour
1/2 cup of cocoa powder (make sure to use one that has not been processed around dairy products)
1 cup of sugar
1/2 teaspoon of baking powder
1 teaspoon of baking soda
1/2 teaspoon of salt
3/4 cup of Oat milk
1/4 cup of vegetable oil
3 tablespoons of applesauce
1 teaspoon of vanilla extract
For the strawberry layer
1/4 cup of Country Crock Plant Baed Butter
3/4 cup of sugar
1/2 teaspoon of vanilla extract
2 large eggs
1 1/4 cups of all purpose flour
1 teaspoon of baking powder
1/2 teaspoon of baking soda
1/4 teaspoon of salt
1/4 cup of oat milk
3/4 cup of strawberry Reduction (made with a pint of strawberries and 1 cup of sugar)
1 drop of pink food coloring
Vegan Buttercream Icing
3 1/2 sticks of Country Crock Plant Based Butter
1 cup of vegetable shortening
2 tablespoons of vanilla extract
6-7 cups of powdered sugar
4-6 tablespoons of oat milk
Instructions
Start by chopping up the strawberries and adding them to a sauce pot with 1 cup of sugar.
Puree using a stick blender and then cook down until it has reduced by 1/4. Set aside to cool.
For the vanilla, chocolate, and strawberry layers, mix the batter for each in a medium-sized mixing bowl. Place each batter in its own cake pan. I use the 9" pan.
Bake in a 350-degree oven for about 20-30 minutes. Cakes are done when a toothpick inserted in the center comes out clean.
Remove from the oven and allow the cakes to cool.
Make the frosting and set it aside.
Once the cakes are cool, remove them from the pan and begin assembling the cake -- chocolate cake, frosting, vanilla cake, frosting, strawberry cake, frosting.
Now, enjoy the cake!
Nutrition Information:
Yield:
8
Serving Size:
1
Amount Per Serving:
Calories:

3254
Total Fat:

53g
Saturated Fat:

15g
Trans Fat:

1g
Unsaturated Fat:

35g
Cholesterol:

69mg
Sodium:

825mg
Carbohydrates:

699g
Fiber:

3g
Sugar:

635g
Protein:

9g