Old Fashioned Sage Cornbread Dressing is a true Southern staple during the holidays. My momma used to make this same recipe and now I am sharing it as well.
I did it — I finally did it. I mastered Southern cornbread dressing! I'm so excited! I have been so scared of making cornbread dressing for the simple fact that everyone says it is so temperamental and hard to make.
I am here to tell you that it is not as hard as everybody makes it out to be. Old Fashioned Sage Cornbread Dressing can be super easy to make, as long as two key elements are done correctly — enough moisture and the right amount of seasoning.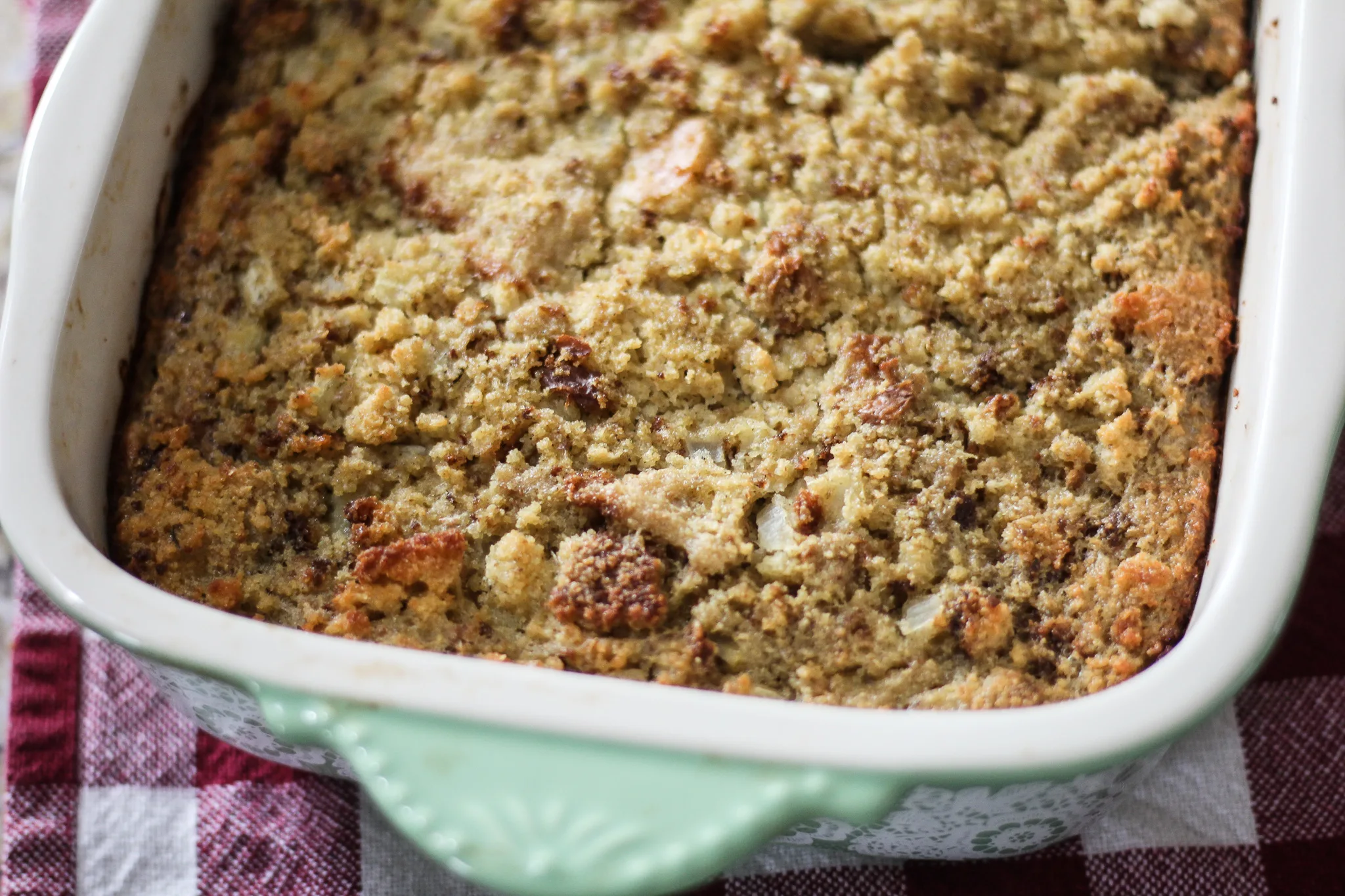 How to Make Old Fashioned Sage Dressing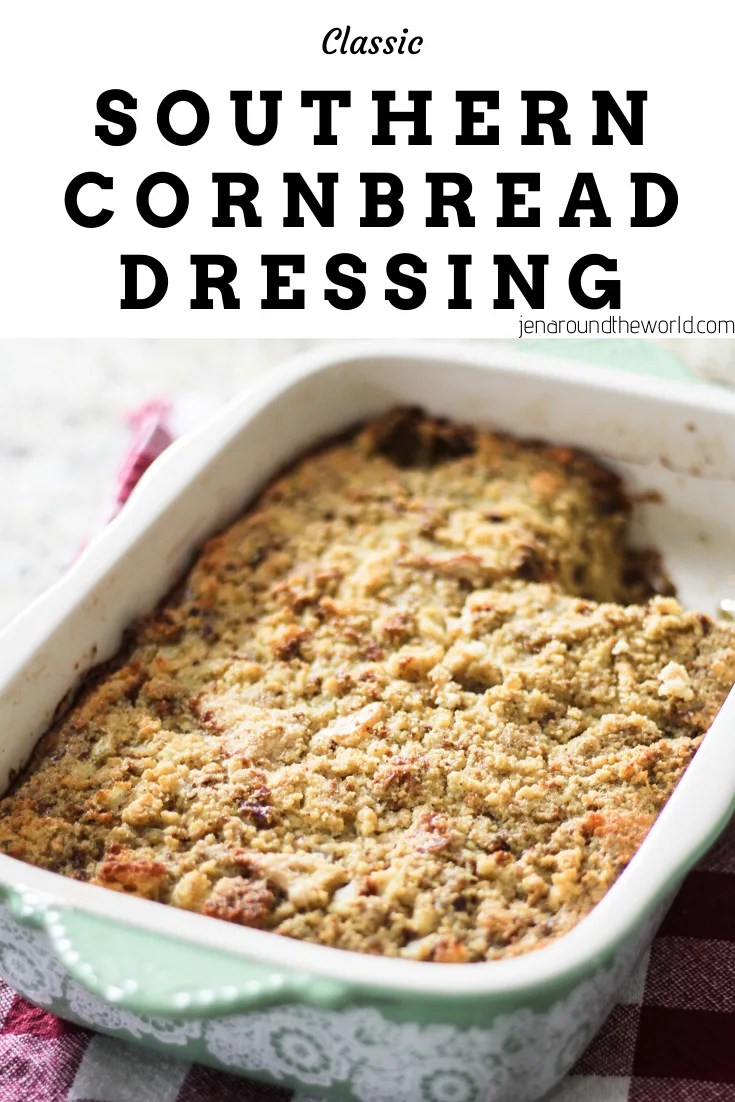 To make this recipe, you have to start with a good base and that means you need to make a batch of my Classic Skillet Cornbread. It's light and fluffy and can be made ahead of time so that on Thanksgiving, you are not having to cook as much!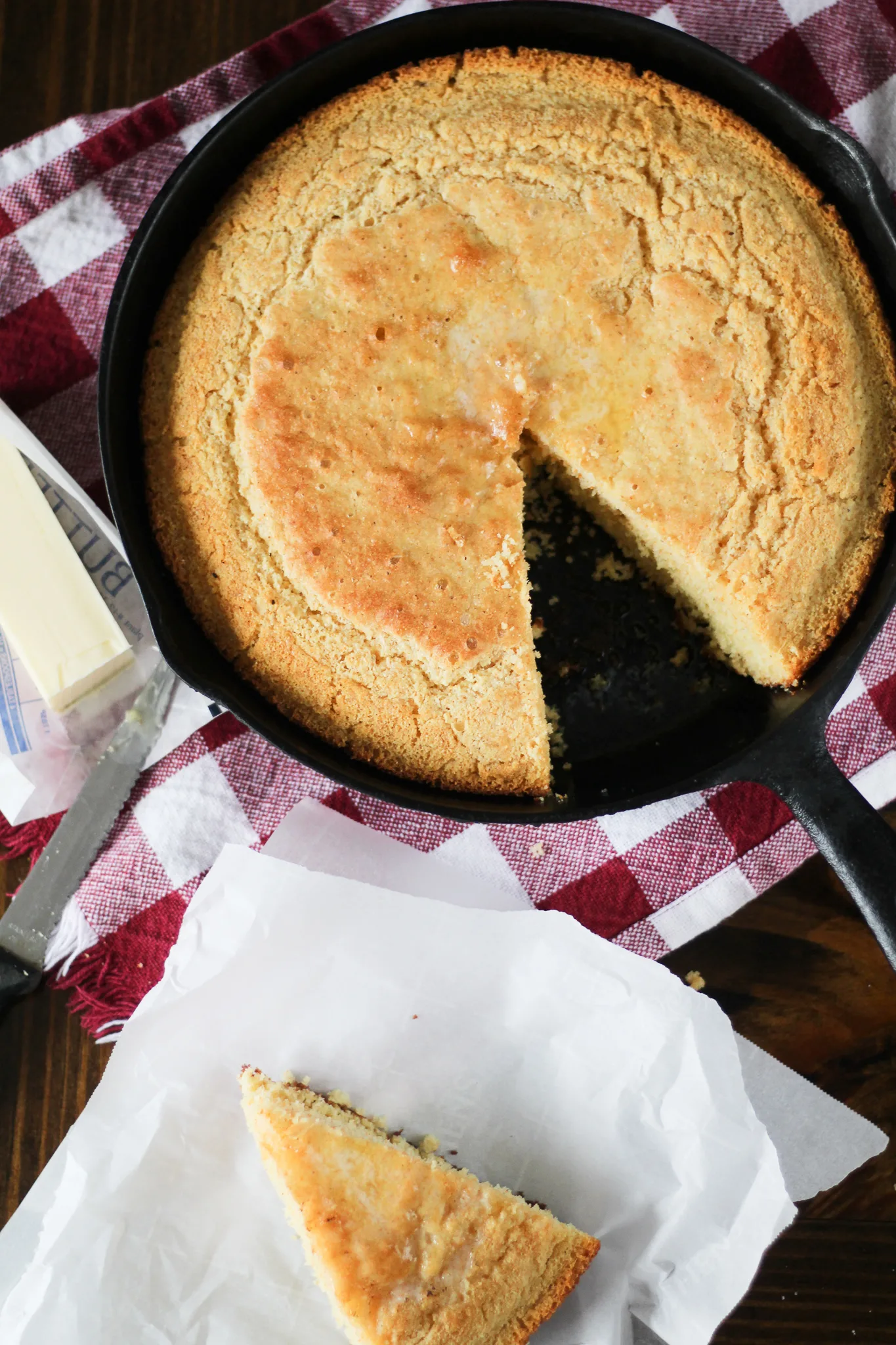 What Makes Southern Cornbread Dressing So Good?
There are two key factors that make Southern cornbread dressing so darn good.
Moisture: Everyone always complains about dressing being too dry. That may be the case if you don't use enough broth when making it. The dressing has to be really wet, almost pourable like a liquid when you first put it in the pan. You may think it is too wet, but it will dry out some in the oven, so make sure it is wet.
Seasoning: If you don't use enough seasoning your dressing will taste B-L-A-N-D so make sure you add enough! My recipe has the perfect amount of seasoning so your dressing will turn out SO very yummy and delicious!
I use sage in my dressing because that is what I grew up with. If you are not a fan, just leave it out. Just make sure to bump up the salt and pepper flavor if you leave it out.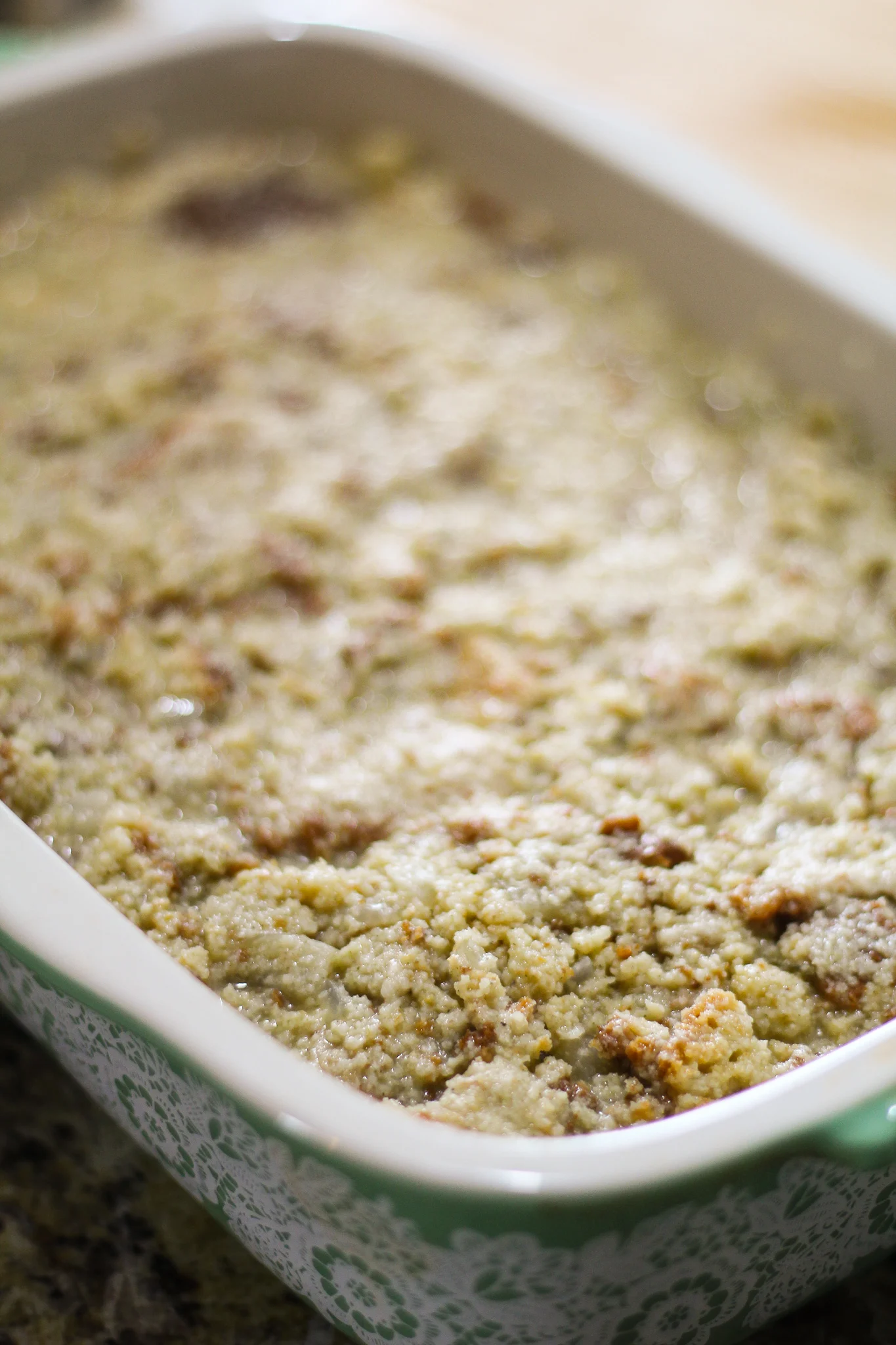 Can You Freeze Old Fashioned Sage Dressing?
The cool thing about this recipe is that it can be frozen once baked. I love to cut mine into squares once it has cooled off and place in a zip lock bag in the freezer until ready to use. Once Thanksgiving day arrives, I take it out of the freezer and let it thaw. Then, I put all the pieces back into the pan and allow it to re-heat in the oven.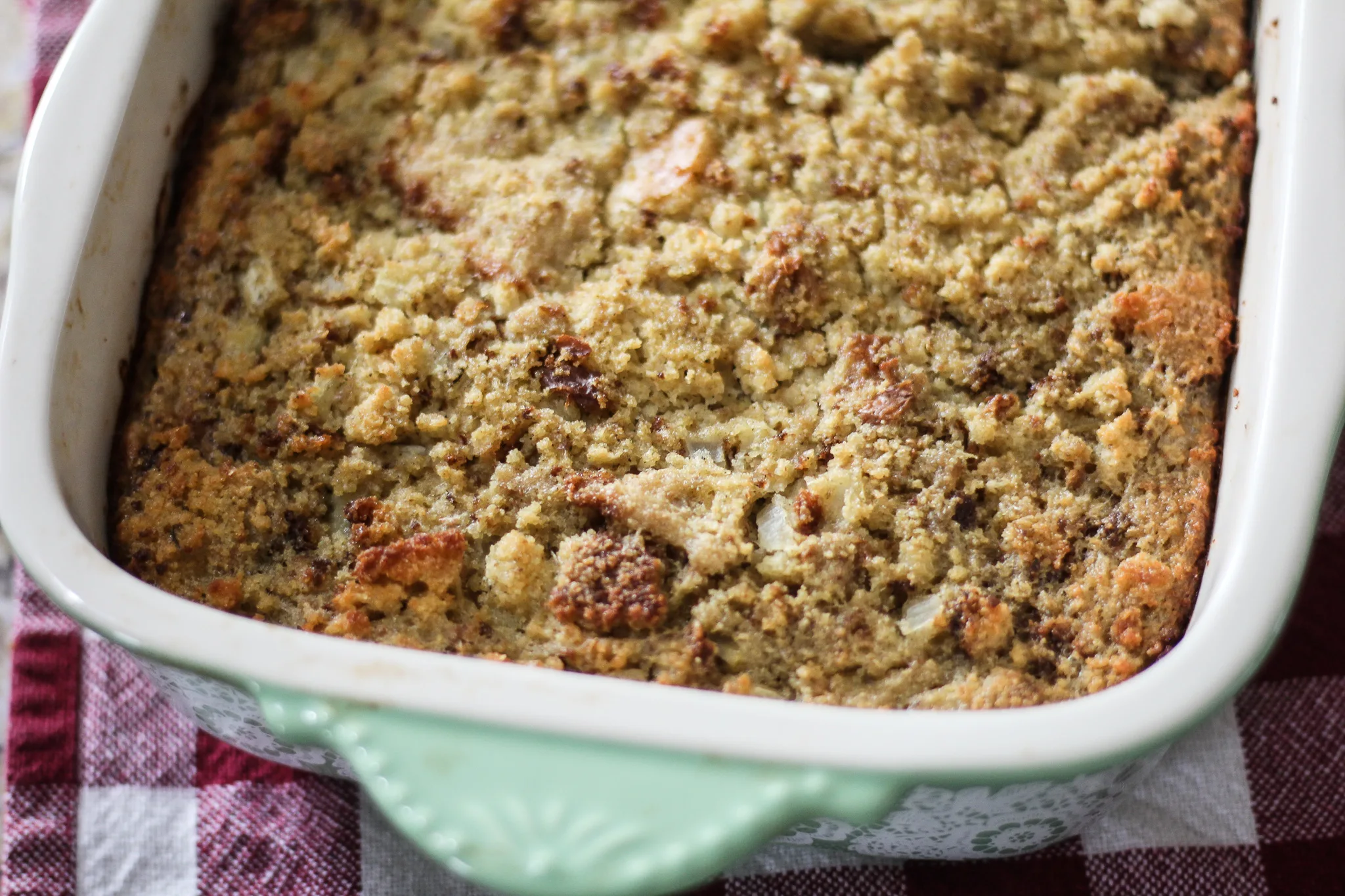 What Recipes Go Great With Cornbread Dressing?
Of course, if you are serving this on Thanksgiving, turkey is definitely going to be on the menu, but there are a ton of other recipes that this goes great with!
These are just two options you could go with, but if you're skipping the ham and turkey and making a prime rib or something like that, you can also make a pan of this to go with your main entree as well.
Can I Leave Out The Eggs?
If you are not a fan of eggs, you can totally leave them out. We love eggs so I always add them. Plus, it is a great binder in the recipe as well.
Here's the easy recipe. I hope you love it as much as I do!
Yield: 24 slices
Old Fashioned Sage Cornbread Dressing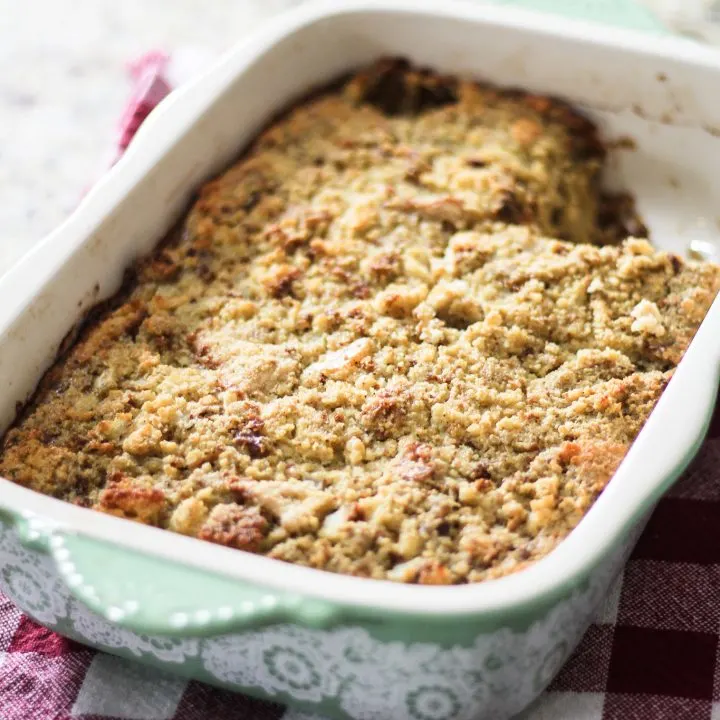 This easy old fashioned sage dressing will need to grace your table this holiday season!
Ingredients
1/3 cup butter
1 cup chopped celery
1/2 cup chopped onion
1 pan of my skillet Cornbread recipe
4 slices bread, torn into small pieces (2 1/2 cups)
2 teaspoons ground sage
1 teaspoon of poultry seasoning
1/2 teaspoon pepper
1 teaspoon salt
4 cups chicken broth
2 large eggs, beaten
3 eggs hardboiled and chopped
Instructions
HEAT oven to 450°F. Coat 13 x 9-inch baking dish or pan with no-stick cooking spray.
MELT butter in medium skillet over medium-high heat. Add celery and onion. Cook and stir until tender. Set aside
Combine crumbled cornbread, bread pieces, sage, poultry seasoning, salt, and pepper in large bowl. Stir in broth, beaten eggs and onion mixture. Add chopped hard boiled eggs and then pour into prepared baking dish.
BAKE 30 minutes or until golden brown.
(if dressing is still a bit wet to your liking, just bake a few more minutes until it gets to be the likeness you desire)
Nutrition Information:
Yield:
12
Serving Size:
1
Amount Per Serving:
Calories:

129
Total Fat:

8g
Saturated Fat:

4g
Trans Fat:

0g
Unsaturated Fat:

3g
Cholesterol:

95mg
Sodium:

652mg
Carbohydrates:

10g
Fiber:

1g
Sugar:

2g
Protein:

5g