Thank you to Gulf Shores and Orange Beach Tourism for sending my husband and I on this amazing romantic vacation. All opinions expressed are 100% my own.
After visiting Alligator Alley for the morning, and leaving drenched, Stephen and I headed back to our beach side condo to get some rest, clean up, and head out on our romantic dinner at The Villaggio Grille at the Wharf.
The Villaggio Grille is at the Wharf in Orange Beach, Alabama. There is plenty to see and do here at The Wharf. There are TONS of shops, a movie theater, and a huge giant Ferris wheel!
The restaurant didn't open for a bit, so while we were waiting for it to open, we decided to walk around and take in the sites a bit. My favorite attraction was the huge Ferris wheel.
I really wanted to ride it, but because of the weather that day, they had shut the ride down.
Once it started getting dark, all the gorgeous lights of the Wharf came on and lit up the area. It was beautiful!
As soon as our reservation time rolled around, we headed to the restaurant for our romantic dinner. I had already peeped into the restaurant when we first got there and I was SUPER excited about having a candlelit dinner with my sweetheart.
The Experience of Villagio Grill
Right from the get-go our waiter was very attentive and shared with us about all the amazing food that Villaggio Grille has to offer. One of the things that stood out for me at the restaurant was the wood-burning stove and grill that the restaurant has.
The waiter brought some bread and Olive Tapenade to the table. Stephen did not care for it because of the anchovies in the sauce, but I thought it tasted pretty good.
When it was time to order, I opted for the Pork Chop, and Stephen ordered the Bolognese Pasta.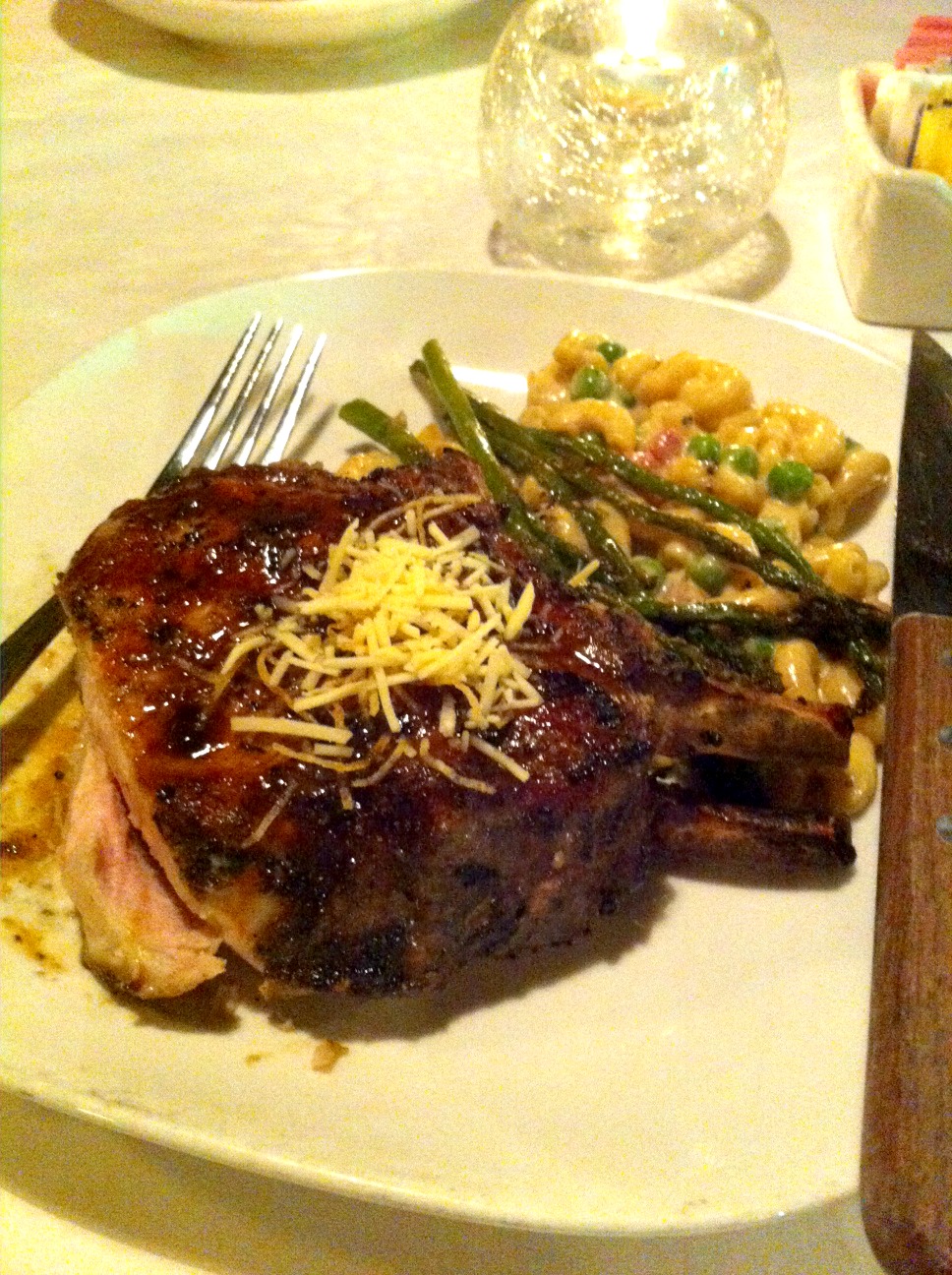 Our food was FANTASTIC! Stephen is not usually a pasta-loving guy, but he raved about this bolognese all night long. In fact, he told me that I needed to learn how to make this because it was something he would eat all the time.
My pork chop was succulent, and it just melted in my mouth with each bite. It was served with mac and cheese and asparagus sides.
We both said that even though this restaurant is somewhere we would never choose to eat normally, that coming here for this date night opened our eyes to look at some places like this in our own town.
After the meal, we decided to order a dessert to share. We chose a Tiramisu because it is something that neither of us has ever tried before.
Nothing can make a date night go better than a delicious dessert and that is exactly what we ended our night with!! After eating at Lulu's and The Brick & Spoon, we both said that our dinner at Villaggio Grille was our favorite so far.
Connect with Villaggio Grille:
Do you think you would like to eat here? What fun things do you do on a romantic date night?