I love Chinese food. It is some of my favorite food on the planet. In fact, one of my most favorite dishes is beef and broccoli stir fry. A couple of years ago I found a crockpot recipe (you can read that here), but it takes like 4 hours to make. Just the other day, I found a recipe that I tweaked a little and now — I can make my beef and broccoli stir fry in 15 minutes.
The trick to making this a 15 minute meal is how thin you get your beef shaved. Now for me, I usually do this myself, but it takes an extra 20 minutes or so to do that, so to cut down on the time, I have my meat guy at the store shave it for me really thin. By doing this, it will cut down on the cook time to a mere 3-4 minutes.
15 Minute Beef and Broccoli Stir Fry #15minutesuppers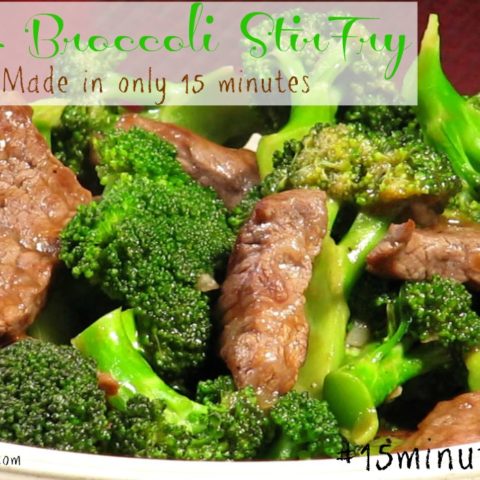 Ingredients
Marinade for the meat
1/2 teaspoon baking soda
1 teaspoon sugar
1 tablespoon cornstarch
1 tablespoon soy sauce
1 tablespoon water
2 tablespoons of vegetable oil
1 1/2 pounds of sirloin steak or steak of your choice sliced thinly by your butcher
For the remainder of the meal
1/2 cup of low sodium soy sauce, if you do not use this kind, the dish will be extremely salty
2 tablespoons of brown sugar
4 cloves of garlic, minced
2 tablespoons of flour
3 tablespoons of vegetable oil
2 heads of broccoli, crowns only
Instructions
For the meat
Take the marinade ingredients and mix together and pour over the meat inside of a large ziplock bag. Mix together and let it sit on the counter for 5 minutes.
For the remainder of the dish
In a small bow, stir together the brown sugar, soy sauce, garlic, and flour. Stir until it is smooth and then set aside.
In a large wok, add 2 tablespoons of vegetable oil. Throw in the broccoli and saute for about 2-3 minutes on high heat. remove from oil and transfer to a plate.
Turn the heat down to medium and add the meat mixture along with the marinade. Saute until the meat is almost done. Throw the broccoli back in and them add the small bowl of sauce.
Continue cooking until the sauce has thickened and meat is no longer pink, around 1 minute more.
Enjoy this over a side of rice.
Need more quick 15 minute recipe ideas? Check out these other great #15MinuteSuppers!
Follow 15 Minute Suppers on Facebook | Twitter | Instagram | Pinterest
and look for the #15MinuteSuppers hashtag too!
Head over to our #15MinuteSuppers Pinterest Board to see all the past recipes and more delicious goodness!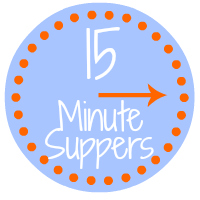 BLOGGERS: Would you like to join us at #15MinuteSuppers? We'd love to have you! Please check out the 15 Minute Suppers website or ask to join the Facebook group (for bloggers) to participate on Fridays…we'd love to have you join us.