Did you know that you can make Instant Pot Yogurt with only 3 ingredients? And the best part — it's a no-boil recipe making it super simple and super easy.
Ever since I have been working on cleaning up my diet, I have been researching new foods to make. I recently ran across some talk of making Instant Pot yogurt and I knew I was going to have to give it a try.
The results? A super fantastic and delicious homemade yogurt.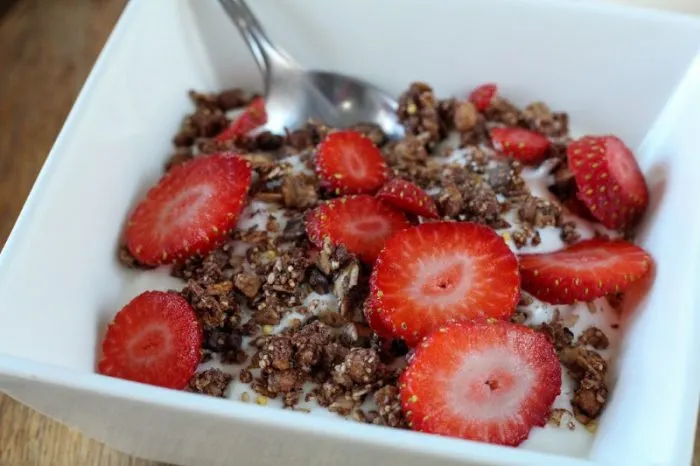 I have always been intimated by trying to make yogurt at home because I thought it was too hard to do. However, now that I have tried it — it is one of the easiest I have done.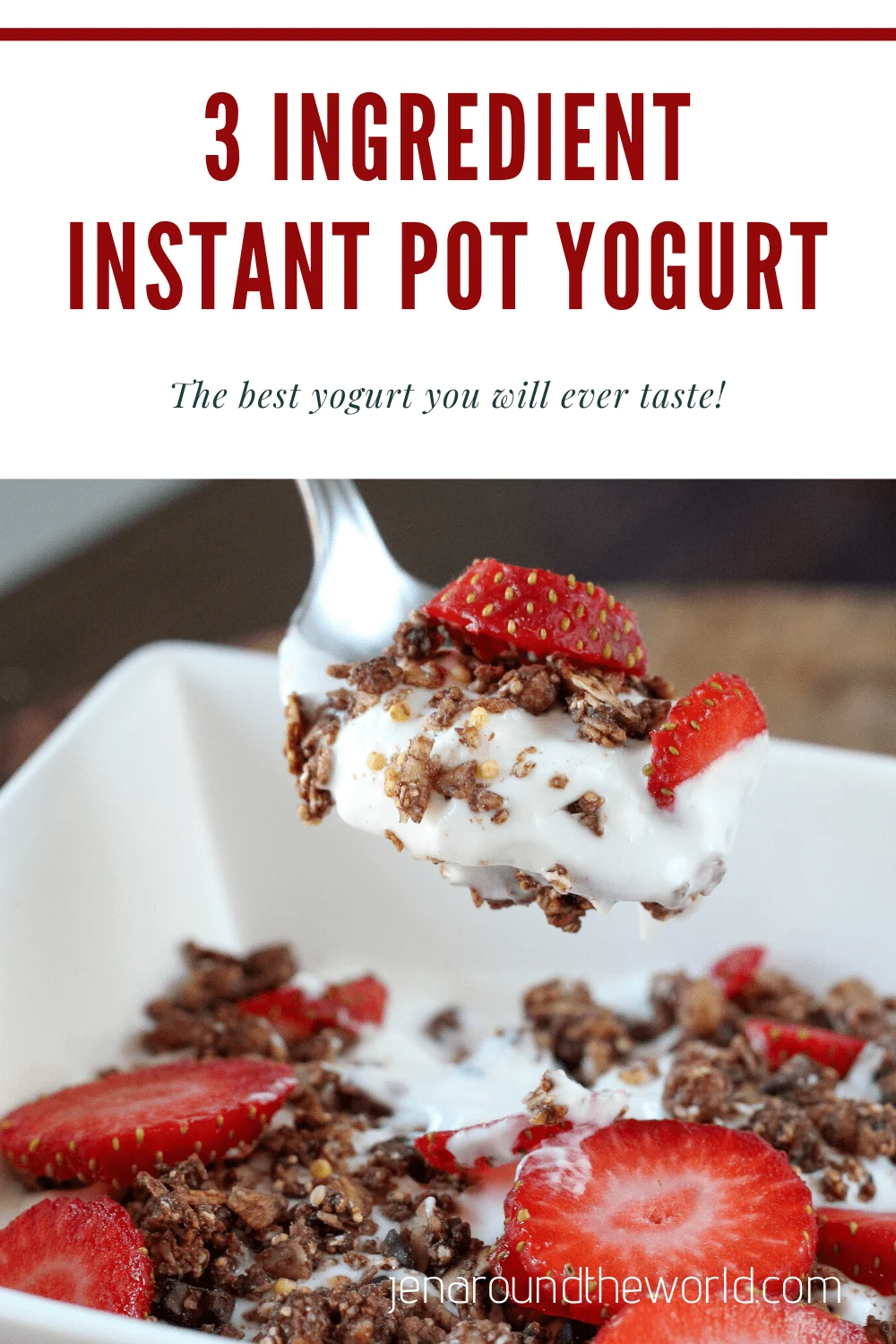 This post was originally published on January 29, 2020
What is the best way to cook my yogurt?
There are several methods that you can use to make homemade yogurt in your Instant Pot. One method said to boil the milk and then add in your yogurt starter. If your Instant Pot does not have a yogurt button then this is the method you will want to use.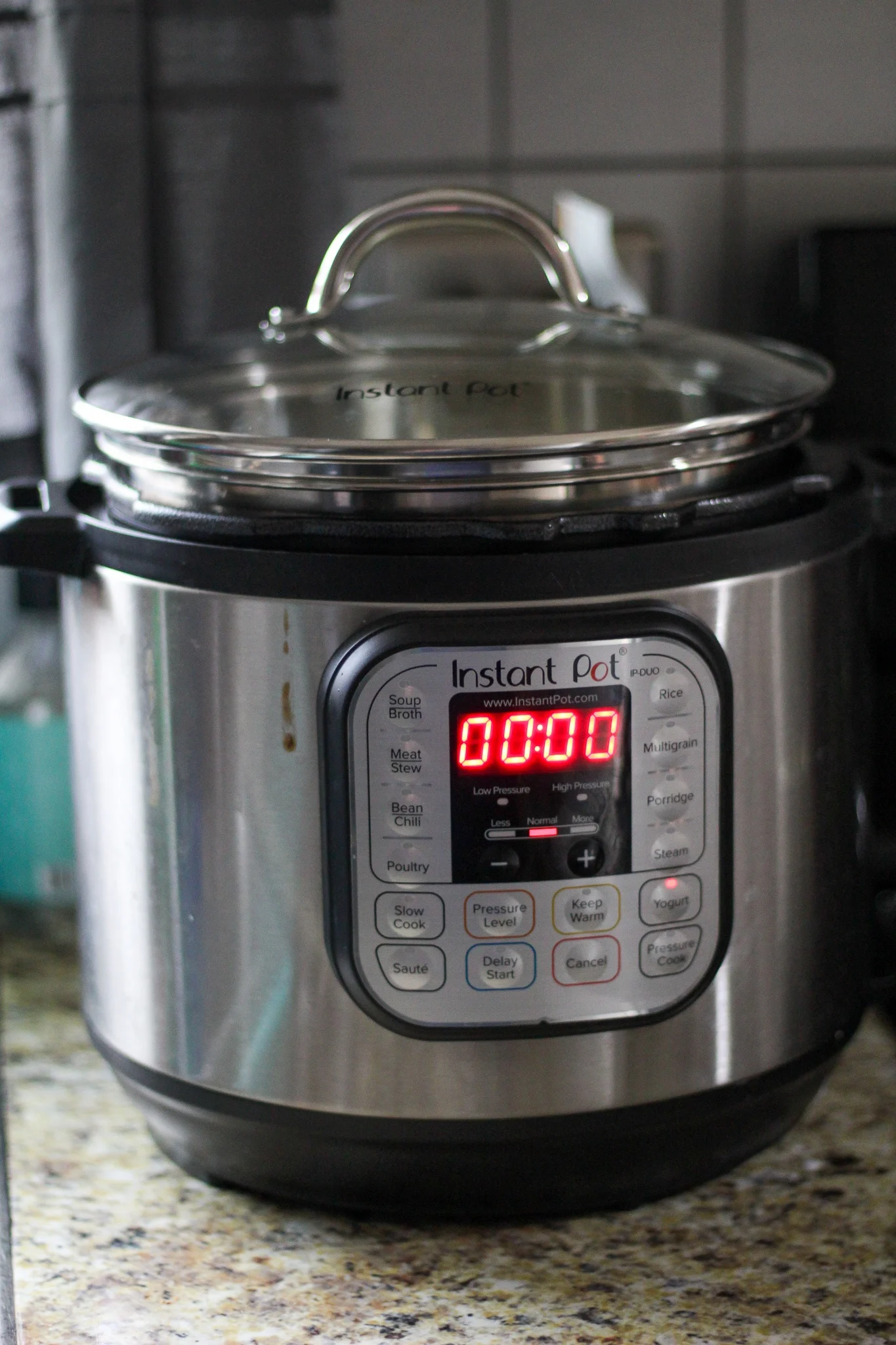 The other method I read about is the one I am going to show you because to me, it was easier because you just mix up your ingredients, throw them in the pot and put on the yogurt button and the Instant Pot does all the work for you.
What ingredients will I need?
There are many different opinions out there when it comes to sweetening your yogurt mixture. Of the recipes I read, some used raw sugar, others used coffee creamer (which is what I used) and then others used sweetened condensed milk.
Since I am working on cleaner ingredients in my diet, I decided to opt using Coffee-mate Natural Bliss vanilla coffee creamer.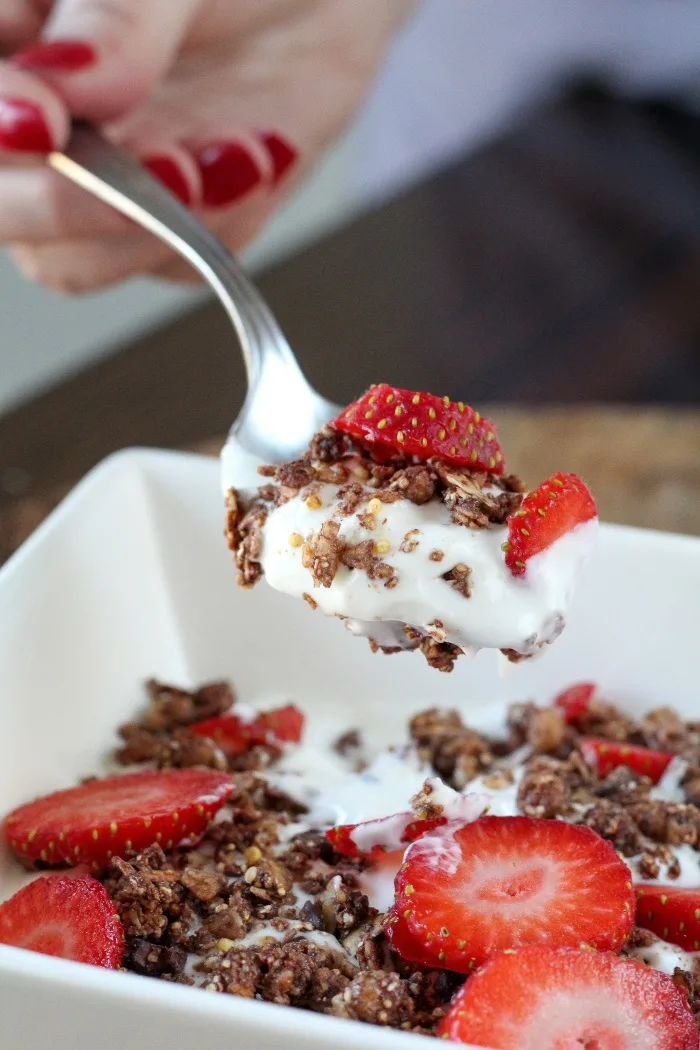 Don't want a sweet yogurt? Skip the coffee creamer or sweetened condensed milk.
Why do I need a yogurt starter
Just like anything you are making from scratch, whether it is Amish Friendship bread, sourdough starter, or even making yogurt, you need a starter. For this, you will be using yogurt that has live cultures.
Now what can you use as a starter for your yogurt? The answer is simple. Any yogurt from the grocery store that says active cultures on the label.
Once you make yogurt you can save 2 tbsp of your yogurt as a starter. It's called an heirloom starter and you can freeze it for 30 days.
Does it matter what type of milk I use?
Yes, it does. If we were boiling our yogurt, the milk would not matter as much. But since we are not boiling, we need to use ultra-filtered pasteurized milk.
The most common milk available in most grocery stores is Fairlife. The more fat that is in the milk reflects the thickness of the yogurt. This is why you want to use whole milk.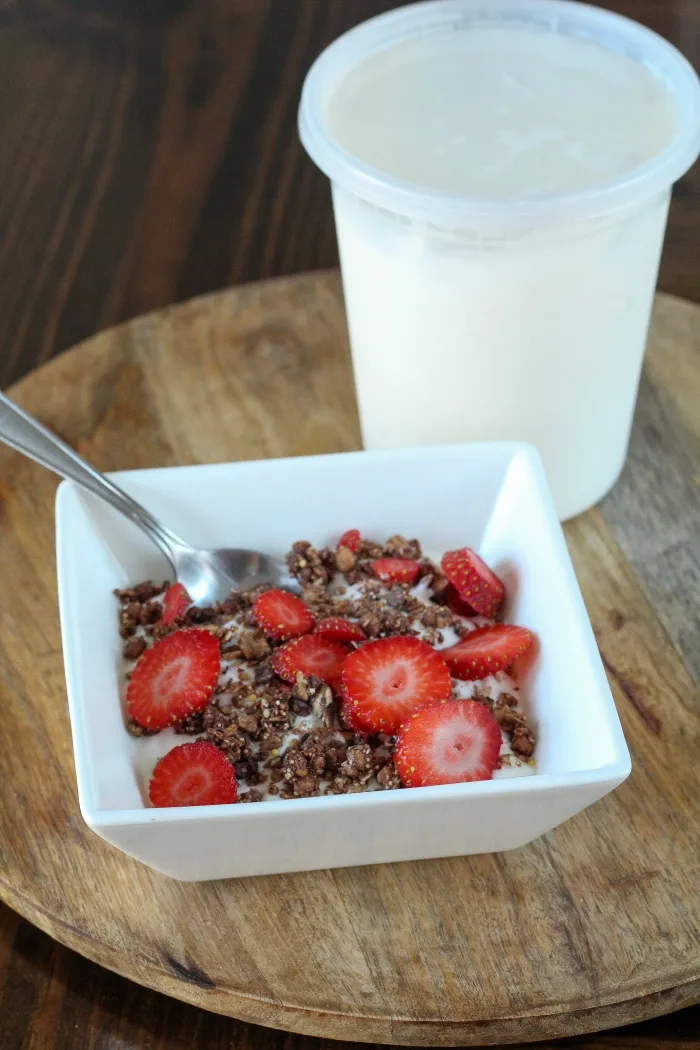 Will this recipe make Greek yogurt also?
This recipe will make a regular style of yogurt. However, if you want it to be thicker — like Greek-style yogurt, all you will need to do is strain the yogurt through some cheesecloth to remove some of the liquid. When you do, you will have a beautiful thick yogurt.
What type of Instant Pot do I need?
For this recipe, you can use a 6 quart Instant Pot which is what I have. You will also need this Instant Pot glass lid. Because you are using the yogurt button, you won't be using the same lid you normally do when you are making food in your Instant Pot.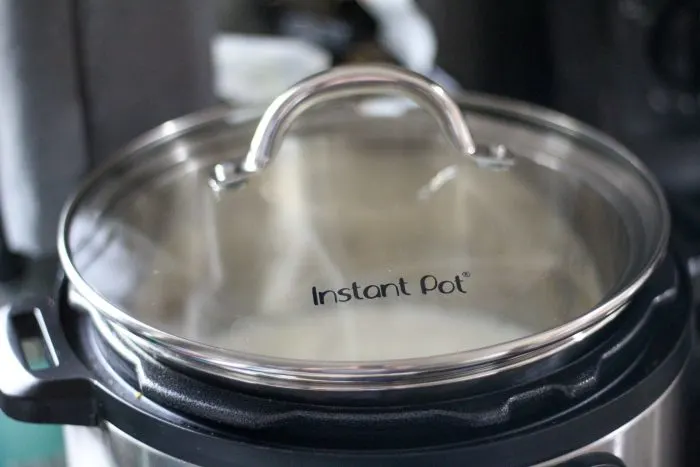 My Instant Pot Yogurt did not thicken. What did I do wrong?
Here are a few questions to troubleshoot why your yogurt may not have thickened.
Did you use ultra-filtered milk?
Did you use pasteurized milk?
Was your starter older than 30 days?
Was your yogurt expired?
Did your yogurt say live cultures on the label?
Does your Instant Pot have a yogurt button?
Looking for more Instant Pot recipes? Check these out
Yield: 64 ounces
3 Ingredient Instant Pot Yogurt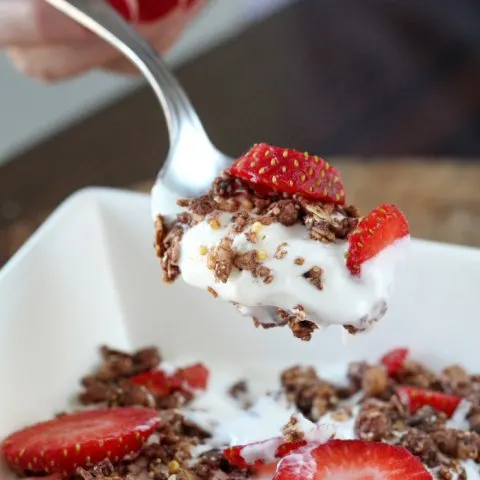 This easy recipe for making yogurt at home only has 3 simple ingredients and your Instant Pot will do all the work for you.
Total Time
12 hours
5 minutes
Ingredients
52 fl. oz. of Fairlife Whole Milk Ultra-Filtered
2 cups (16 oz) of Coffeemate Natural Bliss Vanilla Coffee Creamer
2 Tbsp of Oui Vanilla Yogurt (or yogurt with live cultures)
Instructions
Set up your Instant Pot and make sure your metal insert liner is clean.
Pour in 1/4 of the milk and whisk in the 2 tablespoons of yogurt.
Once you have those two well-combined, whisk in the remaining milk and the entire 16 ounces of creamer.
Press the yogurt button on your Instant Pot for 8 hours. The timer will show zero because it counts up this time and not down.
Cover with Instant Pot glass tempered lid (there will be no sealing or venting here).
Do not stir or disturb during the 8-hour process. Once the 8-hour process has finished, allow the yogurt to cool for about 20 minutes.
Place paper towels between the lid and the yogurt and then chill in the Instant Pot liner for 4 hours in the refrigerator.
When the 4 hours are up, transfer the yogurt to containers and place them in the fridge.
This yogurt should keep in the fridge for 3 weeks.
Nutrition Information:
Yield:
35
Serving Size:
1
Amount Per Serving:
Calories:

31
Total Fat:

1g
Saturated Fat:

1g
Trans Fat:

0g
Unsaturated Fat:

0g
Cholesterol:

4mg
Sodium:

24mg
Carbohydrates:

3g
Fiber:

0g
Sugar:

1g
Protein:

3g
If you are looking for a slow cooker method for making yogurt, check out this recipe from Mommy's Kitchen for how to make yogurt in the slow cooker.