Did you know that you can cut down on cooking time for Spaghetti Squash by making it in the Instant Pot? This recipe will have you making this dish over and over and over again.
Gardening is in full swing and I am betting you have a ton of squash on hand — especially my favorite — spaghetti squash.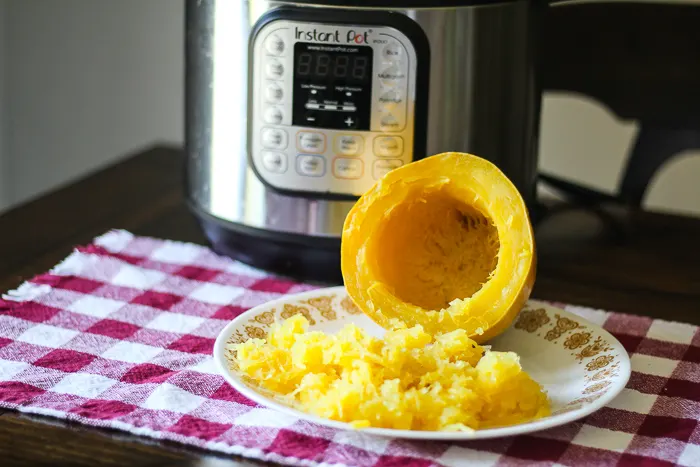 Spaghetti squash is so different from all the other squashes that it requires its own preparation to keep its signature strands of noodle-like squash intact.
Yes — you can make it in the oven and in the microwave, which can take anywhere from 20-45 minutes sometimes, but recently, I discovered I could cook this squash in my Instant Pot, and I will never cook a spaghetti squash the same way again.
How to Make Spaghetti Squash in the Instant Pot
Spaghetti squash in the Instant Pot comes out tender so it's easy to create those delicious spaghetti squash dishes you love. It makes eating it even more enjoyable.
Be sure and pick out small or medium-sized spaghetti squash. The larger ones won't fit in your Instant Pot. I have the 6-quart Instant Pot, so if you have an 8-quart Instant Pot you can use larger spaghetti squash.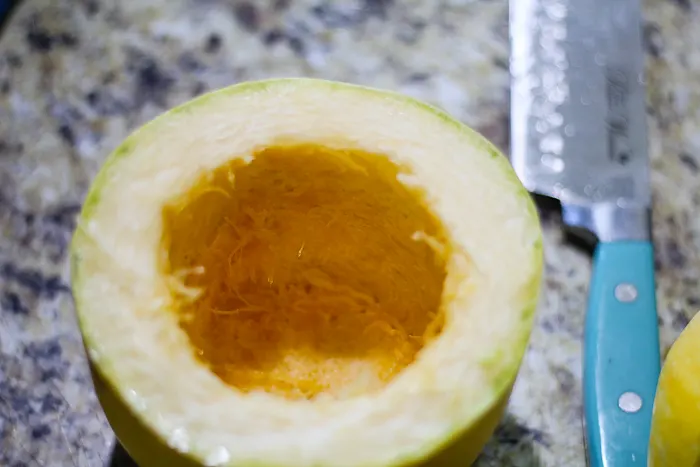 Now, just cut it in half crosswise instead of lengthwise. I like to use my chef's knife for this because it gives me a little more control.
Use a spoon to scoop out all the seeds and gunky stuff in the middle of the squash. It's just like cleaning out a pumpkin.
Add 1 cup of water to the bottom of your Instant Pot. Put your halves into the Instant Pot, one on top of the other. You might have to move it around to get it to fit in there all the way.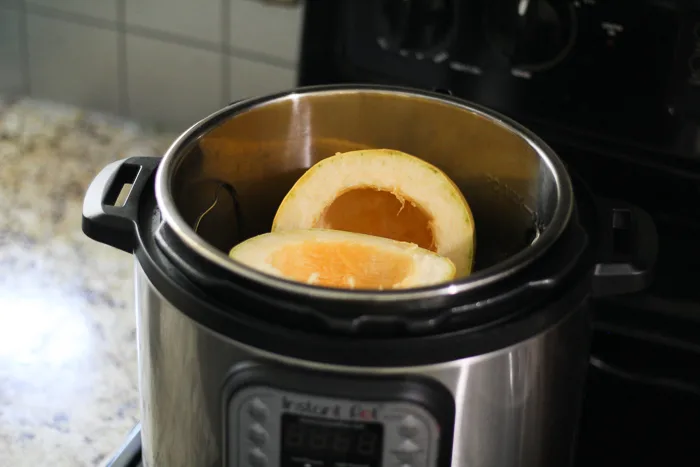 It doesn't matter if they are facing up or facing down. Then you'll just pressure cook them for 7 minutes. Once they cook for 7 minutes, use the quick release to let the steam off. Now, just use a fork to shred the flesh of the squash.
It's just that simple!
Looking for More Squash Recipes? Check these out!
Yield: 1 spaghetti squash
How to Make Instant Pot Spaghetti Squash
This is the easiest way to make spaghetti squash.
Ingredients
1 small to medium spaghetti squash
1 cup water
Instructions
Use a chef's knife to cut your spaghetti squash in half crosswise (not lengthwise).
Use a spoon to scoop out all the seeds and junk on the inside.
Pour 1 cup of water into the bottom of your Instant Pot. Place the trivet in the bottom of the pot.
Place the squash halves on top of the trivet. They can face up or down. You may have to move them around to make them fit.
Close the lid on the Instant Pot and make sure the valve is set to "sealing." Set the manual (high pressure) timer to 7 minutes.
Once the timer beeps remove the pressure quickly by moving the valve to "venting."
Remove the lid and use a pair of tongs to remove the squash.
Use a fork to shred the flesh of the squash into long spaghetti-like strands.
Serve the squash with your favorite sauce or topping and enjoy!
Recommended Products
As an Amazon Associate and member of other affiliate programs, I earn from qualifying purchases.
Nutrition Information:
Yield:
8
Serving Size:
1
Amount Per Serving:
Calories:

32
Total Fat:

0g
Saturated Fat:

0g
Trans Fat:

0g
Unsaturated Fat:

0g
Cholesterol:

0mg
Sodium:

23mg
Carbohydrates:

8g
Fiber:

2g
Sugar:

3g
Protein:

1g