Heading out to the beach with a new puppy? Here are some things you need to make sure you do when you take your puppy to the beach.
Our dog Milo had a successful first beach trip! I am pretty sure it's because we put all these tips into place beforehand.
Many of you remember my post about announcing our new little puppy, a beautiful Australian Shepherd named Milo.
He recently got the chance to visit the beach for the first time (even though we got pushed out by Hurricane Sally). He had THE BEST time ever.
I took all the time beforehand to do some research and put a lot of thought into his first trip. I wanted to make sure he had a great time and we had a great time also.
Making sure he was safe was my #1 priority, but also having fun in the process. Being a puppy, I need to make sure he experiences a lot of environments. We need to know that he won't be scared and skittish in new places.
I mean, he is going to be traveling a lot with us. I have to make sure he is up to speed on all things travel related.
How to Make Sure Your Puppy is Ready for the Beach
#1 Pick a Dog Friendly Beach
The first thing you need to make sure you do is choose an area that has a dog friendly beach.
For us, if we are going to the Gulf Shores area, we always stay in either Fort Morgan or one of our favorites– Dauphin Island.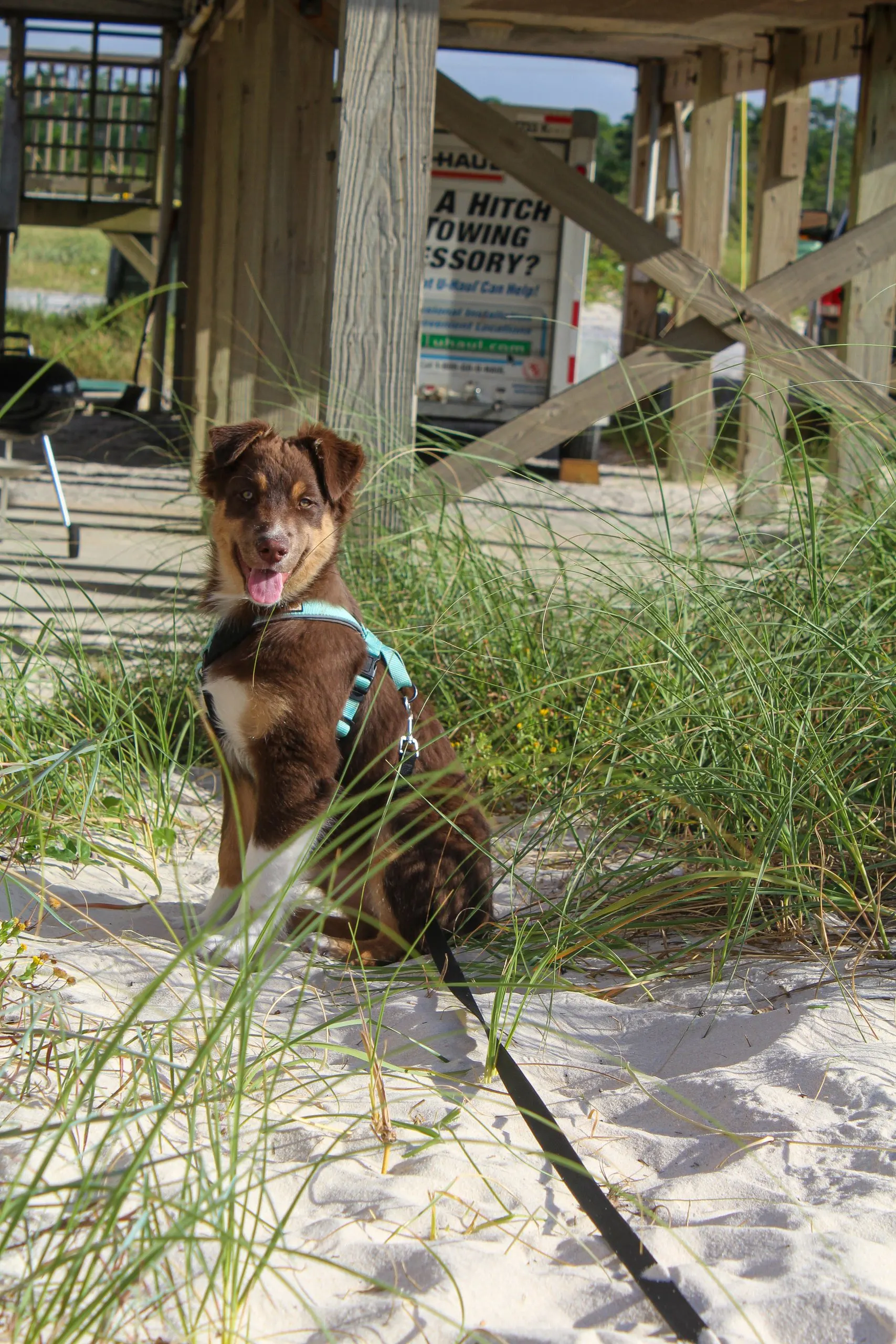 If you are staying in the Gulf Shores area, the public beach is not pet friendly.
There are a few Gulf Shores restaurants that will allow you to bring your pet. You can eat in the outdoors area and teach your fur baby how to behave in public.
#2 Bring along the right products for your puppy
One of the worst things you can do for your puppy is not bring along the right puppy products..
Here is a list of all the things that I brought along for Milo and everyone of them were important.
Since your puppy is learning how to stay in his crate, be sure to bring along your crate as well.
This will give him the perfect place to relax in whenever he gets all worked up.
When researching beaches, also look to see if they have leash rules. Many beaches require you to keep your dog on a leash and some places even have leash length rules.
#3 Keep An Eye On What Your Puppy is Eating and Drinking
Okay — this may seem like a given but so many times as puppy parents, we get carried away doing something else. We forget to pay attention to what our pups are eating or drinking on the beach.
For starters, do not let them drink beach water. It is SUPER SALTY and will cause your puppy to have diarrhea and you do not want that — trust me.
Luckily Milo was not to impressed with the water, but he wanted to eat every stick he came into contact with. Smaller sticks can pose a problem so if your puppy is going to chew on one, choose one that is bigger so you can monitor them.
#4 Just Have a Great Time Together
One of the best things about going to the beach with your puppy is that you get extra bonding time.
I was super impressed with Milo and how well he behaved at the beach. He had so much fun running all around, but my favorite part was watching him discover what digging was.
#5 Take plenty of pictures!
Taking a trip to the beach will be one of the greatest memories you will make with your puppy. Whether you have access to the beach year-round, or you have to travel to the sandy paradise, it's always fun to snap some pictures so you can look back at the day and smile!
We are planning on going back in the Spring, and I cannot wait for him to experience the beach all over again. Hopefully, this time around we will get more than just a few hours and not be forced out by any storms.
Have you been to the beach with your puppy? How did it go?