These are the best fried green tomatoes you will ever make! No need to wait until the tomatoes are ripe. Pluck a few of the green ones and make this southern treat!
I don't know about you, but tomatoes are my favorite thing IN THE WORLD. I will eat them in any kind of way that I can. One year I made an Heirloom Tomato and Cheddar Tart that was out of this world. It was my favorite… until I made these fried green tomatoes.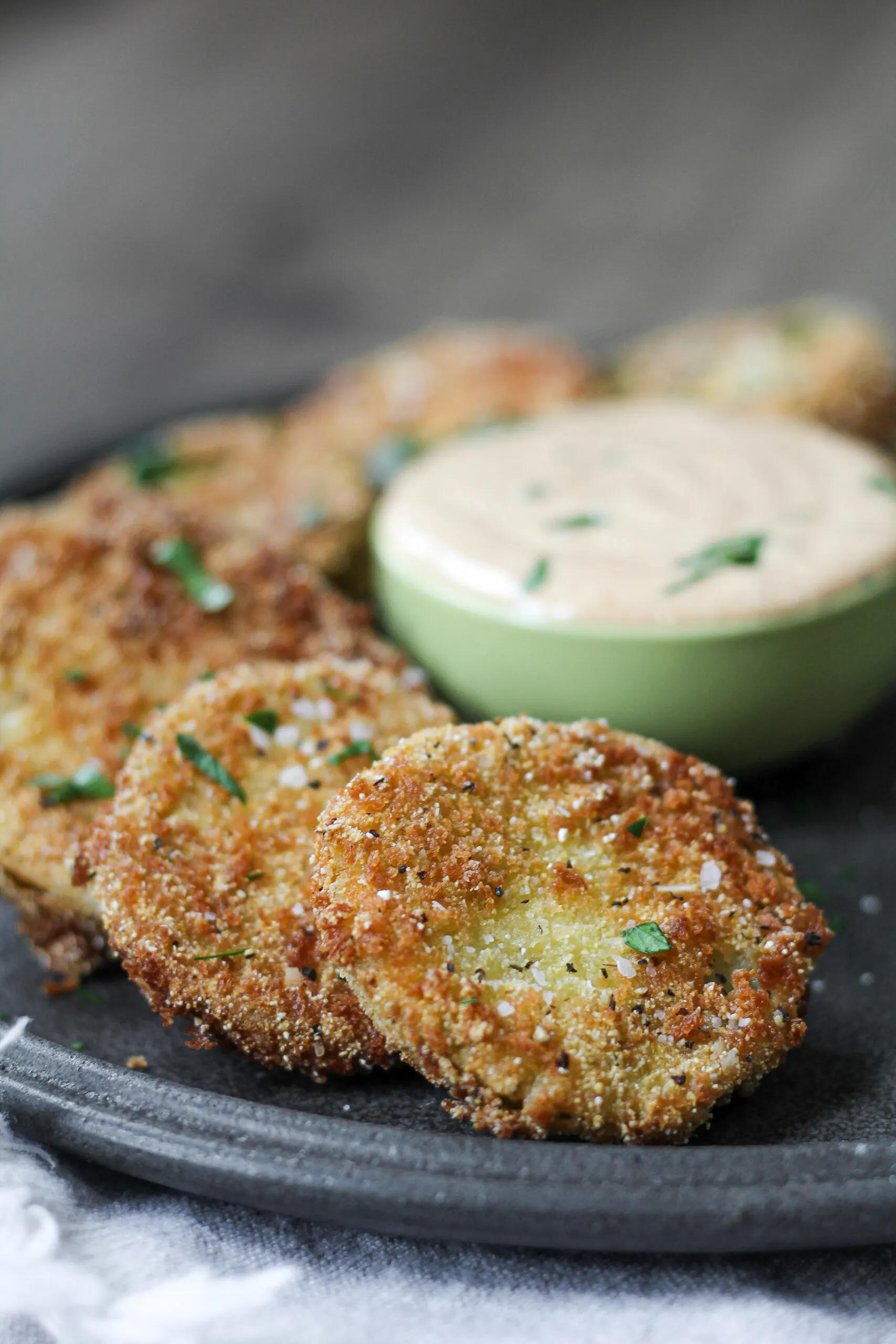 How to Make The Best Fried Green Tomatoes
Making these tomatoes is simple and easy. I used 3 medium green tomatoes from my garden. Slice the tomatoes about 1/4″ thick. Use a paper towel to dab up any of the liquid coming out of the tomatoes.
Set up a dredging station with 3 bowls. One bowl will have the flour, another bowl will have the egg mixture, and the third bowl will have the cornmeal and panko bread crumb mixture.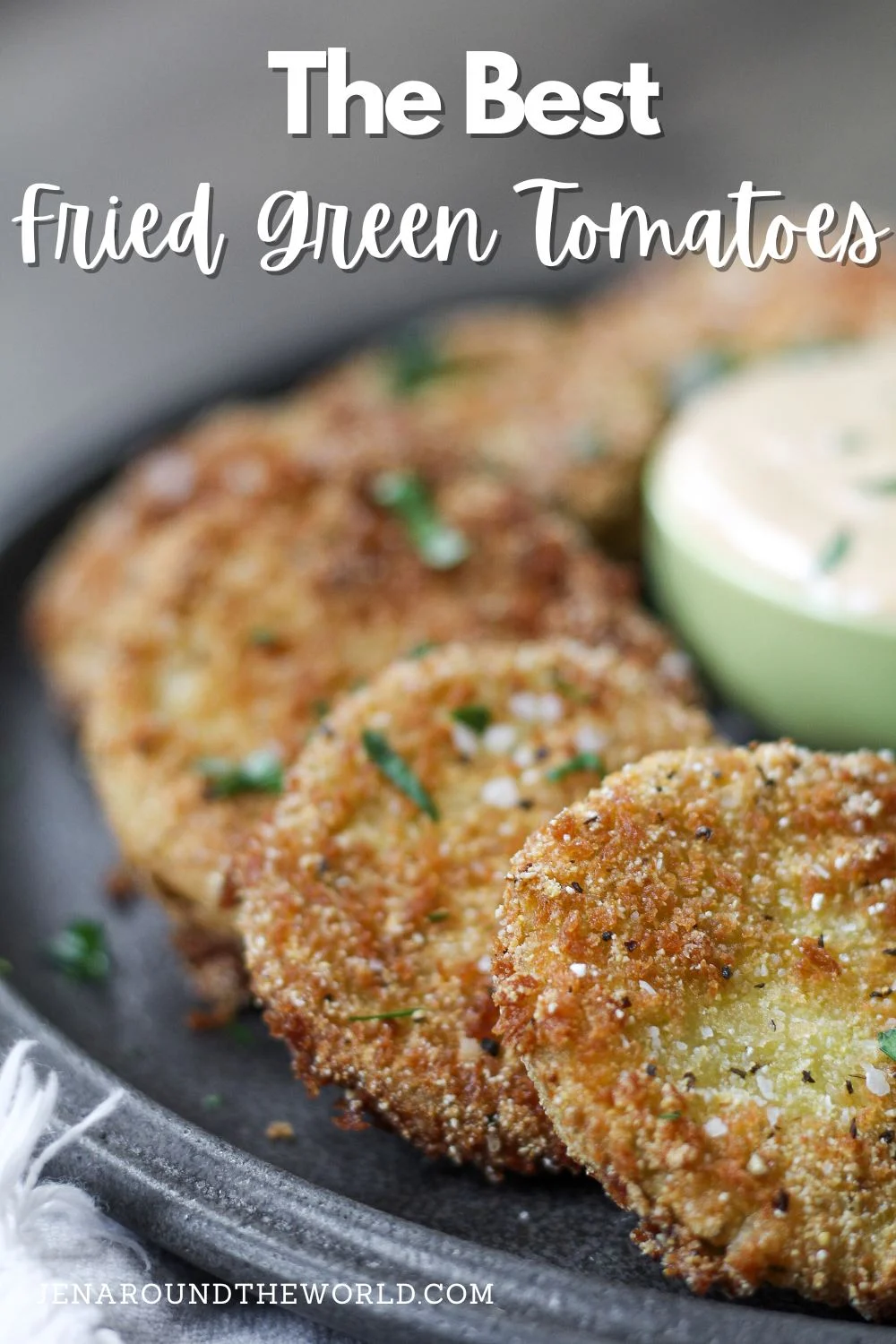 Grab a skillet and add some oil. Turn it on medium-high and let it heat. While it heats, get your tomatoes ready to fry.
Take each slice of tomato and dust with the flour. Now dip in the egg and milk mixture. The last step before frying is to coat in the cornmeal and panko crumbs.
Now, take the tomatoes and place them 2 or 3 at a time in the hot oil. Fry them for a couple of minutes on each side until golden brown. Remove from the oil and let them drain on a paper towel-lined plate.
Season with salt and pepper and fresh herbs before serving.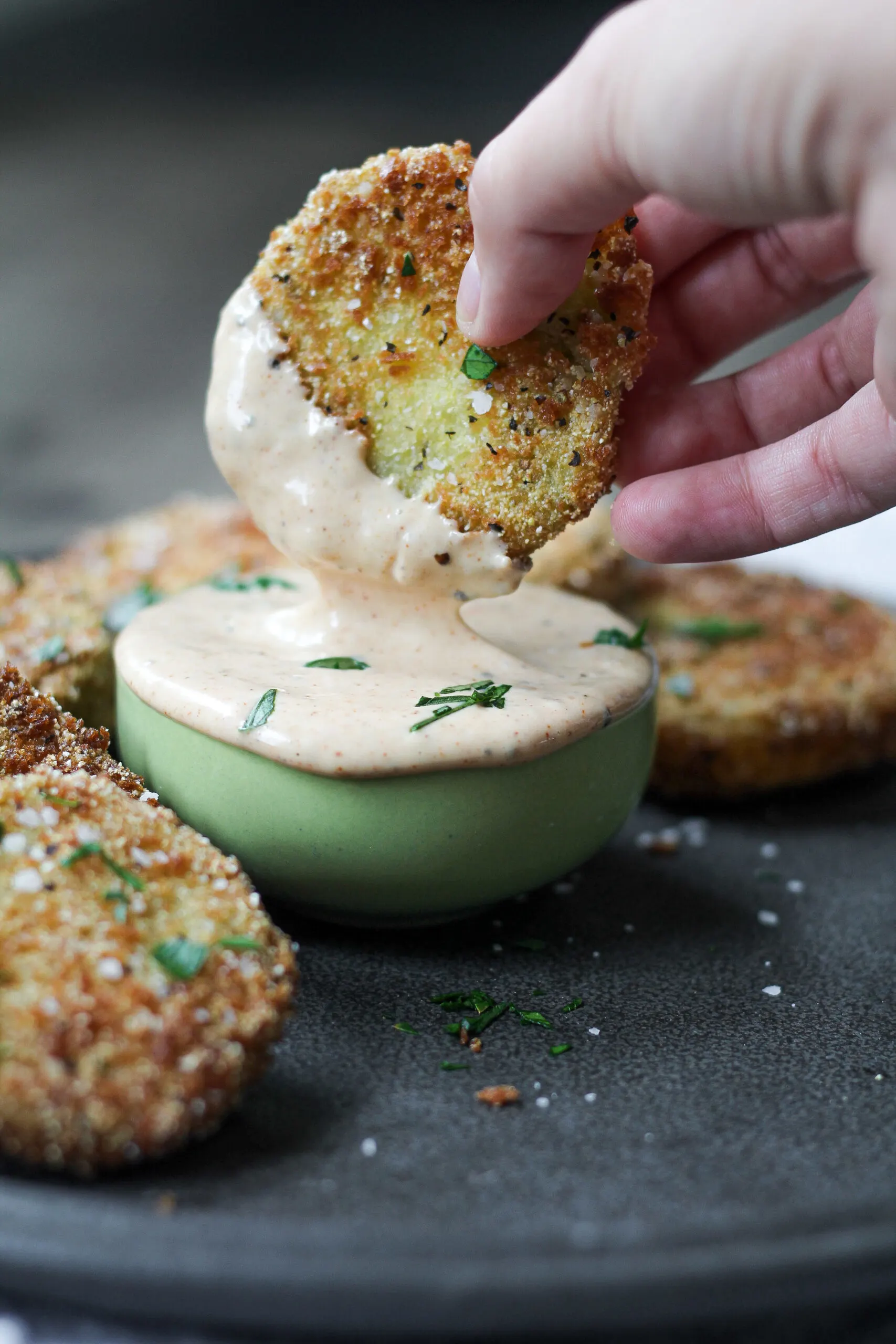 I like to serve mine with a dipping sauce. You can eat them as a side or as a stand-alone for a meal( I do this all the time!).
Check out these other delicious tomato dishes
Yield: 4 servings
The Best Fried Green Tomatoes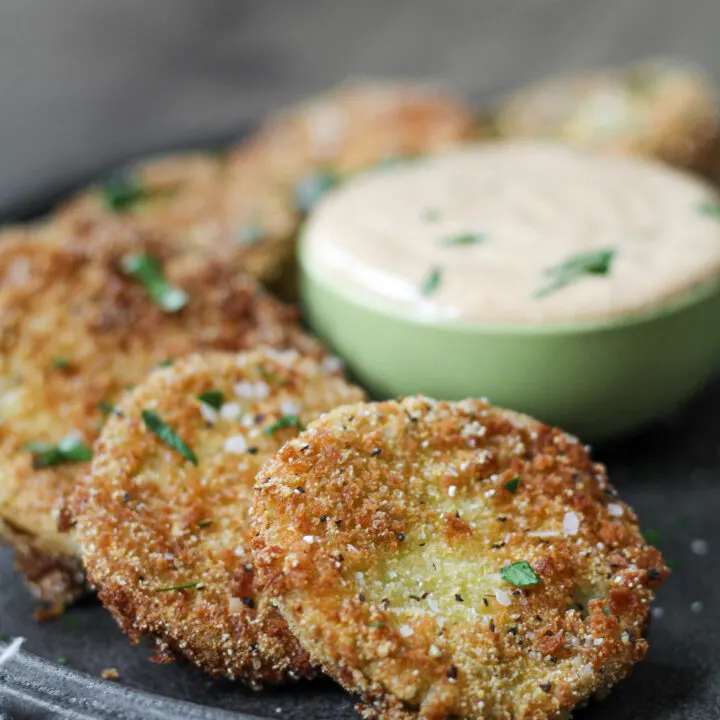 Use those beautiful green tomatoes and make this Southern staple! Crispy coating with a hearty tomato on the inside.
Ingredients
For the tomatoes
3 medium-sized green tomatoes
1/2 cup of flour
1/2 teaspoon of salt
1/4 cup of milk
1 large egg
1/2 cup of cornmeal
1/2 cup of panko breadcrumbs
1/2 teaspoon salt
1/2 teaspoon of pepper
For the creamy sauce
1/2 cup mayonnaise
2 Teaspoons of ketchup
1 teaspoon Spicy Brown mustard
1 teaspoon hot sauce
1 teaspoon Worcestershire sauce
1/4 teaspoon garlic powder
1/4 teaspoon smoked paprika
1/4 Teaspoon of Kosher salt
dash of freshly ground black pepper
Instructions
Slice the tomatoes 1/4" thick. Use a paper towel to soak up any liquid on the tomatoes.
In a cast iron skillet on the stove, heat oil on medium-high. You should have no more than 1/2" of oil in the skillet.
While the oil is heating, get your dredge stations together.
Bowl 1 will have the flour and the salt.
Bowl 2 will have the egg and milk.
Bowl 3 will have cornmeal, panko bread crumbs, salt, and pepper.
Dust the tomato slices with the flour. Then dip them in the milk and egg mixture and lastly coat them in the panko and cornmeal mixture.
Fry on medium-high for about 2-3 minutes per side. Don't crowd the pan. I fry 3 slices at a time. Once the tomato slices are browned, remove them from the oil and place them on a paper towel-lined plate.
To make the sauce, combine all the ingredients and place in a bowl.
Nutrition Information:
Yield:
4
Serving Size:
1
Amount Per Serving:
Calories:

406
Total Fat:

24g
Saturated Fat:

4g
Trans Fat:

0g
Unsaturated Fat:

19g
Cholesterol:

59mg
Sodium:

976mg
Carbohydrates:

41g
Fiber:

3g
Sugar:

6g
Protein:

8g