This herbed ricotta toast with sauteed tomatoes is absolutely easy and delicious. It's so filling that you can eat this as a meal!
Our herb garden is really kicking into high gear lately! We have so much fresh dill, basil, parsley, cilantro, rosemary, sage, chives, and more that we are having to find yummy recipes to make with them.
Since we are in clean-out the pantry mode right now to use up some of the overruns of groceries we have, Kayla and I played around with an Ina Garten recipe.
We upped the flavor a bit to create this delicious Herbed Ricotta Toast with Sauteed Tomatoes.
How to Make Herbed Ricotta Toast
Before I tell you how to make this, I have to tell you about an awesome Goodwill find I recently came upon. Y'all know how much I love Ina Garten, right? I mean, I have made her delicious Ina Garten Lemon Bars before and it is still one of the most popular posts on my site.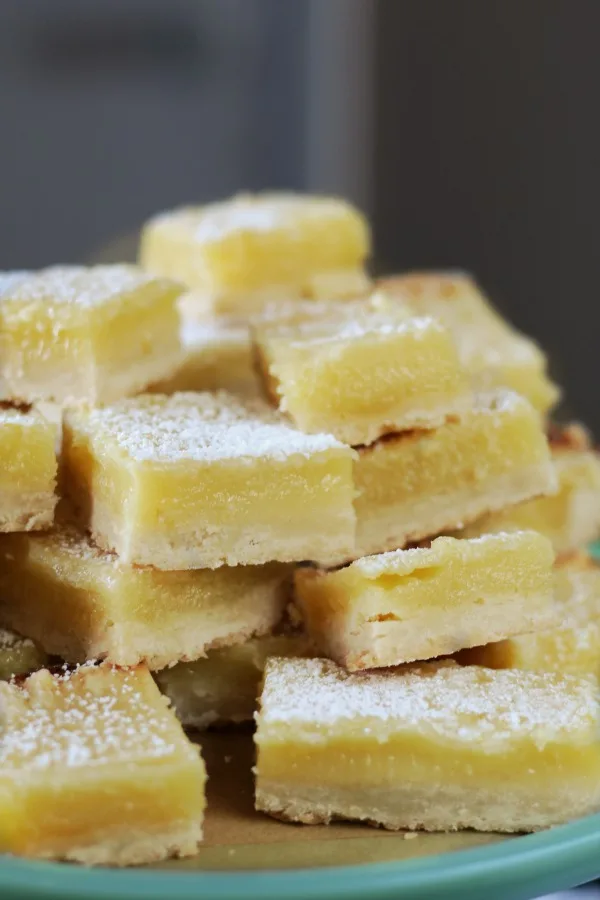 Well — while we were shopping at Goodwill one day looking for some new summer dresses and some new food props, I decided to check out the cookbooks. I love finding a new book or two (and I read cookbooks like I read novels).
I looked down and saw an older Ina Garten cookbook for $2.99 and I was super excited!
This recipe for herbed ricotta toast can be found inside this cookbook, but as I said — Kayla and I decided to up the flavor some and top it with delicious burst tomatoes that have been sauteed in a garlic olive oil.
Okay – now on to make this amazing recipe.
To start off, you are going to need some fresh herbs for this recipe —
Fresh dill and chives taste so great together when mixed with the fresh ricotta. You can buy storebought, which is what we used. But — you can also make fresh ricotta cheese and the flavor profile is even more intense.
Start by mixing together your ricotta, scallions, dill, chives, lemon juice, salt, and pepper.
Once you get it all mixed up, set it aside. Now, take your sliced baguette toasts and broil them until the tops are just browned.
Once you get them browned, take a garlic clove and slice in half and rub each of the toasts with the garlic clove.
Now, top the toasts with the ricotta cheese.
Now — here's where the deliciousness begins to happen.
In a pan, add 4 tablespoons of olive oil and take the remaining garlic left and throw into the pan with the olive oil. Add in some cherry tomatoes and turn the heat on medium high.
Move the pan around and allow the tomatoes to heat through. As they start to warm, each tomato will begin to pop and shrivel. After a couple of minutes, remove from the heat and take the garlic infused olive oil and drizzle over the ricotta toasts.
Now, top with the burst tomatoes and a little more of the oil.
Serve to guests for an appetizer, or you can be like me and Kayla and just eat it for lunch. It is super filling and so delicious.
For More Delicious Recipes Using Herbs, Check Out These Dishes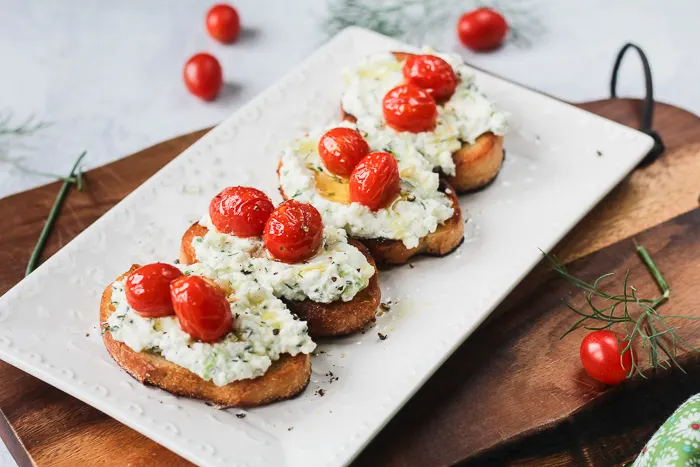 What is your favorite recipe to use fresh herbs with?
Yield: 8 toasts
Herbed Ricotta Toast with Sautéed Tomatoes
This easy recipe can be used as an appetizer or as a lunch for two or three.
Ingredients
2 cups ricotta
3 tablespoons minced green onions (scallions) --use both the white and the green
2 tablespoons minced fresh dill
1 tablespoon fresh minced chives
Kosher salt and fresh ground black pepper
1/2 of baguette sliced into toast rounds
1 whole garlic clove, cut in half
4 tablespoons olive oil
1/4 cup cherry tomatoes
Instructions
Combine the ricotta, scallions, dill, chives, 1 teaspoon of salt, and 1/2 teaspoon of pepper in a bowl. Mix together and set it aside.
Cut your bread in half into slices and place on a sheet pan. Broil under a broiler until browned, around 1 -2 minutes.
When the toast is done, rub each slice with the cut side of the garlic. Sprinkle with salt and pepper and spread with the herbed ricotta. Set aside.
Now, take your olive oil and place the remaining garlic in the oil in a sauce pan on medium high. Add your tomatoes and sauce for a couple of minutes until the tomatoes begin to bust.
Now, drizzle the oil over the toast and top with the tomatoes.
Serve warm slices to guests or eat as your own lunch!
Recommended Products
As an Amazon Associate and member of other affiliate programs, I earn from qualifying purchases.
Nutrition Information:
Yield:
4
Serving Size:
2 toasts
Amount Per Serving:
Calories:

422
Total Fat:

25g
Saturated Fat:

8g
Trans Fat:

0g
Unsaturated Fat:

15g
Cholesterol:

38mg
Sodium:

543mg
Carbohydrates:

32g
Fiber:

1g
Sugar:

3g
Protein:

19g