Make this easy homemade cherry jam recipe! Use fresh cherries, a little pectin, and some sugar for the most fantastic jam you will taste this season! With cherries being plentiful right now, this is a great way to use these stone fruits.
The jam sets up nicely and is perfect for toast, ice cream toppings, and more.
I love making homemade jams and jellies. This passion started back in 2016 and I have been doing it ever since. One of my most popular jams is my homemade blackberry jam. I sell jars of jam at events and to customers I have for my home bakery business. I even give jams as Christmas gifts with my homemade sourdough bread.
Since cherries are in abundance right now, I decided to try my hand at making cherry jam, and let me say — this one is a HIT!
How to Make Cherry Jam
Pit and chop all your cherries. I like using a cherry pitter to make this process much easier.
Combine your chopped fruit, lemon juice, pectin, and ¼ cup of the total sugar in a large wide pot over medium-high heat.
Cook until at a rolling boil that doesn't stop even when stirring.
Add in the remaining sugar while stirring. Continue stirring gently until the jam boils even as you stir. Begin timing and cook for exactly one more minute.
Remove from heat and ladle into jelly jars. If you don't plan on leaving it on a shelf, then you don't need to water bath can this. You can put it right into the fridge and use it as needed.
Allow the jam to cool further until cool enough to handle, then store in the fridge for up to 1 month.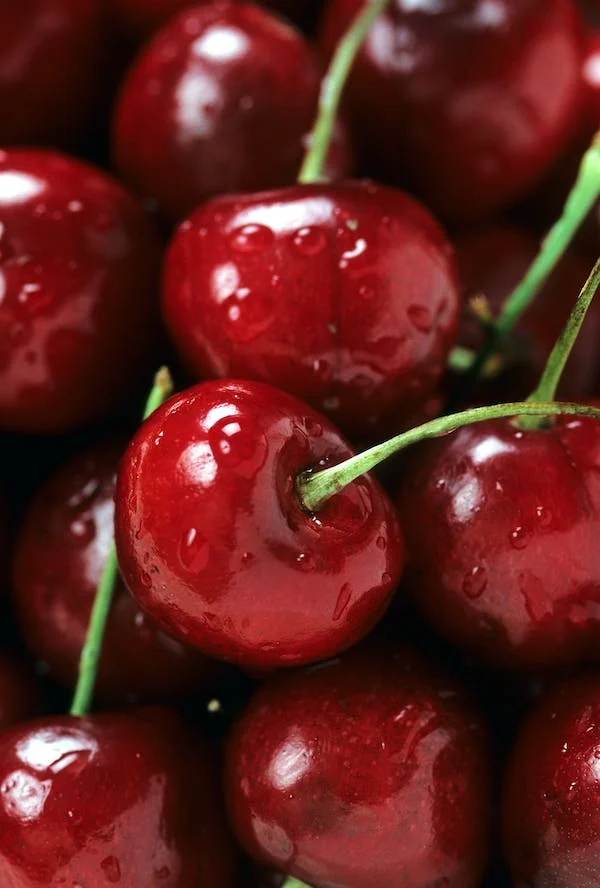 If you liked this cherry jam recipe, you might also like these other jam and jelly recipes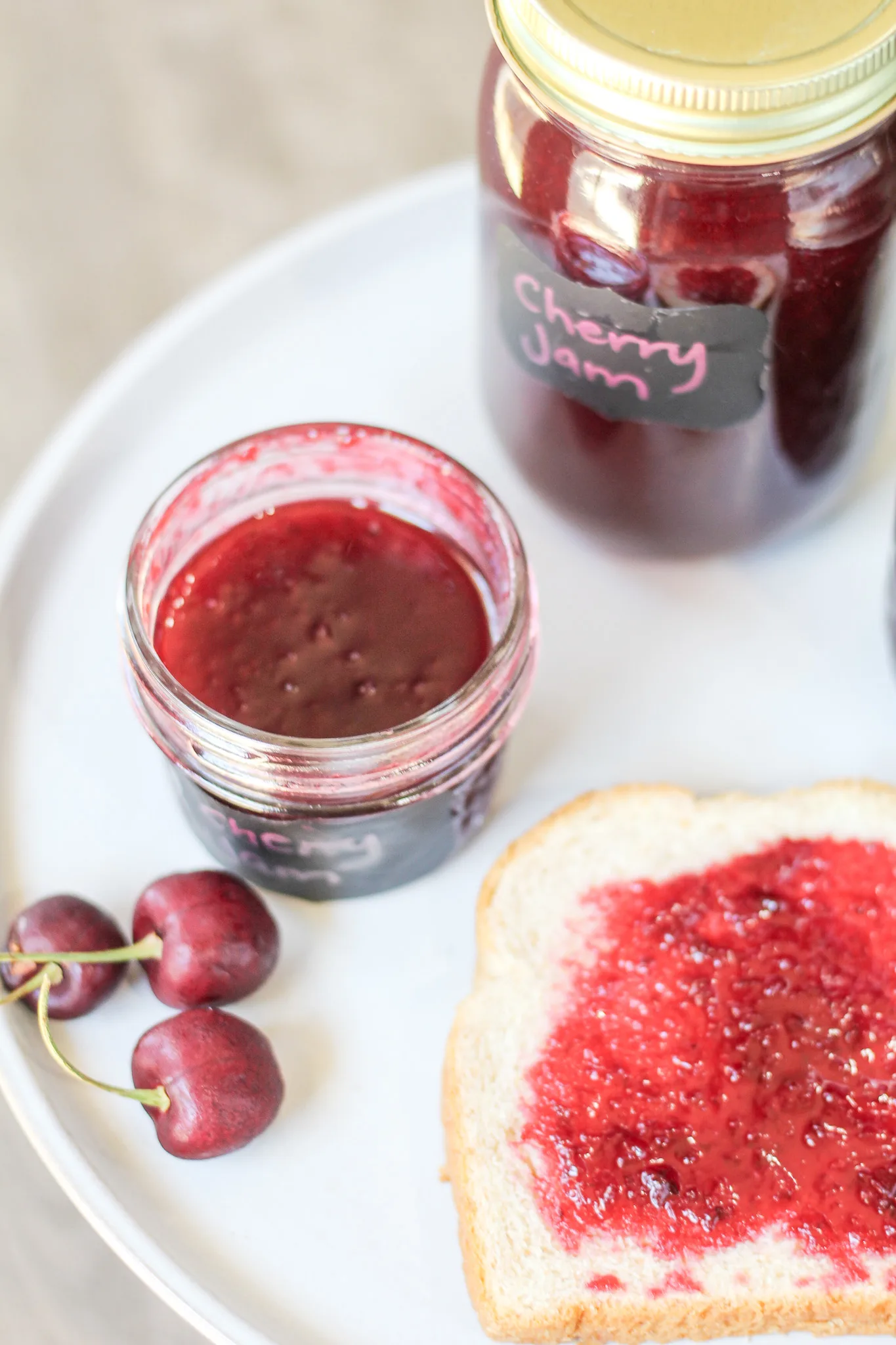 If you like the taste of cherries, check out my recipes for Glazed Fried Cherry Hand Pies, The Best Cherry Pie, Old Fashioned Cherry Cheesecake, or Rustic Cherry Galette.
Yield: 4 8 ounce jars
Easy Homemade Cherry Jam
Make cherry jam right in your own kitchen! A perfect sweet flavor that is great on biscuits, toast, ice cream, and more.
Ingredients
2 1/2 lbs of sweet cherries
2 1/2 cups white sugar
3 tablespoons lemon juice
1 package of low-sugar pectin
Instructions
Pit your cherries and halve them. Add all the chopped cherries and any juice released from chopping into a large stock pot.
Add the lemon juice, pectin, and ¼ cup of sugar to the cherries and stir to combine.
Heat over high heat while stirring gently until it comes to a rolling boil.
Add the remaining sugar and continue to stir gently until the jam returns to a full boil again.
Once it hits that full boil, time the jam for exactly 1 minute, continuing to stir. Then remove from heat.
If not canning your jam, allow it to cool slightly then place it in jelly jars and allow it to cool further then seal and refrigerate for up to 1 month.
Canning instructions:
Before beginning to cool your jam, fill your water bath canner with enough water to cover your jars by 1 inch and bring to a boil over high heat.
Before your jam is finished cooking, place your open jars into the pot of boiling water to heat them up.
Remove from water after a minute or so and flip upside down onto a towel. Use your jar clamps as the jars will be hot.
When your jam is finished cooking, flip jars right side up and use your funnel and ladle to fill each jar, leaving only ¼ inch of space between the rim and jam.
Wipe rims clean with a damp paper towel then dry them before placing your seals.
Place the seals and screw on the lid finger tight. Submerge the jars in the boiling water and allow them to sit in boiling water for 10 minutes.
Remove from the water and let the jars sit at room temperature until the lids have popped, so the lid doesn't click or move when you press on the middle. When the jars have popped and cooled, store them in a cupboard for up to 18 months. Once opened, refrigerate and use in 1 month.
Nutrition Information:
Yield:
4
Serving Size:
1
Amount Per Serving:
Calories:

709
Total Fat:

1g
Saturated Fat:

0g
Trans Fat:

0g
Unsaturated Fat:

0g
Cholesterol:

0mg
Sodium:

29mg
Carbohydrates:

183g
Fiber:

7g
Sugar:

162g
Protein:

3g