This easy homemade spaghetti sauce with fresh tomatoes is simply one of the best sauces I have ever made. Perfect for using up all those tomatoes coming out of your garden for tomato season!
During the month of August, everyone and their brother started giving me their tomatoes. I also like buying a lot of tomatoes from the farmers market. So many great heirlooms out there and they are my favorite to eat. They are great on sandwiches with my homemade pimento cheese and on salads.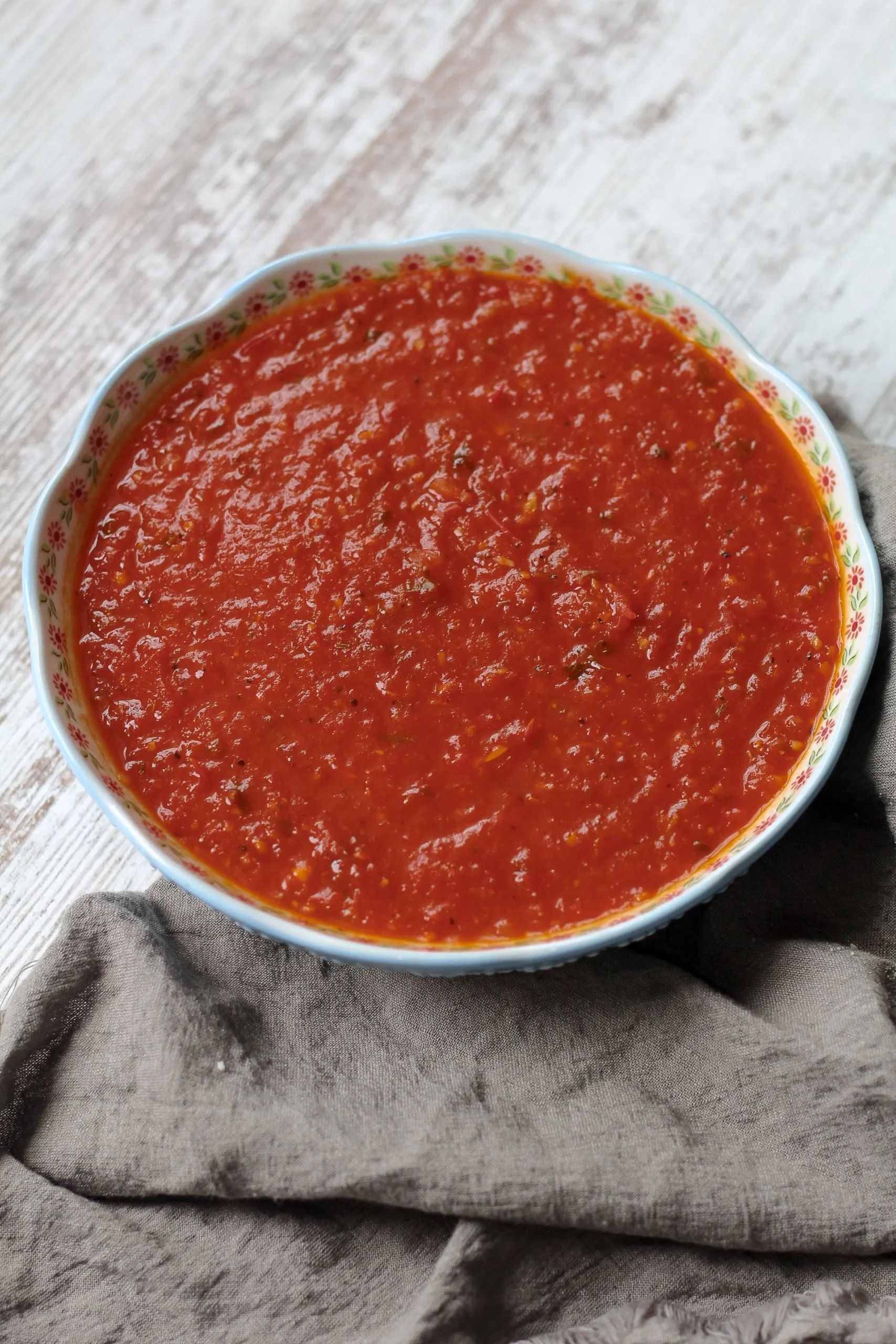 So, what do I do with all the fresh tomatoes everyone gives me? I taught myself how to make this easy recipe for homemade spaghetti sauce from scratch. It uses all fresh ingredients and fresh produce and is a great way to use up any tomatoes that are getting over-ripe.
This spaghetti sauce is super easy to make and tastes better than any store-bought tomato sauce you will buy. It is a rich hearty sauce made with fresh basil and all kinds of fresh herbs. I even use this sauce as a pizza sauce.
The best part is that you can make a huge batch of this and freeze it in an airtight container for the winter as well. I use these freezer containers for all my sauces and soups. I use these freezer containers for all my sauces and soups.
How to Make This Homemade Spaghetti Sauce Recipe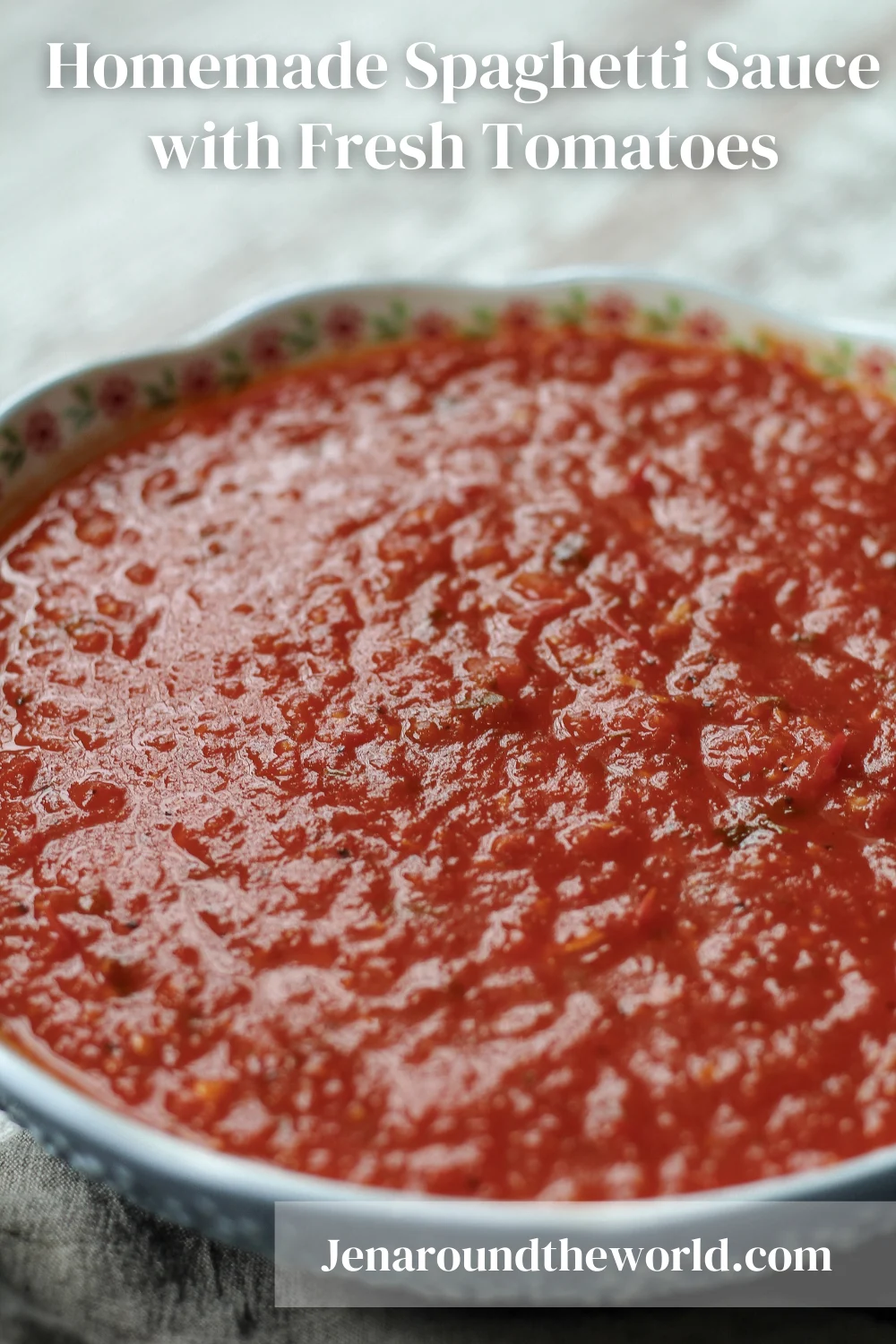 You can use whatever tomatoes you want for this recipe. Different tomato varieties will give you a sweet flavor. For me, the best tomatoes are the Purple Cherokee tomatoes, but Beefsteak, Roma tomatoes, San Marzano tomatoes, Pink Girls, or even Brandywine work for this recipe. Honestly, the tomato variety is your own personal preference.
You could even use cherry tomatoes and make a cherry tomato sauce for a delicious Summer Pasta Salad.
Start by adding chopped tomatoes, onions, and cloves of garlic. Place on a sheet pan, toss with extra virgin olive oil, and roast in the oven for 25-30 minutes at 350 degrees.
Of course, you can saute onions first before putting them on the tray but that is really not needed. Cooking them on a sheet pan is enough to soften them.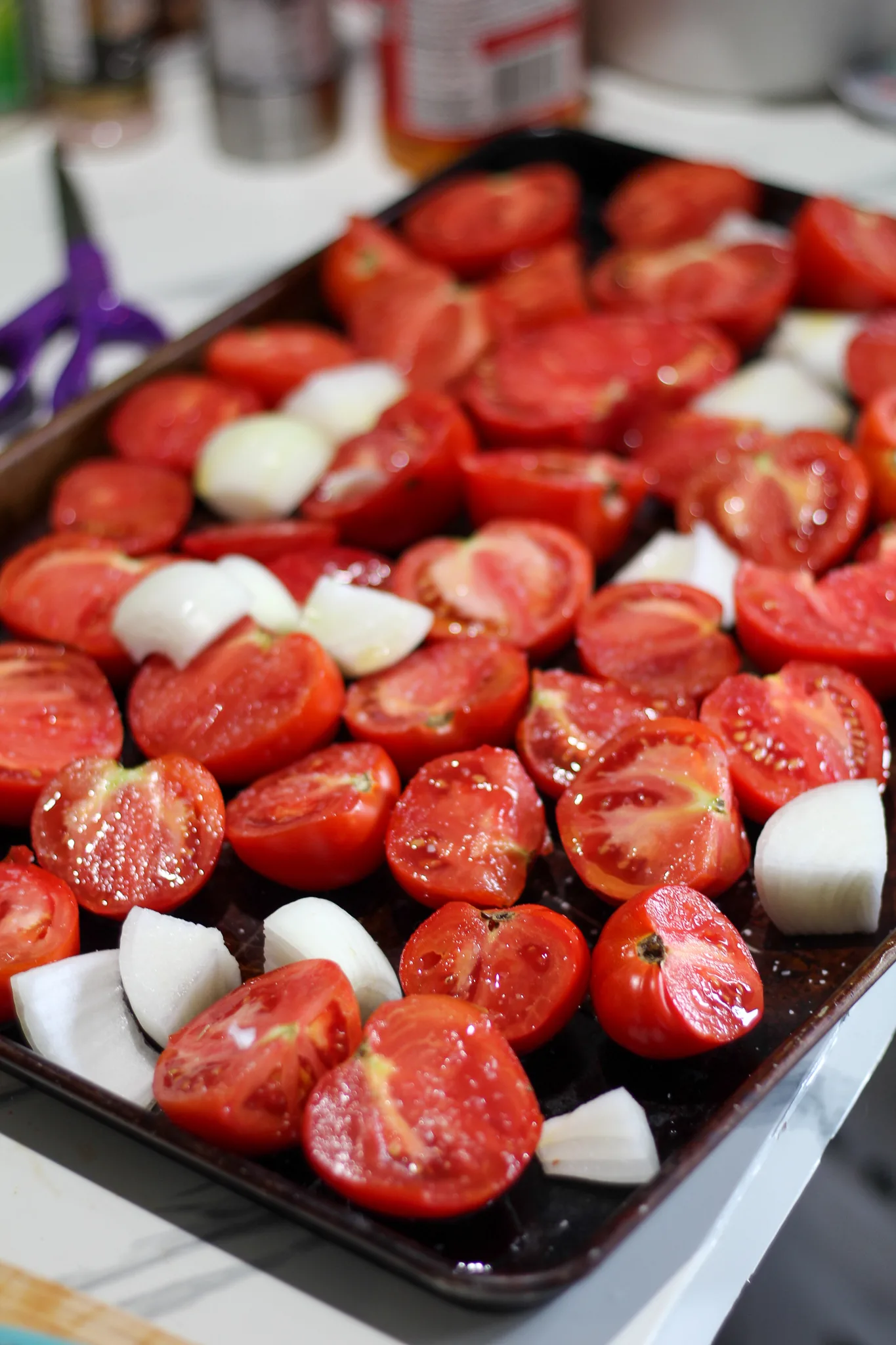 Transfer the fresh veggies to a food processor with a slotted spoon and pulse a few times to get it all incorporated. If you want a smooth sauce, continue pulsing until everything has been chopped up fine. You can also use an immersion blender if you do not have a food processor.
Now, pour it all into a large pot and heat over medium to medium-low heat for about an hour.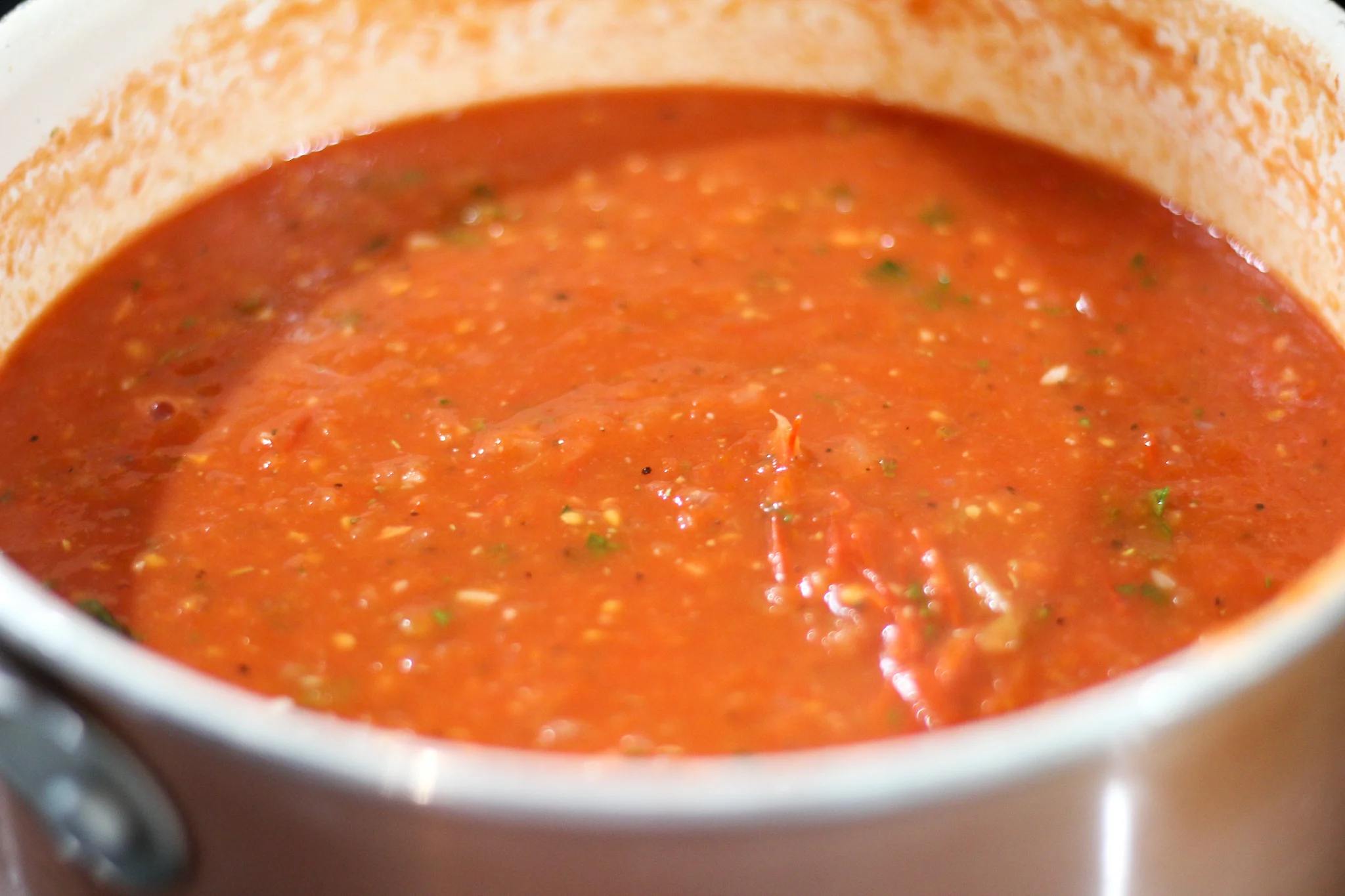 While the sauce is simmering, add in the basil, oregano, brown sugar, salt, and pepper.
This sauce just keeps developing flavor the longer it cooks. If you want to leave it on longer than an hour, that is totally fine. It will create a thick sauce as it cooks down some.
When ready to serve, choose your favorite pasta shape and cook it over medium-high heat according to the package directions. If you are feeling up to it, you can totally make homemade pasta (it tastes so much better!).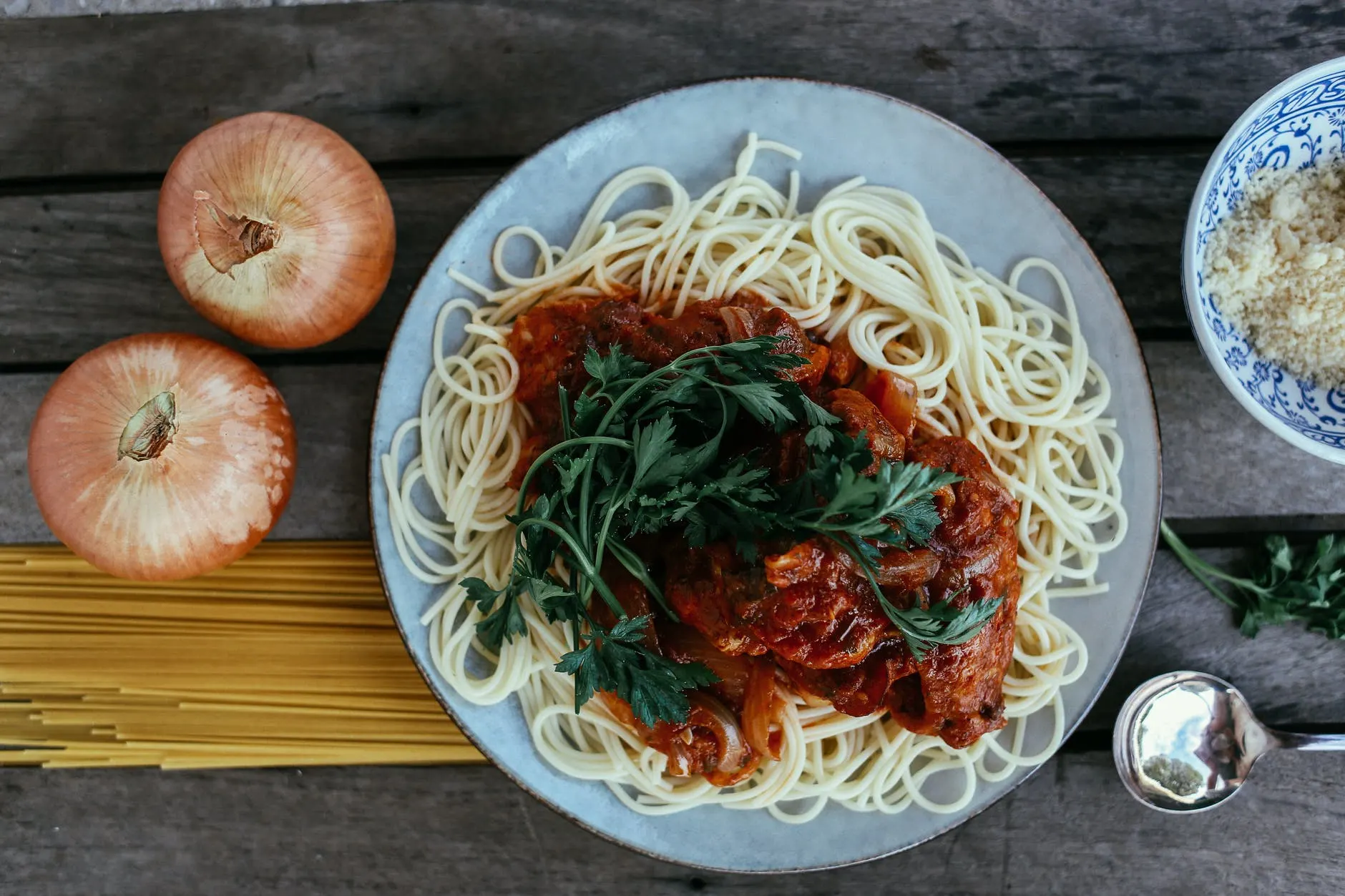 Serve the pasta with a big helping of fresh tomato sauce on top and then add as much Parmesan cheese as you want. Trust me when I say that I would grate the entire block on my plate if I could.
This easy sauce is great to make this time of year. It has SO much flavor. It's even better the next day too.
And, if you want to make it a super healthy dish, you can totally serve it over zucchini noodles.
How to Store Fresh Tomato Sauce
You can store the tomato sauce in an airtight container in the fridge for a couple of weeks. I like to store mine in a mason jar. If you want to use this for later use, make sure to add a little store-bought lemon juice to each mason jar before you water bath can the sauce.
Check out these other pasta recipes below!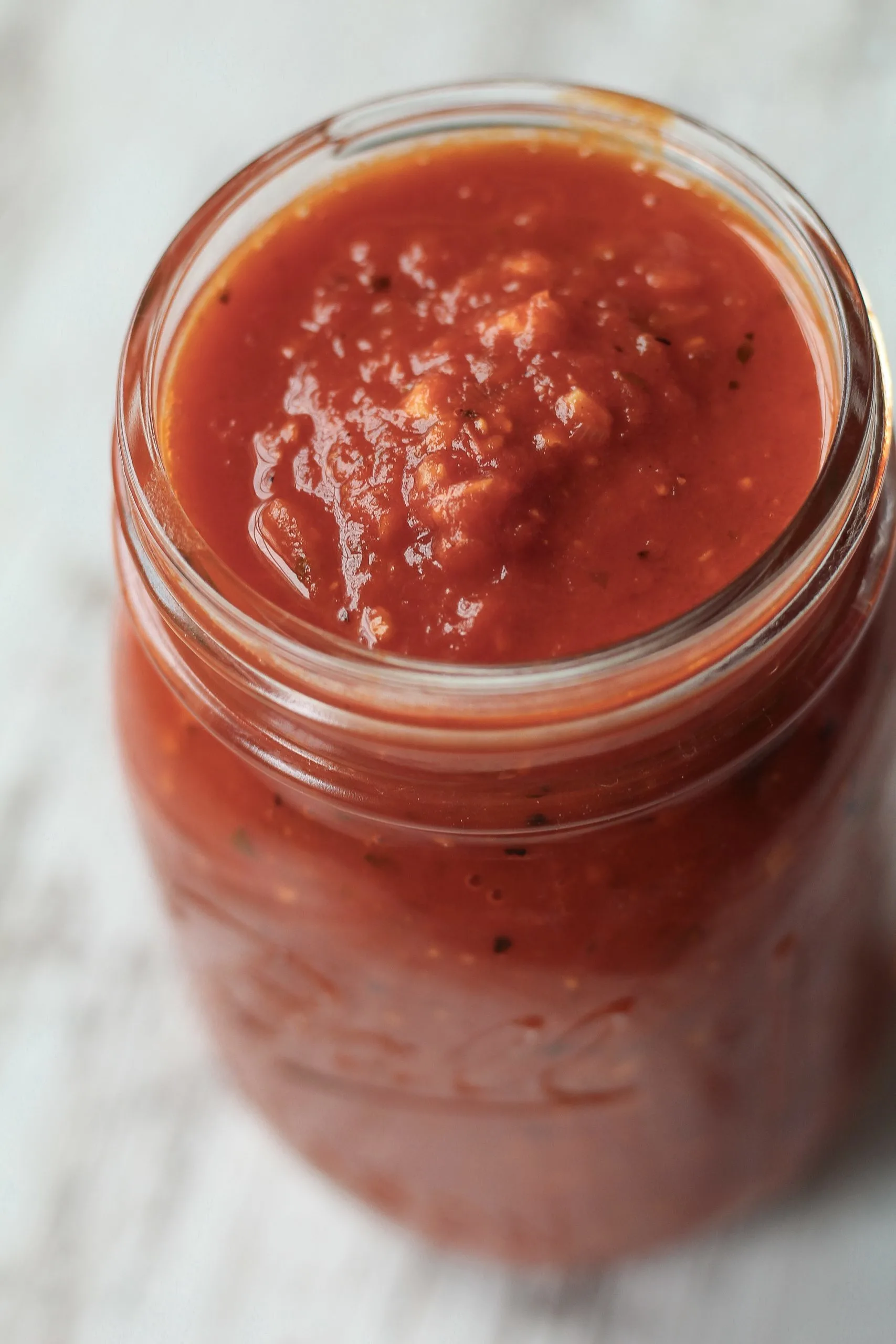 Of course, if you need a good bread recipe to go with your pasta, make a batch of my Cheesecake Factory Honey Wheat Bread.
Yield: 6 servings
Homemade Spaghetti Sauce with Fresh Tomatoes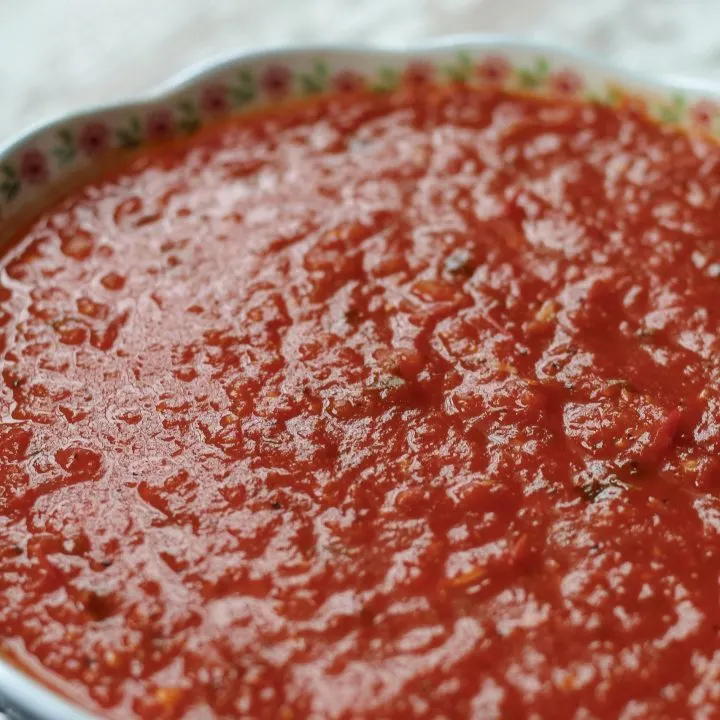 Homemade spaghetti sauce is so easy and delicious to make. This sauce is made with fresh garden tomatoes. It is rich and hearty and everyone loves it.
Cook Time
1 hour
30 minutes
Total Time
1 hour
40 minutes
Ingredients
12-14 tomatoes fresh from the garden
1 head of garlic sliced in half
1 large onion, chopped
2 tablespoons of olive oil
10-12 fresh basil leaves
1 tablespoon of fresh oregano
2 tablespoons of brown sugar
1 tablespoon of kosher salt
1 teaspoon of pepper
pasta of your choice
Instructions
Cut tomatoes into halves and place on a sheet pan. Add the whole head of garlic that you cut in half. Also, add the onion to the sheet pan.
Drizzle on olive oil and season with a little salt and pepper. Mix the veggies and toss with olive oil.
Roast in a 350-degree oven for 30 minutes.
Remove the sheet pan from the oven. Allow the tomatoes to cool for about 15 minutes.
In a food processor, add tomatoes and onions. Squeeze out the garlic cloves into the sauce.
Add in the herbs and spices.
Pulse several times until you get the desired cut on your tomatoes. For a chunkier sauce, pulse fewer times. For a finer sauce, continue pulsing until everything has been minced finely.
Add everything to a saucepot and simmer on low for at least an hour.
Serve over your favorite pasta noodles.
Nutrition Information:
Yield:
6
Serving Size:
1
Amount Per Serving:
Calories:

156
Total Fat:

5g
Saturated Fat:

1g
Trans Fat:

0g
Unsaturated Fat:

4g
Cholesterol:

0mg
Sodium:

646mg
Carbohydrates:

25g
Fiber:

4g
Sugar:

12g
Protein:

4g