If you are like me and are swimming in cucumbers, the best thing you can make are these super easy Refrigerator Dill Pickles. I don't even buy store-bought pickles anymore because I am so in love with how these taste.
You can make this homemade dill pickle recipe in the refrigerator or countertop without any canning process. And the best part is that they are ready the next day!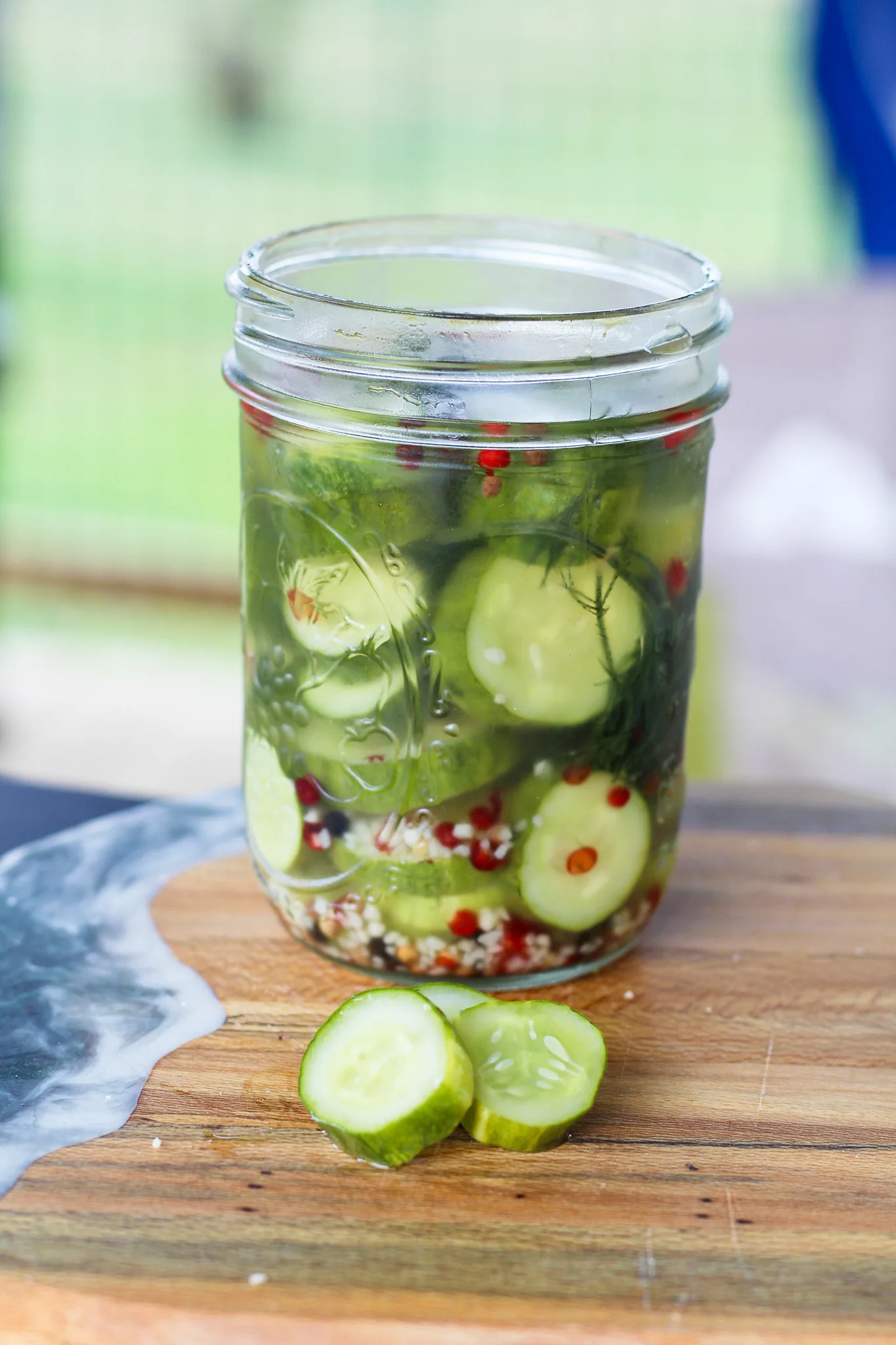 This dill pickle recipe uses everything you should have on hand (if you keep a stocked and organized pantry as I do). The cucumbers are flavored with dill, salt, peppercorns, garlic, and vinegar. This is a very simple recipe and anyone can make it!
How to Make the Best Refrigerator Pickles
Start by slicing your cucumbers. The best ones to use are the smaller ones. The bigger the cucumber, the more seeds you have and that will cause you to have a flimsy pickle. To get a good crunchy pickle, you need the smaller ones for this recipe.
Slice them about 1/4″ thick. Fill your jars with all the spices, and then pack in the slices. You can also slice them into spears if you would rather have pickle spears. I have both in my fridge right now.
I use the pickle spears when I make myself a snack board.
For the peppercorns, you can use black ones, or like me, I have a trio of colored peppercorns. I think the pink ones add a little extra flare to the jars.
You can also play around with this recipe. If you like it spicy, add a couple of jalapeno slices to each jar to give the pickles a kick.
The possibilities are endless here!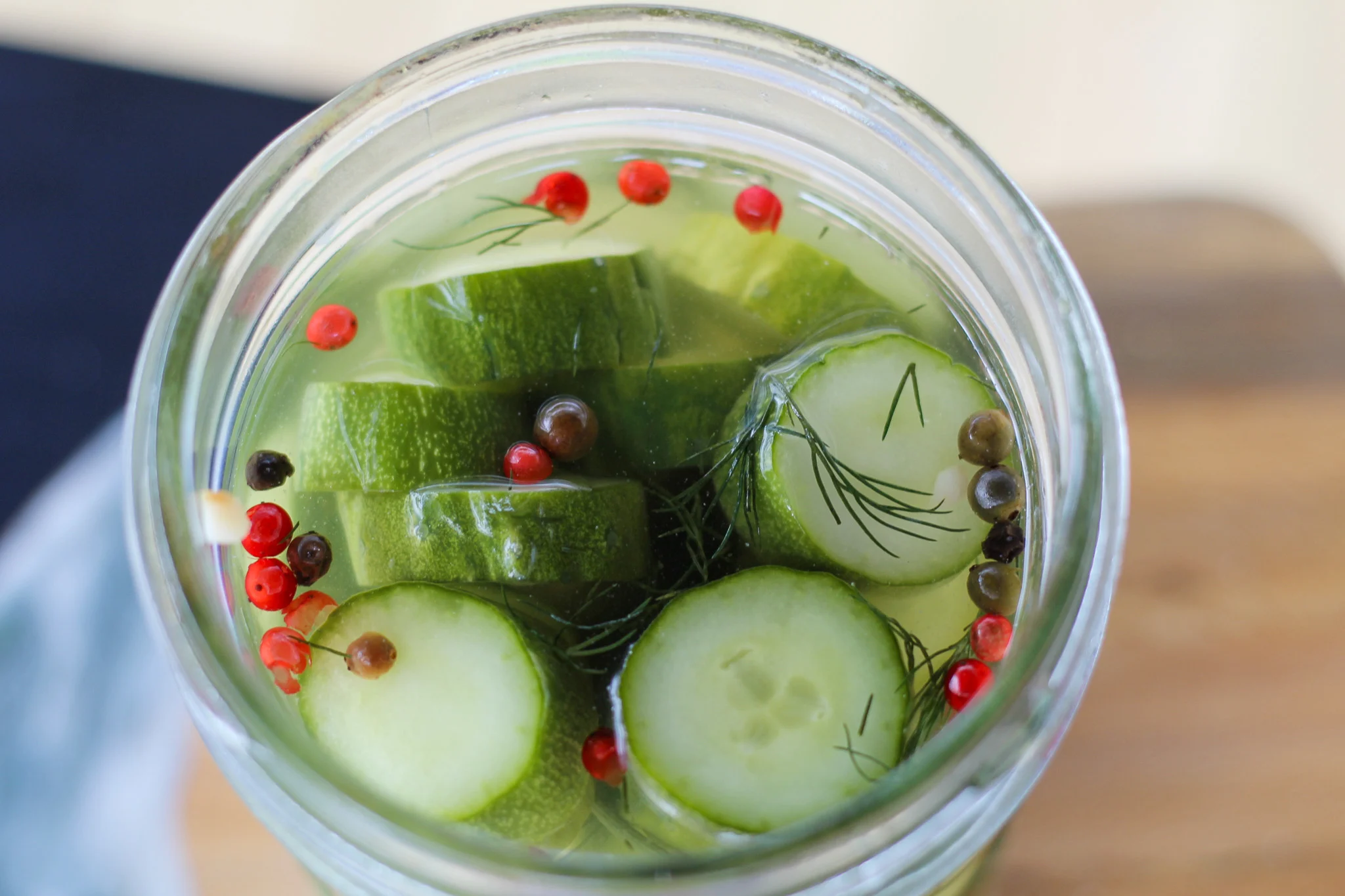 Check out these other recipes for more cucumber inspiration!
Here are the best supplies needed for making amazing pickles
Yield: 1 pint
Best Refrigerator Dill Pickles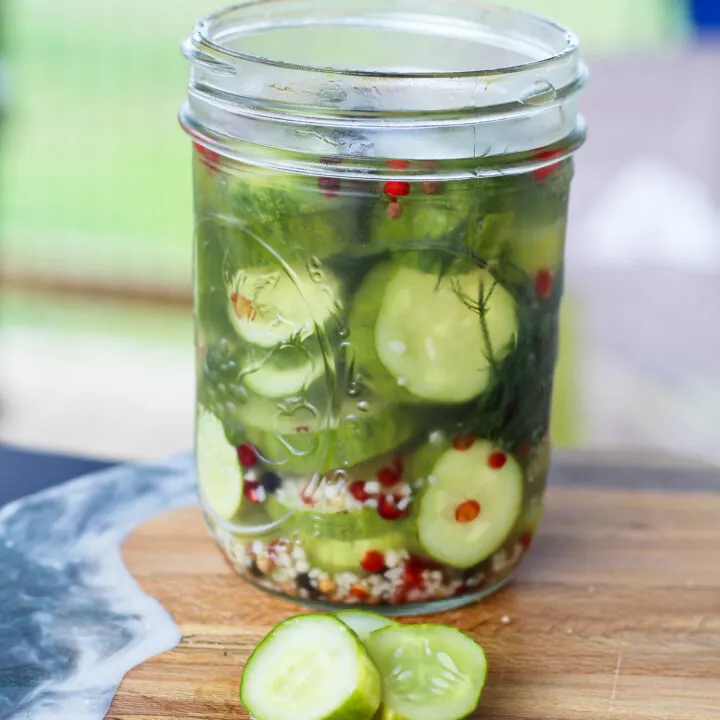 Make your own dill pickles with this simple method! This mixture can sit on the countertop or in the refrigerator for 24 hours while the flavors infuse, and then they're ready to enjoy!
Ingredients
2 or 3 small cucumbers sliced
For the brine!
2 cups of water
1 cup of vinegar
1/2 cup of salt
1 tablespoon of sugar
For the pickles!
1/4 cup of fresh dill or 1 tablespoon of dried dill
1 teaspoon of peppercorns
2 garlic cloves minced
Instructions
Combine the brine ingredients on the stove in a saucepan. Heat just until the sugar and the salt have dissolved and set aside.
Slice the cucumbers.
To your jar, add some of the dill, garlic, and peppercorns. Pack the cucumber slices in about halfway. Now add the remaining dill, garlic, and peppercorns.
Finish packing the cucumber slices in the jar. Pack as many as you can in.
Pour the brine over the cucumbers and place the lid on top. Let them sit on the counter or in the fridge for 24 hours before enjoying them!
Nutrition Information:
Yield:
20
Serving Size:
1
Amount Per Serving:
Calories:

9
Total Fat:

0g
Saturated Fat:

0g
Trans Fat:

0g
Unsaturated Fat:

0g
Cholesterol:

0mg
Sodium:

2831mg
Carbohydrates:

2g
Fiber:

0g
Sugar:

1g
Protein:

0g