This recipe for black bean brownies will definitely help you get back on track this year!
I don't know about you, but I decided back in November that this holiday I was going to take some time off from blogging and work to focus on family and other things that are super important to me. While I was off, I wound up eating a lot more than I normally do — which did nothing for my waistline(like these Pumpkin Cheesecake Brownies).
After taking some time off, it was really hard to get back on track with both my eating and my working, so I decided to do something about it.
How to Make Black Bean Brownies
I traded in some of my old habits for some new ones, so here are a few ways that I am trying my hardest to get back on track.
How to Get Back On Track
Balance Your Sweet Intake
For starters, getting back on track to me and balancing things out means eating better. I am one of those that will NEVER give up desserts or sweets, so I have to find a way to make them where they can fit into my new balanced lifestyle. Being good to myself is something that I like to do.
These are the ingredients you will need to make these amazing Black Bean Brownies.
Add all of these ingredients into a blender (with the exception of the dark chocolate chips) and puree them.
Start by pureeing the beans with the oil and eggs first. Then add in the other ingredients and continue pureeing until you get it chopped up good. You will not be able to see any chunks of beans at this point.
Then pour it all into an 8×8 pan.
Be sure to spray your pan first with nonstick spray to keep your brownies from sticking. After you have added all your brownie mixture to the pan, set it aside and chop your chocolate pieces into different size chunks. I like mine to look all rustic.
Once you get the chocolate chopped, then sprinkle it on top of your brownie mixture and then place in a preheated 350-degree oven for about 30-35 minutes.
When they come out, you can cut you a slice and have it with your lunch.
Yield: 12
Black Bean Brownies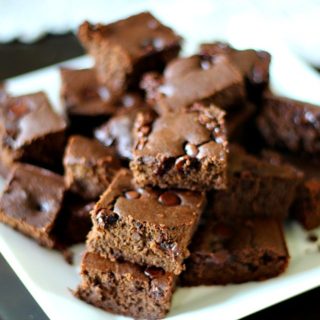 These black bean brownies are so delicious and guilt free thanks to using a zero calorie sugar and a can of black beans.
Ingredients
1 15.5 ounce can of black beans, rinsed and drained
3 eggs
3 tablespoons of coconut or vegetable oil
1/4 cup of cocoa powder
3/4 zero calorie sugar, like Splenda or Monk Fruit in the Raw
1 tsp vanilla
1/2 tsp baking powder
1 pinch of salt
8 dark chocolate kisses, chopped
Instructions
Preheat the oven to 350 degrees. Grease an 8x8 pan and set aside. Place beans in a food processor along with oil and eggs. Process until all smashed together.
Add vanilla, cocoa powder, baking powder, salt, sugar, and oil. Process until smooth.
Pour into pan and sprinkle chocolate chunks on top. Bake for 30-35 minutes.
Enjoy!
Recommended Products
As an Amazon Associate and member of other affiliate programs, I earn from qualifying purchases.
Nutrition Information:
Yield:
12
Serving Size:
1
Amount Per Serving:
Calories:

117
Total Fat:

4g
Saturated Fat:

1g
Trans Fat:

0g
Unsaturated Fat:

2g
Cholesterol:

47mg
Sodium:

56mg
Carbohydrates:

15g
Fiber:

4g
Sugar:

4g
Protein:

6g
Which brings me to the second point about getting back on track.
Balance Your Meal Time
You have to eat.
If you are the type like me to skip meals, you are doing your body a bad disservice. Eating is what gives your body fuel to move. If you fill it up with bad choices, you will feel sluggish and tired.
Meet the easiest and most delicious way to get back on track this year! LEAN CUISINE® is making it easier to stay on track all day, every day, with over 50 protein-packed varieties, including breakfast!
With the new LEAN CUISINE® breakfast, LEAN CUISINE® offers a full days solution.
LEAN CUISINE® offers entrees for breakfast, lunch, and dinner — and I have tried a ton of them, and there is not ONE that I have not fallen in love with.
My new favorite right now that is keeping me fueled is the Culinary Collection Sesame Chicken for lunch and the LEAN CUISINE® Morning Collection™ for breakfast. They are the perfect flavor to hit the spot and help me stay in check with staying on track.
The LEAN CUISINE® Culinary Collection Sesame Chicken is sesame breaded chicken cutlets with pasta and it is AH-mazing!
Balance Your Family Life
The third thing that you can do to help keep your life balanced is to take time for your family. I know if you are a blogger like me, you can easily let work consume you all hours of the day. Don't do it. Don't let working online take up your family's time.
Get out of the house, go walking, even go grocery shopping! My daughter and I have this weekly date with our favorite coffee place when we go grocery shopping at Walmart (which is where I picked up those tasty new LEAN CUISINE® Frozen Entrees).
We get our coffee first and then shop to find all of our groceries for the week. I love loading up my cart with those Culinary Collection LEAN CUISINE®e Entrees(which can be found in the frozen food section).
So remember — there are 3 things you can do to get your life back in balance —
1) Cut back on sweets by adding in unusually good for you foods
2) Make sure to eat and not skip meals
3) Spend time with your family — don't let your online work life consume all of your time
Connect with LEAN CUISINE®
For even more great recipes, check out www.walmart.com/nestle.
What is your favorite way to get back on track?