These classic lunch lady brownies will satisfy your sweet tooth once and for all.
The other day I made these delicious lunch lady brownies and everyone talked about how amazing they were.
I laughed so hard because a friend walked in and said, "Wow, these look just like the brownies I used to eat in school." I was like, exactly!!!
These lunch lady brownies are so easy to make, but I will tell you that they are very rich and decadent so a small brownie goes a long way in the taste and flavor factor!
These Lunch Lady Brownies are a Favorite of Mine
If you did not know this, I am a huge lover of all things brownie-related. In the past, I have made banana bread brownies, and then I have made some amazing Dark Chocolate Pumpkin Brownies.
During St. Patrick's Day, I made some awesome Mint M&M Brownies and let me tell you– they were the best tasting brownies ever.
One of my favorite parts of this brownie is the creamy frosting on top. It also reminds me of a Texas Sheet Cake but in brownie form.
The warm brownies melt that frosting and then as they cool, it crusts over on the top creating the most amazing frosting you will ever put in your mouth.
When I was in school, anytime we had pizza day, these brownies always made an appearance and when you get those delicious fiestada pizzas and a lunch lady brownie all in one, it is like pure heaven on a plate.
To make these, you do not need any special equipment. I just use a 9×13 baking dish to make these.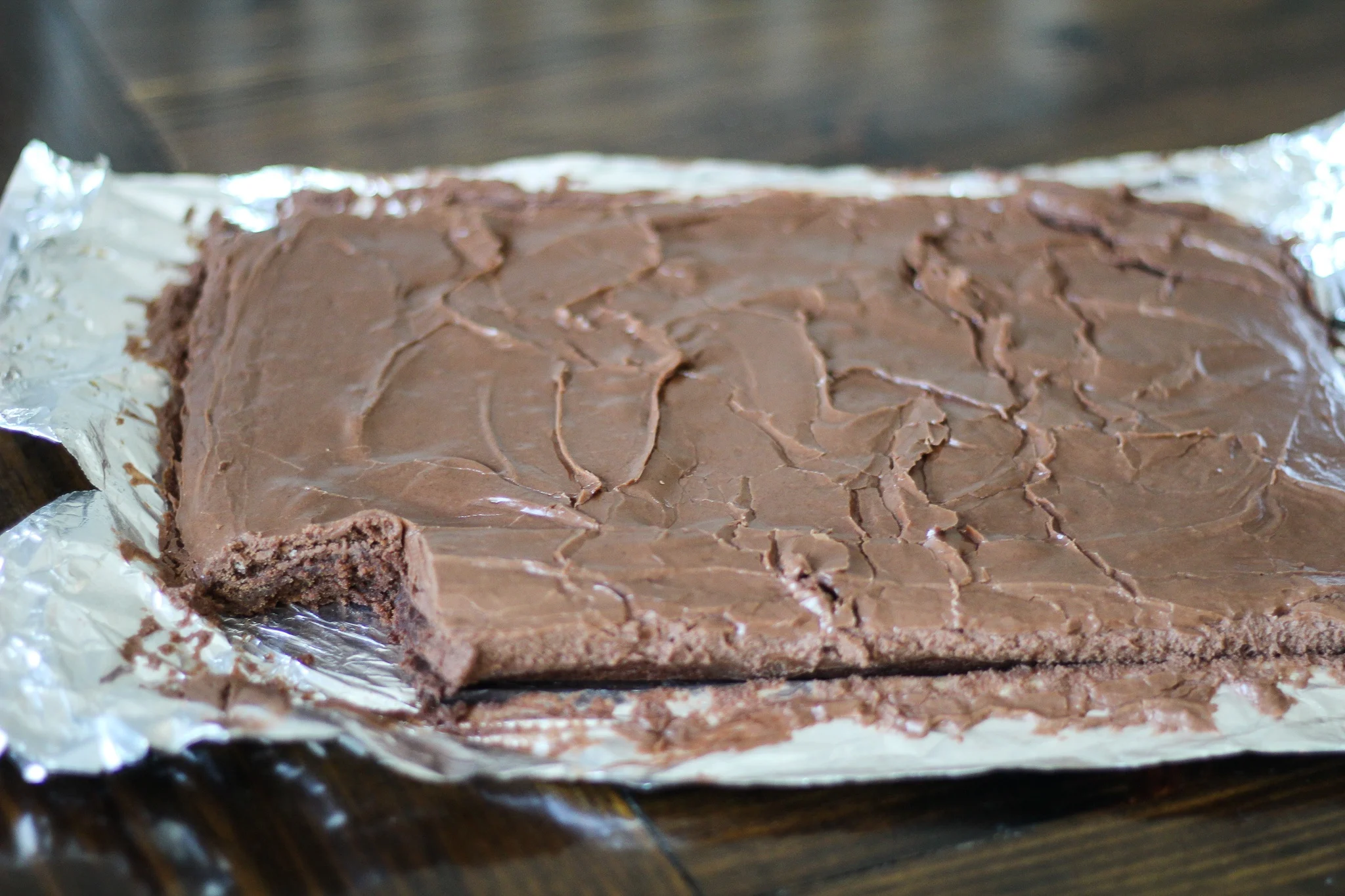 Brownie Lover? Check Out These Other Amazing Recipes
Caramel Pecan Turtle Brownies
Yield: 16
Lunch Lady Brownies
These chewy fudge brownies are perfect when you need a chocolate fix.
Ingredients
Brownies
1 cup of butter melted
1/2 cup unsweetened cocoa powder
2 cups all-purpose flour
2 cups granulated sugar
4 large eggs
4 teaspoons vanilla extract
Chocolate Frosting
1/4 cup butter softened
1/4 cup milk I use 2%
1/4 cup unsweetened cocoa powder
3 cups powdered sugar
Instructions
Preheat your oven to 350° F.
Take a 9x13-inch baking dish and cover with aluminum foil. To keep the brownies from sticking, be sure and spray the foil with non-stick spray.
In a mixing bowl, add the melted butter and cocoa powder and blend until all is smooth.
Next, add the flour and sugar. Beat together then add eggs and vanilla.
Mix well but do not overmix. Your batter will be really thick.
Pour the batter into the 9x13 dish and spread out evenly.
Bake the brownies for 30 minutes or until a toothpick inserted in the center comes out clean.
Remove the brownies from the oven and let stand 15 minutes while you prepare the frosting.
The brownies will still need to be warm when you frost them so do not wait too long to get this part done.
To make the frosting -- Beat together all the frosting ingredients until smooth.
Pour the frosting over the warm brownies and spread it out evenly across them.
Let cool completely before cutting and serving.
Nutrition Information:
Yield:
16
Serving Size:
1
Amount Per Serving:
Calories:

399
Total Fat:

16g
Saturated Fat:

10g
Trans Fat:

1g
Unsaturated Fat:

5g
Cholesterol:

85mg
Sodium:

135mg
Carbohydrates:

60g
Fiber:

1g
Sugar:

45g
Protein:

4g