Blackberry Cream Cheese Biscuits are some of the softest biscuits you will put in your mouth. Very flaky and tender and perfect for breakfast, brunch, and even dessert! Your friends and family will be wowed by these incredibly tasty homemade from scratch biscuits.
I love making homemade biscuits. Nothing tastes better than a soft and flaky buttermilk biscuit topped with homemade gravy. Well, except these biscuits — stuffed with fresh blackberries and delicious cream cheese.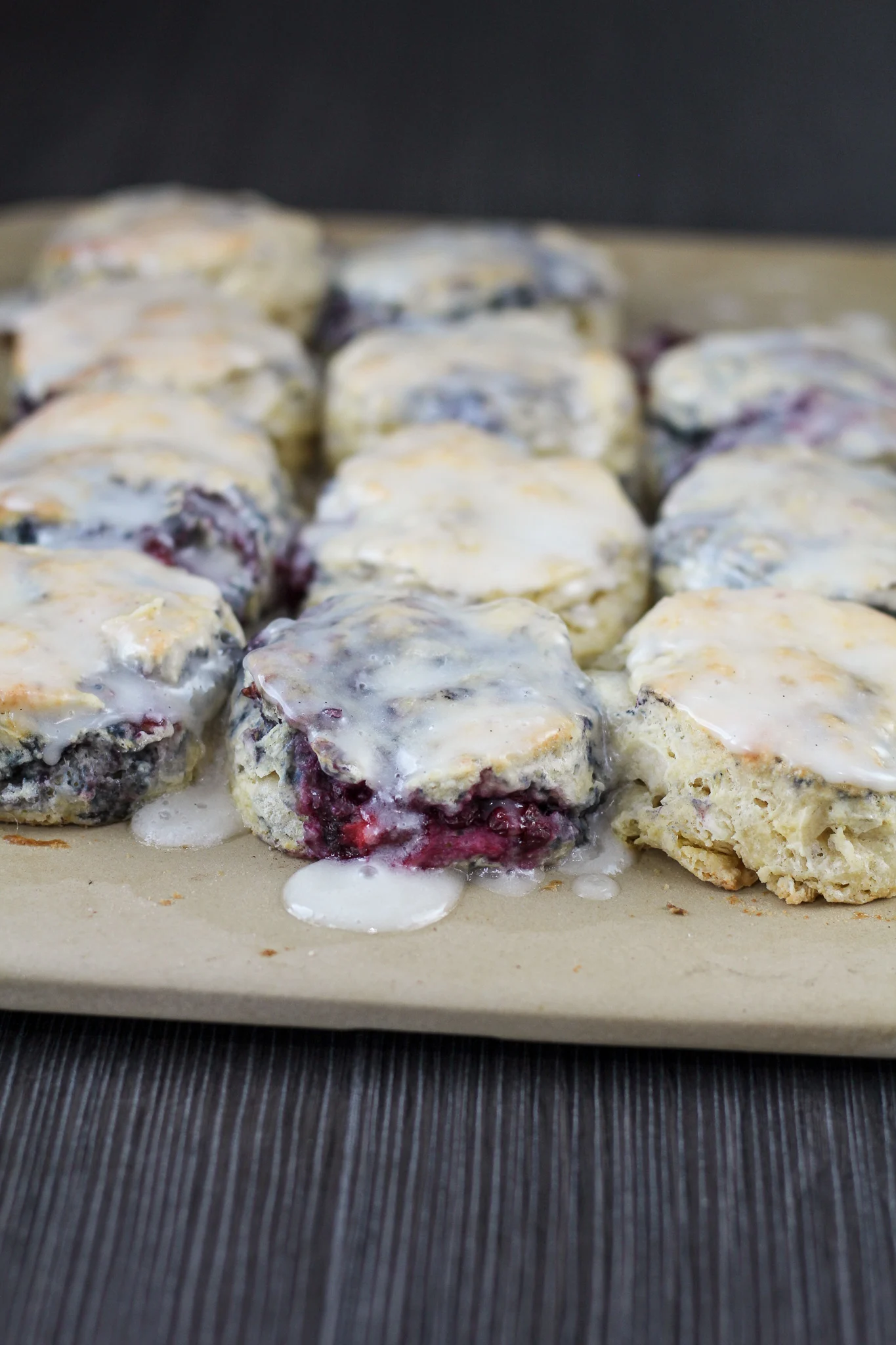 How to Make the Perfect Biscuit
There is no need to be intimidated by making homemade biscuits. They are easy to make and SO light and fluffy!
The first step to making a light and fluffy biscuit is to use plenty of REAL butter — not margarine. You will also want to use buttermilk, and the secret to the best tender biscuit is cream cheese.
The biscuits are also filled with fresh blackberries. They give the biscuits a special flavor and then we top them with a vanilla bean glaze. It is the perfect finishing touch for the biscuits.
To make sure that your biscuits rise well and have soft sides, make sure that they touch when you place them on the tray. If they are not touching, your biscuit will have crunchy sides. It is a preference thing — I like soft sides, some people like crunchy sides.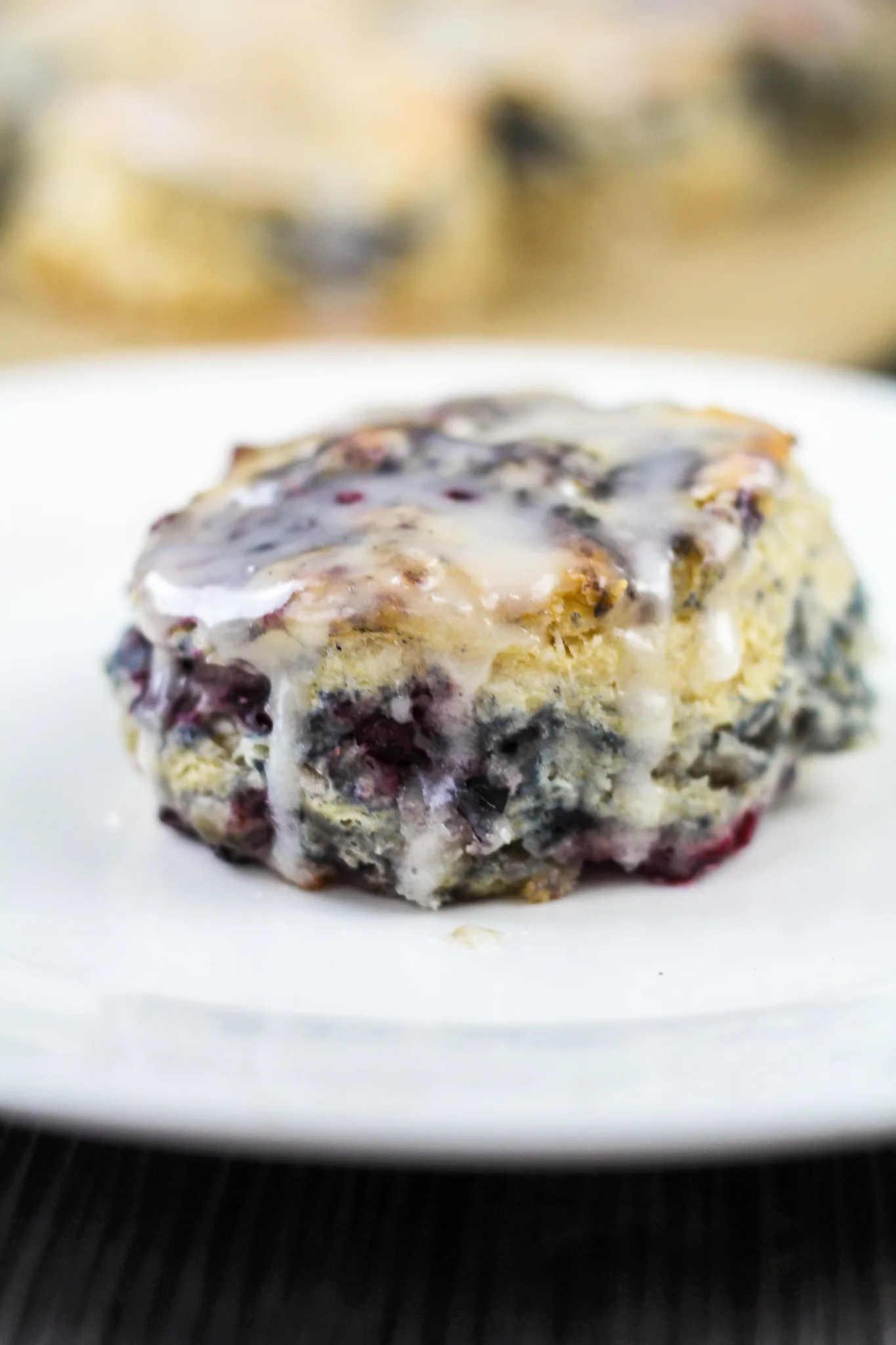 When working with the dough, you want to be as careful as you can. If you mash too much, your dough will turn purple. Be gentle.
Bake the biscuits at 425 degrees F for about 12-15 minutes. Make sure your butter, cream cheese, and buttermilk are COLD.
Roll the dough out so that your biscuits are about 1 1/2″ thick. Use a biscuit cutter to cut the biscuits.
You will have extra dough after cutting your first round of biscuits. Gently form the dough back together and cut more biscuits until all of the dough is used.
The biscuits will rise in the oven. Bake until golden.
Check out these other blackberry recipes from the blog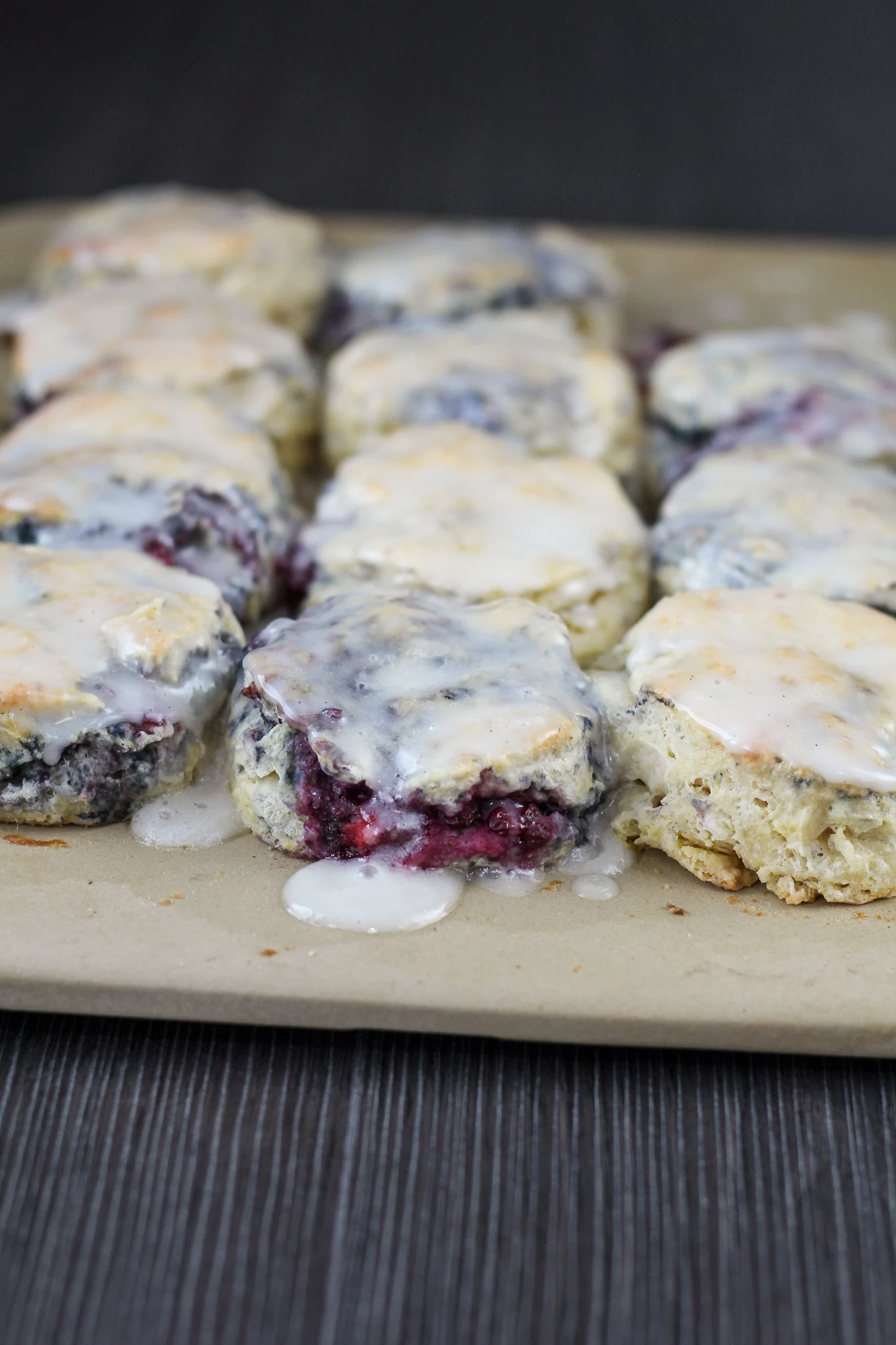 Tuesday #BrunchWeek Recipes
Beverages
Appetizers and Salads
Breads, Grains, and Cereals
Egg Dishes
Desserts
Yield: 15 biscuits
Blackberry Cream Cheese Biscuits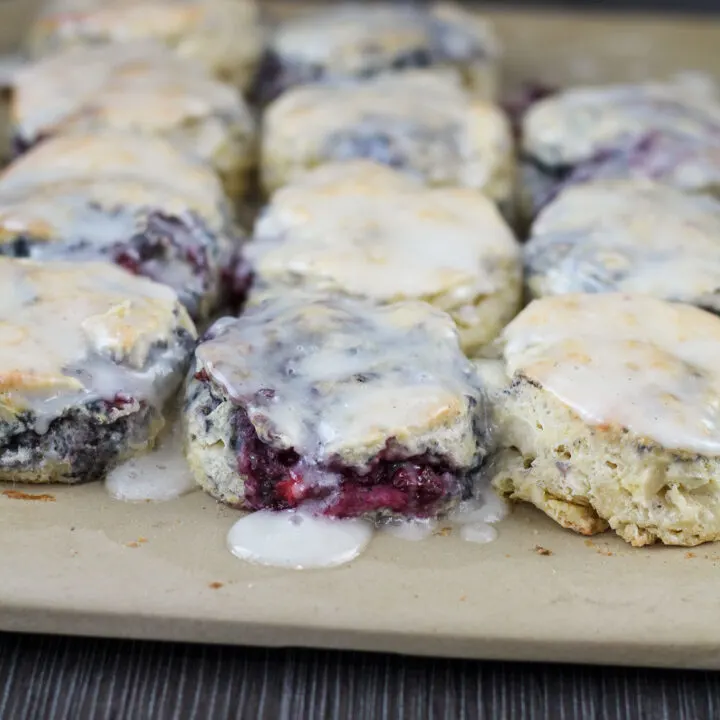 These blackberry cream cheese biscuits are full of fruity blackberry flavor and flaky and tender thanks to the butter and cream cheese inside.
Ingredients
For the Biscuits:
2 3/4 cups all-purpose flour
1 tablespoon baking powder
1 teaspoon baking soda
1 teaspoon sugar
1/2 teaspoon salt
4 ounces cold cream cheese
1/2 cup cold unsalted butter cut into small pieces
1 1/4 cups cold buttermilk
2/3 cup fresh or frozen blackberries
For the Vanilla Bean Glaze:
1 cup of powdered sugar
1/2 teaspoon of vanilla bean paste
3 tablespoons of milk
Instructions
Preheat the oven to 425 degrees F.
In a bowl, mix together the flour, sugar, salt, baking powder, and baking soda.
Add in the cold butter and cream cheese. Use your hands to mix the butter and cream cheese in well until it forms little crumbs.
Add in blackberries.
Make a well in the center and pour in the buttermilk. Using a wooden spoon, gently mix together. Try not to break up the blackberries.
Pour out onto a well-floured surface. Using a rolling pin, roll the dough out to about 1 1/2" thickness.
Use a biscuit cutter and cut the biscuits out. Place them on a baking sheet with sides touching.
Bake for 12-15 minutes or until biscuits are browned and the dough is cooked through.
Let the biscuits rest.
While the biscuits cool, mix together the milk, powdered sugar, and vanilla bean paste in a bowl. brush over biscuits with a pastry brush. The glaze will harden over the biscuits.
Enjoy!
Nutrition Information:
Yield:
15
Serving Size:
1
Amount Per Serving:
Calories:

208
Total Fat:

9g
Saturated Fat:

6g
Trans Fat:

0g
Unsaturated Fat:

3g
Cholesterol:

25mg
Sodium:

317mg
Carbohydrates:

28g
Fiber:

1g
Sugar:

9g
Protein:

4g