Have a Blackstone Griddle? Then you can make these Blackstone smashburgers too!
Ever since we have bought our Blackstone Griddle, I have loved cooking on it. We have made breakfast, Hibachi, Blackstone Philly cheesesteak Sandwiches, and more.
Out of all of those, these Blackstone Smashburgers are my favorite!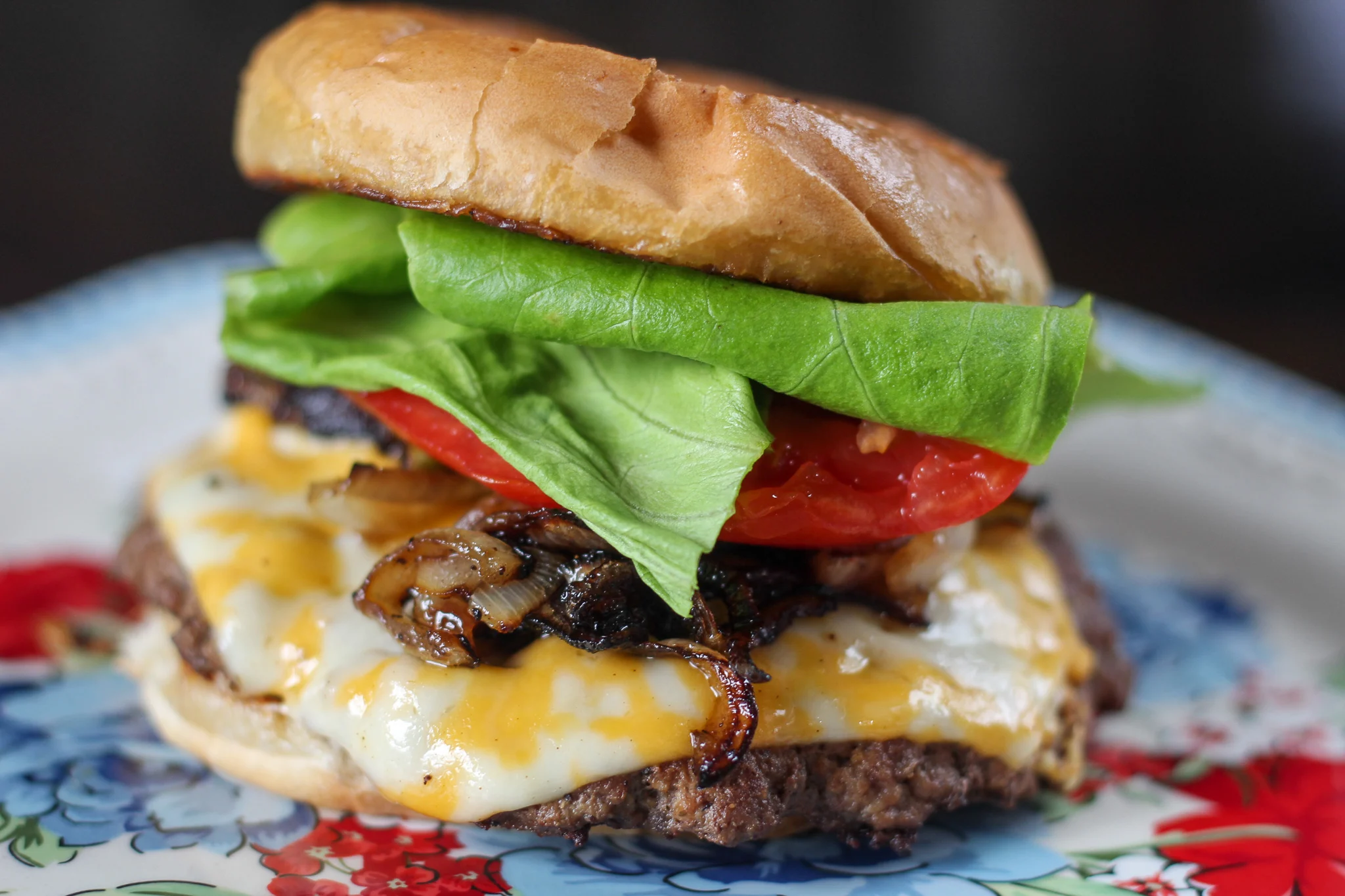 How to Make Blackstone Smashburgers
To make these burgers, all you need is some of your favorite hamburger meat. We always go for ground chuck. The 80/20 version is perfect. It has just the right amount of fat.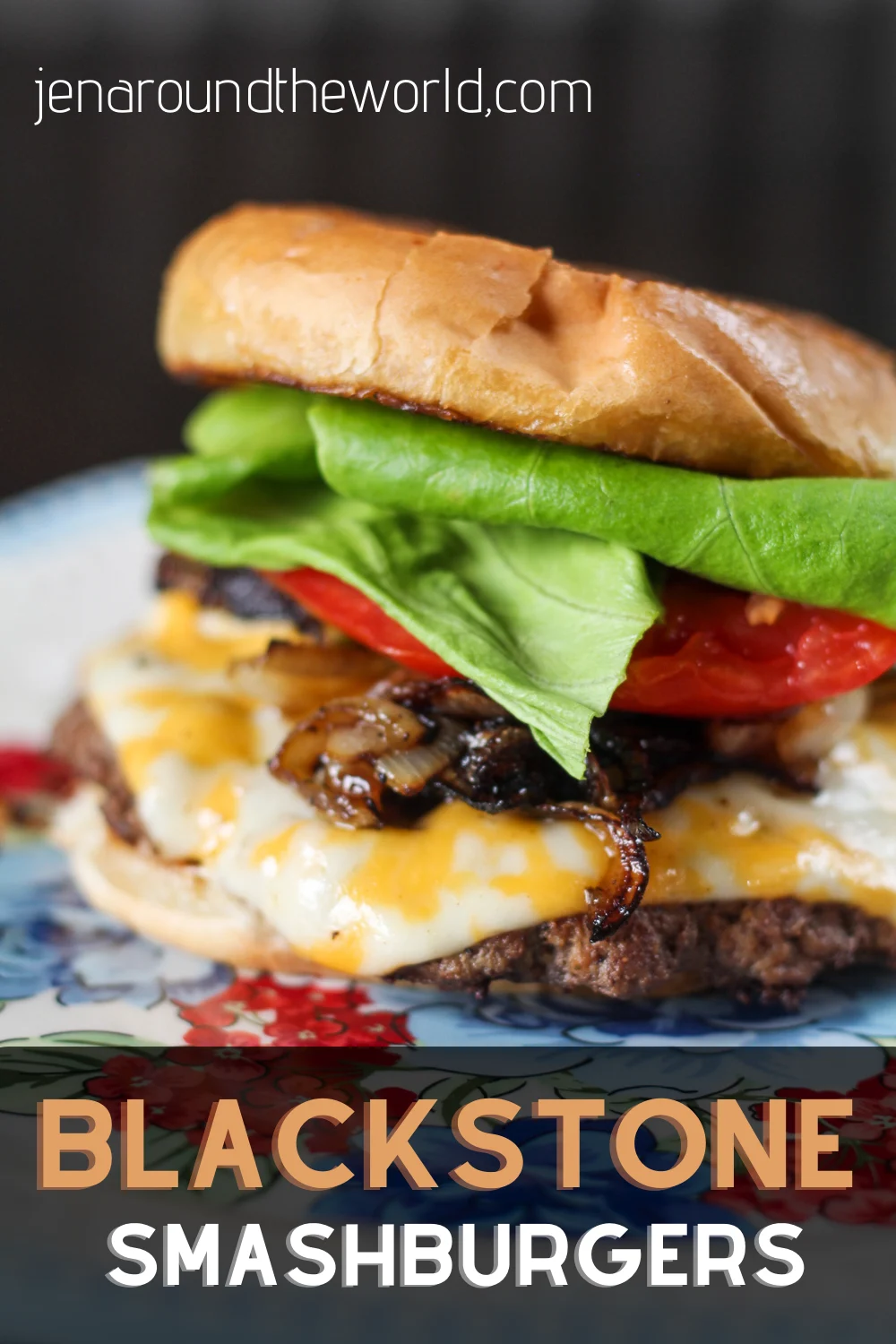 For seasoning, we use lemon pepper and some garlic salt. Lawry's has always been my favorite seasoning of choice, but even the generic taste good as well.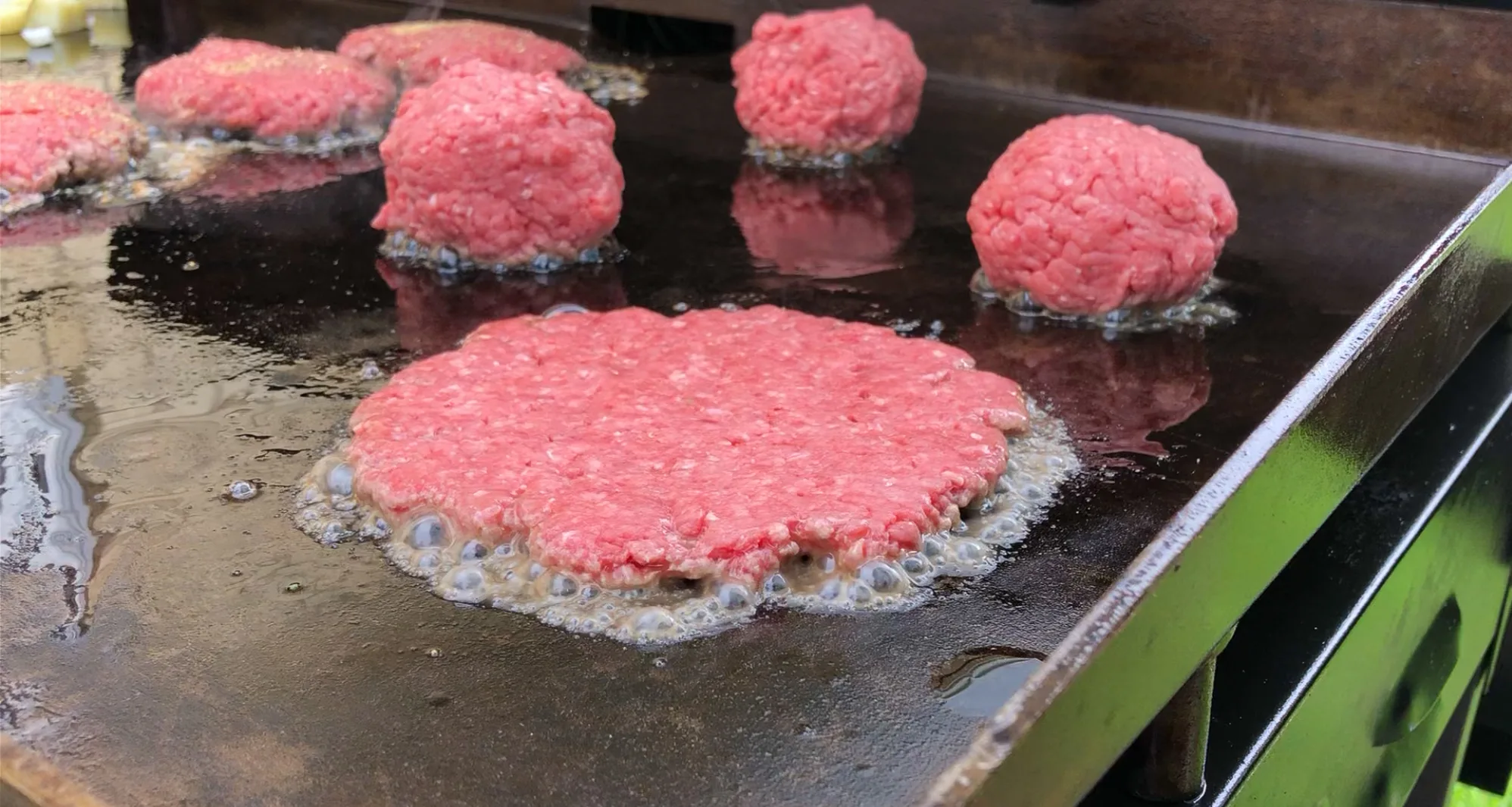 Roll your hamburger meat into balls. They should be about 2-3″ in diameter.
Turn the Blackstone on high heat. Oil it with vegetable or canola oil and spread it over the entire surface.
Slice an onion into thin thin rounds and place on the griddle. Then, take your hamburger meat and place on the griddle as well. Grill the onions until they are nice and caramelized.
Place a piece of wax paper or parchment paper square on top of the meat. Using a small cast-iron skillet or a hamburger press, press down until you have "smashed" the burger flat.
Season liberally with your seasoning of choice. Let the smash burgers cook for about 5-6 minutes on the one side.
Now, flip the burgers over and let them cook about 3-4 minutes more.
While the burgers are cooking, turn the left side down on low and place your buttered buns face down on the Blackstone.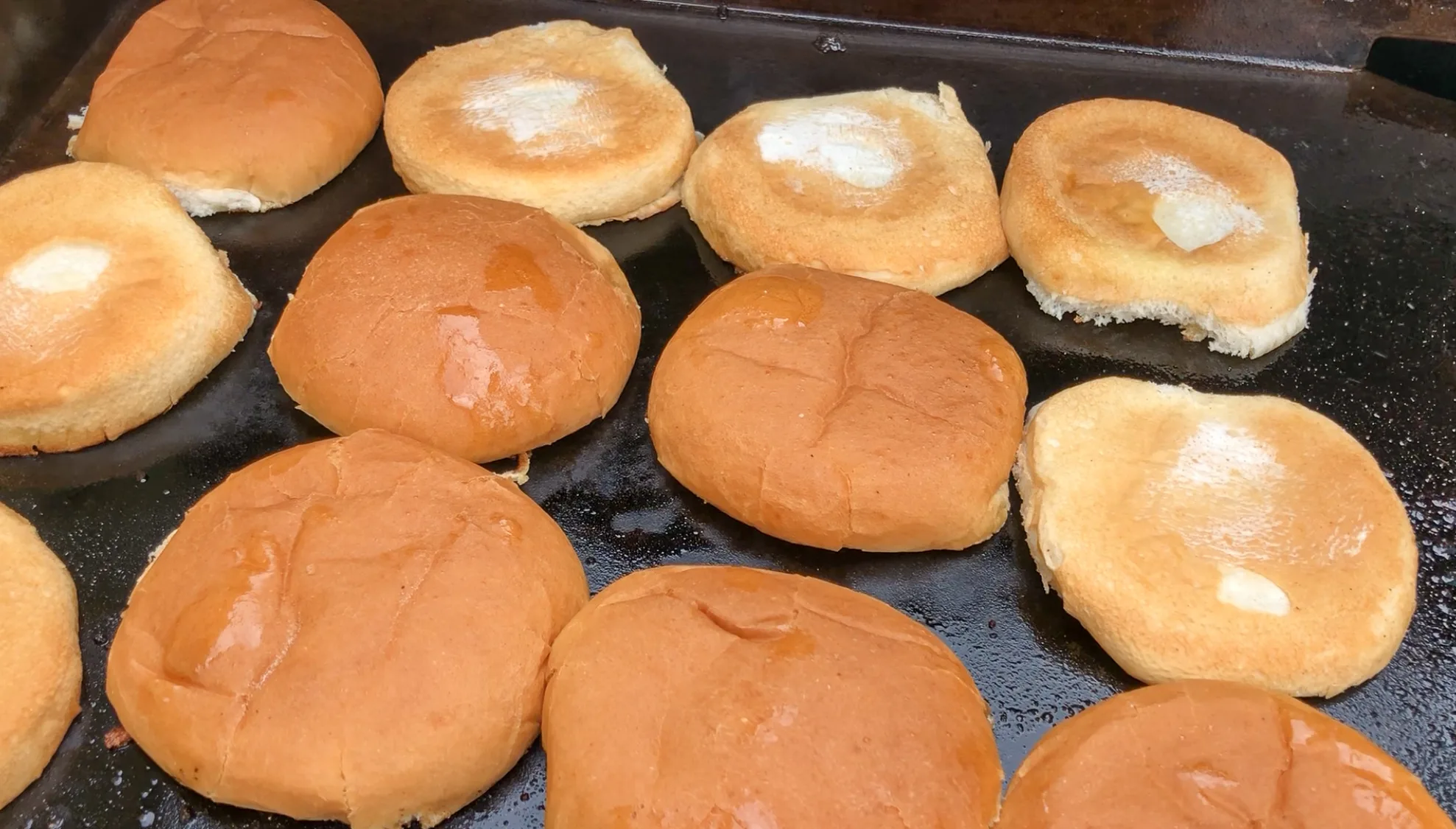 Be sure to keep an eye on them so that they don't burn. Once they are toasted, remove from the heat and set them aside.
Now, add your cheese to your hamburgers and squirt a little water around them to create some steam. Place the cheese melting dome on top to melt the cheese.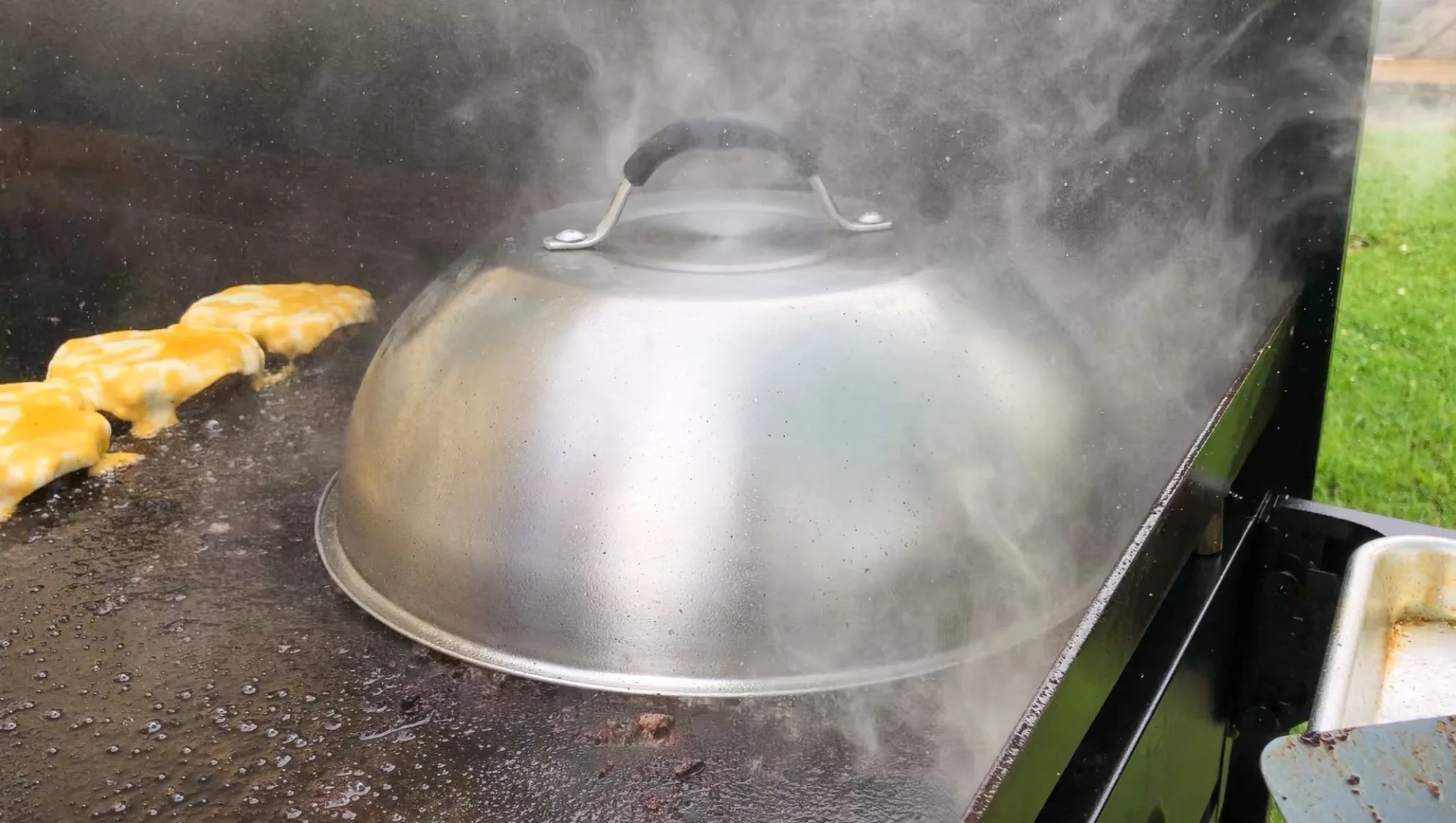 Let it sit this way for about a minute. Remove the dome and place the hamburgers on the buns that you've toasted.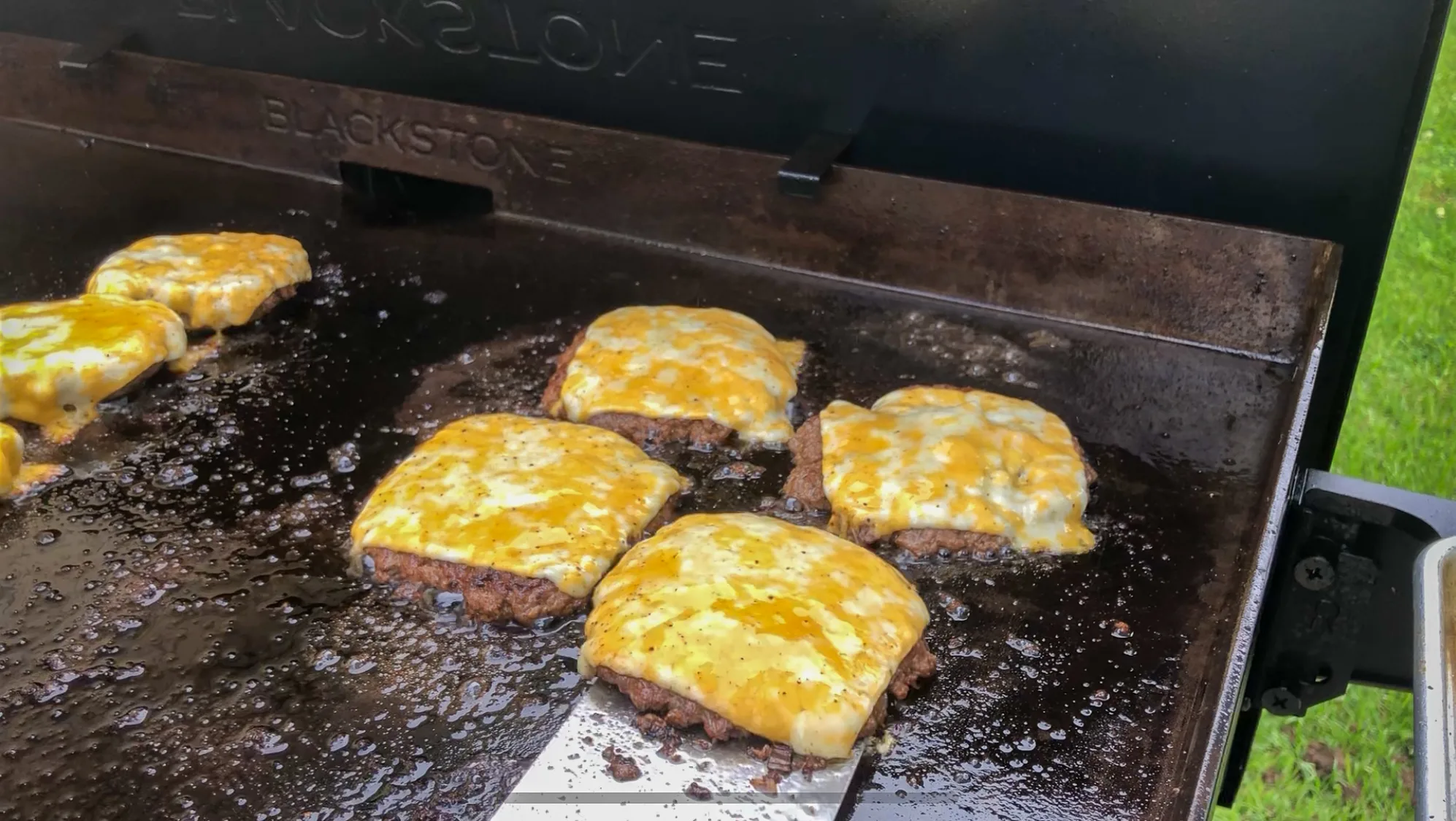 Top with your favorite burger toppings. For me, I love grilled onions, fresh lettuce, and juicy, ripe tomatoes. A little squeeze of mustard for tang and then I serve it alongside my homemade French fries and those delicious Tik Tok Ranch Pickles.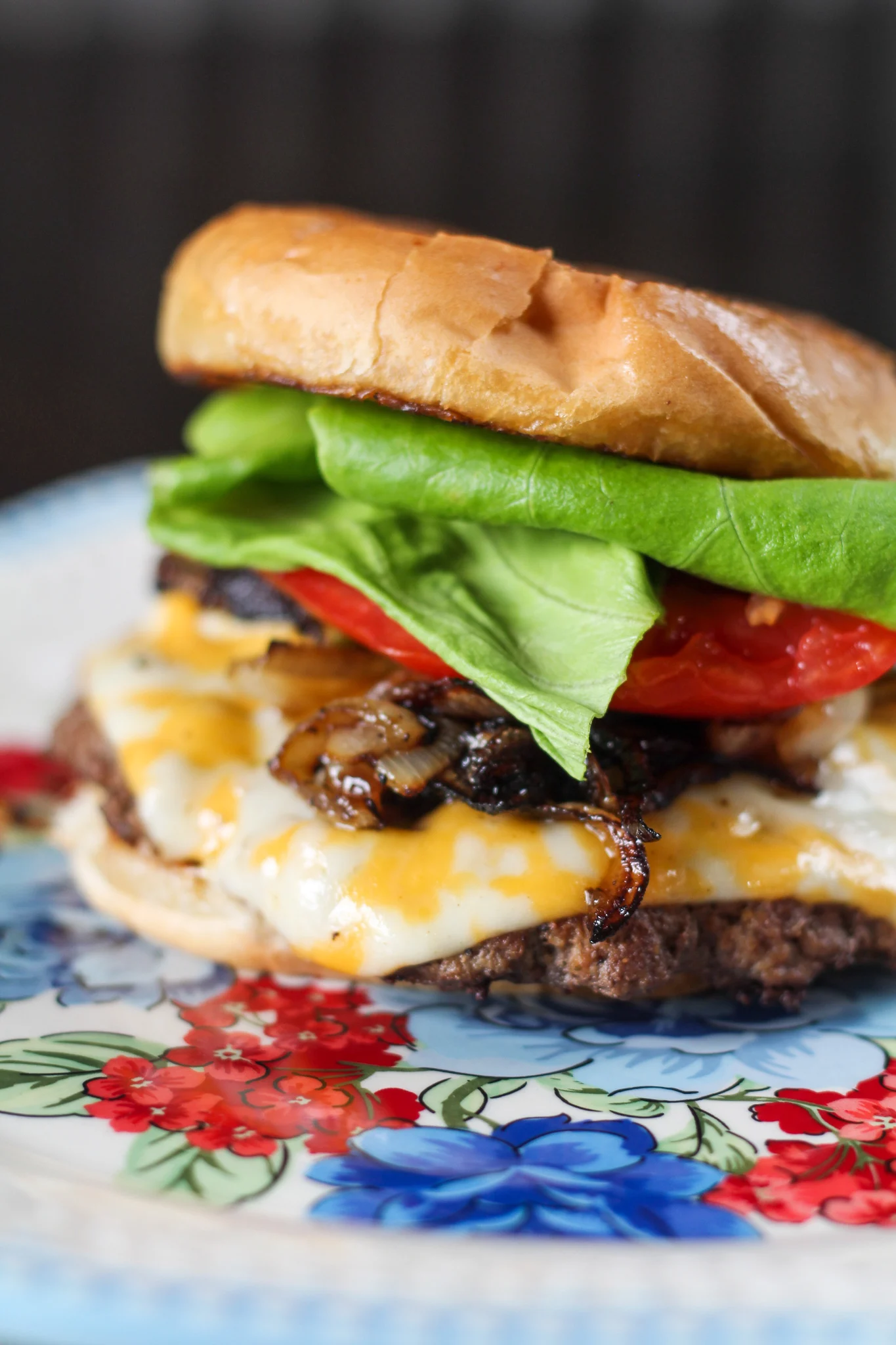 Check Out These Other Burgers and Sandwich Recipes
Yield: 6 Burgers
Blackstone Smashburgers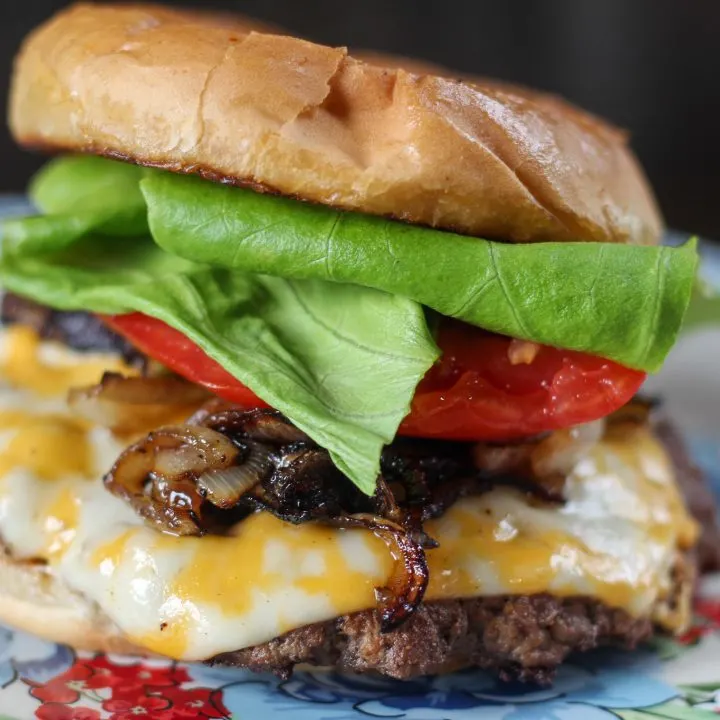 These Blackstone Smashburgers are full of flavor and are absolutely delicious!
Ingredients
3 pounds of 80/20 Ground Chuck
Lemon Pepper Seasoning
Garlic Salt Seasoning
Oil for the grill
Cheese slices
Hamburger buns
3 tablespoons of butter, melted, for the buns
1 onion, sliced
Wax paper or parchment paper squares
Hamburger press or Cast Iron pan
Instructions
Heat the Blackstone Griddle on high for 3 of the burners. Leave the left side on low for your buns.
Take about 1/4 cup of oil and drizzle on the Blackstone. Spread it out with the spatula.
Roll your hamburger meat into balls, about 2-3" in diameter. Set them aside
Once the grill is heated and ready to go, place the hamburger balls on the grill. Be sure to leave space in between them.
Place the parchment paper squares on top and then using the hamburger press or cast iron skillet, smash the burgers until they are completely flat.
Remove the parchment paper squares. Season liberally with lemon pepper and garlic salt. Let the burgers cook for 5-6 minutes.
While the burgers are cooking, butter the buns and place them face down on the grill. Be sure to watch them so that they do not burn.
Once the buns are toasted, remove them from the griddle and set them aside.
Throw your onions on the griddle and allow them to cook until they are caramelized in color.
Check the burgers. If they are crispy and brown on one side, time to flip them to the other side. Let them cook for 3-4 minutes longer.
Place cheese on top of each patty.
Drizzle a little water in between the patties to create steam and place your dome on top. If you do not have a dome, it's okay. It will just take a little bit longer to melt the cheese.
Remove the burgers and place them on the bun bottoms.
Remove the onions from the grill if you have not already.
Top burgers with all your favorite burger toppings! Enjoy!
Nutrition Information:
Yield:
6
Serving Size:
1
Amount Per Serving:
Calories:

281
Total Fat:

18g
Saturated Fat:

8g
Trans Fat:

0g
Unsaturated Fat:

8g
Cholesterol:

57mg
Sodium:

465mg
Carbohydrates:

16g
Fiber:

1g
Sugar:

2g
Protein:

14g