I have been on a shrimp kick lately. Every time we go out to eat, I get this delicious grilled shrimp that has a slight kick to it, and it is served with this yummy parsley garlic butter and a slice of lemon. It is like heaven on a plate.
Since eating this, I have been on the hunt for that same recipe — so here is my version of Grilled Cajun Shrimp. I hope you love it as much as I do!
Grilled Cajun Shrimp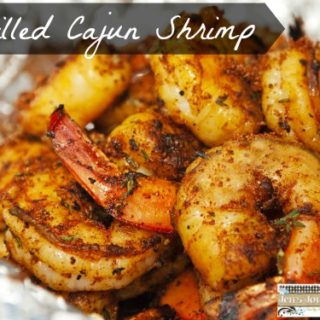 Ingredients
Cajun Shrimp
1 lb. medium shrimp, peeled and deveined
2 tsp garlic powder
2 tsp onion powder
1/2 tsp cayenne pepper
1 tsp chili powder
1 tsp paprika
2 tsp dried oregano
1 tsp thyme
Salt and pepper, for taste
1 lemon cut into wedges
Canola oil, to keep from sticking to grill
Chipotle Mayo
1 cup mayonnaise
3 canned chipotles in adobo sauce
1 Tbsp adobo sauce
Juice from half a lime
Instructions
Cajun Shrimp
Heat grill. In a small bowl, mix the garlic powder, onion powder, cayenne, chili powder, paprika, oregano and thyme.
Placed peeled and deveined shrimp on skewers. Spray with the canola oil and sprinkle the shrimp with salt, pepper and mixed dried seasonings. Grill for 5 to 6 minutes, rotating halfway through.
Squeeze the lemon wedges onto the finished shrimp.
Chipotle Mayo
Finely chop the chipotles, then whisk all ingredients together in a small bowl. Refrigerate for at least 30 minutes before using.
This is delicious served on a bed of seasoned rice and then drizzled with this delicious garlic butter.
To make the butter
Melt 3 tablespoons of butter. Sprinkle in a 1/4 teaspoon of parsley and then 1/8 teaspoon of garlic powder.  Add in the juice of 1/4 of a lemon and season with a pinch of salt and pepper. Serve alongside the shrimp.
Since grilling season is here — this would make the perfect late night dinner!