Grilled Cajun Shrimp is a quick and easy dinner idea. This shrimp is perfect by itself, or on top of a bed of rice, or as a salad.
I have been on a shrimp kick lately. Every time we go out to eat, I get this delicious grilled shrimp that has a slight kick to it, and it is served with this yummy parsley garlic butter and a slice of lemon. It is like heaven on a plate.
Since eating this, I have been on the hunt for that same recipe — so here is my version of Grilled Cajun Shrimp. I hope you love it as much as I do!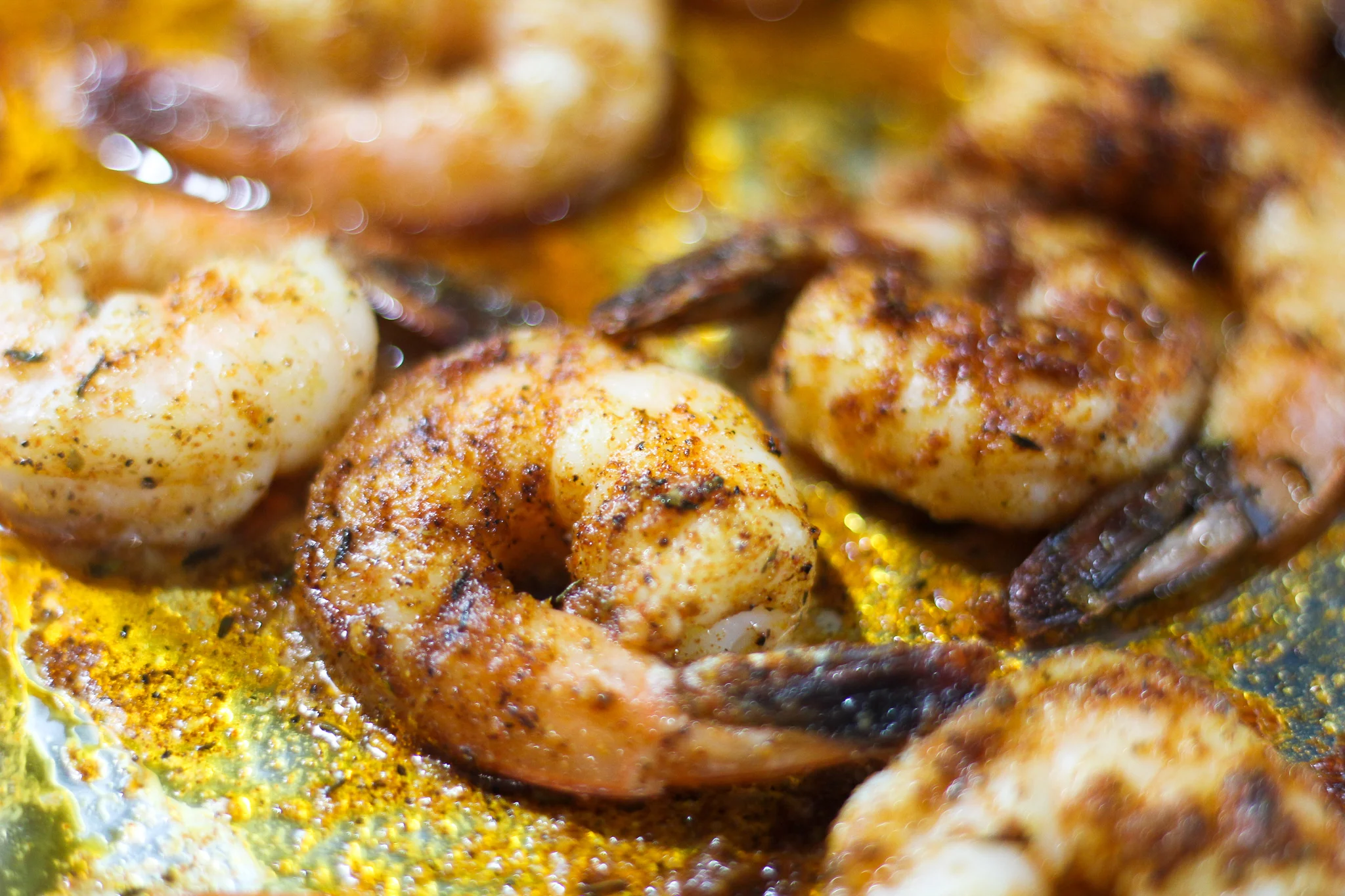 This post was originally published on May 20, 2014 and has been recently updated with new instructions and new photos.
How to Make Grilled Cajun Shrimp
This recipe is simple and easy to make. I love it because I use my Emeril Essence Seasoning, which has the perfect blend of cajun spices.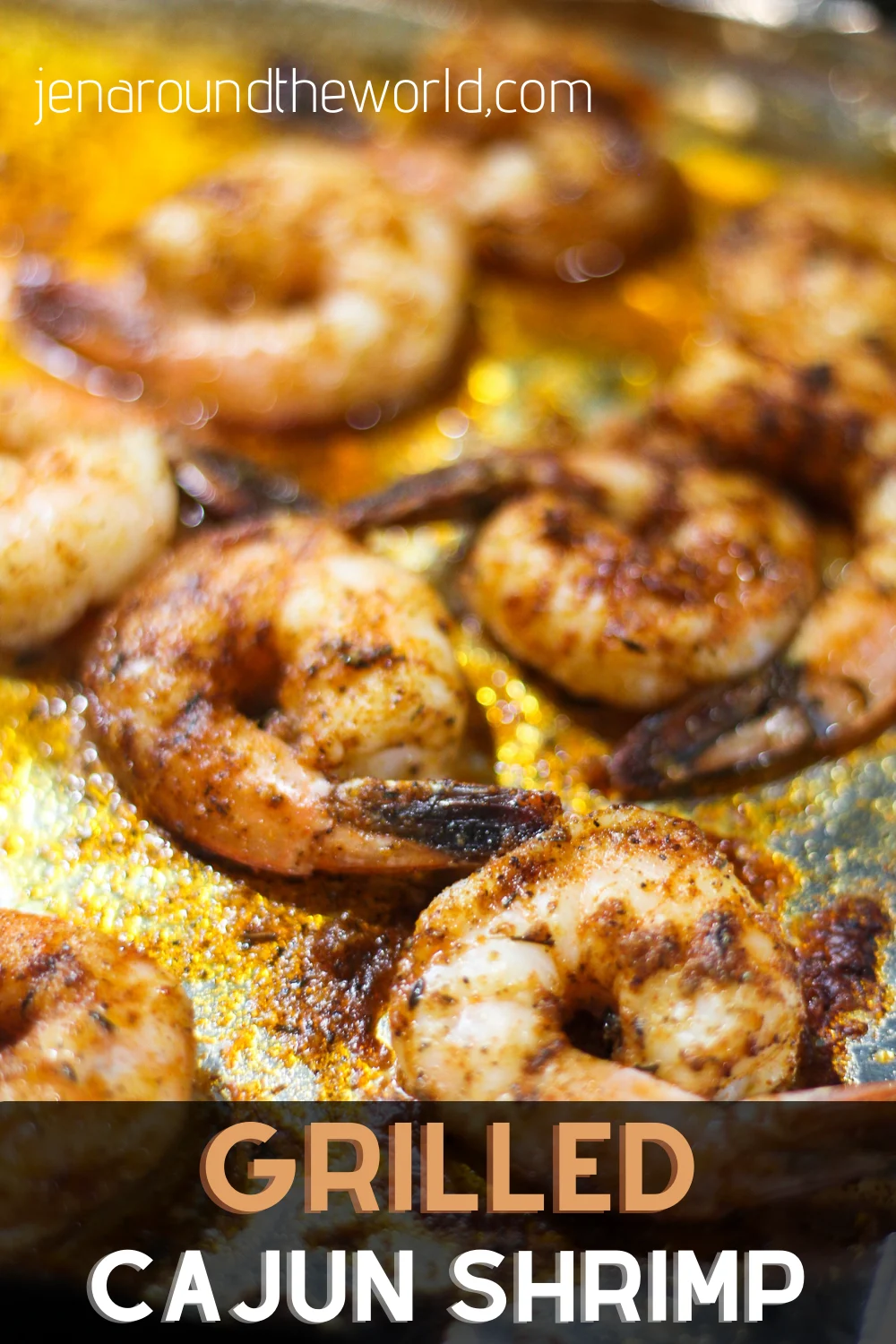 If you are not into grilling, you can also bake this shrimp in the oven. 350 degrees for about 9-13 minutes and you will have the perfect batch of tender shrimp.
This is delicious served on a bed of seasoned rice and then drizzled with an herb flavored garlic butter.
You can use fresh or frozen shrimp for this recipe; you can go with any type of shrimp – brown or white – depending upon your preferences as well.
If you get fresh, make sure that the poop sack has been removed. You can ask your butcher to do this if you are not comfortable doing it.
You just have to butterfly the back of the shrimp and then pull out the little black vein in the back. Once you do, drizzle the shrimp with olive oil.
Then, season liberally with the cajun seasoning.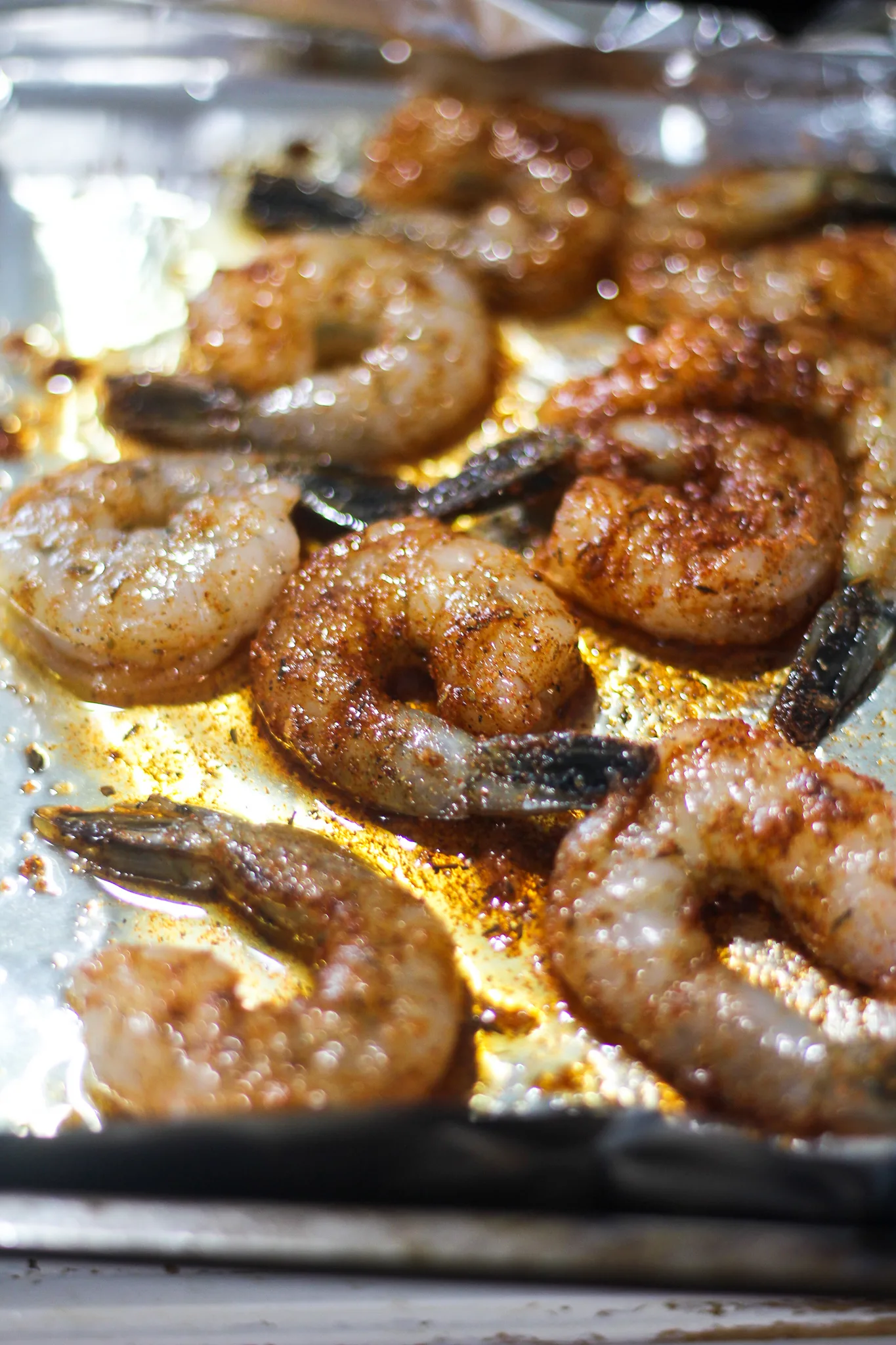 To make sure you don't lose any shrimp, place them on skewers before grilling. It is easier to flip 5 shrimp on a skewer than to try and flip them one at a time.
To make the garlic butter
Melt 3 tablespoons of butter. Sprinkle in a 1/4 teaspoon of fresh minced parsley and then 1/8 teaspoon of garlic powder. Add in the juice of 1/4 of a lemon and season with a pinch of salt and pepper. Serve alongside the shrimp.
Since grilling season is here — this would make the perfect late night dinner!
For more shrimp recipes, check these out
Garlic Shrimp with Blistered Tomatoes
Yield: 6 servings
Grilled Cajun Shrimp
This easy-grilled shrimp recipe will become the family's favorite new dish. The cajun spices really bump up the flavor.
Ingredients
1 lb. medium shrimp, peeled and deveined
2 tsp garlic powder
2 tsp onion powder
1/2 tsp cayenne pepper
1 tsp chili powder
1 tsp paprika
2 tsp dried oregano
1 tsp dried thyme
Salt and pepper, for taste
1 lemon cut into wedges
Canola oil, to keep the shrimp from sticking to the grill
For the garlic butter
3 tablespoons of butter
1/4 teaspoon of fresh minced parsley
1/4 teaspoon of garlic powder
1/2 lemon juiced
Instructions
Heat grill. In a small bowl, mix the garlic powder, onion powder, cayenne, chili powder, paprika, oregano, and thyme.
Placed peeled and deveined shrimp on skewers. Spray with the canola oil and sprinkle the shrimp with the cajun seasoning mix.
Grill for 5 to 6 minutes, flipping halfway through.
Squeeze the lemon wedges onto the finished shrimp.
Garlic Butter
Mix all the ingredients together and use as a dipping sauce for your shrimp.
Notes
You can make this in the oven as well. Line a sheet pan with aluminum foil. Once seasoned, bake in a 350-degree oven for 9-13 minutes.
Nutrition Information:
Yield:
6
Serving Size:
1
Amount Per Serving:
Calories:

179
Total Fat:

10g
Saturated Fat:

4g
Trans Fat:

0g
Unsaturated Fat:

5g
Cholesterol:

177mg
Sodium:

834mg
Carbohydrates:

5g
Fiber:

1g
Sugar:

1g
Protein:

18g