Homemade French fries, in my book, are so much better than those from the frozen food section at the grocery store. Read on to learn how to make the crispiest and tastiest French fries ever.
A few years ago when I started really learning how to cook, I decided to try my hand at making French fries. I had eaten at a couple of restaurants that served fresh cut fries, and I really LOVED how good they tasted.
So today, I thought I would share with you two ways I make homemade French fries. First, is the longer version that will ensure a super crisp French fry. The other way, is a super quick way and produces delicious French fries as well. These are just not as crisp.
It's no secret around here that we LOVE potatoes of any kind. These Paula Deen Grilled Potatoes have been one of my favorite recipes by far. When I want a potato with a kick, I choose my Spicy Oven Potato Wedges.
When I am craving nachos, I make a batch of these Irish Pub Potato Nachos. And nothing beats my homemade baked potato skins.
How to Make Homemade French Fries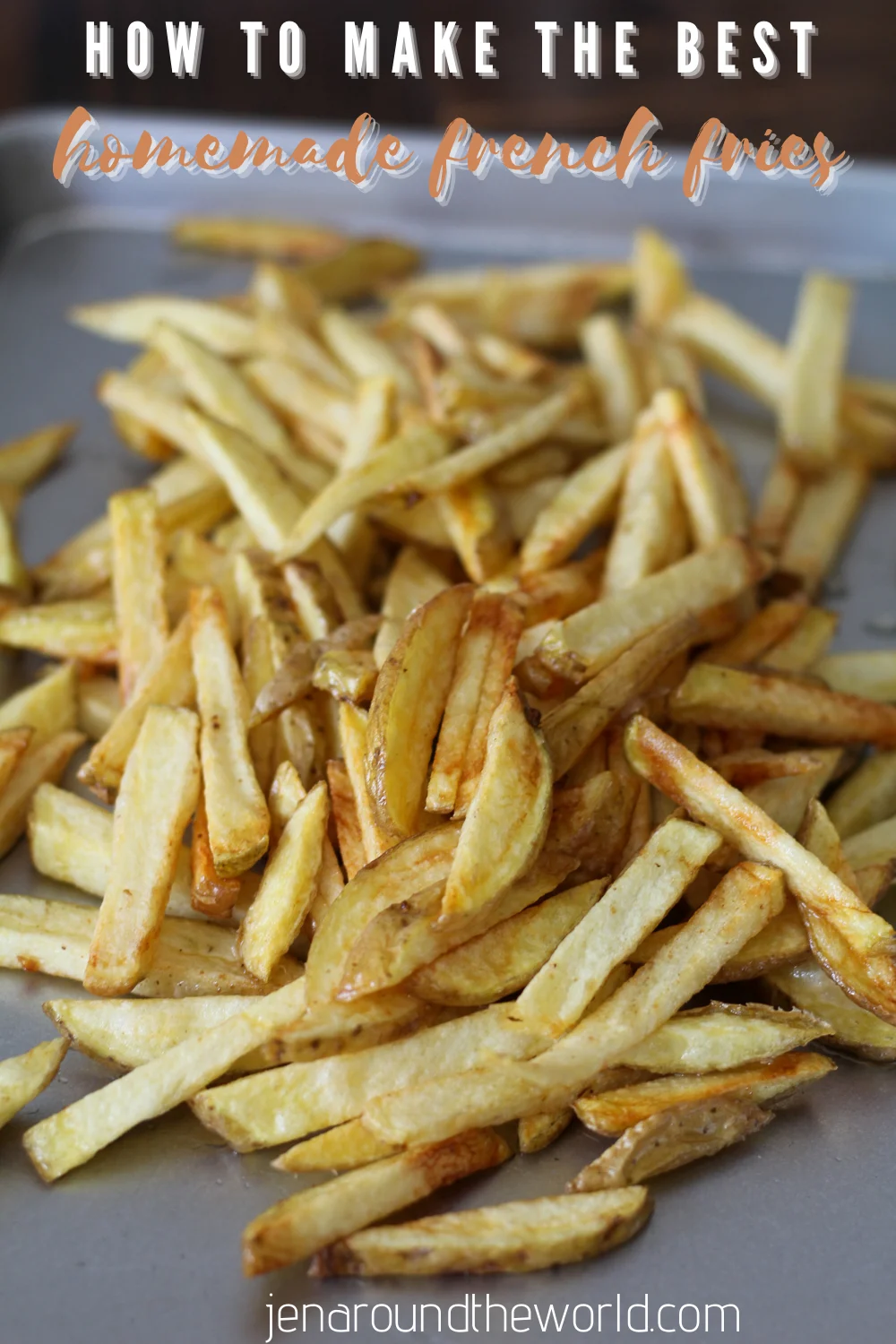 The secret to making super crispy French fries is moisture removal and and starch removal. So how do you accomplish that?
For starch removal, you have to soak the fries in water for about an hour. Then, if you want to remove the moisture from the potato, simply fry them twice.
When you do this, you will one of the best tasting French fries ON THE PLANET.
However, if you are short on time and cannot do all of that, it is fine and you can still make great tasting French fries.
First, slice your potatoes. Then, cut those slices into stick. You can make super skinny French fries, or you can make steak fries. The size is all up to you.
What type of potato should I use?
For the best kind of French fry, Russet potatoes are the best. However, I also like new potatoes as French fries. The Russet potatoes have less moisture in them, so they will make the crispiest fries.
A lot of people don't like using new potatoes, but to me, I love the creamy texture on the inside. I also like using Yukon Gold potatoes as well.
Can I make ahead and freeze my fries?
The answer to that is yes!
Soak the fries as instructed, and then dry them completely. Fry them in batches at 360° for 5 minutes.
Now, place them on a paper towel and pat them dry. Let them completely cool. Transfer the fries to a cookie sheet making sure the fries are in a single layer and flash freeze them for an hour.
Transfer to them to a freezer bag and freeze them for up to 3 months.
When ready to serve, remove them from the freezer and fry them in batches at 400°until golden brown, about 5 minutes.
Transfer to paper towels and season them immediately. I like to season mine with my Paula Deen House Seasoning.
Serve Your French Fries With These Homemade Sauces
Fry Sauce
Homemade ketchup
Supplies You Might Want for the Perfect French Fries
To make sure that you make the best French fries, here are a few things you might want to have on hand —
Yield: 12 servings
How to Make Homemade French Fries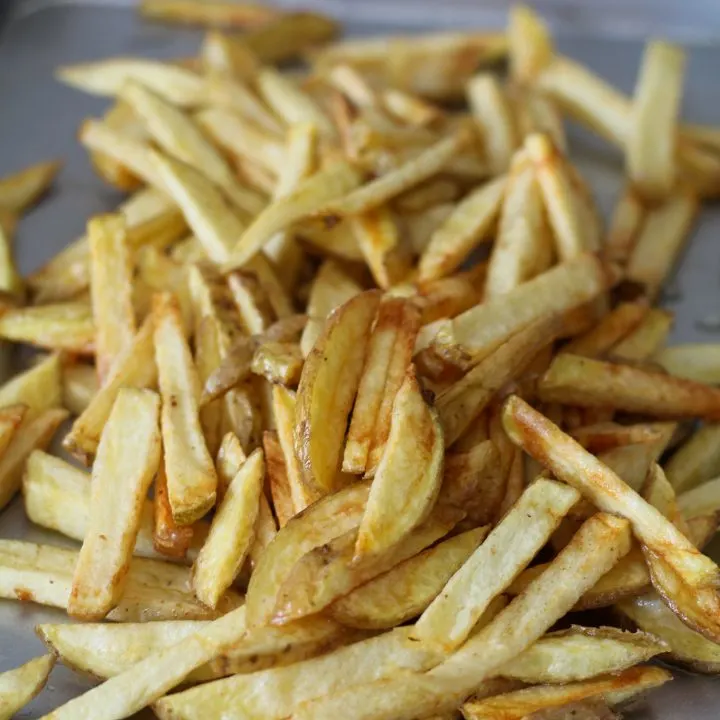 Learn the secret to making the best homemade french fries right at home! These are easy to make ahead of time and fry for the perfect side dish.
Ingredients
6 large russet potatoes, rinsed
2 quarts vegetable oil, or any clear oil you want to use such as canola or peanut oil
Salt or seasoning of choice
Instructions
Slice the potatoes into ½ inch thick sticks. You can also use a french fry cutter which makes it a lot easier and quicker.
Soak the potato slices in cold water for one hour. You can let them soak overnight. The longer they soak, the crispier they will be. ,
Rinse the fries under the cold water two times. This is to ensure you remove any starch from the water bath they were in.
Lay the fries on paper towels or a clean dishcloth and pat them as dry as possible. Remember -- water and oil do not mix so make sure to get them as dry as possible.
Heat oil in a deep-fryer or Dutch oven to 300 degrees F. Be sure to fry in small batches so you do not overcrowd the potatoes.
Use a spider (aka slotted spoon) to add the potatoes to the oil (if you are using a Dutch Oven). If you are using a deep fryer, place the fries in the fry basket and fry for about 5-6 minutes.
Place the cooked potatoes on a paper towel-lined plate and fry the rest of the remaining batches.
Now, increase the heat to 400 degrees F and fry each batch a second time until they are crisp and golden-brown, about 5 minutes or so.
Remove them and place them on dry paper towels. Sprinkle with salt or your favorite seasoning as soon as they come out.
Serve with your favorite dipping sauce.
Nutrition Information:
Yield:
20
Serving Size:
1
Amount Per Serving:
Calories:

867
Total Fat:

88g
Saturated Fat:

7g
Trans Fat:

2g
Unsaturated Fat:

78g
Cholesterol:

0mg
Sodium:

61mg
Carbohydrates:

19g
Fiber:

2g
Sugar:

1g
Protein:

2g