When the store has a cut of meat on the manager's special for $2.98, you buy it and come up with a delicious recipe like my Brown Sugar Glazed Pork Tenderloin.
The other day at the grocery store, I ran upon an amazing sale on 5-pound pork loins. The manager's special was for $2.98! I grabbed one and headed home to make the most amazing meal I have made in a very long time.
The marrying of stone ground mustard and brown sugar make for the most delicious flavors on top of this juicy tender pork loin.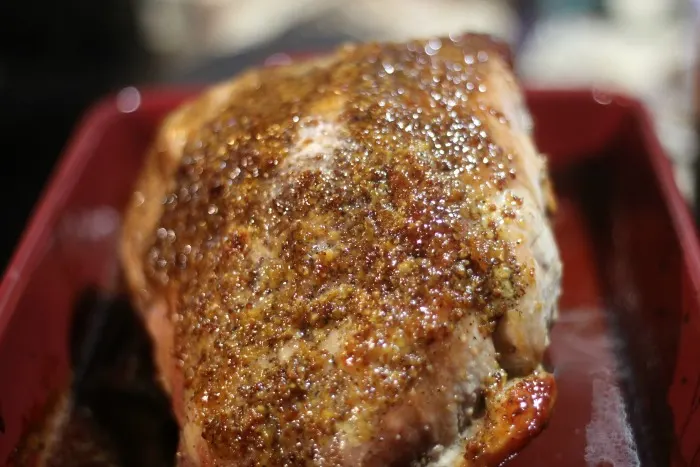 How to Make Brown Sugar Glazed Pork Tenderloin
First — preheat your oven to 425 degrees. Generously salt and pepper your pork loin and bake in the oven for 30 minutes.
When it comes out, rub 1 cup of stone ground mustard all over.
Now top with 2 cups of brown sugar.
Yes — this sounds like a lot, but what you are doing is creating a delicious crust and a sauce all at the same time. Turn oven down to 375 degrees and bake until the internal temperature reaches 150. If you like super well-done pork loin, your internal temperature should read 160 degrees.
Remove from the oven and let it rest for about 20 minutes to let the juices redistribute before you slice into it. When you do, it is the most delicious flavor you will have put in your mouth in a very long time!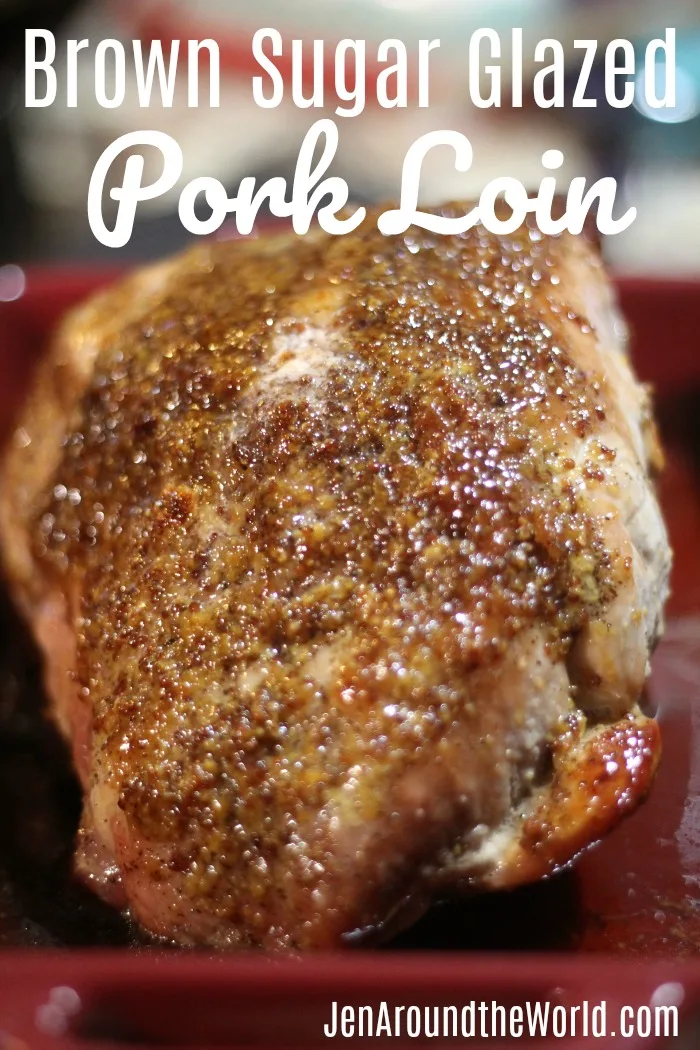 For more delicious dinner ideas give these a try
Yield: 6 servings
Brown Sugar Glazed Pork Loin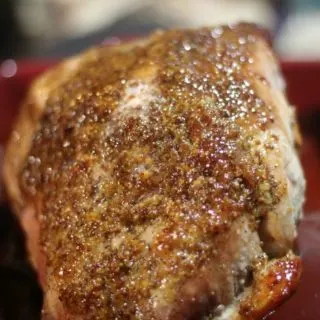 Delicious dinner idea! Huge pork loin flavored with brown sugar.
Ingredients
1 3-5 lb. pork tenderloin (or
Kosher sea salt
Ground black pepper
Whole grain mustard
Brown sugar
Instructions
Preheat oven to 425 degrees. Line a roasting pan with foil, then place a roasting rack over top.
Carefully trim excess fat from the tenderloin, if necessary. Season with salt, pepper and paprika. Place on the rack and bake for 30 minutes.
Remove the tenderloin from the oven and brush the sides and top with the mustard, then gently press the brown sugar into the mustard. Reduce oven heat to 375 degrees.
Return to the oven and bake for 15-20 minutes (maybe more depending on the size of the tenderloin) or until it reaches an internal temperature of 150 degrees. Remove from the oven and baste with the drippings. Cover with foil and allow to rest for 10 minutes before cutting and serving.
Nutrition Information:
Yield:
20
Serving Size:
1
Amount Per Serving:
Calories:

501
Total Fat:

13g
Saturated Fat:

5g
Trans Fat:

0g
Unsaturated Fat:

7g
Cholesterol:

248mg
Sodium:

226mg
Carbohydrates:

0g
Fiber:

0g
Sugar:

0g
Protein:

89g