This recipe for Margherita Pizza is absolutely delicious. Read on to see how you can make this as well.
One of my absolute favorite pizzas of all times is a Marcherita Pizza. I am not a big fan of red sauce, so anytime I can make one without the red sauce, I am all about it.
For this you can use pre-made pizza dough that you can get at the store in the refrigerated section (you'll find them over by the biscuits) — or you can buy pre-made crusts (that you will find in the pizza sauce aisle). For me, I used my homemade pizza crust. It whips up in less than 10 minutes and can be frozen until you are ready to use them.
First you are going to preheat your oven to 400 degrees. Then, drizzle olive oil over the pizza crust. Use a brush to spread it around and make sure to get it all the way to the crust!
Next, you are going to add chopped garlic all over the crust. Trust me 🙂 This will make this pizza simply over the top.
Now you are going to sprinkle mozzarella cheese all over the pizza crust. The cheese and the olive oil kind of create a sauce all on its own.
Then, top it with sliced whole tomatoes or you can use sliced cherry tomatoes like I did. I added cooked chicken breast as well to mine because I wanted a little protein.
The last step is to add fresh basil and then bake in the oven for about 10-15 minutes until you get the desired crispness and doneness you are looking for.
At the end once it comes out of the oven you can sprinkle with Parmesan Cheese and a little crushed red pepper for the perfect bite of pizza.
Chicken Margherita Pizza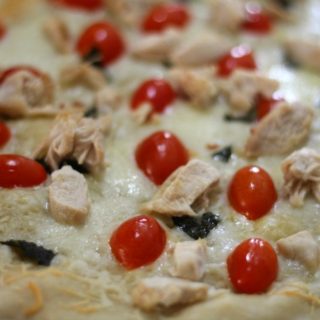 Ingredients
12 inches thin pizza crust
1 tablespoon extra virgin olive oil
2 garlic cloves, finely chopped
3 -4 large basil leaves, cut into strips
2 small tomatoes, cut thinly
4 ounces mozzarella cheese, shredded
2 tablespoons parmesan cheese
salt and pepper, to taste
Instructions
Preheat the oven to 450°F.
Drizzle the olive oil over the pizza shell. Use a brush to spread it around and make sure to get the crust!
Next, disperse the finely chopped garlic evenly.
Spread the mozzarella cheese throughout the top, but keep it thin.
Place the thinly sliced tomatoes across the entire pizza.
Lightly salt and pepper the tomatoes with the kosher salt.
Spread the fresh basil leaves, making sure to get some on tomatoes and on just the cheese itself.
Cook the pizza in the oven for about 9-10 minutes, or until sufficiently crispy and melted to your liking.
Add a little Parmesan cheese and (optional) crushed red pepper and enjoy!
I love making homemade pizzas from scratch. Be sure to click here to see all my versions of pizza!