Love sushi but don't know how to make it? This California Roll Sushi Bowl will help you achieve that same effect for sushi without having to roll any rolls.
It is simple and easy to make and topped with black sesame seeds and spicy mayo. This Asian-inspired dish is great for dinners or lunch.
If you like sushi bowls, you should also try our yummy 3 ingredients eel sauce for sushi, and my easy tempura sushi roll.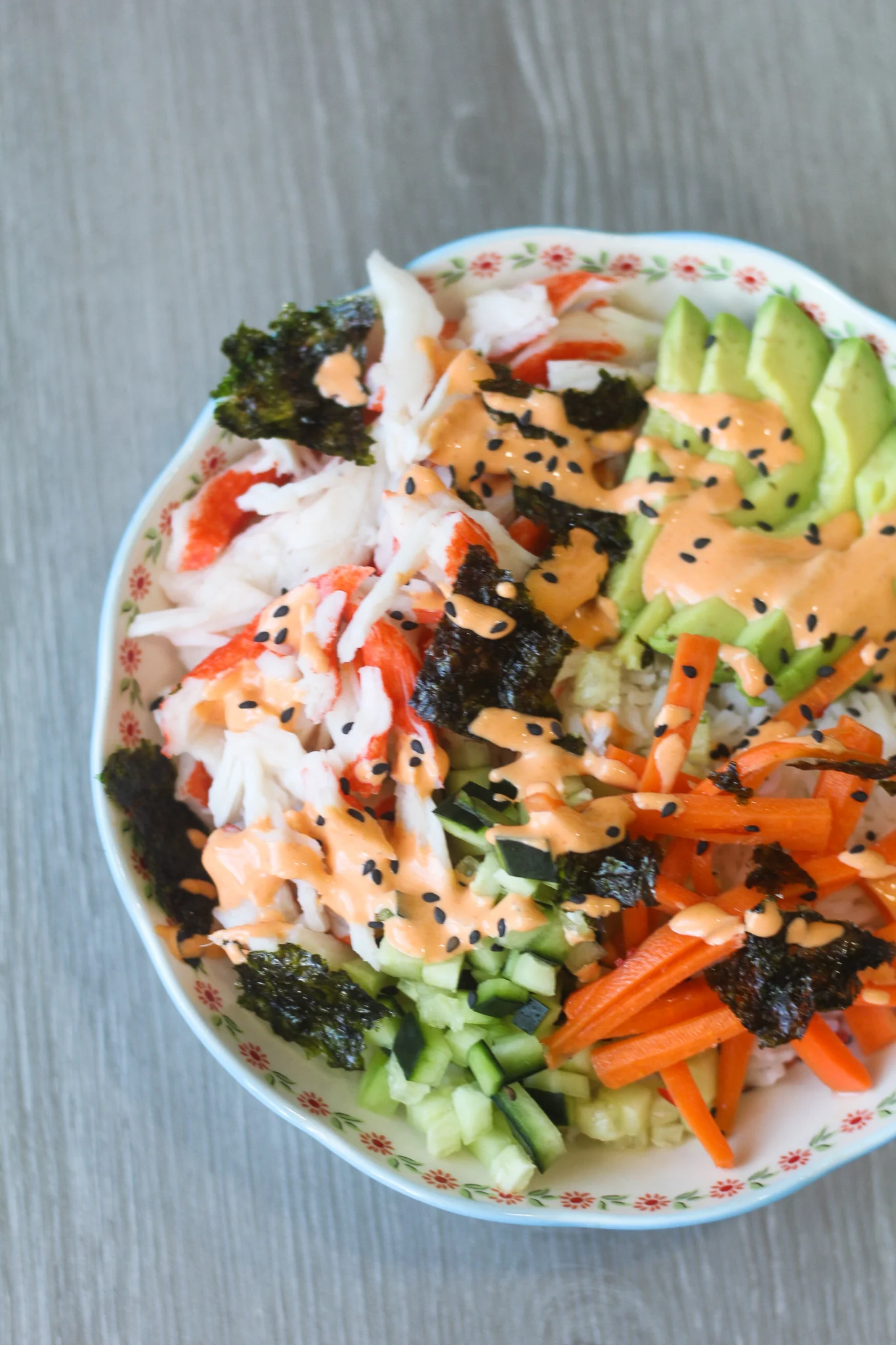 What is a Sushi Bowl?
California Roll Sushi Bowls are healthy and so delicious. It is a lot of flavors and textures going on together.
These bowls are deconstructed sushi rolls, served over sushi rice, and then topped with some crab meat, and fresh vegetables. I love the crunchy cucumber with the tender crab and creamy avocado. Then simply drizzle on the spicy mayo, and add some pieces of nori sheets for the most amazing meal ever.
What Ingredients are in a California Roll?
seasoned sushi rice (which really is so easy to make by the way)
avocados
cucumbers
crab meat (real or imitation either works)
pickledcarrots
nori (which is the sewaweed sheets that sushi is wrapped in)
black sesame seeds
spicy sriracha mayo
This sushi roll bowl is the perfect dinner or lunch idea. The pickled carrots really took it over the top for me. I like to serve mine with a side of soy sauce, wasabi, and pickled ginger.
If the spicy mayo is not up to your standards for a dipping sauce, you can try one of these other best dipping sauces found here.
If you want to learn how to make sushi, then this article with everything you need to know to make sushi at home will help.
Yield: 2 bowls
California Roll Sushi Bowl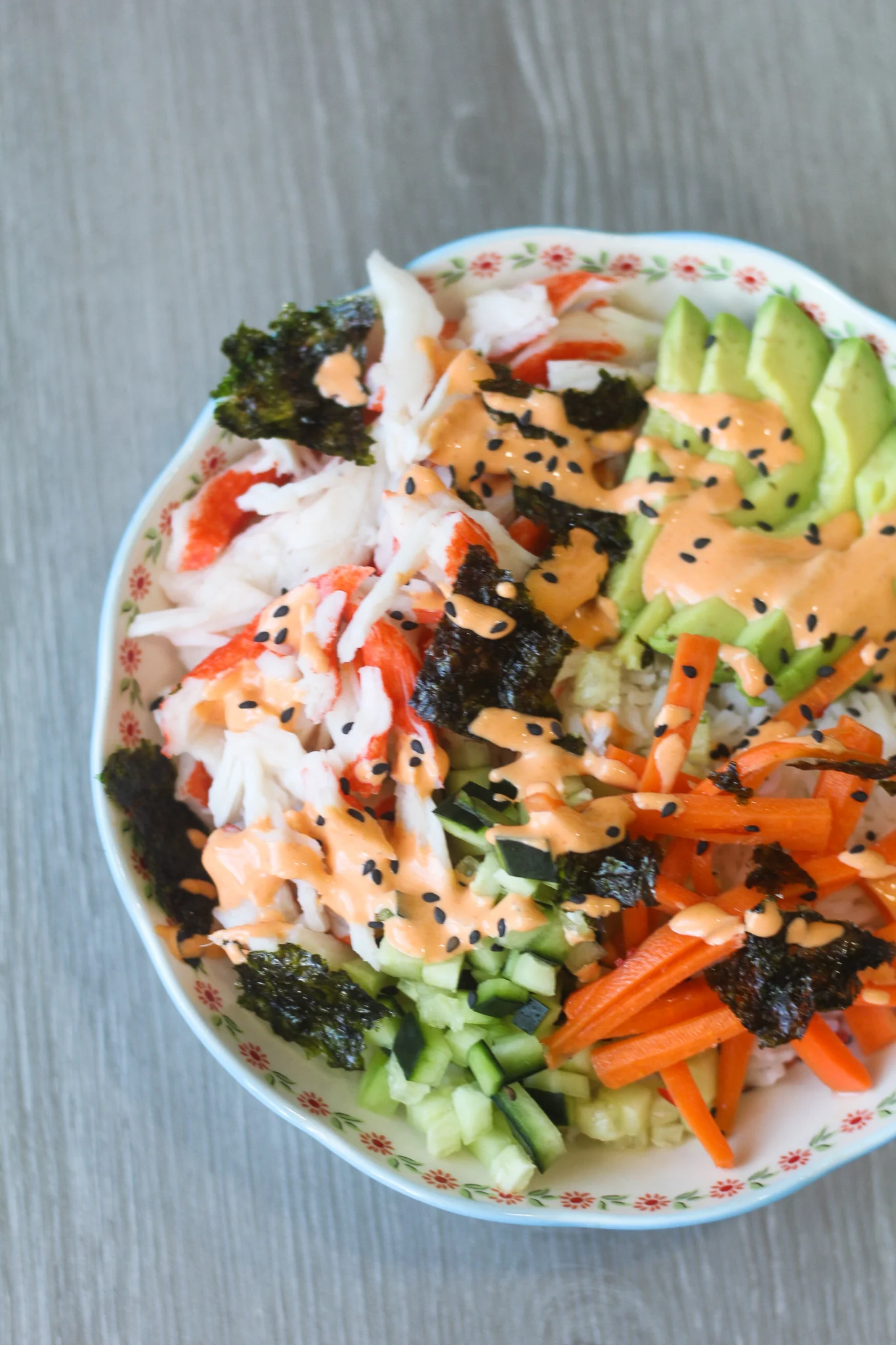 The seasoned sushi recipe is layered together with crab, nori, fresh veggies, and spicy mayo for one crave-able bowl you'll want to make again and again!
Ingredients
2 cups Rice -- I used regular short grain rice
5 Tbsp rice vinegar , divided
2 Tbsp granulated sugar
1/2 tsp salt
1/4 cup low-sodium soy sauce
10 oz imitation crab or lump crabmeat , torn or chopped into small bite size pieces
1 1/2 cups diced English cucumber
3/4 cup roughly chopped matchstick carrots
1 nori sheet , chopped or crumbled into small pieces
1 large avocado , peeled and diced
Black and toasted sesame seeds , for garnish
wasabi and pickled ginger for garnish
For the Spicy Mayo
1/4 cup mayonnaise
1 1/2 Tbsp sriracha
Instructions
Place rice in a fine-mesh strainer and rinse under cold water until water runs clear. Tap the strainer until water no longer falls from the strainer.
Transfer the rice to a medium saucepan along with 2 1/4 cups of water. Bring mixture to a full boil then reduce heat to low, cover with a lid, and simmer for 15 minutes. Remove from heat, keep covered, and let rest for 15 minutes.
Meanwhile, in a small saucepan combine 4 Tbsp of the vinegar with the sugar and salt. Heat over medium heat, cook and whisk until sugar has dissolved. Remove from heat, let cool while rice is resting then pour vinegar mixture over rice and toss to evenly coat.
In a small mixing bowl whisk together mayonnaise with sriracha. Thin with 1 1/2 tsp of water if desired. Transfer to a sandwich-size resealable bag. Set aside.
In a small mixing bowl whisk together soy sauce and the remaining 1 Tbsp vinegar, and set aside.
Place a little rice in each bowl and top with the veggies and then crumble the crab and place on the bowl. Sprinkle on the crushed nori sheet.
Spoon soy sauce mixture over top of each serving. Cut a small tip from one corner of the resealable bag holding the sriracha mixture, and drizzle over each serving.
Sprinkle on sesame seeds. Serve immediately.
Nutrition Information:
Yield:
4
Serving Size:
1
Amount Per Serving:
Calories:

545
Total Fat:

23g
Saturated Fat:

4g
Trans Fat:

0g
Unsaturated Fat:

18g
Cholesterol:

49mg
Sodium:

1847mg
Carbohydrates:

67g
Fiber:

7g
Sugar:

16g
Protein:

19g