Yesterday I showed you how easy it was to make Eel Sauce from scratch. Today — I am going to show you how you can make your very own Sushi Rice — right in the comfort of your own home.
Honestly — making this rice could not be any easier. This is literally the longest part about making your own homemade sushi.
First you have to start with short grain or sushi rice. Cook it according to the package directions and then mix in your rice vinegar, sugar and salt and then let it cool down. What you are left with is this delicious sticky rice that is perfect for sushi making.
How to Make Your Very Own Sushi Rice at Home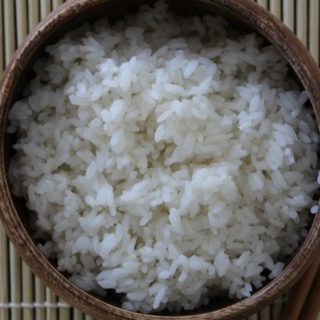 Ingredients
2 cups sushi or short grain rice
2 cups water, plus extra for rinsing rice
2 tablespoons rice vinegar
2 tablespoons sugar
1 tablespoon kosher salt
Instructions
Place the rice into a strainer and pour running water, over it until the water is clear.
Place the rice and 2 cups of water into a medium saucepan and place over high heat. Bring to a boil, uncovered. Once it begins to boil, reduce the heat to the lowest setting and cover. Cook for 15 minutes. Remove from the heat and let stand, covered, for 10 minutes.
Combine the rice vinegar, sugar and salt in a small bowl and heat in the microwave on high for 30 to 45 seconds. Transfer the rice into a large wooden or glass mixing bowl and add the vinegar mixture. Fold thoroughly to combine and coat each grain of rice with the mixture. Allow to cool to room temperature before using to make sushi
Tomorrow I will share with you my step by step process to making THE best sushi you will ever put in your mouth!