Making your own sushi rice at home is simple and easy. This step by step recipe will have you on the way to make delicious sushi recipes at home.
Yesterday I showed you how easy it was to make Eel Sauce from scratch. Today — I am going to show you how you can make your very own Sushi Rice — right in the comfort of your own home.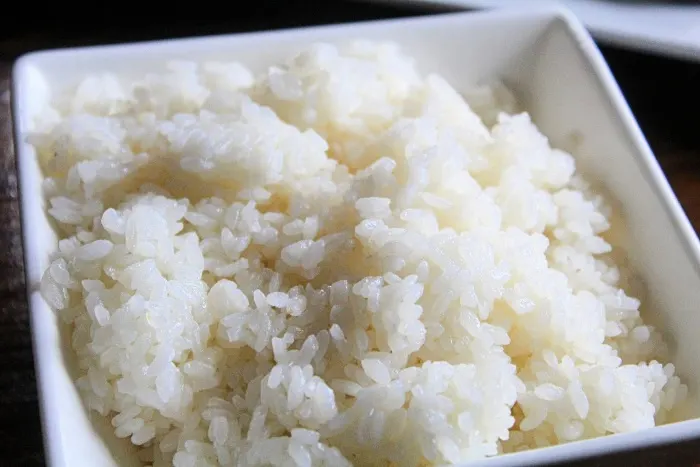 Honestly — making this rice could not be any easier. This is literally the longest part about making your own homemade sushi.
Of course, you can visit this page that has everything you need to know about making sushi at home. It has recipes listed, equipment, and more.
Every post on my site that has sushi recipes can be found here.
How to Make Sushi Rice at Home
First, you have to start with short-grain or sushi rice. I like to buy mine on Amazon. It's super affordable and gets shipped right to your door.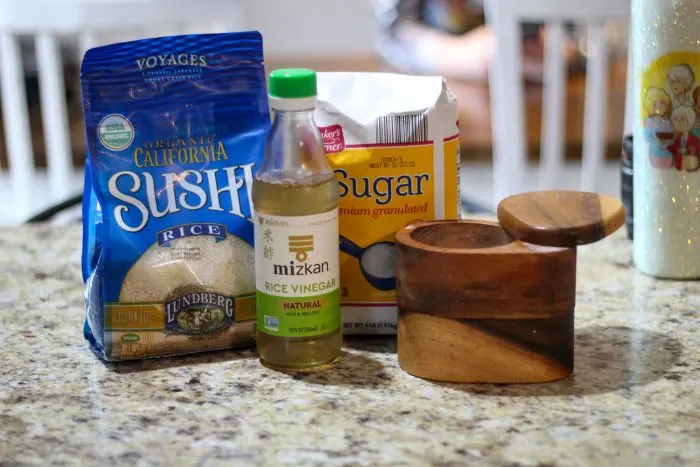 Cook it according to the package directions and then mix in your rice vinegar, sugar and salt and then let it cool down. What you are left with is this delicious sticky rice that is perfect for sushi making.
You can choose to make your sushi on the stove or check this post out to choose the best sushi rice cooker.
Can I Use White Rice in Place of Sushi Rice?
Most white rice is long grain rice. All sushi rice is short-grain rice. Sometimes called Pearl rice, Glutinous rice or Japanese rice, Sushi rice is the most important ingredient in your sushi.
If you are trying to use white rice, it might not have the same effect as the sushi rice so I would say no, you probably can't
Can I Cool My Rice in the Fridge So I can Use it Faster?
Do not put warm sushi rice into the fridge to cool down as this will negatively affect both its taste and texture. Rather, 'fan' the rice or allow it to cool naturally.

Once you get your sushi rice cooked, making delicious sushi recipes at home is simple and easy. This post has over 20 easy sushi recipes you can check out.
Of course, you are going to need a good sauce to go with it and my eel sauce is the perfect match for homemade sushi.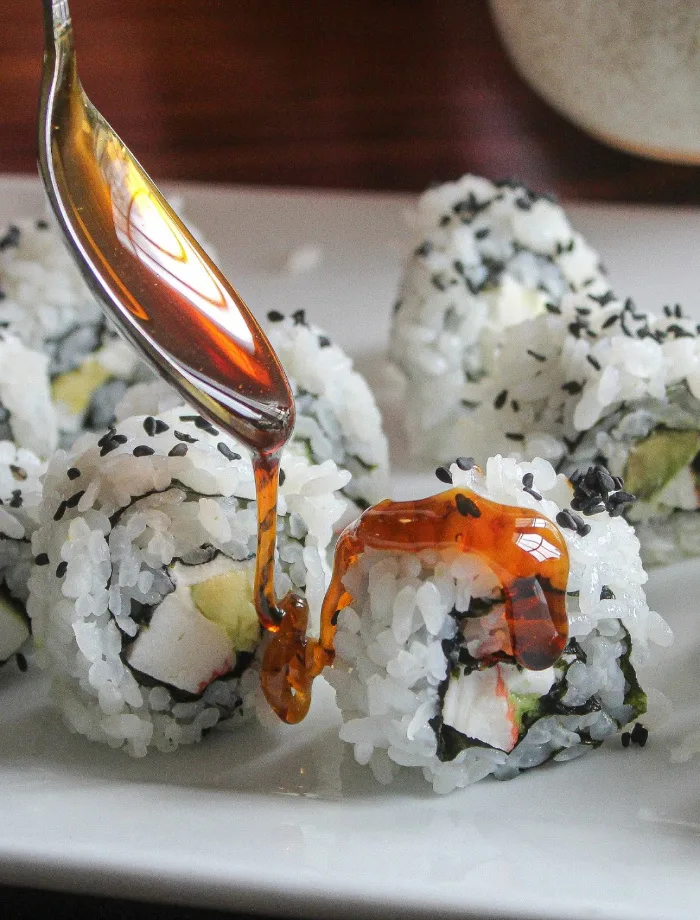 It also helps that you have all the right equipment for making sushi. It's an art all in itself and if you don't have the essentials for making sushi at home, you might be missing an important step.
You can even have sushi if you are pregnant too. You just need to know which sushi rolls are safe for you. This post has a list of sushi you can eat while pregnant.
And if raw sushi is not your thing, this is how we make tempura-fried sushi rolls at home.
If you travel a lot and are ever in San Diego, be sure to check out this post with some of the best San Diego Sushi restaurants.
Yield: 2 cups
How to Make Your Very Own Sushi Rice at Home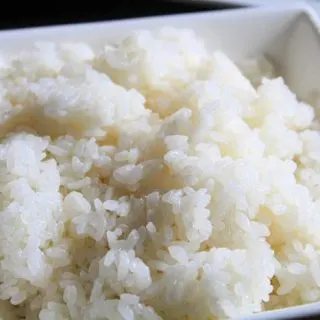 This easy sushi rice recipe is a must-have if you are planning on making sushi at home. Simple and easy to make.
Ingredients
2 cups sushi or short grain rice
2 cups water, plus extra for rinsing rice
2 tablespoons rice vinegar
2 tablespoons sugar
1 tablespoon kosher salt
Instructions
Place the rice into a strainer and pour running water over it until the water is clear.
Place the rice and 2 cups of water into a medium saucepan and place over high heat. Bring to a boil, uncovered. Once it begins to boil, reduce the heat to the lowest setting and cover. Cook for 15 minutes. Remove from the heat and let stand, covered, for 10 minutes.
Combine the rice vinegar, sugar and salt in a small bowl and heat in the microwave on high for 30 to 45 seconds.
Transfer the rice into a large wooden or glass mixing bowl and add the vinegar mixture. Fold thoroughly to combine and coat each grain of rice with the mixture. Allow cooling to room temperature before using to make sushi
Nutrition Information:
Yield:
15
Serving Size:
1
Amount Per Serving:
Calories:

84
Total Fat:

3g
Saturated Fat:

0g
Trans Fat:

0g
Unsaturated Fat:

2g
Cholesterol:

2mg
Sodium:

501mg
Carbohydrates:

13g
Fiber:

1g
Sugar:

3g
Protein:

2g