Learn how to make eel sauce for sushi and you will never go back to buying store-bought salty sauce again. Now, this is not like my homemade teriyaki sauce, which is delicious. This sauce has a very unique flavor.
I'm starting this Sushi series by teaching you how easy it is to make a simple sauce to serve over all your favorite dishes. Many Thai and Japanese restaurants serve this sweet sauce and other Japanese sauces on fish, sushi, and more.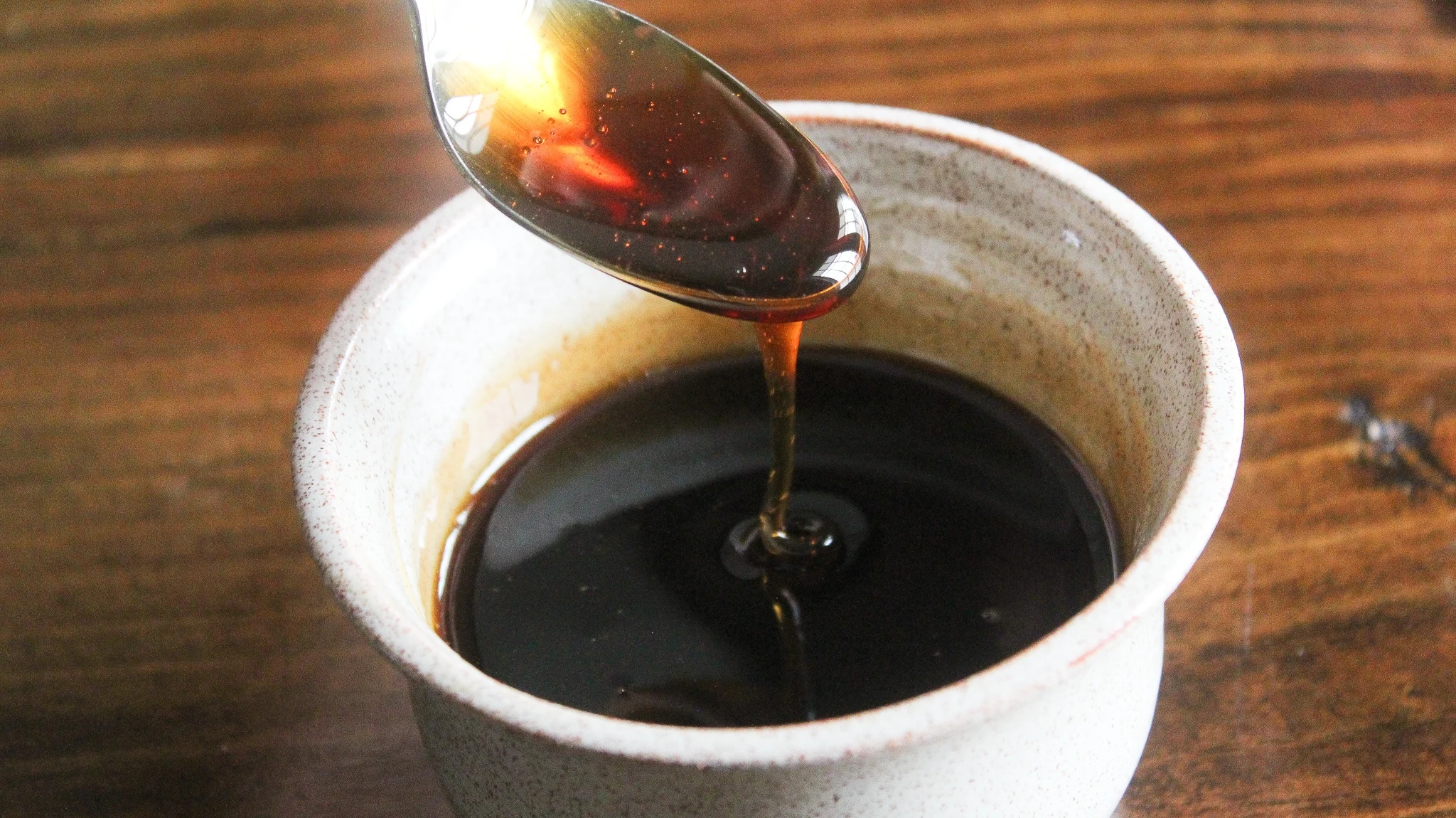 This post was originally published on March 9, 2015, and republished on June 1, 2019.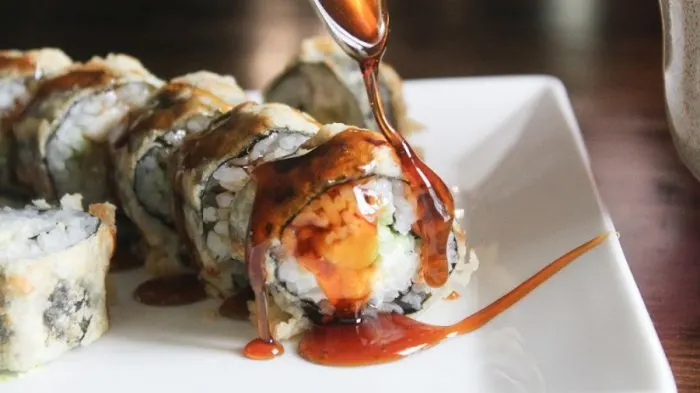 Of course, you can visit this page that has everything you need to know about making sushi at home. It has recipes listed, equipment, and more.
One of my favorite things to do with my daughter is taking a girl's day and going shopping in Paducah, Kentucky (if you are visiting the area, be sure and check out this post for Paducah, KY restaurants).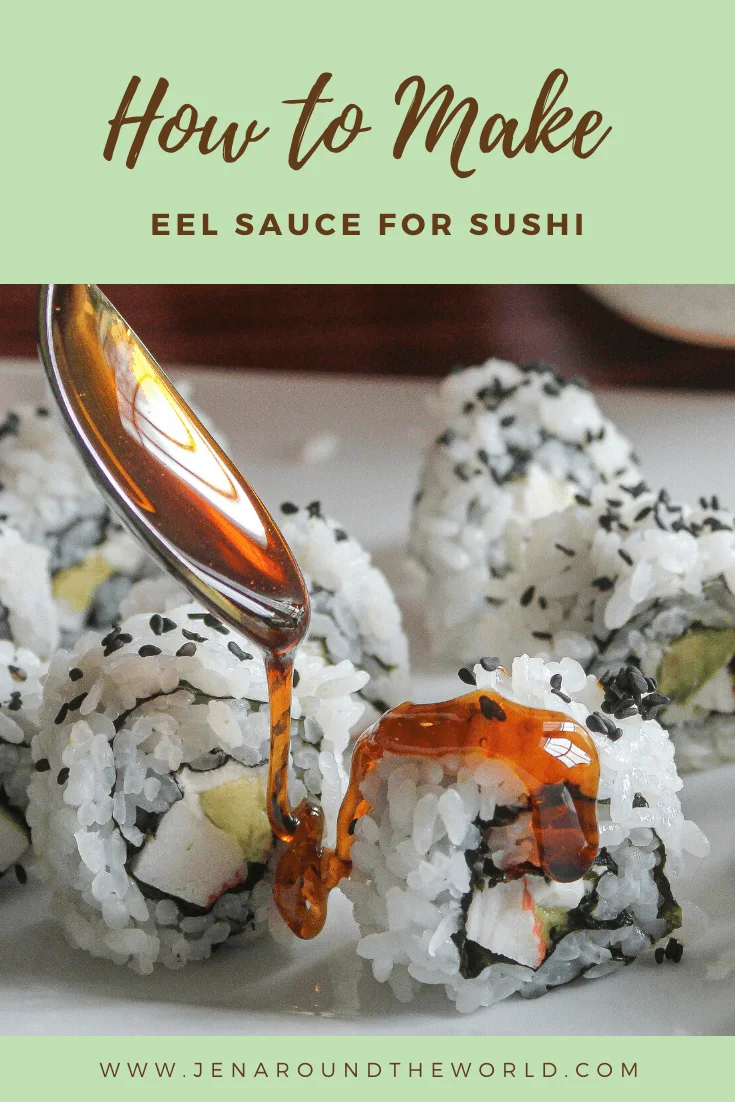 We always hit up the mall, and Starbucks, and then for lunch, we have this fabulous little Thai sushi restaurant that serves THE best sushi around.
Now, I am not one for raw sushi. The sushi I eat has to be cooked or I won't eat it. If you are pregnant and love sushi, then you need to make sure you are choosing sushi recipes you can eat while pregnant.
Our favorite dish there is a tempura-fried sushi roll that they call the Kentucky Roll. It is served with Wasabi paste on the side and topped with a delicious eel sauce full of umami flavor.
What is eel sauce?
Eel Sauce is also called Natsume, Unagi, or Kabayaki Sauce. It is a sweet and salty dipping sauce that goes great over grilled fish or chicken and is a familiar drizzle over sushi.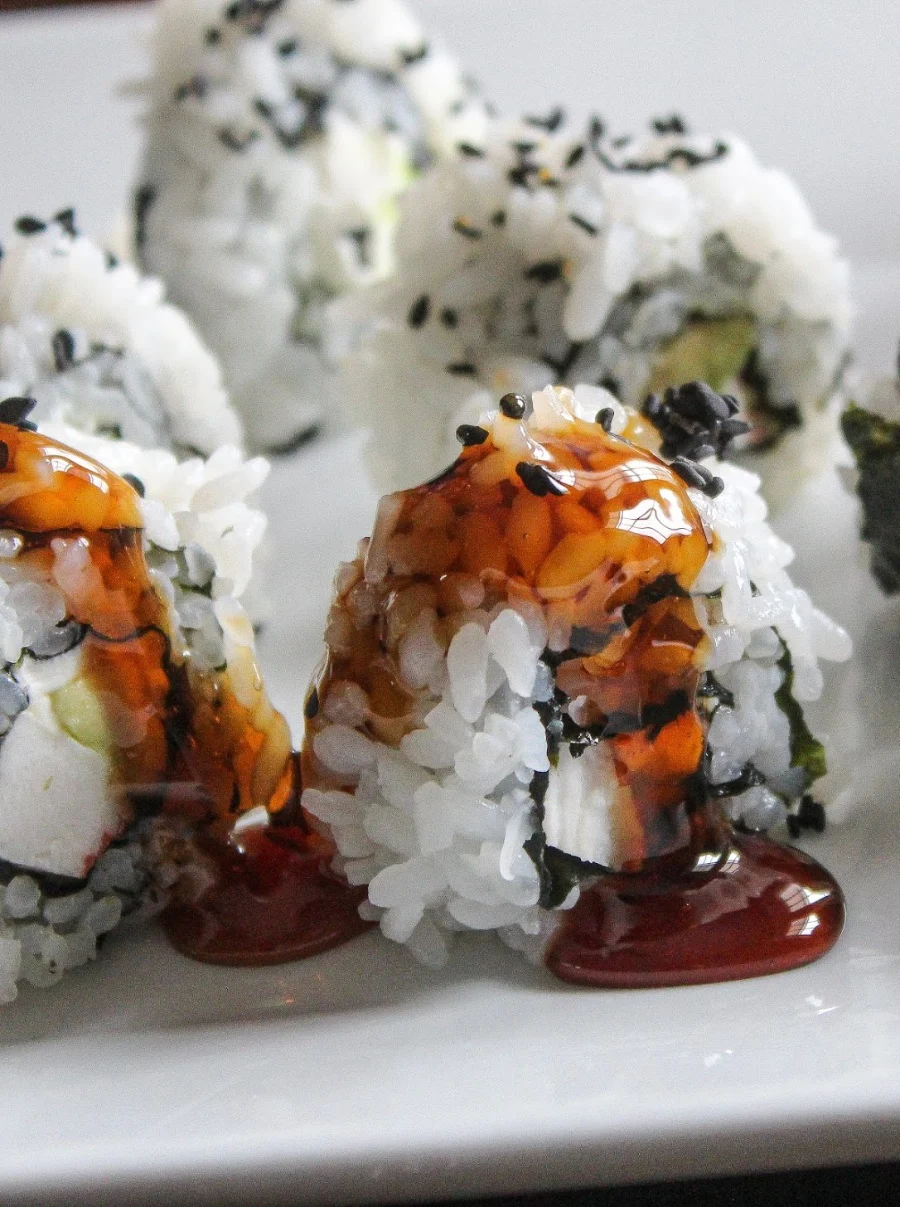 Traditionally this unagi sauce recipe is used on Japanese grilled eel and eel rolls. I also use this gluten-free eel sauce over freshly cooked noodles for a quick snack.
Related Article: Essential Equipment Needed for Making Sushi at Home
How to Make Homemade Unagi Sauce Recipe
The cooking process for this homemade sauce is simple and easy. When making this sauce, grab a small saucepan and place the simple ingredients in the pan. Cook on medium heat until the sauce starts to thicken.
The base ingredients for this dish are —
low-sodium soy sauce (you could even use gluten-free soy sauce)
white sugar
mirin — which is a sweet rice wine (You can find this at the Asian market or even at Walmart I think)
The thickness that you are looking for is that of honey. It is a sticky sauce. At first, it will still look thin, but once it cools down, it gets super thick and it is a savory sauce that tastes delicious on sushi.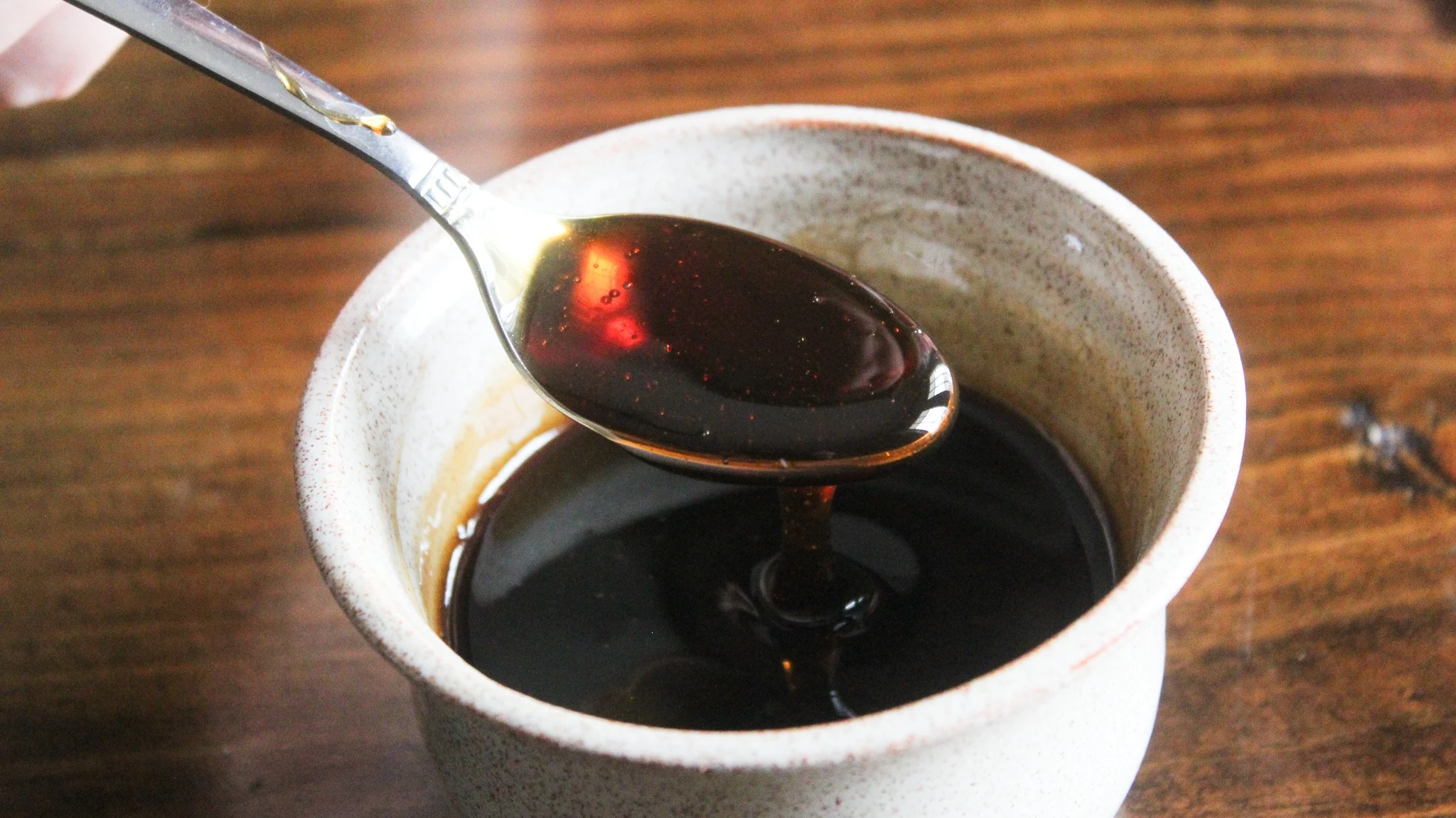 Now that you have my flavorful sauce, you can make your own. My favorite recipes are my sticky sushi rice and my Fried Sushi Roll. You can also pair this sauce with this easy California roll.
Of course, you can even use this thick sauce on several different BBQ dishes. It would be great on ribs and chicken for sure. You can serve the sauce at room temperature on the side. There are so many different ways to use this sauce.
For additional sushi recipes, read 20 easy sushi recipes that go great with my eel sauce. Here are some sushi recipes you can eat while pregnant if you are pregnant.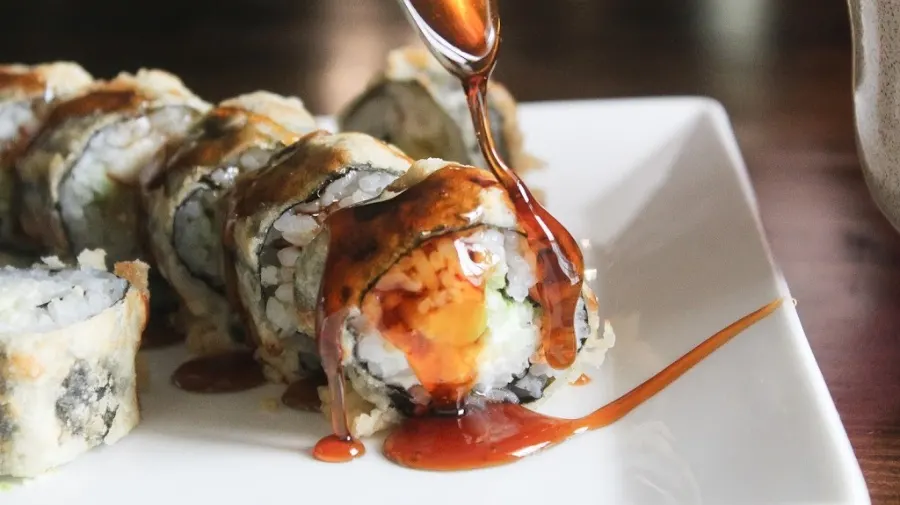 Making homemade sushi rolls at home is simple and easy if you have the right ingredients. Here is the list of what I bought on Amazon
Now that you have everything you need, you can start making your sushi right at home! Japanese cuisine is one of my favorite things to make at home, and now, you can too! You could even serve this sauce over rice balls!
How to Store This Sauce
Once this Japanese eel sauce has cooled, if you have more sauce, simply place it in an airtight container and put it in the fridge until ready to use again.
Let's Get Saucy

We share Recipes From Our Dinner Table! Join our group and share your recipes, too! While you're at it, join our Pinterest board, too!
Check out these other delicious Asian Sauces
Yield: 1 cup
How to Make Eel Sauce for Sushi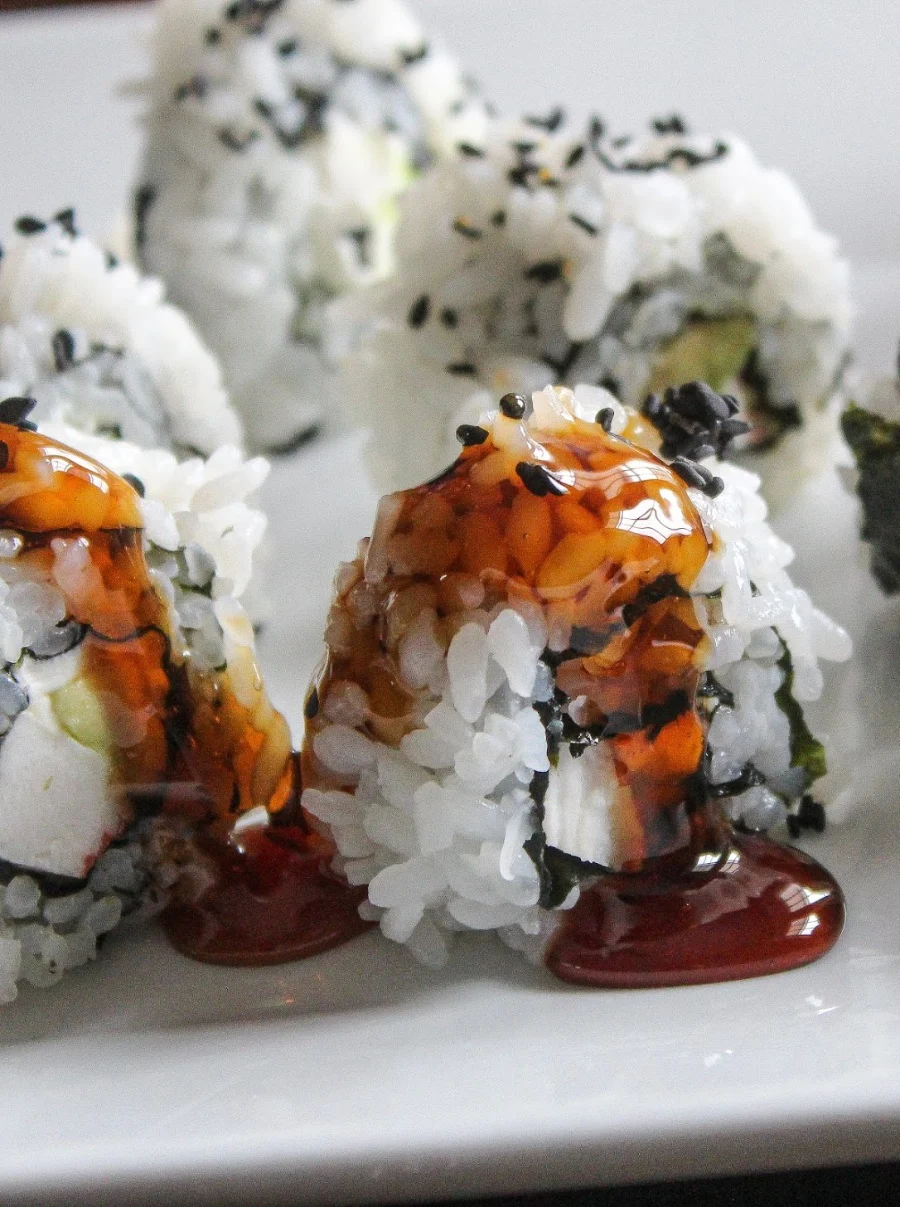 This eel sauce is perfect for dipping in sushi or using as a marinade for fish or chicken.
Ingredients
1/2 cup of soy sauce
1/2 cup of sugar
1/2 cup mirin
Instructions
Heat soy sauce, sugar, and mirin into a small saucepan over medium heat. Cook and stir until liquid is reduced by about 1/4. This should take about 10 minutes. Your sauce will have the thickness of honey.
Recommended Products
As an Amazon Associate and member of other affiliate programs, I earn from qualifying purchases.
Nutrition Information:
Yield:
8
Serving Size:
1/4 cup
Amount Per Serving:
Calories:

93
Total Fat:

0g
Saturated Fat:

0g
Trans Fat:

0g
Unsaturated Fat:

0g
Cholesterol:

0mg
Sodium:

876mg
Carbohydrates:

20g
Fiber:

0g
Sugar:

19g
Protein:

1g