Thank you to Gulf Shores and Orange Beach Tourism for sending us on this amazing romantic getaway. All opinions listed are 100% my own.
On our last night in Gulf Shores, after our amazing day of a couples massage, lunch by the beach, and learning how to make pottery together, we got dressed up and headed to Cayman Grill. This restaurant is located in Orange Beach, Alabama, and is known for the sting ray tank right in the middle of the restaurant.
Cayman Grill boasts an exhibition kitchen and utilizes fresh, local ingredients. The restaurant offers views of the Bay and there is an 8,000 gallon stingray pool in the center of the restaurant. The restaurant specializes in preparing and serving more than a dozen kinds of fresh fish.
Eating at Cayman Grill
My husband was super excited about eating here. He had been craving a ribeye steak, and all the other restaurants we had visited did not offer that entree, but at Cayman Grill, they had a huge ribeye that had his name all over it. While we were relaxing in our beach side condo earlier that day, he had went online to their website to check out the menu.
I chose to get shrimp, because you know I love shrimp! We did get an appetizer of grilled chicken skewers that were pretty good. However, the restaurant specializes in preparing and serving more than a dozen kinds of fresh fish. I saw a few of those dishes as they came out to the diners and they looked pretty amazing.
Photo courtesy of Cayman Grill
The lighting was not good enough for pictures while we were in there, so I don't have photos of our food, but I was able to get a few photos of the 8,000 gallon sting ray tank!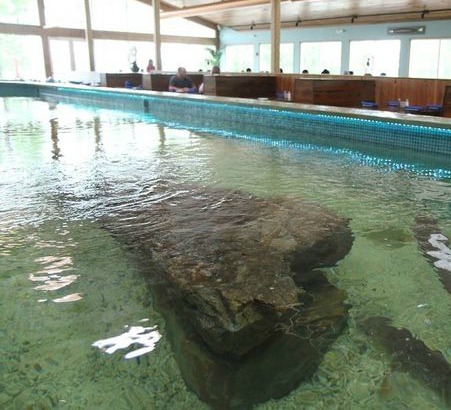 If you want a really nice restaurant to sit down, relax, and have a nice quiet dinner — this is the place for you. Not only will you enjoy a nice quiet dinner, but you can also get a seat near the window so that you can get a view of the gulf while you eat dinner.
We didn't get to sit in this area because the restaurant was SO busy when we got there, but where we sat was perfect and we could see the view and play with the stingrays.
If you plan on visiting Gulf Shores and Orange Beach, be sure to visit Cayman Grill for one of the most authentic and delicious fish dinners you will ever try!
Connect with Cayman Grill