This recipe for ChickenBacon Ranch Carbonara has been reprinted with permission from Megan Marlowe out of her new cookbook — Incredible One Pot Cooking Cookbook.
I love a good super quick delicious dinner.
Chicken is my favorite protein because it is so versatile and can be used in so many dishes.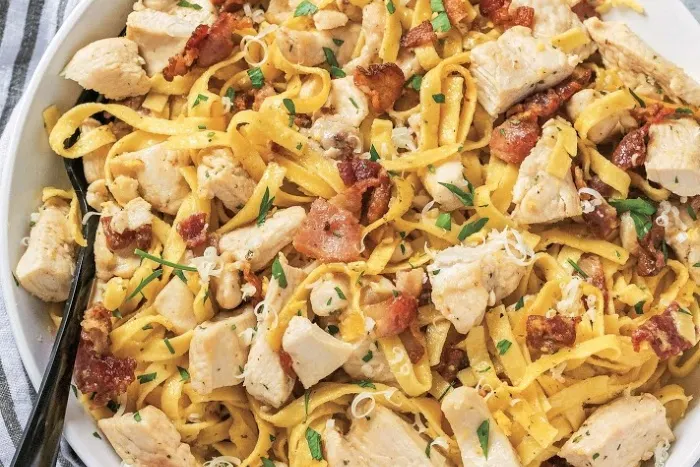 Another favorite thing of mine is one-pot dishes. Nothing excites me more than being able to make dinner and only have one pan to clean up. Some of the favorites that I have made in the past are my One Pan Cheeseburger Pasta and my Mongolian Ground Beef Noodles.
Both are super easy and quick dishes. Now, I have another quick and easy one-pan dish to add to my recipe book — Chicken Bacon Ranch Carbonara.
Chicken Bacon Ranch Carbonara from Incredible One Pot Cooking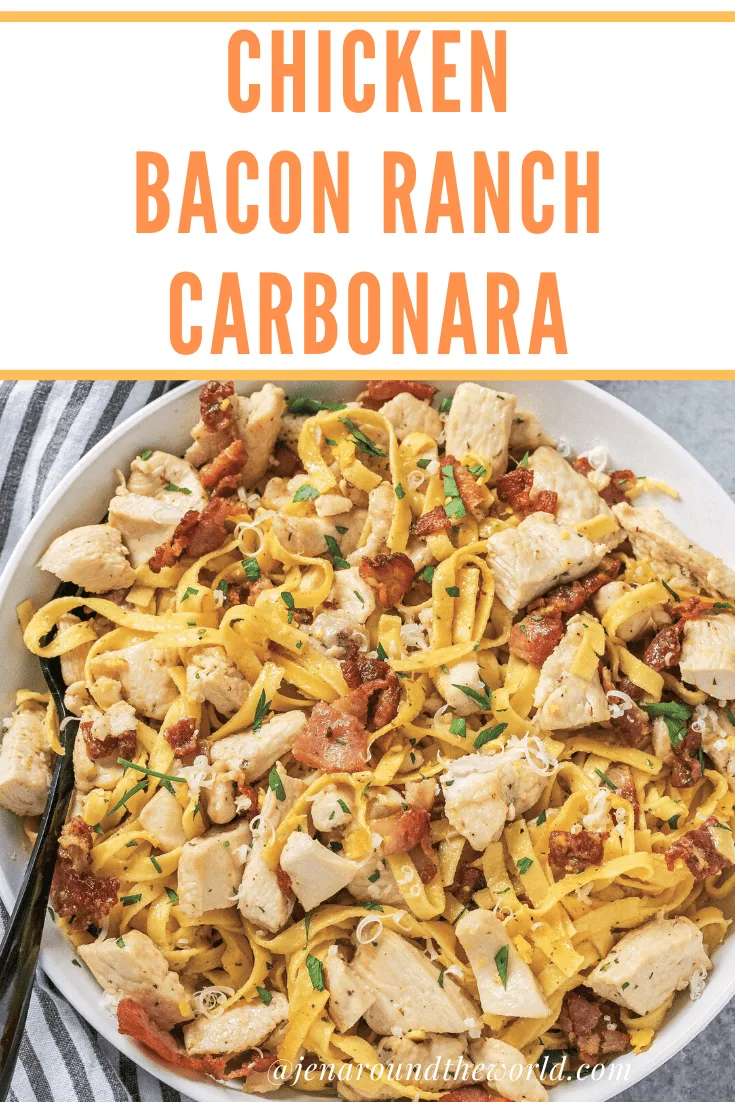 Here to make dinnertime simple, easy and above all delicious is Megan Marlowe, founder of Strawberry Blondie Kitchen. As a busy mom of two, she knows how hard it is to whip up tasty meals for the whole family without making a huge mess in the kitchen and leaving yourself tons of dishes.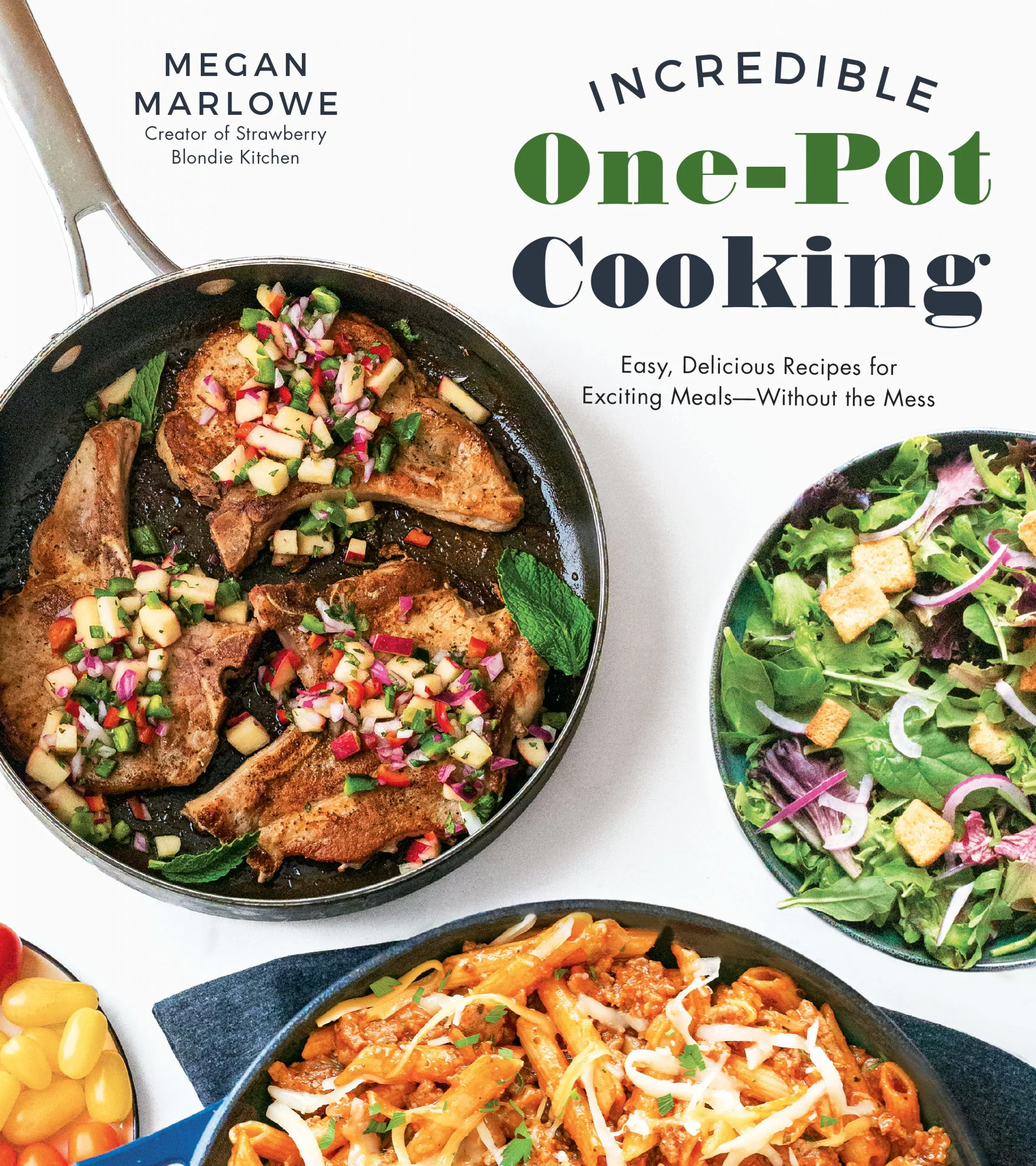 But with this genius collection, she has created 60 comforting recipes that miraculously come together in just one pot, pan, or baking dish, so you can completely skip out on hours of cleanup. And with most recipes taking 30 minutes or less, weeknight cooking is an absolute breeze.
Discover an exciting new dinner lineup, full of creative comfort foods, with recipes like:
• Peach and Ginger Barbecue Pulled Pork
• Charcuterie Board Stuffed Chicken
• Chili Mac Tortilla Pie
• Loaded Sausage and Pierogi Soup
• Pork Chops with Sweet and Spicy Apple Salsa
• Chicken-Bacon-Ranch Carbonara
• Raspberry-Chipotle Salmon with Broccoli
• Sheet Pan Monte Cristo Pizza
• Smoked Sausage with Apple and Onion Kraut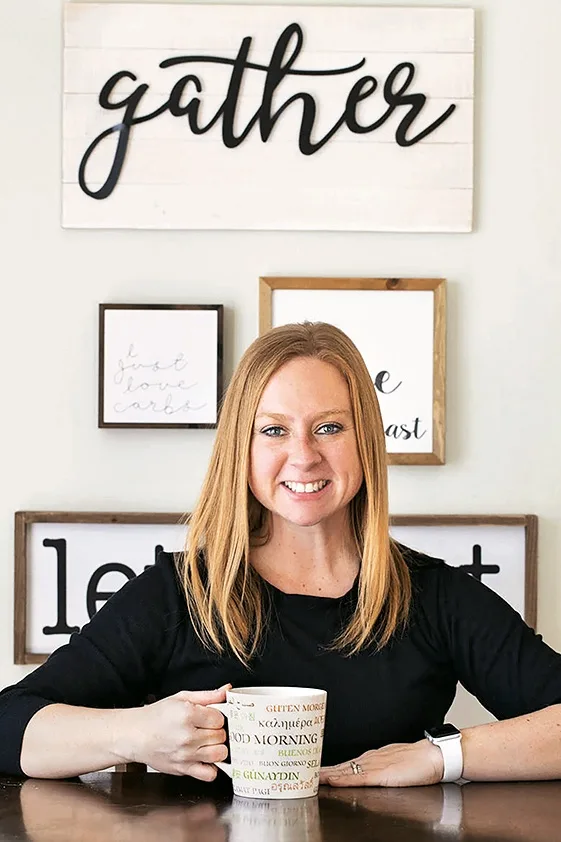 Enjoy fresh takes on all your favorite classics, all while cutting your cooking and cleaning time in half!
Here's what Megan has to say about Chicken Bacon Ranch Carbonara —
I'll admit, I'd never had carbonara until I made this recipe. I've heard Rachael Ray talk about it for years because it's her husband's favorite dish, but I didn't know what all the fuss was about. An egg in pasta?
Pssh, big deal, right? But it is a big deal. The egg coats the noodles and makes for a rich and luscious sauce you aren't going to get any other way.
Don't knock it until you try it.
Click here to get your copy of Incredible One Pot Cooking by Megan Marlowe.
Wondering if bacon is good for babies and kids? Check out Serenity Kids for more information.
Yield: 6 servings
Chicken Bacon Ranch Carbonara
This is the easiest and most delicious chicken pasta dish you will make. The best part? Everything is made in one pan!
Ingredients
3 tbsp (45 ml) olive oil, divided
6 slices bacon, coarsely chopped
11⁄2 lbs (675 g) boneless, skinless chicken breasts, diced
2 tbsp (18 g) ranch seasoning
2 cups (480 ml) chicken stock
1 (8.8-oz [246-g]) box Fettucine pasta
2 large egg yolks, beaten
1⁄2 cup (90 g) shredded Parmigiano-Reggiano cheese
1⁄2 tsp black pepper
Coarsely chopped fresh parsley, for garnish (optional)
Instructions
Heat 2 tablespoons (30 ml) of the oil in a large skillet over medium heat. Add the bacon and cook until the bacon is brown and crispy about 5 minutes.
Transfer the bacon to a plate lined with paper towels. Do not drain the skillet. When the bacon is cool enough to handle, crumble it.
Add the remaining 1 tablespoon (15 ml) of oil to the bacon grease in the skillet. Add the chicken and cook until it's no longer pink in the center, 8 to 10 minutes. Sprinkle the chicken with the ranch seasoning.
Add the stock and pasta. Bring the mixture to a boil. Reduce the heat to medium-low and cook for 8 minutes, or until the pasta is cooked.
Pour in the egg yolks and stir so they coat the pasta.
To serve, sprinkle the pasta with the crumbled bacon, Parmigiano-Reggiano cheese, and black pepper, tossing to combine. Garnish with parsley, if using.

Nutrition Information:
Yield:
6
Serving Size:
1
Amount Per Serving:
Calories:

262
Total Fat:

16g
Saturated Fat:

3g
Trans Fat:

0g
Unsaturated Fat:

11g
Cholesterol:

132mg
Sodium:

490mg
Carbohydrates:

10g
Fiber:

0g
Sugar:

1g
Protein:

19g