Whenever I make a great soup, it becomes a staple in our house — like my Creamy White Chicken Chili. This is different than the traditional chili recipe.
This soup is a great recipe filled with tender chicken and will warm you to the bones during a cold fall or winter day.
Of course, if you are like me, you will crank that AC down to 65 degrees during the hot summer and early fall days and make it anyway!
How My Love of White Chicken Chili Started
We first discovered this soup during one of the many tailgating parties we used to attend. We themed every party and so on this night, it was crockpot soup night. Every one of us (about 10 in attendance) had to bring a different soup.
I think I brought broccoli and cheese soup that night. I honestly had no idea that there could be so many soups out there! This was when I was just learning to cook so I was excited to learn some new recipes.
Anyway, Stephen and I started sampling all the delicious soups and when we came to the White Chicken Chili, we both looked at each other and said at the same time –"We need to make this soup."
This White Chicken Chili is full of white beans, chicken broth, green chiles, and warm spices like cumin, oregano, and cayenne pepper. You can add more hearty beans to this soup if you want, but I use just two cans. If chicken isn't your thing, you can make a White Turkey Chili instead.
The diced green chilies add another layer of flavor and then you chock it full of roasted chicken breasts. Top it off with shredded Monterey Jack cheese and sour cream for an epic soup taste you will not ever forget.
How to Make This Easy Chicken Chili Recipe
The fun thing I love about this soup is that you can eat it with crackers, homemade sourdough bread, or my favorite — tortilla chips.
This soup can be made on the stovetop, in the Instant Pot, or even in the crock pot. I prefer making it on the stove, but you make it the best way for you.
The star of ingredients for this soup are —
Rotisserie chicken (or you can roast some boneless skinless chicken breasts to use in this soup)
Great Northern Beans
Minced garlic cloves
Onions
Green Chiles
Spices like oregano, cumin, cayenne pepper, salt, and pepper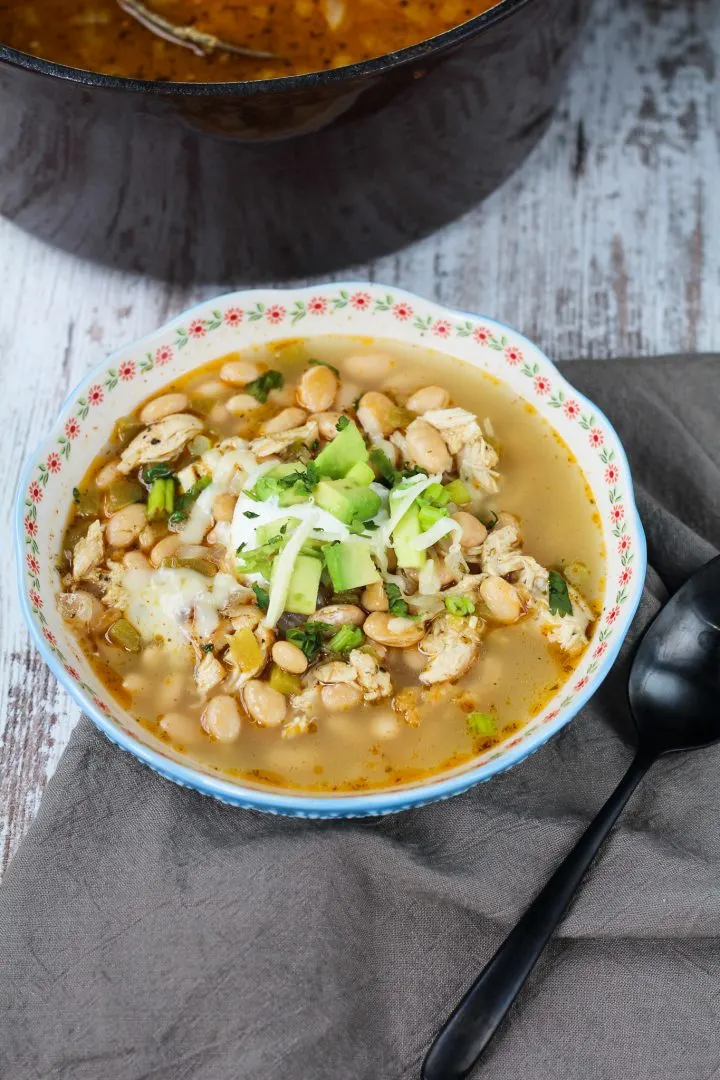 This recipe does not have any chili powder in it. The other spices are what warm this soup up and I promise you will not miss the chili powder.
Remove the chicken from the carcass (and save the carcass to make homemade chicken broth).
In a large pot or a Dutch oven over medium heat, add some olive oil and the diced onion. Cook until translucent. Then, add in the rest of the ingredients like the green chiles and the spices. Allow them to cook for just a bit. Now, add in the chicken broth, great northern beans, and shredded chicken.
You can use cannellini beans, navy beans, kidney beans, or black beans in place of the great northern beans if you prefer.
The last step is to add in the Monterey Jack shredded cheese. For a creamier soup, add a block of cream cheese. I have done it both ways and it is delicious with either of these cheeses.
For the cheese, I do not buy the pre-shredded bag of cheese. I like to buy the block and use my food processor to shred it. Then, you don't have to worry about having that extra plastic coating they use in the bagged cheese in your soup.
How to Serve This White Bean Chicken Chili
I serve the soup in a bowl. I have crackers and tortilla chips as well as bread for dipping. My favorite toppings are sour cream, chopped yellow onion, extra shredded cheese, fresh cilantro, and lime wedges.
Once the soup cools, I put it in an airtight container and store it in the fridge. It should stay good for up to a week in the fridge, or you can place it in the freezer for up to 3 months.
This is the best White Chicken Chili recipe you will make.
Check out these other delicious soup recipes
For other soups and slow cooker recipes, check out these delicious popular recipes below!
Welcome to our 2022 Chili Cook-Off!
October is Chili Cook-Off Month! We have delicious recipes from across the country to get your chili making to the next level of deliciousness!

#ChiliCookOff is an annual blogging event that is hosted by Ashley from Cheese Curd In Paradise
Yield: 8
White Chicken Chili
This delicious soup comes together in less than thirty minutes for a warm and comforting fall dinner idea.
Ingredients
2 bone in chicken breasts boiled and shredded
1 small can green chiles
2 boxes chicken broth, or you can use your own stock
2 14.5 ounce cans of great northern beans
2 teaspoons cumin
1 teaspoon oregano
1 teaspoon cayenne pepper
1 small onion chopped
3 cloves garlic chopped
2 tablespoons olive oil
2 cups shredded Monterey jack cheese
salt and pepper to taste
Sour Cream, for garnish
Cilantro for garnish
Instructions
Put oil in the bottom of soup pot.
Add onion. Cook until tender
Add garlic and green chiles. Cook for 1 minute. Stir so you don't burn the garlic!
Add cumin, oregano, and cayenne pepper. Cook for 1 minute. Stir so as not to burn the garlic.
Add chicken broth and beans.
Add shredded chicken and 1 cup of the Monterey jack cheese.
Add salt and pepper to taste.
Let simmer on the stove for about 30 minutes. Then enjoy!
garnish with fresh cilantro and sour cream.
Nutrition Information:
Yield:
8
Serving Size:
1
Amount Per Serving:
Calories:

283
Total Fat:

14g
Saturated Fat:

7g
Trans Fat:

0g
Unsaturated Fat:

7g
Cholesterol:

54mg
Sodium:

575mg
Carbohydrates:

16g
Fiber:

5g
Sugar:

1g
Protein:

23g