This recipe for Easy Crockpot Chicken Bone Broth will make all your soups and stews taste amazing.
Over the course of the last year, I have been working hard at learning how to make my own healthy versions of boxed food I buy at the store. One of those things in chicken bone broth.
It can be very expensive at the store (the cheapest I have seen is $2.99 at ALDI).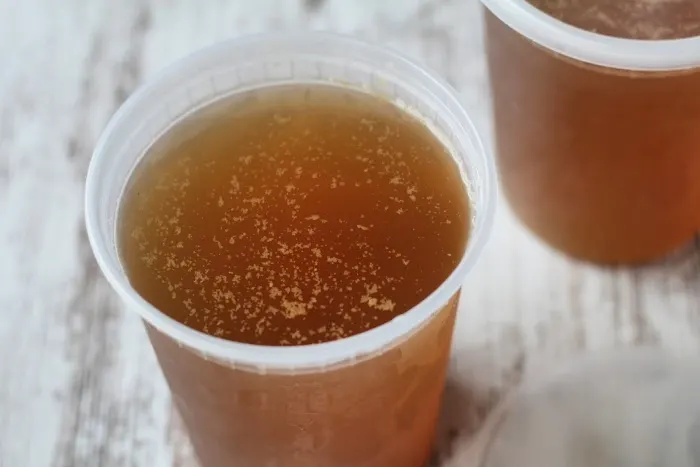 I did some research, found out how simple it was to actually make, so I started doing it at home and since then, I always have chicken bone broth in my fridge ready to use!
How to Make Chicken Bone Broth
To make chicken bone broth, it is as simple as using leftover chicken bones and carcass from your latest cooking adventure, and your favorite veggie scraps.
I add in celery, carrots, onions, and garlic for the health benefits. Add a couple of tablespoons of an acidic liquid like apple cider vinegar (make sure it is raw ACV). This helps draw the minerals out of the bones.
Have you ever done or seen the science experiment where you soak a chicken bone in vinegar for 24 hours and the bone becomes all rubbery? This is because the calcium and other minerals have been leached from the bones! In the crockpot, these minerals wind up in your broth!
Then, it all gets added to a crockpot and covered with water for cooked on low for 24 hours.
At the end of 24 hours, you have this beautiful dark broth that is so amazing in the soup. You can also drink it to help keep any sicknesses at bay.
How do you store chicken bone broth?
To store chicken bone broth, you can either pour it into freezer-safe containers like these and freeze for 6 months or longer.
Or, you can just store in the fridge if you are going to be using it sooner rather than later.
Why does the chicken bone broth need to cook in the crockpot for 24 hours?
In order to get all the benefits of the gelatin, collagen, minerals from the bones, it must cook at least 18 to 24 hours.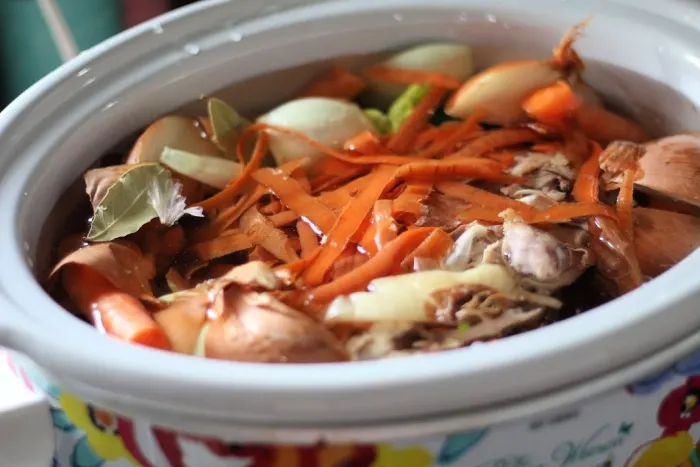 You can make regular chicken broth by cooking for a shorter time — around 8 hours, of course, but you will not have all of the health/nutrition benefits with a shorter time.
Can you make Use a Pressure Cooker or Instant Pot to make bone broth?
Yes, you can. This recipe for Instant Pot Chicken Bone Broth shows you how you can make bone broth in 3 hours using the Instant Pot.
The cool thing about making your own bone broth is that you can take your time gathering your recipe ingredients.
I keep a bag in my freezer so when I have veggie scraps, I just add them to the bag. I put my carcass bones in there too so that when the bag is full, I just dump it all in my crockpot and let it cook away!
What are the benefits of chicken bone broth?
Bone broth has been known to help with
highly nutritious
protects the joints
helps fight osteoarthritis
helps reduce inflammation and heal the gut
may aid sleep
may support weight loss
A word of warning for pet owners when it comes to chicken bone broth
Bone broth and chicken broth are NEVER good for dogs or cats so please do not give this to your animals. Onions and garlic are very toxic to dogs so this broth should never be given to your animals.
Looking for recipes to use Chicken Bone Broth in? Check these out
I usually get about 6 cups of bone broth from my crockpot ( I have a 6 quart) and I store it in plastic containers that are freezer safe. If you want, you can also store in mason jars.
Bone broth is such an economical and nutritious staple to have in your kitchen.
Yield: 6 cups
Easy Crockpot Chicken Bone Broth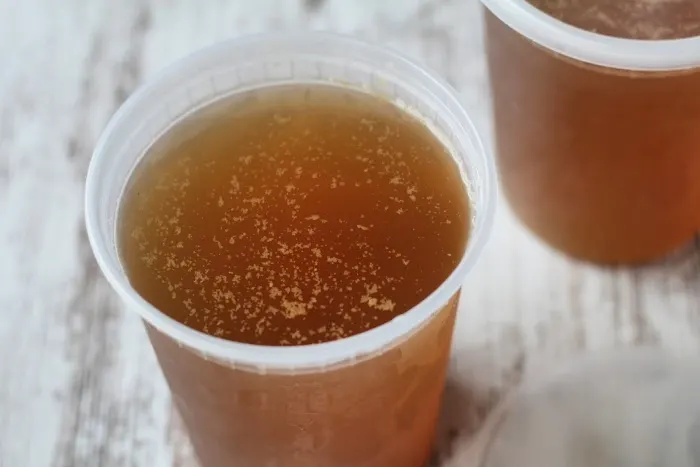 This recipe for Easy Crockpot Bone Broth will save you a ton of money at the grocery store and help you create delicious recipes.
Total Time
1 day
5 minutes
Ingredients
carcass and bones from a pastured raised chicken (usually scraps leftover from a chicken that you have cooked)
coarsely chopped carrots, celery, and onion
2 garlic cloves, smushed
2 bay leaves
2 tbsp raw apple cider vinegar
Filtered Water
salt and pepper to taste after cooking
Instructions
Add the vegetables and the chicken bones to the crockpot.
Drop in the bay leaves and the garlic cloves.
Fill the crockpot all the way to the top with filtered water (about 1-2 inches from the top).
Add 2 tbsp apple cider vinegar.
Cook on low for 18 to 24 hours.
Strain through a mesh strainer and then store in freezer-safe containers.
Nutrition Information:
Yield:
6 cups
Serving Size:
1
Amount Per Serving:
Calories:

45
Total Fat:

2g
Saturated Fat:

1g
Trans Fat:

0g
Unsaturated Fat:

1g
Cholesterol:

13mg
Sodium:

72mg
Carbohydrates:

3g
Fiber:

1g
Sugar:

1g
Protein:

4g