These Nicaraguan Nacatamales are authentic in flavor and taste. I have done tons of research and compiled many notes to ensure I can bring you a delicious authentic meal from Nicaragua.
One of my very best friends is from Nicaragua. I met her a couple of years ago at our local nail salon and we just immediately clicked. She met her husband on a missionary trip and moved here. They are now married and have the most beautiful baby girl!
Occasionally she misses home and the food from her country, so I have made it my mission to create some of those dishes for her as authentically as possible. Our first dish is Authentic Nicaraguan Nacatamales!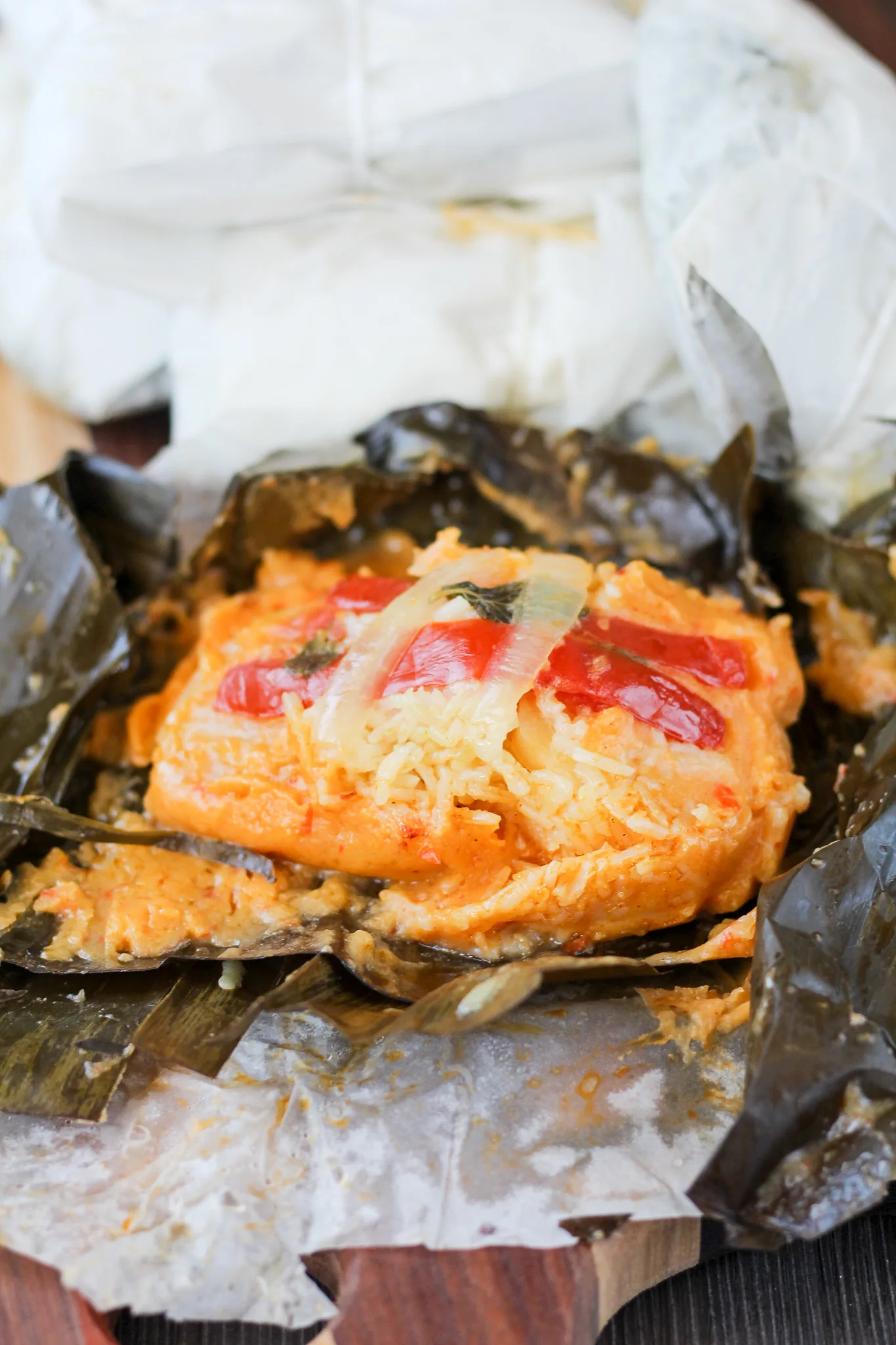 What You Need to Make Nacatamales
There are a few things you need to make this authentic dish. This information comes straight from my friend. The first time I made these, I left them out and the dish was severely lacking!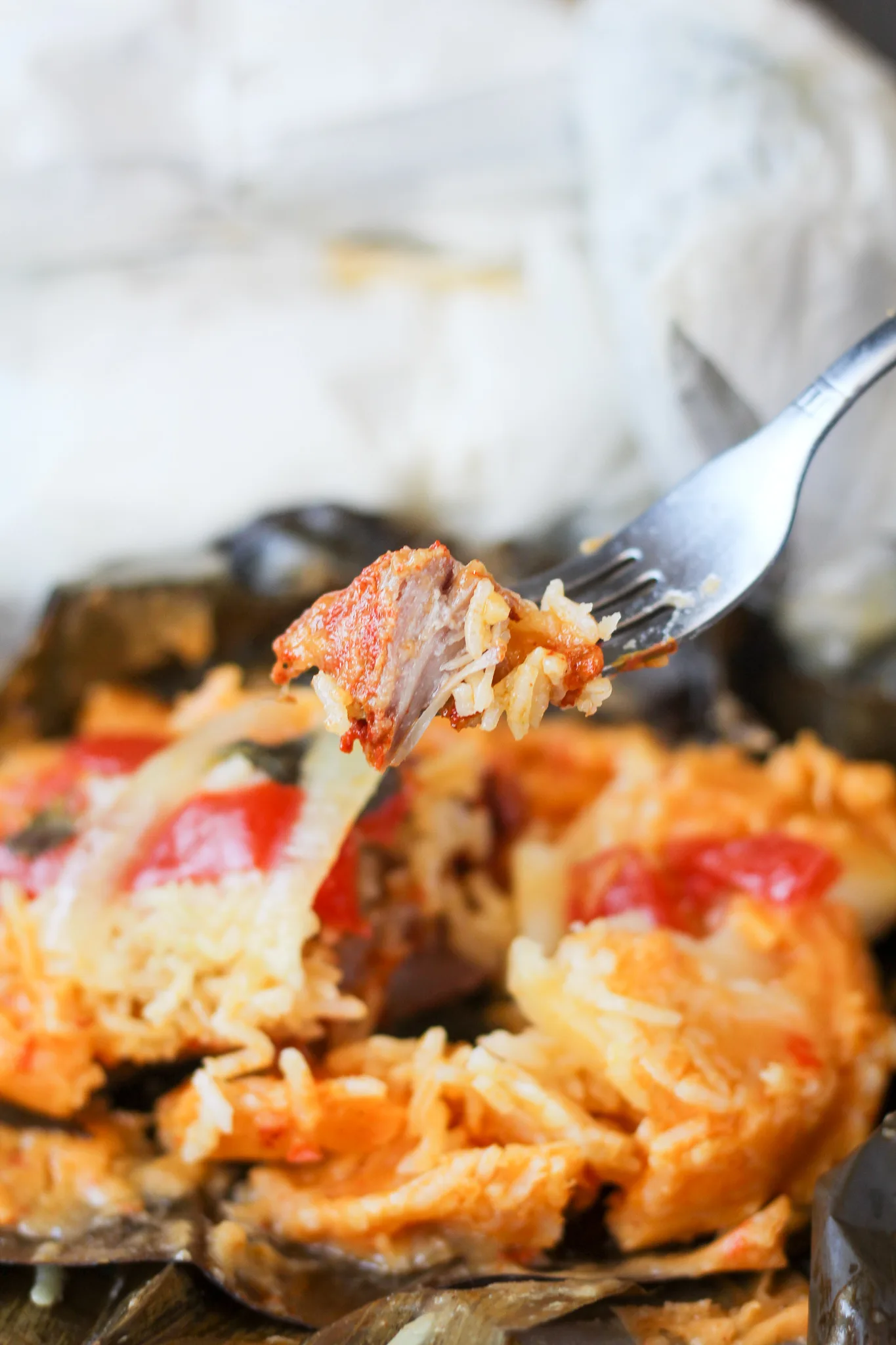 I buy a pork butt or roast, whichever is on sale. Then I chunk it up and put it in a bowl. I add 1/2 a bottle of sour orange, minced garlic (about 3 cloves), and 2 tablespoons of Annatto powder in the bowl with the meat. This marinades for at least an hour or overnight.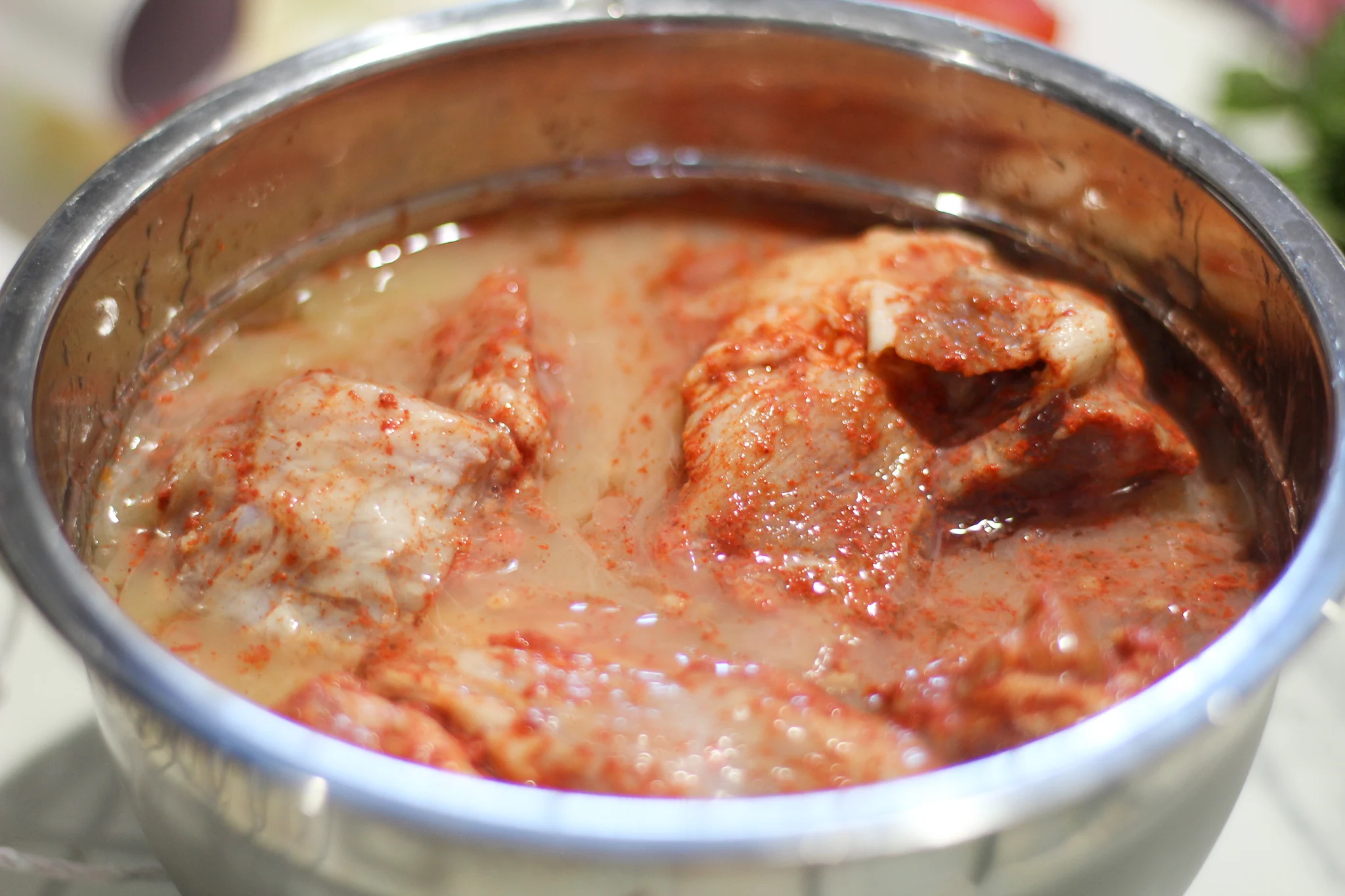 In another bowl, I place the peeled and sliced potatoes. I cover them with water and they sit for 20 minutes. Grab another bowl and place your rice in it and allow it to sit for 20 minutes.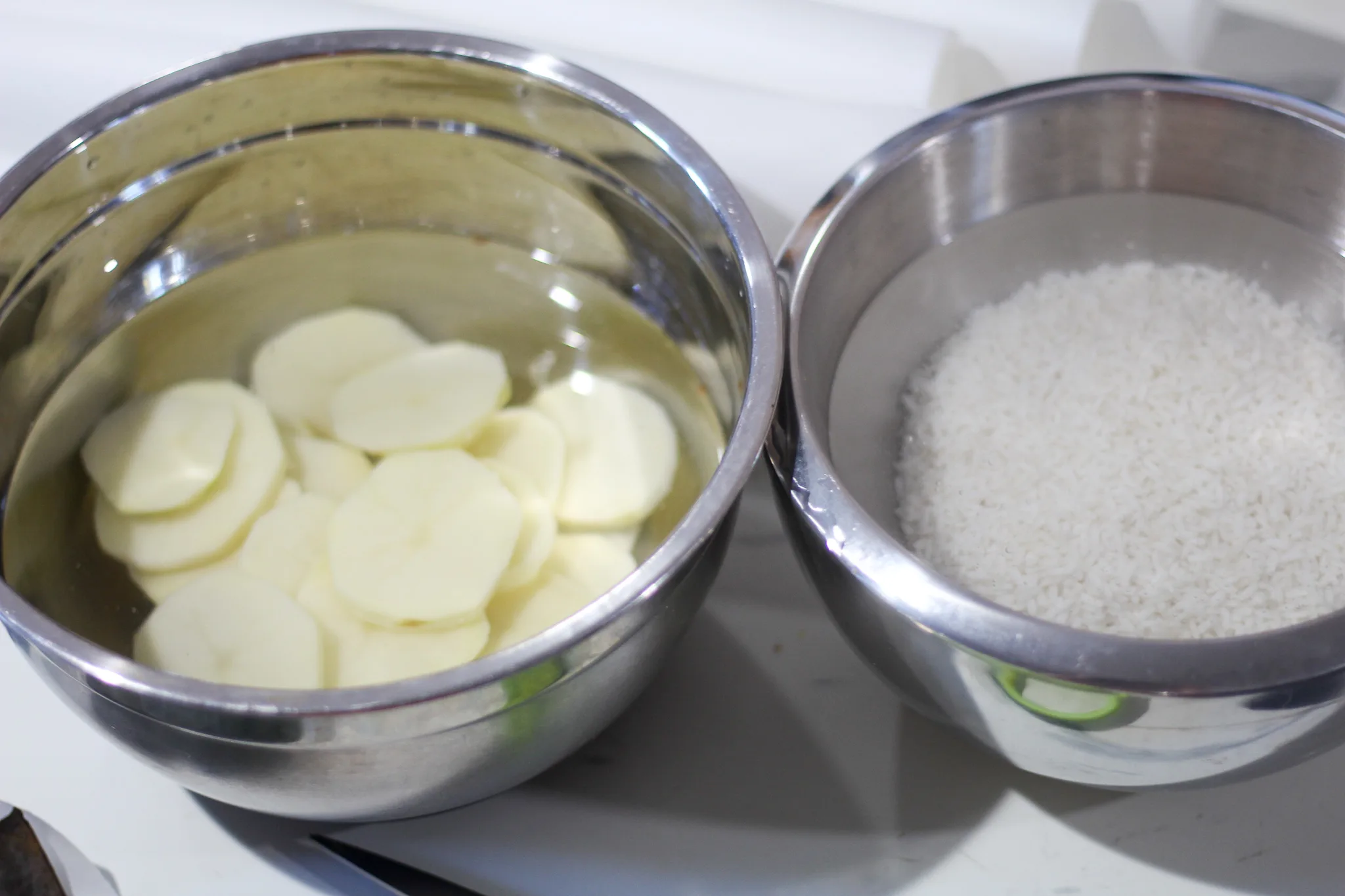 Let's Make the Masa
In a blender, combine tomatoes, 3 cloves of garlic, 1 onion, and 1 red pepper. Puree until all the veggies are good and blended well.
Mix that with the masa, lard, and water. Cook on the stove until the mixture thickens into a paste.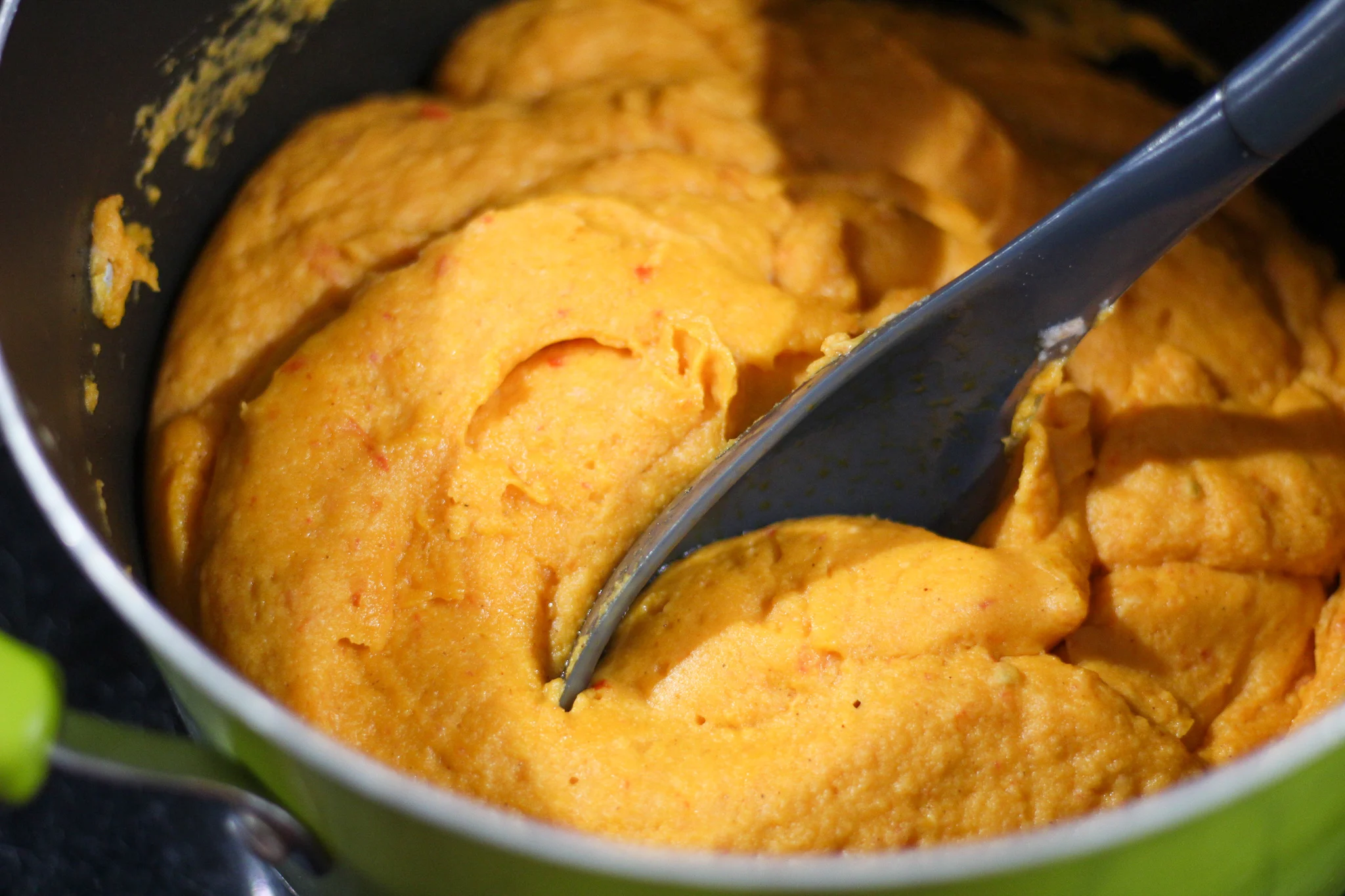 Trust me when I say it gets thick quickly. I do this on medium heat. Stir constantly so that it does not burn or stick to the bottom.
Once you get the masa cooked, slice your veggies and get everything ready to assemble!
Lay down a piece of parchment paper that is at least 12″ x12″. You can use aluminum foil if you want. Lay the banana leaves on top of those.
Make sure to use a damp paper towel and wipe down the front and back of each leaf.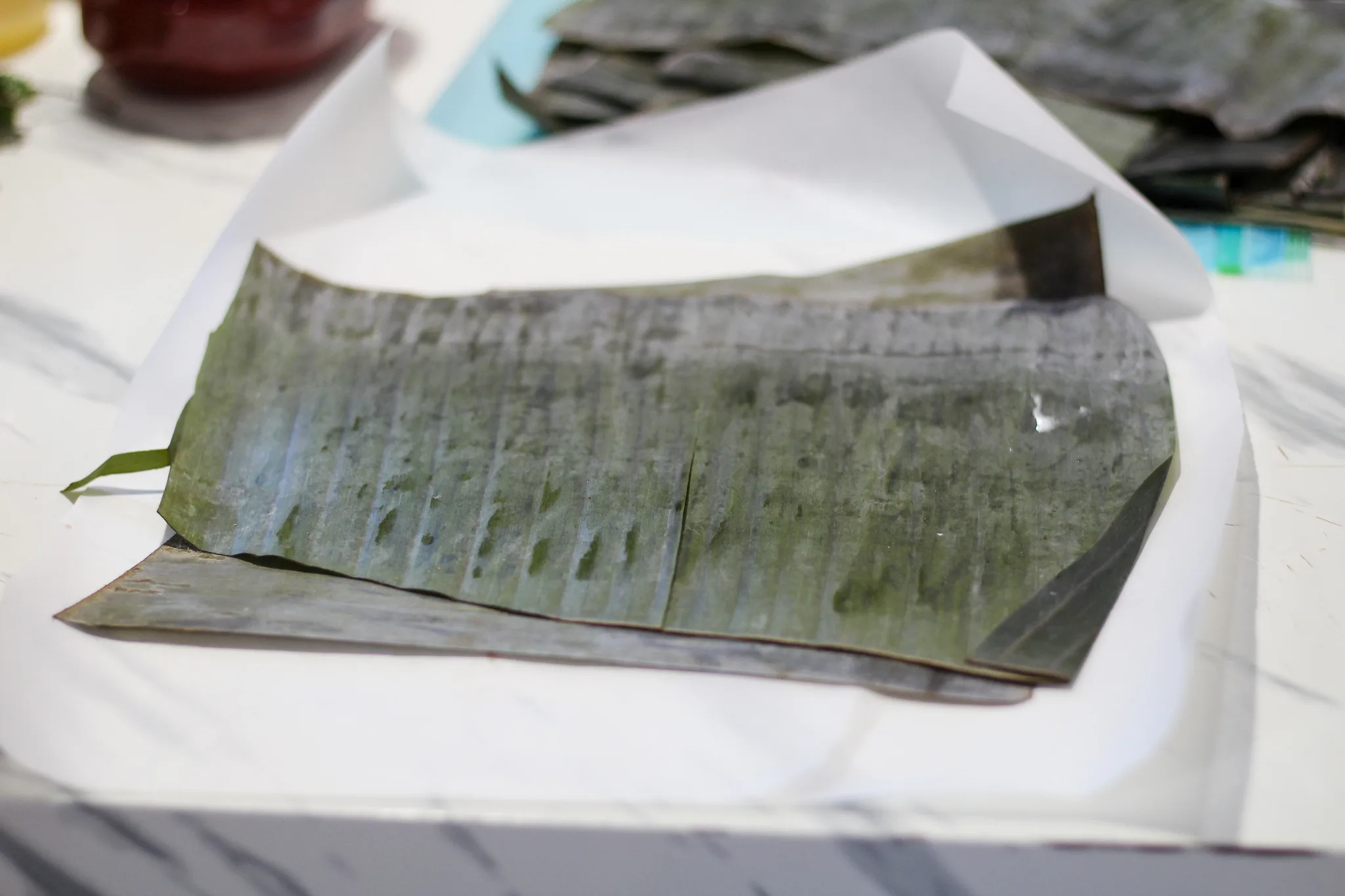 I use two pieces for each nacatamale. The reason for this is that one is not sturdy enough to hold the contents so you need to criss-cross them so you can create a sturdy pocket.
On top of the banana leaves, place one scoop of masa. Then top it with one to two pieces of pork. Add a scoop of the soaking rice to the top of the meat.
On top of that, add a couple of slices of potato, a slice of tomato, a slice of onion, and a slice of pepper. Top with a few sprigs of mint leaves.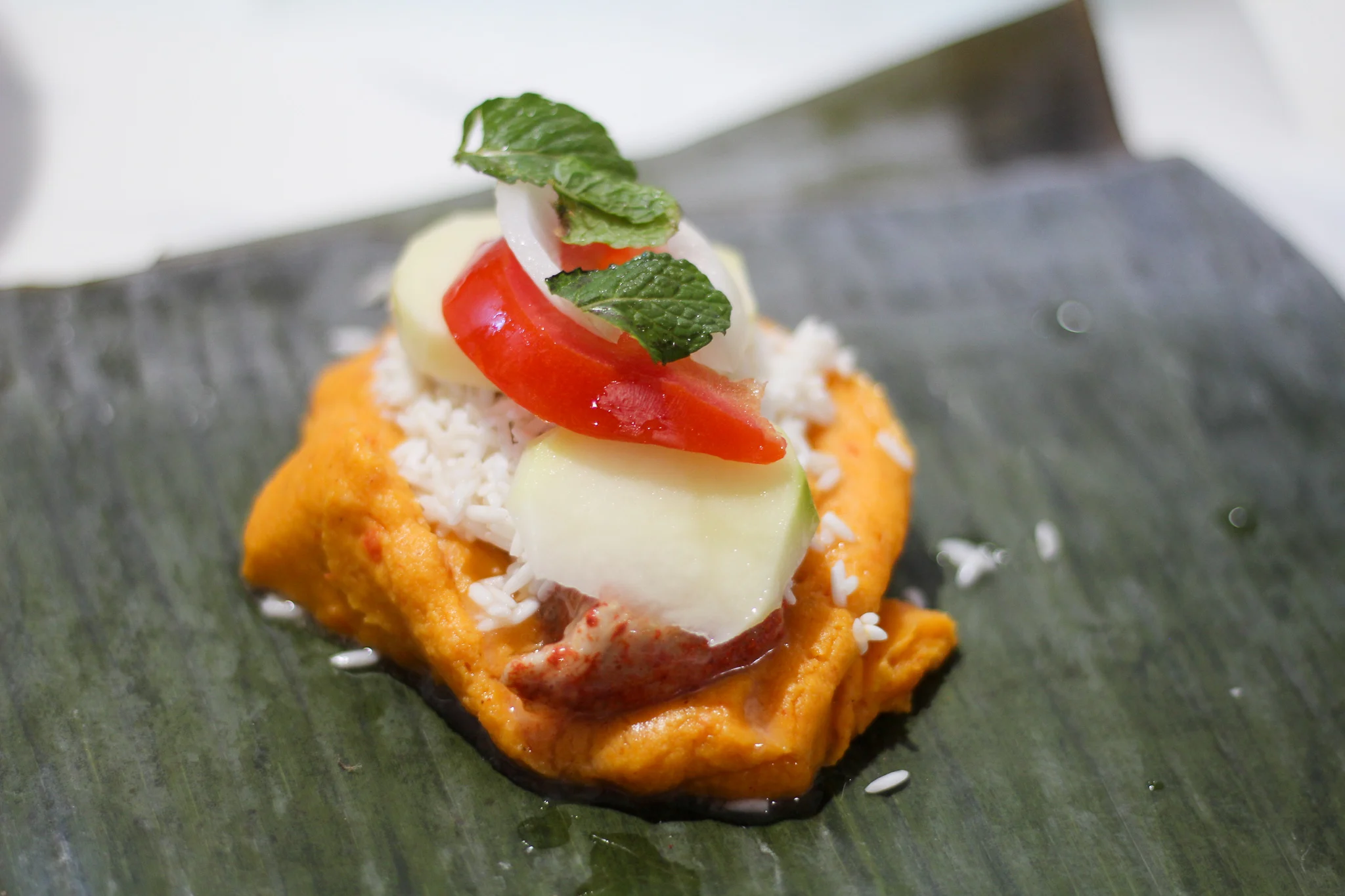 Now, use the banana leaves to wrap the masa mixture. I wrap long ways and then wrap short ways. Wrap the parchment paper or the aluminum foil around it the same way you wrapped it. Now, tie it up with kitchen twine.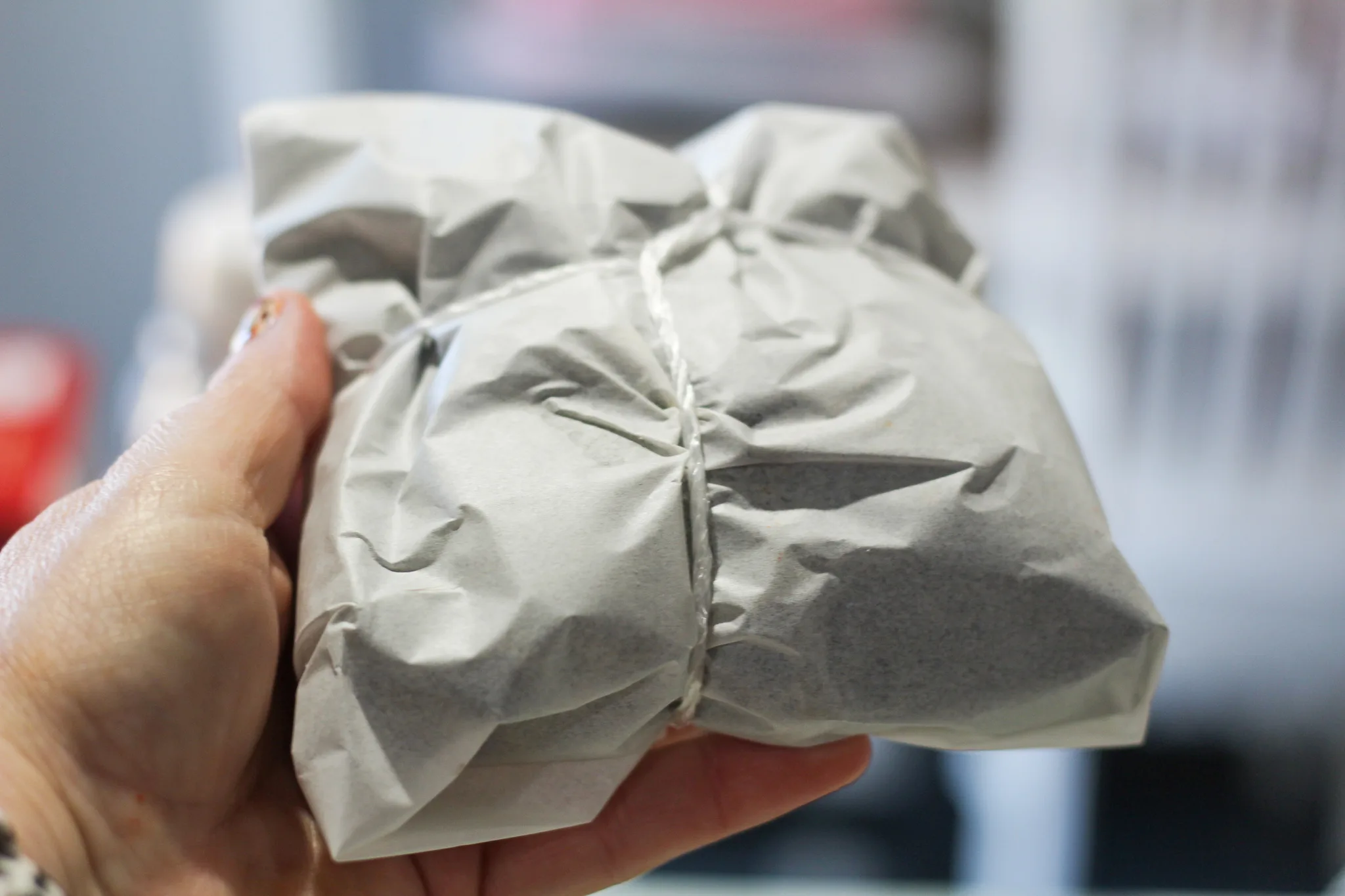 Once you get them all wrapped, they go in a steamer for 3 hours on low. Then you can enjoy this delectable tamale from Nicaragua!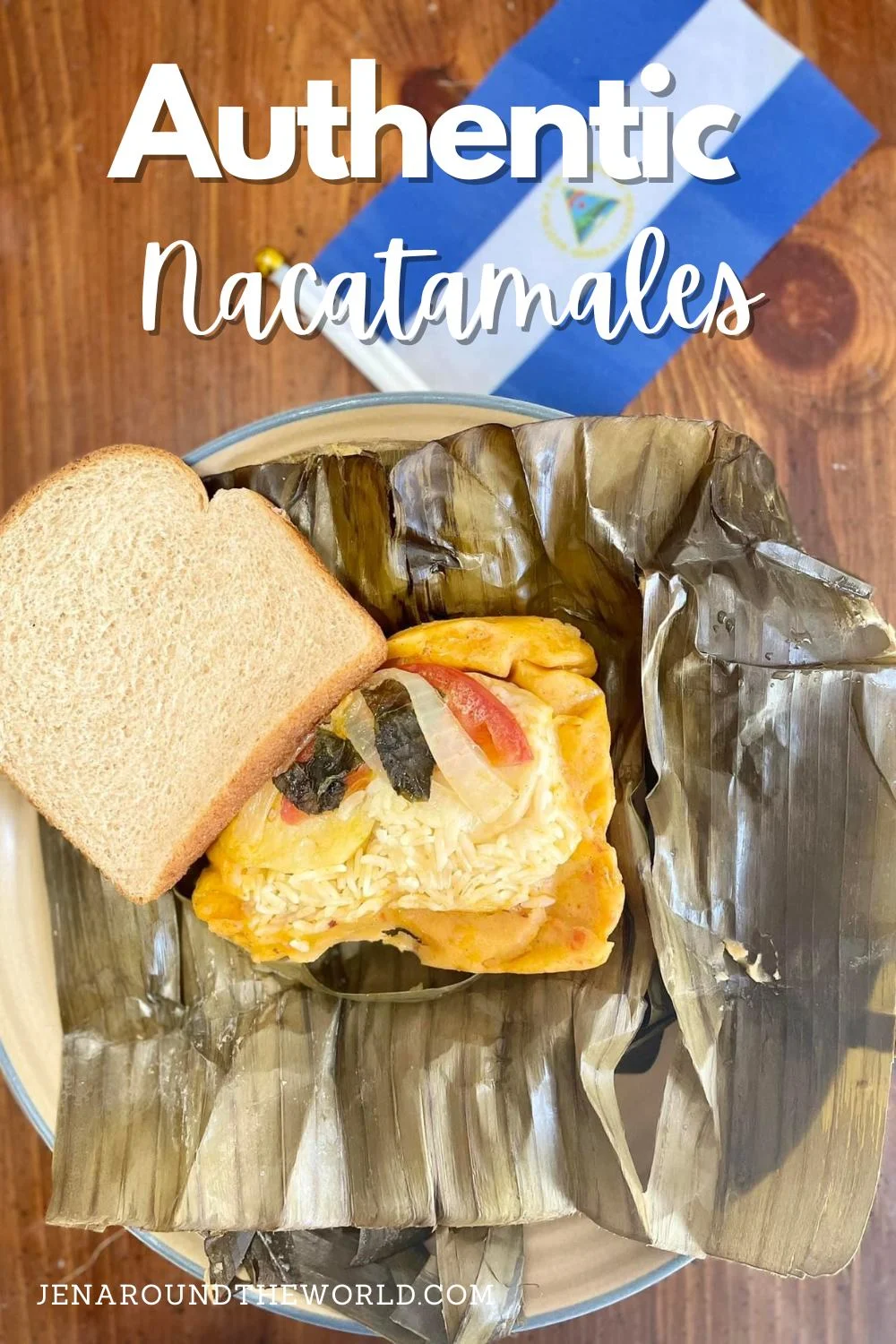 These have THE best flavor and everyone will LOVE them — especially if you have a friend like mine who misses her family and her country often.
Check out these other delicious dishes!
Yield: 15 servings
Authentic Nicaraguan Nacatamales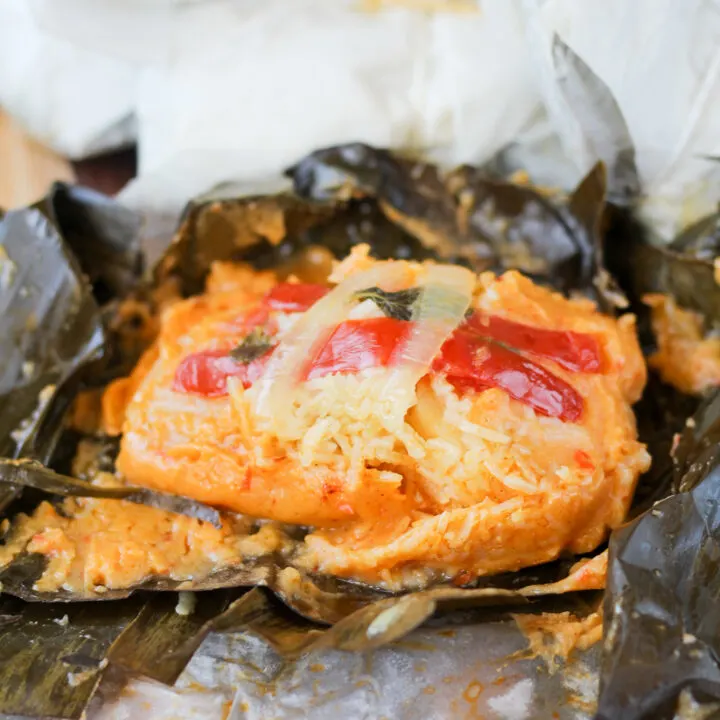 Enjoy a delicious authentic nacatamale from the country of Nicaragua.
Total Time
3 hours
30 minutes
Ingredients
For the marinade for the meat
2 pounds of pork butt or roast, chunked
1/2 bottle of sour orange
2 tablespoons of annatto powder
3 garlic cloves minced
For the masa mixture
3 cups of masa
2 1/4 cups of water
1 cup of melted Lard
1 onion
1/2 bottle of sour orange
1 tablespoon of annatto powder
1 red bell pepper
1 tablespoon of salt
3 small tomatoes
3 cloves of garlic
For the remainder of the dish
3 potatoes, peeled and sliced 1/4" thick
1 cup of rice
2 tomatoes sliced
1/2 an onion sliced
1 red bell pepper sliced
Mint leaves
Instructions
Mix together the marinade ingredients and place in a bowl with the pork chunks. Allow it to sit for an hour or overnight.
In a small bowl, place the sliced potatoes and cover them with water. Let it soak for 20 minutes. Do the same thing in another bowl with the rice.
In a bowl, add 3 cups of masa, 1 tablespoon of annatto powder, 1/2 bottle of sour orange, and water. Mix well together and set them aside.
In a blender, combine one onion, one red bell pepper, 3 tomatoes, and the remaining garlic. Puree well and then pour into the masa.
Mix well. Place the mixture on the stove and cook over medium until it gets thick.
Do not stop stirring otherwise it will burn and stick. Once the mixture has thickened, remove it from the heat and set it aside.
Grab parchment paper sheets or aluminum foil and gather 10-15 pieces cut 12" x 12".
Take a damp paper towel and wipe down the front and back sides of each banana leaf.
Use two pieces and create a crisscross pattern on top of one piece of parchment paper.
Top that piece with a scoop of the masa mixture.
Add 1 to 2 pieces of pork on top of that.
Top that with a spoonful of the soaked rice (make sure to drain it first)
Add a couple of slices of potato, then a slice of tomato, onion, and red bell pepper.
Fold it up to create an encased pocket and then do the same thing with the parchment paper around the same pocket. Tie it up with kitchen twine.
In a large sauce pan, add about 3 inches of water. Add a steamer basket to the inside and place all of your nacatamales in the basket. Cover with a lid and cook on low for 3 hours.
Remove from the steamer basket and allow them to rest for 20 minutes before serving to guests.
Nutrition Information:
Yield:
15
Serving Size:
1
Amount Per Serving:
Calories:

441
Total Fat:

26g
Saturated Fat:

10g
Trans Fat:

0g
Unsaturated Fat:

15g
Cholesterol:

65mg
Sodium:

51mg
Carbohydrates:

34g
Fiber:

4g
Sugar:

4g
Protein:

18g