I love when Kayla and I get in the kitchen recreating her childhood favorites like this recipe for Chocolate and Peanut Butter Birds Nest.
When Kayla was really small — I think she was in Kindergarten, it was my turn to bring snacks for the kids at school. At this time, I worked at a bank, so I did not have a lot of time to spare, but I wanted to send her some snacks that were homemade. That is when I discovered these SUPER easy birds nest.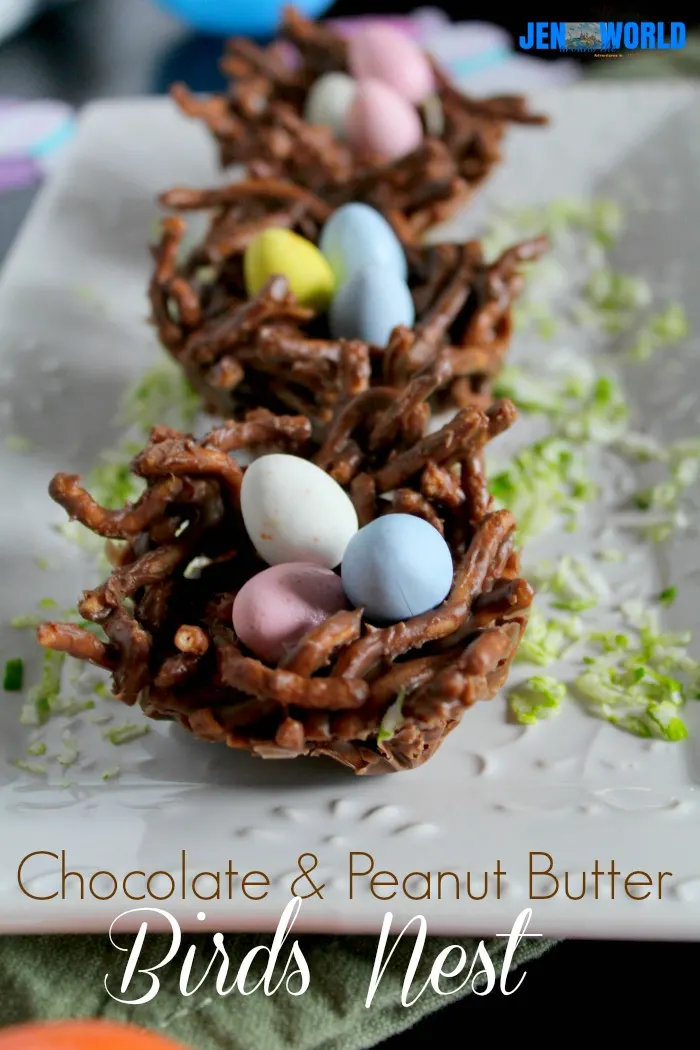 I made a batch and took them to school that day for snack day and ever since then, this has been a yearly tradition for her.
She has been cooking by my side since she was about 4 years old. I can't believe she will be 18 next month and now cooks and bakes better than I ever thought about baking.
I was impressed when she made Creme Brulee for the first time a couple of months ago and then wound up making this decadent chocolate and caramel tart as well. She just amazes me with how she can tackle hard recipes and create them like she's been doing this for years.
Oh wait — she has! No wonder she can make things like French Macarons. That girl has my heart when it comes to food.
How to Make Chocolate and Peanut Butter Birds Nest
You literally only need a handful of ingredients to make this dish.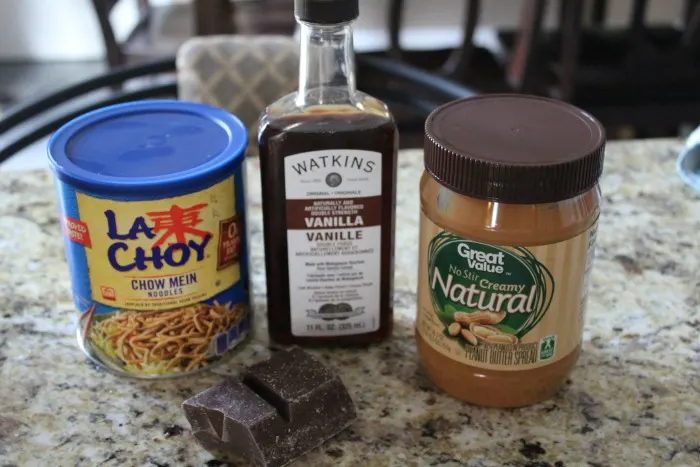 Most of the other recipes I have seen for this call for marshmallows, but we skip those and just use straight melting chocolate and peanut butter. We add a simple splash of vanilla to give it that extra yummy flavor.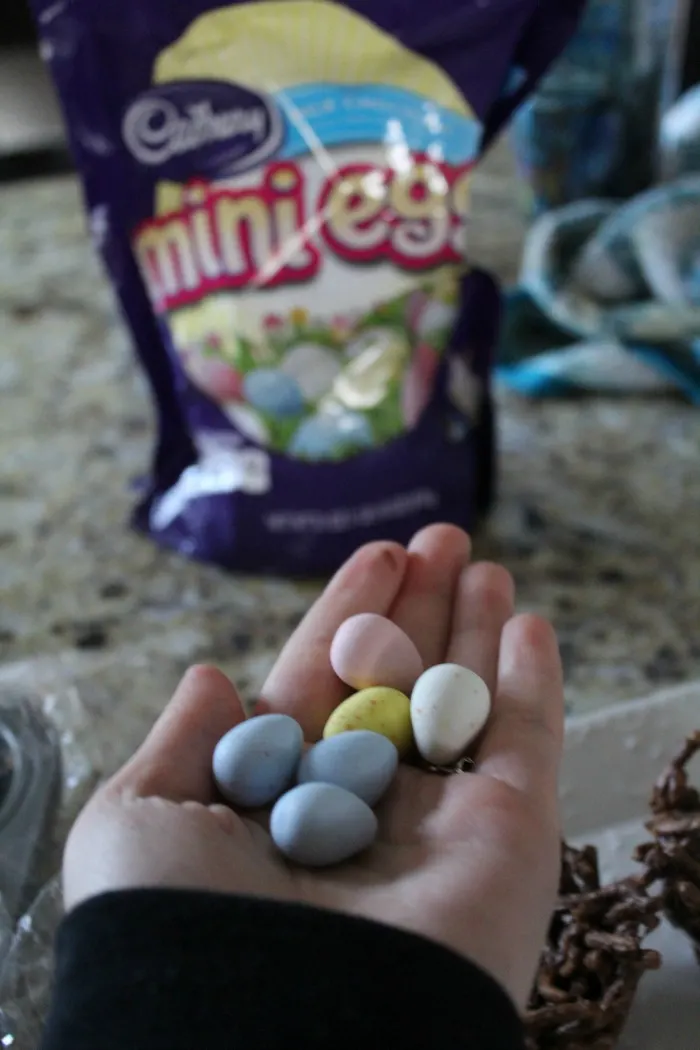 Then we top it with her favorite Cadbury Mini Chocolate eggs which are only available at Easter time. She waits ALL year for these candies.
When making the nests, simply use a 12-cup muffin pan, or for even smaller nests, you can use a 24-cup mini muffin pan. Top it with plastic wrap so nothing sticks and then mold them to the sides. Make sure to make a divet in the middle so the eggs have somewhere to rest.
Then when you are finished, simply pop them in the refrigerator so that they can harden and then when you are done, serve them on a platter for your friends and family.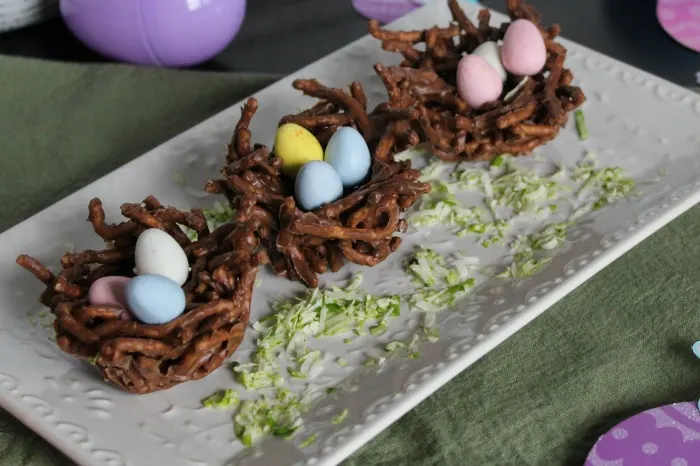 She even made edible Easter grass using flaked coconut and green food coloring.
This literally takes about 10 minutes to prepare and about 5 minutes in the refrigerator.
Check out these other fun Spring Desserts
Yield: 6 servings
Chocolate and Peanut Butter Birds Nest
Simple and easy birds nest dessert. This is perfect for a kids party.
Ingredients
2 blocks of Almond Bark Chocolate melting chocolate
1 can of Chow Mein Noodles
1/4 cup of Peanut Butter, smooth
1 splash of Vanilla Flavoring
Instructions
In a large microwave safe bowl, melt chocolate in microwave, stirring every 30 seconds.
Add in the peanut butter once the chocolate is melted.
Add in a splash of vanilla
Stir in chow mien noodles.
Place plastic wrap in muffin tins.
Drop by spoonfuls into each muffin tin and mold into nest shapes.
Let set in the refrigerator to help them set up quicker.
Place eggs on top.
Nutrition Information:
Yield:
6
Serving Size:
1
Amount Per Serving:
Calories:

272
Total Fat:

16g
Saturated Fat:

7g
Trans Fat:

0g
Unsaturated Fat:

7g
Cholesterol:

7mg
Sodium:

186mg
Carbohydrates:

27g
Fiber:

2g
Sugar:

17g
Protein:

5g