These Easter Egg Macarons are the perfect Spring cookie dessert. Filled with a lemon buttercream filling and topped with white chocolate and fun sprinkles for a super cute and delicious dessert.
This post is sponsored in conjunction with #SpringSweetsWeek. I received product samples from sponsor companies to help in the creation of the #SpringSweetsWeek recipes. All opinions are mine alone.
Welcome to #SpringSweetsWeek 2022 hosted by Heather from Hezzi-D's Books and Cooks! Flowers are starting to bloom, the weather is getting warmer, and we're celebrating with spring sweets and a fun giveaway!
This year 22 food bloggers from around the country are sharing over 75 sweet recipes that are perfect for spring. So say bye bye to the snow and cold weather and get ready to enjoy amazing spring treats like cupcakes, cookies, pies, dessert boards, and even a few beverages!
Our #SpringSweetsWeek sponsors are helping us give away some great prizes. Thank you to Dixie Crystals, Melissa's Produce, Anolon, Sweets & Treats, Taylor and Colledge, and Nairn's for your generosity. We have an incredible giveaway with six amazing prizes and would love if you would take a moment to read about it and the prizes that you can win
How to Make Easter Egg Macarons
We love making french macarons to share with you! The outer shell has a beautiful light green color. The filling is my creamy homemade buttercream frosting that has been flavored with Taylor & Colledge Lemon Extract Paste.
Then the tops have been decorated with melted white chocolate and fun Spring Sprinkles from Sweets N Treats.
Of course, the macarons turned out perfectly cooked because I made them on my favorite cookware — Anolon baking pans. They give the most even heating and the best part is NOTHING sticks to them.
The cookies are a simple vanilla flavor. The lemon buttercream and vanilla go so well together and when piped to look like an Easter Egg, it makes for the perfect Spring cookie.
Start by gathering all your ingredients —
powdered sugar
egg whites
sugar
Easy Buttercream frosting
White chocolate chips for melting
sprinkles
Green Food Coloring
The Batter
Start by combining 1 and 1/2 cups of powdered sugar with 1 cup of almond flour. You will also want to add 1 tablespoon of egg white powder. This will help your cookies to fill out more and not be hollow.
Now, using a sifter, sift the almond flour mixture. The reason you do this is so that you get rid of all the clumps that are in the almond flour. You want a very superfine powder to work with. This will ensure your cookies come out smooth on top.
Just throw away the clumpy bits because you will not use them. Set the other bowl aside.
The best almond flour to use is the Blue Diamond Finely Sifted Almond Flour. If you use this flour, no sifting is needed. It is what we use now in place of other almond flour brands we have used.
Time to Add the Meringue
Now, in your stand mixer, beat the egg whites until they are fluffy. Then, add in the sugar and beat on speed 6 until somewhat stiff. The egg whites need to be stiff enough to create a little bird beak. When you dip the whisk into the egg whites and pull it out, the tip of the whites should stand up easily.
Now, add in the green food coloring. If you want a light green color, just add in a couple of drops. If you want a deeper color, add 4-5 drops. Mix well.
Fold the meringue into the dry ingredients. The batter will be thick but loose enough to make a figure 8 in the batter.
To whip this batter, you have to be super careful and not overwhip it. This will cause your cookies not to gain their feet.
In the bowl, use a rubber spatula and start a circle in a clockwise motion. When you get back to the top at 12'oclock, then go straight down. That is 1 turn.
Do this 30-45 times.
Piping the Cookies
Now, put your round tip on the piping bag and fill the bag with the cookie batter.
Pipe the cookies onto the tray. You can make smaller ones or you can make bigger ones. The size depends on you. The normal size is about 1 and 1/2″.
Once you pipe the cookies onto your parchment-lined or silicone-lined sheet tray, take a finger and gently tap the top of the cookies if there are any tips sticking up.
Take the tray and firmly tap it on the counter 3 times to remove any air bubbles from the cookies.
Then, let the cookies rest for 15-20 minutes or until the tops are dry to the touch. They should not be sticky at all.
Preheat the oven to 300 degrees and when you are ready to bake the cookies, place them on the middle rack and bake for about 12 minutes.
Let them cool before peeling them off of the parchment paper. Your cookies should have feet when they are baked correctly.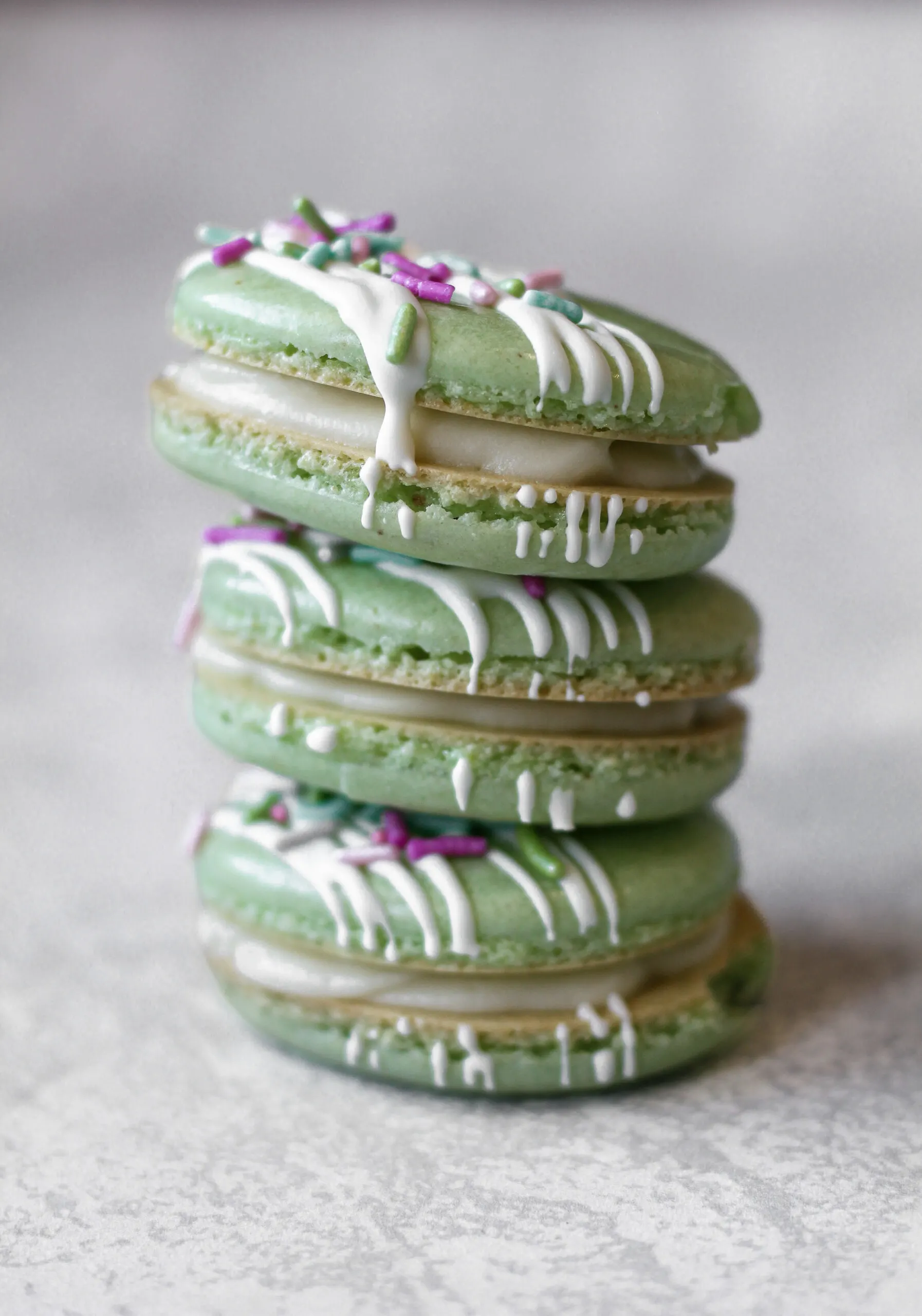 Let's Fill Those Cookies
Before filling your cookies, take them and try to match up the sizes as best as you can. Since we are human and not perfect, the sizes will not all be uniform.
You can fill your cookies with whatever flavor of buttercream you like. I flavored mine with lemon and it turned out perfect.
You can eat them right away or store them in the fridge for a couple of hours. I like to let mine stay in the fridge because they just taste SO MUCH BETTER!
Other Macaron Flavors
Be sure to try my other delicious macaron flavors —
Enter the Giveaway
a Rafflecopter giveaway
Check out the prize list
Prize #1:
A $100 gift card to
Melissa's Produce
and a 3 month produce subscription.
One winner will receive a $100 gift card to buy the freshest produce around! Melissa's has everything from common apples and oranges to exotic passion fruit and rambutans. The winner will also receive a stunning selection of the most delicious produce around once a month for 3 months. At Melissa's Produce, the produce is selected at their peak perfection and packed by hand to ensure a safe arrival. A $224 value.
Prize #2:
A candy making kit from
Dixie Crystals
Perfect for the candy making novice or even the most advanced candy maker! Dixie Crystals is providing one winner with everything they need to make candy. The winner will receive a waterproof candy thermometer, silicone candy molds, and stainless steel double boiler. A $50 value.
Prize #3:
A 5 piece Bakeware set from
Anolon
Create dozens of bakeshop treats from gooey bar cookies to peanut butter and chocolate brownies to banana nut bread and more with all of the essentials in an expertly curated nonstick bakeware set. This bakeware is designed to stand up to the rigors of everyday baking with the convenience craved by creative bakers. This 5 piece baking set includes Two 9-Inch Round Cake Pans, a 9-Inch Square Cake Pan, a 14-Inch x 16-Inch Cookie Sheet, and a 11-Inch x 14-Inch Cooling Rack. A $65 value.
Prize #4:
An assorted box of baking supplies from
Sweets & Treats
Sweets & Treats will provide one winner with an assorted box of baking supplies including liners, sprinkles, toppers, and other fun baking supplies. Sweets & Treats has the best selection of cupcake liners, cupcake topper, paper straws, and molds.
Prize #5:
A Selection of three extract pastes from
Taylor and Colledge
.
One winner will receive a selection of extracts to include almond, lemon, and lavender. In 1897, Taylor & Colledge won its first award for excellence in vanilla. Since then, the Taylor & Colledge commitment for unsurpassed quality has earned its reputation as one of the world's finest producers of vanilla.
Prize #6:
A selection of three flavors of Gluten Free Grahams from
Nairn's
.
One winner will receive a box of each Nairn's Original, Chocolate Chip, Stem Ginger Oat Grahams. Nairn's has been baking oats since 1896. They use simple, natural, and wholesome ingredients in their products.
Friday #SpringSweetsWeek Recipes
We share recipes from #SpringSweetsWeek on Pinterest! Make sure you follow the board to see all the delicious recipes shared this week.
Thank You Sponsors
Thank you #SpringSweetsWeek Sponsors: Dixie Crystals, Anolon, Sweets & Treats, Melissa's Produce, Taylor and Colledge, and Nairn's for providing the prizes free of charge. These companies also provided the bloggers with samples and product to use for #SpringSweetsWeek recipes. All opinions are my own.
The #SpringSweetsWeek giveaway is open to residents of the United States who are 18 years of age or older. All entries for the winner will be checked and verified. By entering you give the right to use your name and likeness. The number of entries received determines the odds of winning. Six (6) winners will be selected. The prize packages will be sent directly from the giveaway sponsors.
The #SpringSweetsWeek Bloggers are not responsible for the fulfillment or delivery of the prize packages. Bloggers hosting this giveaway and their immediate family members in their household cannot enter or win the giveaway. No purchase necessary. Void where prohibited by law.
This promotion is in no way sponsored, endorsed or administered by, or associated with Facebook, Instagram, Pinterest, Twitter or any other social channel mentioned in the #SpringSweetsWeek posts or entry.
Yield: 15 cookies
Easter Egg Macarons
Delicious vanilla cookie with a lemon buttercream frosting.
Ingredients
For the cookie shell
1 1/2 cups of powdered sugar
1 cup of almond flour
3 egg whites
1/2 cup of sugar
1 tablespoon of egg white powder
Green food coloring
For the buttercream frosting
1 stick salted butter, softened
2-4 cups powdered sugar
3-4 tablespoons heavy cream
1 teaspoon of Lemon Extract Paste
Cookie decorations
white chocolate chips melted
fun sprinkles
Instructions
Sift almond flour, egg white powder, and powdered sugar together. Discard all the chunky bits that are left behind. Set aside.
In your KitchenAid mixer, beat egg whites on medium speed until they start to fluff up. Add the sugar and beat on speed 6 until stiff peaks begin to form.
Add in 2 drops of green food coloring. This should give you the perfect light green color. Beat until combined.
Now, fold the meringue into the dry ingredients. The batter should be thick but loose enough to make a figure 8 with the batter.
Mix together between 35-45 times by hand with a rubber spatula. Start in a clockwise motion starting at 12 o'clock and ending at 12'oclock, then go straight down to 6 o'clock. This is one complete turn.
Line trays with silicone mats or with parchment paper.
Using a piping bag fitted with a smaller round tip, fill the bag with the macaron batter.
Pipe onto trays, making cookies about 1 1/2" inches.
Touch the tops of the cookies to press down any tiny tips that stick up.
Tap the trays on the counter 3 times to release any air bubbles.
Let the cookies dry out for about 20 minutes. The cookies should be dry to the touch and not sticky when you feel the tops of them.
Preheat the oven to 300 degrees while cookies are drying out.
Bake for about 12 minutes or until the cookies are set.
Let the cookies cool off before peeling off the parchment paper.
While cookies are cooling, make the cream cheese frosting and place in a piping bag fitted with a small star tip.
To make the buttercream frosting, cream the butter until light and fluffy.
Begin adding powdered sugar until the icing gets stiff. Add in the heavy cream one tablespoon at a time until desired consistency is achieved.
Once cookies are cool, flip them over so that the undersides are face up. Match cookies together by size.
Pipe the buttercream onto one-half of the cookies. Top with a cookie that has nothing on it.
For the top cookie decorations, melt white chocolate chips in the microwave for 30-second increments until melted.
Drizzle across cookies and then sprinkle with fun sprinkles.
Enjoy!
Nutrition Information:
Yield:
15
Serving Size:
1
Amount Per Serving:
Calories:

430
Total Fat:

12g
Saturated Fat:

6g
Trans Fat:

0g
Unsaturated Fat:

6g
Cholesterol:

21mg
Sodium:

70mg
Carbohydrates:

80g
Fiber:

1g
Sugar:

77g
Protein:

3g