Classic Skillet Cornbread is one of the most important staples in any Southern Home. It's simple and easy to make and tastes oh-so delicious!
When I was a little girl, my momma only made cornbread homemade and never ever made Jiffy Skillet Cornbread. She would pull out her 12″ cast iron skillet, throw some bacon grease in the bottom, and cook the most amazing cornbread on the planet.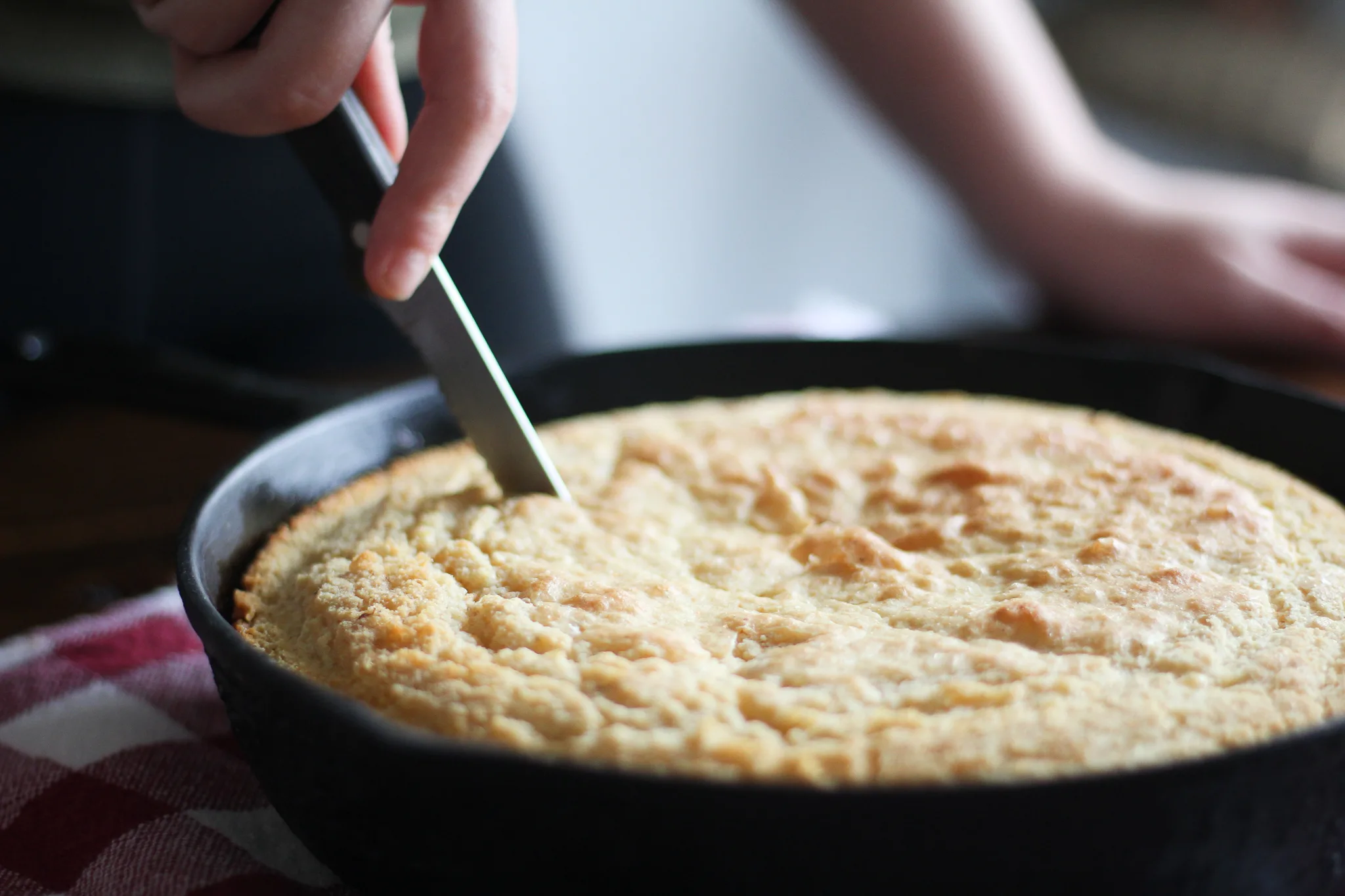 Then, when I met my husband, his mom only made Jiffy cornbread, so I learned to like the sweeter version and that is what I have used for the last 25 years.
But recently, I rediscovered my love of traditional Southern Cornbread with this amazing Classic Skillet cornbread recipe. It seriously takes me back to my momma's kitchen — so today I am sharing this recipe with you too!
How to Make Classic Skillet Cornbread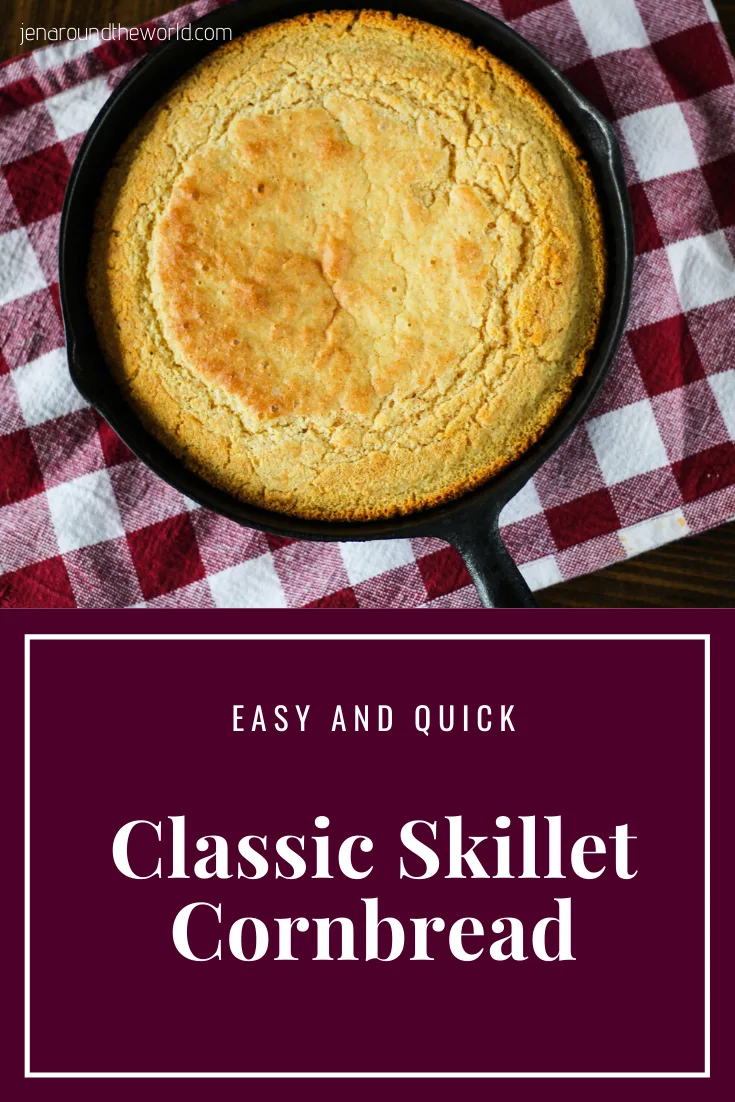 Now, any good cook knows that cornbread like this is the beginning of a lot of delicious recipes — like my Old Fashioned Sage Cornbread Dressing.
My mother-in-law used to use crumble-up cornbread and put in a bowl and eat it with milk.
But for me, I love it just sliced right out of the pan with a big slab of butter on top.
To make this recipe, you really only need a few simple ingredients that you probably already have on hand —
bacon drippings
self-rising cornmeal mix
buttermilk
eggs
baking soda
sugar
salt
We keep bacon drippings on hand all the time (every good Southerner will have a mason jar or a bacon grease jar close at hand). Then, of course, you want to use a self-rising cornmeal mix. My favorite has always been Martha White.
To start, you are just going to add your bacon drippings to your cast iron skillet and allow it to heat up in a 400-degree oven. When you do this, it allows the mixture to sizzle the moment you place it in the skillet.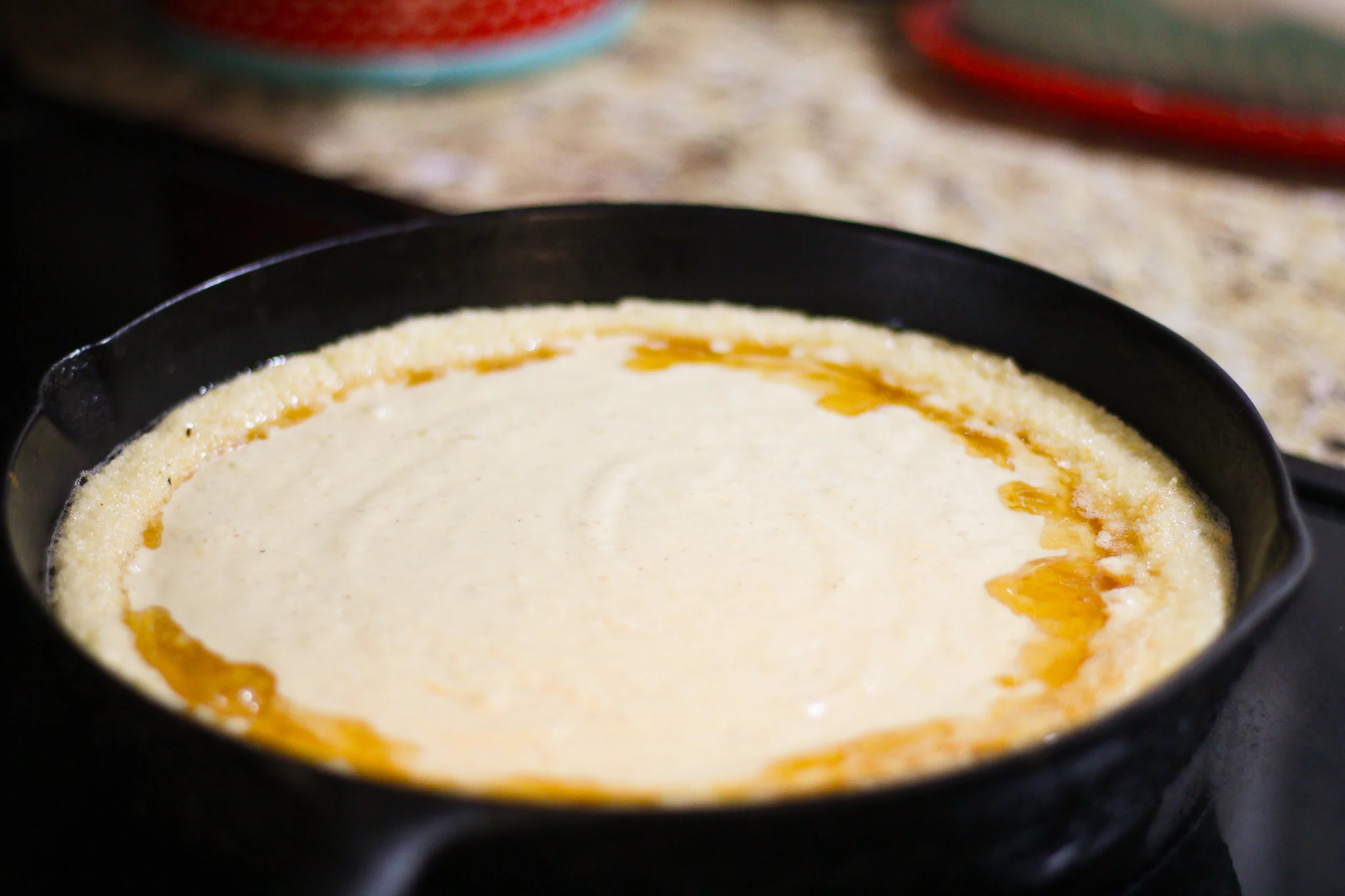 Do I Have to Use a Cast Iron Skillet?
The answer is no. You can use a 9×13 baking dish, a casserole cooking dish, etc. For my personal preference, I just like cast iron cooking because I need extra iron in my body and by cooking in cast iron it puts that in my food, and I love that it adds an extra depth of crust to my cornbread.
How Long Do I Have to Cook Cornbread?
Skillet Cornbread only cooks for about 20-25 minutes and only takes like 10 minutes to prep before cooking, so you can have a hot pan of this out of the oven and on the table in no time flat!
Nothing smells better than taking this pan out of the oven and then throwing some butter on top. The whole house smells like bacon cooking.
What If I Don't Have Bacon Drippings on Hand?
That is totally okay. You can just add butter to the pan in place of the bacon drippings. But — if you have bacon great in your kitchen, use it 🙂 You can thank me later.
What Meals Can I Serve With Cornbread?
If you are looking for some fantastic meals to serve with cornbread, here are a few suggestions —
Here's the recipe. I hope you enjoy it as much as I enjoy making it! As I said at the beginning, it is very easy to make and only uses a handful of ingredients you should already have at home.
Yield: 1 pan
Classic Skillet Cornbread
This classic skillet cornbread recipe is what every Southerner needs! Simple and easy to make and ready in no time flat.
Ingredients
1/4 cup of bacon grease (or you can use oil or butter)
2 cups of self-rising​ cornmeal mix
1 1/2 cups of buttermilk​
2 large eggs, lightly beaten
1/2 teaspoon of baking soda
1/2 teaspoon of sugar
1/4 teaspoon of salt
Instructions
Preheat the oven to 400 degrees.
Place the bacon grease in a cast iron skillet and place in the oven to allow it to heat.
While your bacon grease is heating up, mix together all your other ingredients in a medium sized mixing bowl.
Remove the skillet from the oven and pour your ingredients into the skillet.
Cook in the oven for 20-25 minutes or until golden brown.
Nutrition Information:
Yield:
12
Serving Size:
1
Amount Per Serving:
Calories:

131
Total Fat:

6g
Saturated Fat:

2g
Trans Fat:

0g
Unsaturated Fat:

3g
Cholesterol:

36mg
Sodium:

427mg
Carbohydrates:

16g
Fiber:

1g
Sugar:

2g
Protein:

4g